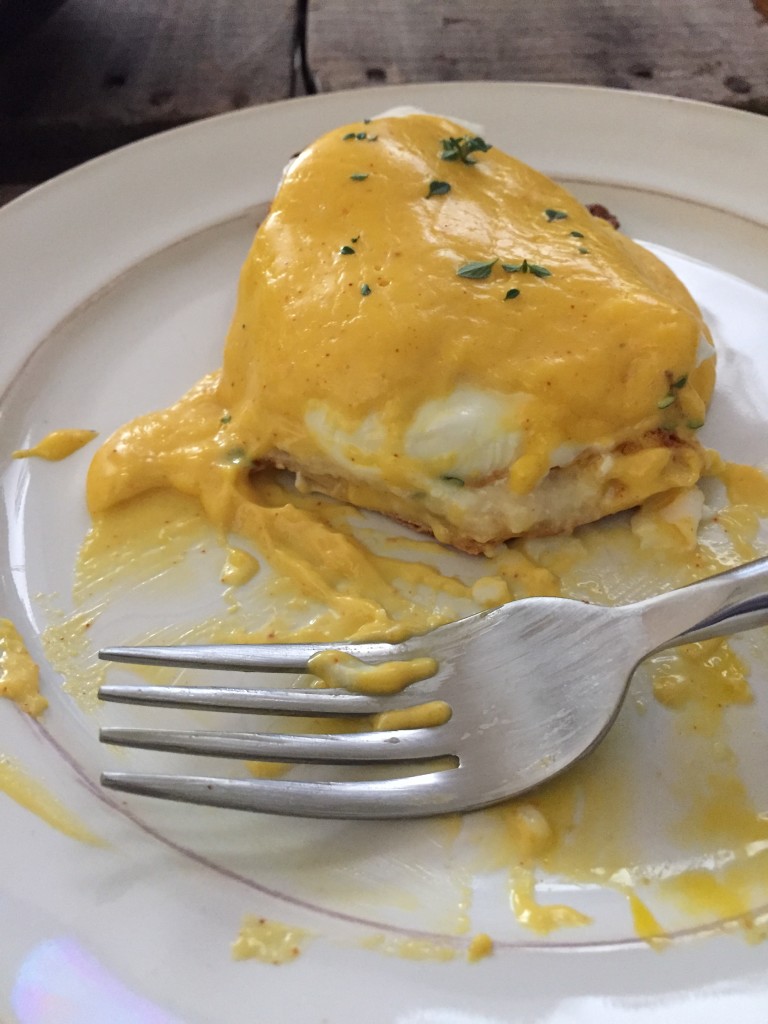 Holladaise is not what I was supposed to be writing about today.
You see, it's National Key Lime Pie Day. But it is also September, and I'm just not feeling the citrus right now. (Although I will admit the pie recipe I had picked out from Two Peas & Their Pod looked pretty divine with a bad mamma jamma coconut macaroon crust.)
I'm craving warm, stick-to-your-ribs kinda food as the skies become overcast and that familiar fall chill begins to gnaw away at summer's long, humid days. But since we're focusing on "National Something-Or-Other Day" this month, and it's key lime's turn… I'm kinda stuck.
Or am I?
I'd never trust Wikipedia as a source for anything without confirming with other, more trusted sites. Unless it issued me such a convenient "Get Out Of [Key Lime Pie] Jail Free" card. Which it did this weekend.
You see, according to Wikipedia, September 26th is National Pancake Day (been there, done that), National Chocolate Milk Day (check … kind of), Johnny Appleseed Day (we love them apples!), National Dumpling Day (yes) … and National Better Breakfast Day.
For someone who claims breakfast isn't their favorite meal, I sure seem to write about it a lot (here, here, here, HERE and here). And this recipe may be my favorite, all smothered in one of the most divine substances known to man…
Hollandaise.
I spent a lot of time making custards for events over the last two weekends, one of which was your other Founding Foodie's children's book-themed baby shower. (Congrats, Sarah!) Custards can be a big fat pain in the you-know-what, which I've waxed poetic on before. Hollandaise is not much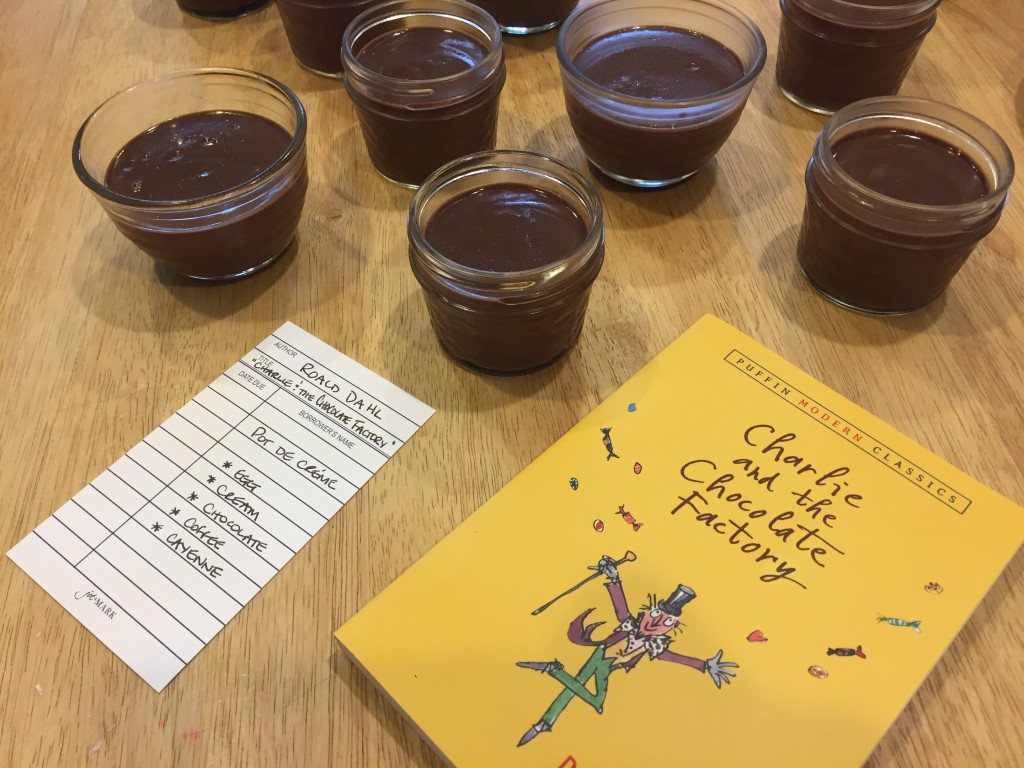 different.
It's one of the French Mother Sauces, meaning a sauce from which others are derived. Hollandaise is mother to Bearnaise, Maltaise, Choron, Mousselline (a.k.a. Chantilly), Foyot and Grimrod. All of these smaller sauces are variations of the mother. Grimrod, for example, is Hollandaise infused with saffron. Mousselline is Hollandaise with heavy cream whipped and folded in just prior to serving.
Making this sauce, however, is decidedly as fussy as name might indicate. It can be downright snooty about its environmental conditions. Get the pan too hot, and, like custard, you'll be left with scrambled eggs. The only remedy to that malady is a low to moderate heat and constant whisking. (Though the lemon juice helps, too, by preventing the proteins from coming together too quickly.)
And there's nothing that will break your brunch spirit more than a broken sauce. Hollandaise is an emulsion, a mixture of oil and water. Remember the saying, "oil and water don't mix"? Yeah. That's true, and it's not. Technically, they can mix if you [again] keep the heat low and slowly (think molasses in winter) add the butter into the eggs while whisking until you feel like your arm might fall off.
Sure … it's not the easiest thing you'll ever make. But the end results? O.M.G. I could bathe in this stuff. Use as I did here (eggs benedict!), or as a dipping sauce for frites (that's a fancy shmancy way of saying fries). It is so good, and, before about 2:00 pm, totally deserving of the "better breakfast" moniker… no matter what you serve it on.
Plus, every time you whip (and whip, and whip some more) up, it get's easier. Pretty soon, you'll be rocking the pot de creme and the mayo, too. Whip it good, friend.
Hollan[Days To Remember] Sauce

I based my recipe on Julia Child's with a spin of my own. My most valuable tip? Practice makes perfect. If you're preparing this for guests, don't wait until the morning of to try your hand. Whip up a batch a few days before your event so you can get your sea legs before you try to navigate the brunch boat. Still feeling a little nervous? Take a look at Serious Eats. (Pretty much everything they do is magical, and I agree with their assessment on mimosas: Friends don't let friends make Hollandaise after cocktails. Somebody will definitely end up crying.) Still worried? The Kitchn and Serious Eats will show you how to make it in a blender. NEVER tell anyone I suggested this: I believe firmly that hard work pays dividends (or something like that… )

Ingredients:

4 egg yolks
1 tablespoon water
1 tablespoon fresh lemon juice
up to 1 cup unsalted butter, room temperature
a pinch of salt
a dash of cayenne
a smidge of nutmeg
white pepper, to taste
Ibubrofen

Method:

Using either a double boiler or a sauce pan and a stainless steel bowl [NOTE: as I don't have either, I used glass here], place about a cup of water in the bottom of the double boiler or saucepan. The water should not touch the bottom of the pan/bowl. Heat to barely a simmer.

While the water heats, whisk the egg yolks, water and lemon juice together in the top of the double boiler or stainless steel bowl and until it has doubled in volume. Place the bowl over water, continuing to whisk rapidly. Do not let the eggs get too hot or they will scramble. (Check out the Serious Eats tip on lemon juice, or keep an ice cube handy to toss in if things start looking the slightest bit chunky.) As the eggs cook, they will become frothy and increase in size. Once they thicken to the point that you can see the pan through the stroke of your whisk (this would be the back of the spoon test for custard), remove from heat.

Add the butter in small spoonfuls, whisking constantly to emulsify. As it begins to come together, you can add a little more butter each time. Once the sauce has reached the thickness you like, stop adding butter.

Whisk in the seasonings, tasting and adjusting as necessary. Both the nutmeg and the white pepper are best fresh ground, but don't sweat the small stuff.

Once you become more adept at making this sauce, play with your ingredients! Swap white wine vinegar or mustard for the lemon juice. Try a more generous amount of dill instead of the nutmeg, which makes this a wonderful addition to salmon. Or swap that nutmeg and the cayenne for a little Old Bay on top of crab benedict. I like things simple, so I just added a little thyme on top of my basic eggs benedict here with some sous vide eggs and a crunchy grilled baguette. So yummy!
(The Ibuprofen is for your elbow, not the sauce.)