Around this time last year, my husband Adam and I were due to attend my friend Ahn Ei's destination wedding. The festivities were planned for a tropical location that would surely require fruity cocktails, snorkel gear … and a bathing suit. It doesn't help that Ahn Ei is this absolutely gorgeous, super fit nutritionist who could make a paper bag look good.
So a month before the big event, I did what nearly every woman does at the mere thought of having to cram her jiggly bits into an itsy bitsy teeny weenie yellow polka dot bikini: I decided to clean up my eating act. Adam and I took on our first Whole30.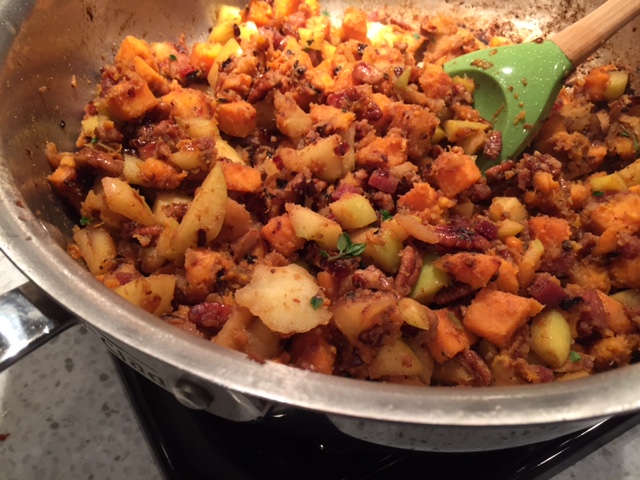 There was another first, as through this experience, I came to truly understand what it is to be hangry.
Don't get me wrong — I'm a girl who truly loves meat and veggies. I mean, I am from the Midwest and all. I just spent pretty much the entire month never feeling satisfied. Which, incidentally, makes one want to "Kill All The Things" … an appropriately-named phase of the program that, for me, lasted 20 of the 30 days.
After living that long with Mrs. Cranky Pants, no itsy bitsy anything was going to buy back the love and affection from my once-smitten husband.
Irritable is an understatement: I was no fun to be around.
I'd spend hours on Pinterest looking for things I could cook that would make me feel human again. Despite how amazing I felt energy-wise, and admittedly with much less aches and pains, I also felt deprived most of the time. And before you get all cute suggesting I whip up a Whole30-compliant dessert (like this chocolate pudding, which looks amazing, but is — sigh — not compliant at all), you need to read their bit on "Sex With Your Pants On."
*SIGH*
Remaking your favorite foods into things that look and taste (har har har) like the real deal is not in the spirit of Whole30. The month-long purge is aimed at helping you "change your habits, change your patterns, break unhealthy cravings and create a new, healthy relationship with food."
So there's that, which clearly didn't help me in my highly agitated state.
I needed something sweet, but satisfying enough that I wouldn't need more five minutes later. Something fatty and salty. Something, well, umami.
All the things.
What came out of that misery was this recipe for sweet potato hash, which launches us into our November series looking at this awesome superfood. One medium-sized sweet potato — with just over 100 calories — contains a whopping 438% of your daily vitamin A and 37% of your daily vitamin C requirements, not to mention calcium, potassium and iron. And as a bonus, the recipe also contains apples (also ridiculously good for you!), bridging last month's harvest with November's sweet topic.
Despite the slight agony of going through the Whole30, I have to admit that I haven't felt that good in a long time. And I lost about 20 pounds. We're planning another round soon.
I hope that means a beach vacation is in store at the end of this next hangry adventure.
Sweet Potato Hash

You can easily make this dish vegan by omitting the bacon. And if you're all freaked out by the World Health Organization's recent vilification of one of our favorite food stuffs — bacon — and haven't read that they've clarified those statement (they do sell nitrite-free bacon, y'all!), you can swap it for a mild or spicy pork sausage. Just precook it as you would the bacon. 

1 1/2 cup thick-cut bacon (about 6 slices), chopped in small strips (like lardon)
1-3 tablespoons coconut oil
1 cup shallot, diced
3-4 cloves garlic, minced or planed (I microplane all my garlic … it's magical)
1 large sweet potato, cut into small cubes (about 3 cups)
2 cup apples, cut into small cubes (I used honeycrisp, but using something more tart — like a Fuji — would be yummy)
3/4 to 1 cup pecans, toasted on stove top or in the oven, then chopped
1/4 teaspoon fresh thyme
salt (I used applewood smoked salt) and pepper to taste

Cook bacon in pan over medium-high heat until fat is rendered, strain, reserving fat in pan, and place on plate lined with paper towels. Return pan to heat. (If you desire a vegan/vegetarian version, skip this first step and add 1 1/2 tablespoons coconut oil to pan and place over heat.)

Once fat/oil is hot and shimmers, add diced shallot and cook until translucent, stirring frequently (about 3-5 minutes). Add garlic and cook until fragrant, but not burned, for about one minute more. Remove onions and garlic from the pan, transferring to a bowl while keeping as much of the fat/oil in the pan as possible.

Add 1 1/2 tablespoons coconut oil to the pan and heat until fat/oil shimmers. Reduce heat to medium and add sweet potatoes. Cook for about 5 to 10 minutes until browned and softened, but not mushy. Add apples and cook until apples are softened (about 3-5 minutes more). Both will start to "melt" together at this point, which is fine: You want it soft, but not so soft that pieces are not recognizable.

Return bacon, onions and garlic to pan, add pecans and fresh thyme. Cook to heat through — about one minute. Salt and pepper to taste.

I love this dish served with a sunny side up egg on top for an extra protein punch, making it great for breakfast, lunch or dinner. And yummy breakfasts are not all that easy on Whole30. It was the meal I found most difficult, so this really saved me. There are a few other non-Whole30 compliant variations I like to do when I'm eating Paleo, like adding a 1/4 cup of sugar-free apple cider when I add the apples, or adding 1/4 cup chopped, unsweetened cranberries in with the pecans. Yum.

Enjoy!