cus·tard
[kuhs-terd]
noun
A dessert or sweet sauce made with dairy, eggs and sugar.
Never had the pleasure of a custard? In the words of Mr. T,  I pity the fool.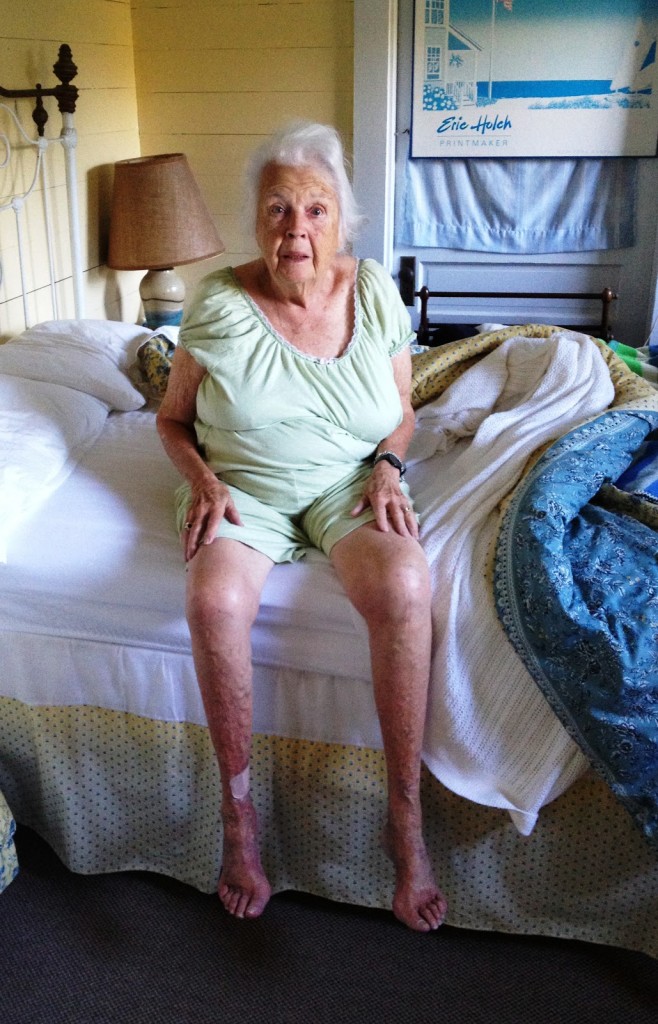 Particularly when it comes to pot de creme. It's like chocolate mousse and creme brulee got together and made a delicious, creamy baby.
My first experience with this dessert was on a trip up the eastern seaboard with my 89-year-old grandmother. Please don't tell her I posted this picture of her. It's not one of her favorites, but come on — isn't she adorable? I snapped it at the AIRBNB place we stayed in Narragansett, Rhode Island. It was a quaint little bed and bath in a converted barn. Our neighbor was Mr. Ed. No, not really … but a horse is a horse. Of course, of course.
I digress.
A little further up the coast, we found ourselves in magical Nantucket … during what just happened to be Restaurant Week. The first night of our stay, we discovered Oran Mor Bistro, where the duck and the scallops deserved a standing ovation. But the real bravo (or brava, as the case may be) belongs to the place we found ourselves the next night: Straight Warf.
The seduction began with a pumpkin soup that can only be described as heavenly: large, luscious lumps of lobster paired with the soft, subtle flavor of the mirepoix, both perfectly balancing to balance the chewy, salty bacon. The delicious continued with a lobster bake (hey, when in Rome! Lobster, lobster and … more, please!) that was simply amazing, chocked full of lobster and artfully arranged atop chorizo. As stuffed as I was after dinner, dessert is one of those things I find hard to resist.
Hello, pot de creme.
That velvety, smooth custard with its sinfully rich flavor made my eyes roll back in my head. I showed some restraint, only finishing half, after convincing my tiny, equally stuffed white-haired companion to try a bite. Honestly, I still regret not putting the rest in my purse.
What's funny here is that the pleasure is completely textural. For so long, I've had a strong aversion to textural foods. Take runny eggs. Just watching my gram dunk her toast in yolk would turn my tummy. Boiled chicken. Bone marrow. Pate. And pudding. Blech – I don't even like the word.
But apparently texture is something one comes to appreciate with age.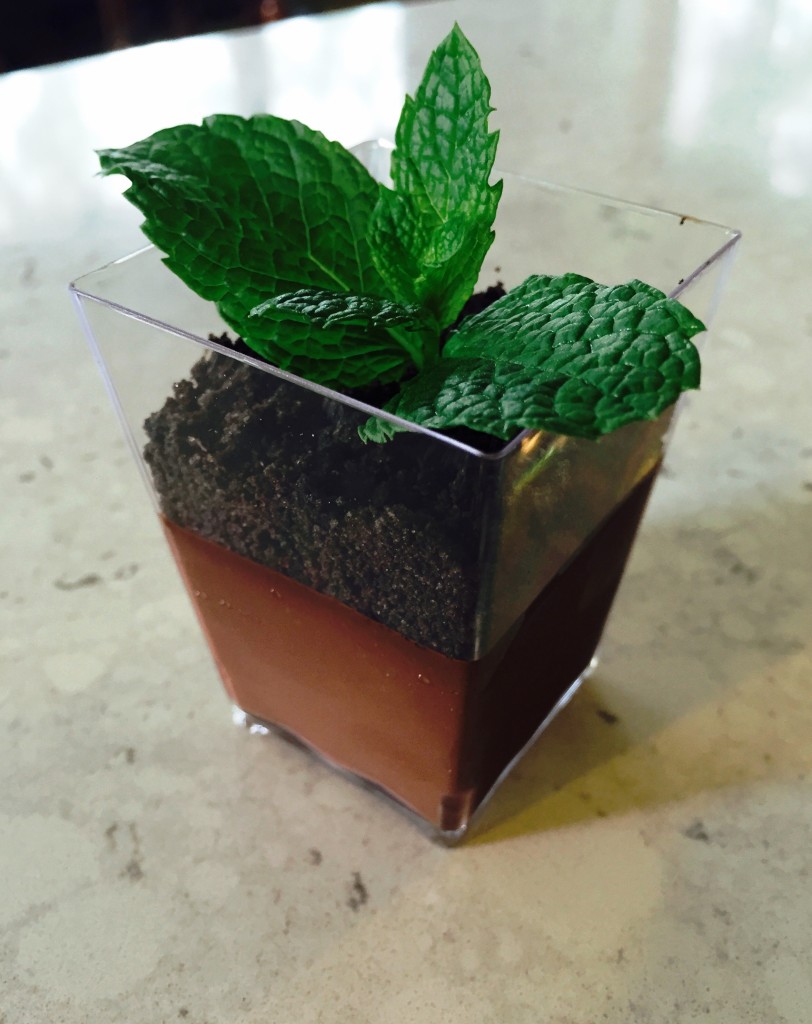 This divine dessert popped up on my plate again in Portland the day my husband and I got engaged (read more about Adam's proposal here). It was made by one of my favorite homegrown chefs, Lee Vance. (Her latest venture, Blackbird Restaurant, in Manzanita, Oregon, is one on my wish list. She still serves this delicacy there, to rave reviews.) Inspired, I started making pot de creme at home.
Ha … "making" is such a funny word.
You see, pot de creme – or any custard, for that matter – can be a big fat pain in the arse to prepare. Custards are truly the things dreams are made of. But they're pretty much a nightmare to nail. They require obsessive care to temper properly, slow and steady time to thicken, and are super prone to curdling or splitting. Don't get me started on cooking them in a water bath!
But after many an attempt, I am here to tell you it doesn't have to be that way. Below you'll find my tricks of the custard trade! I now feel so confident in my pot de creme skills that I actually put them on the menu for a 40+ person graduation party recently. Of course, I am a sucker for a theme, and these fit perfectly in our build-your-own bruschetta garden party, dressed in Oreo "dirt" and a sprig of mint from my garden.
Try it. It's easy. But don't say I didn't warn you: This recipe is totally addictive.
Coffee & Chile-Infused Pot De Creme

I drew inspiration from several places for this recipe, including Nom Nom Paleo, Pioneer Woman and Epicurious. The dirt and mint spring are optional, but great for a party or dinner on the deck. I got the dessert cups pictured above on Amazon.

On chocolate: Dark chocolate is super good for you, but if you just can't tolerate the taste, you can substitute with milk or bittersweet. I use Ghiridelli 60% regularly to great effect, but as we are fans of the Whole30 (and often switch to Paleo after), the Enjoy Life brand is also well stocked in our house! You can also use chopped up chocolate bars.

WTE TIP: Want to make the "plant" version in the pic above? Simply throw some oreos in a food processor and pulse to make "dirt," then tuck a sprig of fresh herbs in the center. We used mint here. You can buy the cups and cute little wood spoons that look like plant markers on Amazon! We did this for a graduation party this summer and there were nonstop ooh's and ahhs!

1 10-ounce bag 70-85% dark chocolate chips
2 cups heavy cream (use full-fat coconut milk if you need/prefer to make this dairy-free)
1/2 cup coconut cream (or the thick part from the top of a can of full fat coconut milk)
4 large eggs, room temperature (this is critical)
1 teaspoon chili powder
Optional: 1 pinch cayenne (I like mine with a little heat)
1 pinch kosher salt
1 cinnamon stick
1 teaspoon vanilla extract
1/2 packet of dark roast Starbucks instant coffee

Place the chocolate chips or chopped up chocolate bars in a large bowl and spread out as much as possible, creating a somewhat even layer rather than a pile. You'll be pouring hot liquid on these to melt them, so as many chips as possible need to be exposed. Set aside.

Whisk cream (or coconut milk), coconut cream, eggs, chili powder, cayenne (if using) and salt in a heavy-bottomed pot. Once combined, add cinnamon stick and cook on medium-low, stirring constantly for about 10 to 15 minutes until a thick, smooth custard forms. Boiling is bad. Scorching is really bad – you need to keep an eye on this and stir, stir, stir.  You'll know it is done when the custard coats the back of a spoon. If you like gadgets and want to measure "doneness" by temperature, custards set at 175 degrees F (80 degrees C).

Remove from heat and carefully fish out the cinnamon stick. Pour through a mesh sieve (this will help catch any clumps) into the chocolate. Cover the bowl with a towel (be careful it doesn't slide down into the mixture!) or silicone lid and let sit for five minutes.

Stop looking at your watch. I know waiting is hard, but you can do this.

Once you have waited the full agonizingly awful five minutes,  slowly stir the chocolate. Aggressive stirring means grainy pot de creme, so just don't. It will be worth. The. Wait. Slow stirring also helps stabilize the emulsion.  Once your creamy, chocolately goodness is fully mixed, add the coffee and vanilla. Stir until incorporated. (I usually give it a good beat at this point.)

Divide evenly into your container of choice (I've used ramekins and demitasse cups, as well as mini mason jars) and place in the fridge to set, at least four to six hours. I prefer overnight, but can't usually wait that long. Unless I decide to eat them for breakfast. Don't judge.

Some folks suggest covering these, but I like to chill them uncovered. the "skin" on top gets a little thicker, and I feel like that adds to the overall experience of pushing that spoon into a pot de creme for the first time. If you use dark chocolate, lucky Eater that you are, you can sweeten these up by putting a thick caramel sauce in the bottom of your container before pouring in the pot de creme. Or make a sweet whipped cream (or coconut cream) and top with a dusting of chili powder.

Yum.