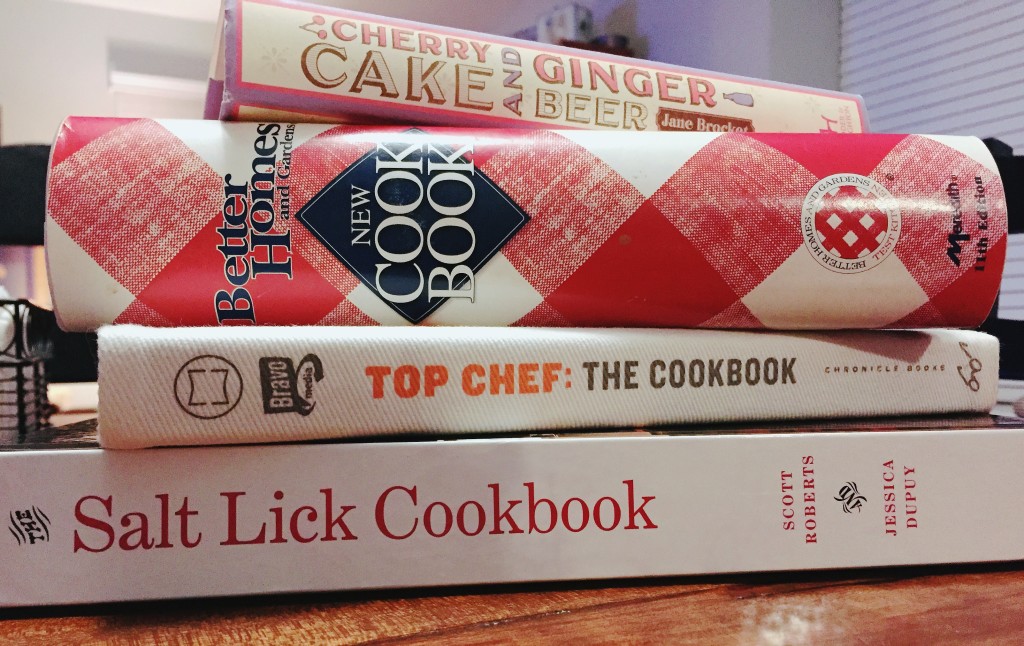 It can be hard to pick my favorite cookbook off my shelf. It's not that I have a lot of them. Give me a few more years and I might rival my dad's collection. He's been known to buy them, forget he bought them and buy them again. The classic story being the slow cooker themed Fix It and Forget It. Well, he bought it and forgot it. Now I have a copy on my shelf.
But getting back to picking a favorite… It's also not that I use the cookbooks a lot. To be honest, I reference Pinterest most of the time when I am looking for something new to try. Shameless plug, if you haven't checked out our board, give it a whirl! Amy does an amazing job of collecting some excellent recipes. When I do leaf through my books and use recipes, I'm usually baking or looking to make something niche like a paleo dish.
My cookbooks tend to have memories and emotions attached to them. So instead of picking a favorite based on how often I use it or how many recipes I've made in it, I would pick one based on, well, warm and fuzzies. How does it make me feel? Who gave me the cookbook? Where did I buy it?
There's my first, the simple Better Homes and Gardens New Cookbook first published in 1930 with 15 editions now under it's belt, which my dad gifted to me when I went off to college in the late '90s. Mine is copyrighted 1996…so it's not the most hip or modern book on my shelf. The pictures aren't super appealing and the recipes don't call for many fresh ingredients. It definitely pre-dates the Michael Pollan era of cooking and eating. But it does have basics, like measurement charts and cuts of meat. It's no frills, basic cooking. I haven't looked at the latest edition at the book store, but from the reviews I've read it seems to have the same spirit: a great starter for someone going off to college with simple recipes and basic ingredients.
From basic to whoah… Top Chef: The Cookbook, the first present my best friend and co-Founding Foodie Amy gave me for Christmas years ago. I knew I had found my kindred spirit. It's got recipes from the show's first three seasons, from quick fire and elimination challenges. I will admit, I've not made a single recipe. But it is my favorite show, so I've leafed through it so many times. While some
recipes have ingredients like elk and geoduck, most aren't as complicated as you might think. At the very least, the recipes and photos are inspiring. And when you don't know an ingredient or term used, it's easy to look it up. The fun parts of the book are the recaps of the season, who won the challenges and the bios of each contestant with page numbers to their recipes. If your a Top Chef geek like me, it's a fun one to have on your shelf.
Then there's Cherry Cake and Ginger Beer: A Golden Treasury of Classic Treats by Jane Brocket, a sweet little book I picked up in Scotland a few years ago. It's full of treats from classic children's books like The Lion, the Witch and the Wardrobe,  The Wind and the Willows and Heidi. Since it was published in the UK, there are some books I'm not familiar with, but the themes stay the same – adventure, intrigue, moral lessons and growing up. Sweet black and white illustrations are scattered throughout. The recipes are broken out into insanely adorable sections like "Proper Elevenses", "Cook's Special Treats" and "Picnic Treats". It makes me happy … after all, I did have a children's book themed baby shower just last weekend. I can pick it up and read tiny bits here and there and even if there are no pictures of the food, I can use my imagination to see the jam, biscuits and cookies.
There's one more cookbook on my shelf that I love to pick up and "devour": The Salt Lick Cookbook: A Story of Land, Family and Love. Note, this is technically not my book, it's my husband's gifted to him by his mom. A couple of years ago she sent him the cookbook along with some of their signature rub/seasoning. If you don't know, The Salt Lick is an iconic barbecue spot opened in 1967 with roots going back to the mid-1800's when the family started slow cooking meat on an open pit. I've never been to The Salt Lick…but I have seen it on TV many times. It was even featured in Top chef's Texas season in 2012 (call back!). If you can't make it to Driftwood, it's primary location outside of Austin, Texas, you can order it online and have it delivered to your front door. For my husband's birthday a few years back I ordered him a whole bunch of meat. We ate well for days.
The cookbook has beautiful photos of the ranch, the restaurant and, of course, the food. There are awesome step-by-step photos for biscuit and pie recipes as well as how-to carve a brisket. The meat is the star, but my favorites in this book are the sides and desserts. Among the basic ingredients, their Hatch Macaroni and Four Cheeses recipe calls for chipotle in adobe sauce, Hatch chilis, crispy bacon and goat cheese. Oh. My. Gawd. And don't get me started on their peach cobbler or their pecan pie.
For food lovers, cookbook collections can be a window into their soul. If you're like me, and you periodically "weed" your shelves, there are the books you can part with and the books you could never ever part with. Whether they were given to you by someone special, you found it on a trip or you met the author or chef and got them to sign it … cookbooks can evoke so many emotions, so many feels. Even if you don't dirty a single page by making any recipes.