When I was a kid, every Sunday was Dumpling Sunday. It was an all-hands-on-deck family affair, an operation over which my dad was president and CEO.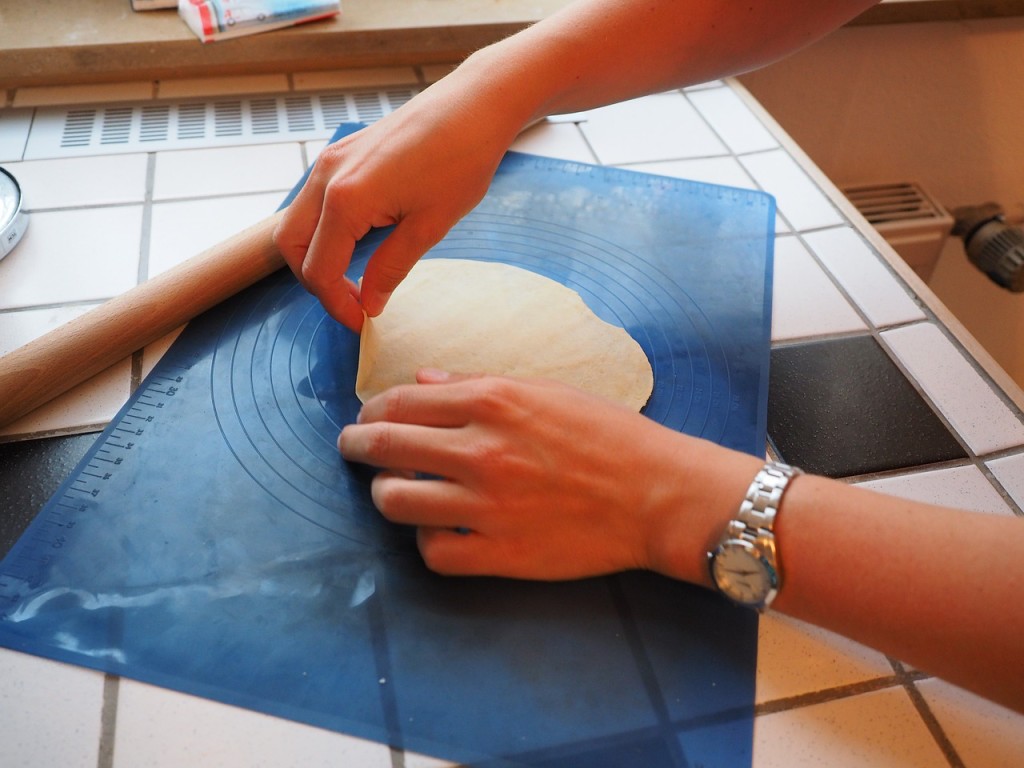 He made all of the skins from scratch, therefore setting the pace for the rest of us. I remember being in awe of the way he deftly rolled the dough into tubes and chopped them into uniform nuggets. He'd then quickly roll each nugget into a perfect circle, never once running over a swift finger.
Mom was in charge of the filling. She fed carrots, scallions, cabbage, ginger and pork into our old Cuisinart food processor, whirring it down into a perfectly spiced pile of meat. She'd plop a spoonful of the mix into the center of a skin, dab the edges with water and pleat it into a perfect package.
My older sister Caroline and I carried Styrofoam trays of freshly rolled dumpling skins for my mom to fill, and then paraded trays of raw dumplings over to the stove where our tower of steamer trays would cook them to perfection. We worked together like a little assembly line, without dropping anything or fighting—a true miracle. It was my favorite day of the week.
As we got older and Caroline and I started playing sports, acting in plays, taking on part-time jobs and learning to drive. My parents, both immigrants from Taiwan, started taking English classes to bolster their skills. Dad began traveling for work—sometimes domestically, but more and more often to Asia. Mom's tailoring business took off, requiring her to work late.
Dumpling Sunday disappeared.
This life of erratic schedules meant learning to make myself ramen while doing calculus homework, or grabbing dinner with my lacrosse team after a big game. When we did eat together, it when my dad came home from a business trip. He'd save up his per diem to buy us takeout from a local Chinese restaurant. We'd sit around the table slurping noodles from a paper carton. The steamer trays and rolling pins gathered dust in the basement.
Years later, my dad and I were driving home from the store, when I brought up dumplings. "Why don't we make dumplings anymore? I always had so much fun."
His eyes filled with tears. He told me that we only made dumplings because he had been laid off: They were the easiest way to feed a family of four for $7 a week.
It was the worst period of his life—and I'd had no idea. To me, Dumpling Sundays had been the equivalent of other families' game nights. Wasn't it just a thing families did together on the weekend?
As an adult, I entered the work force in a struggling economy, and have had my own share of job insecurity. Chances are that I'll never overcome the impulse to swipe leftover sandwiches and cookies after meetings. It's a deeply ingrained habit born of fear, and I'm not sure that the anxiety about my job disappearing at any moment will ever go away.
Its made me think about my dad, who was my age when I was born, and even younger when Caroline was born. Raising children with that kind of pressure must have been terrible—and yet he managed to turn his worst memories into my best ones.
I'm usually good about thanking my parents for the things I know they did: for teaching Caroline and I to tie our shoes, helping with homework, or making sure we went to bed with bellies full of dumplings every Sunday night. It never occurred to me that each little act of love might also be a sacrifice or test of inner strength. All I knew was that I was happy.
WTE Note: Wanna make your own tradition, er, dumplings at home? Try this recipe … or this one!