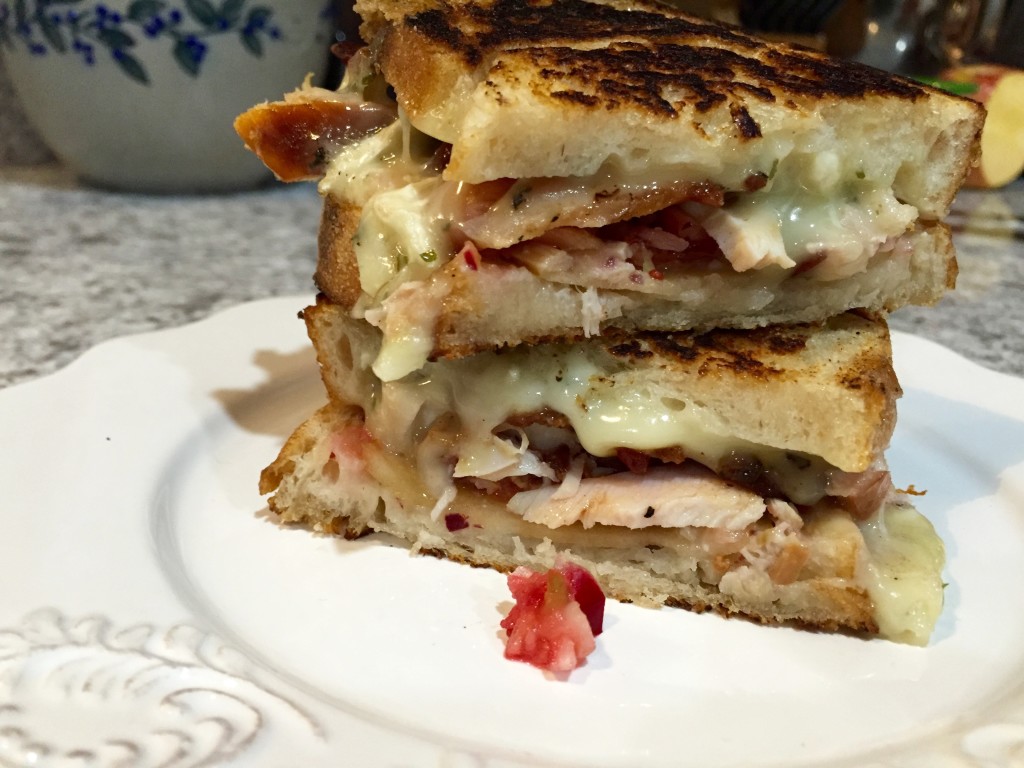 If you're like us, you've been eating Thanksgiving leftovers all day and all night … so much so that it's coming out your ears. It started to get a little boring, so my husband and I snuck out to get tacos the other day.
It was like we were cheating on those bits of perfectly roasted bird in our fridge.
There's no reason for boredom with all the ways you can repurpose your leftovers. Hello, Pinterest! From casseroles and pizza, to waffles and pop-tarts (some of the ideas are pretty crazy pants: What is this? A Franken-Thanksgiving-Leftover-Meal?), there are plenty of recipes for how to give that bird a post-holiday makeover.
While I'm adventurous in the kitchen (sometimes), I balk a little at some of these suggestions. Every year as the containers start piling out onto the counters, I opt for the safe route: cold turkey sandwich, heavy on the mayo.
But not this year! I'm a food blogger … right?
I had to get out of my rut! No cold turkey, and no heated up mush on a plate either.
My instincts still say sandwich, but this year, I wanted to make an adult sandwich (no mayo!) … and use up stuff we had on hand. I took stock of our leftovers: turkey (in droves), stuffing, mashed potatoes, sweet potato casserole, Brussels sprouts, cranberry relish. Could I make a weird mash up of all the things in sandwich form? Dan Pashman has a take using stuffing as the bread. But we'd just been through days and days of eating all this stuff, and my taste buds were craving something that didn't taste overtly "Thanksgiving-y".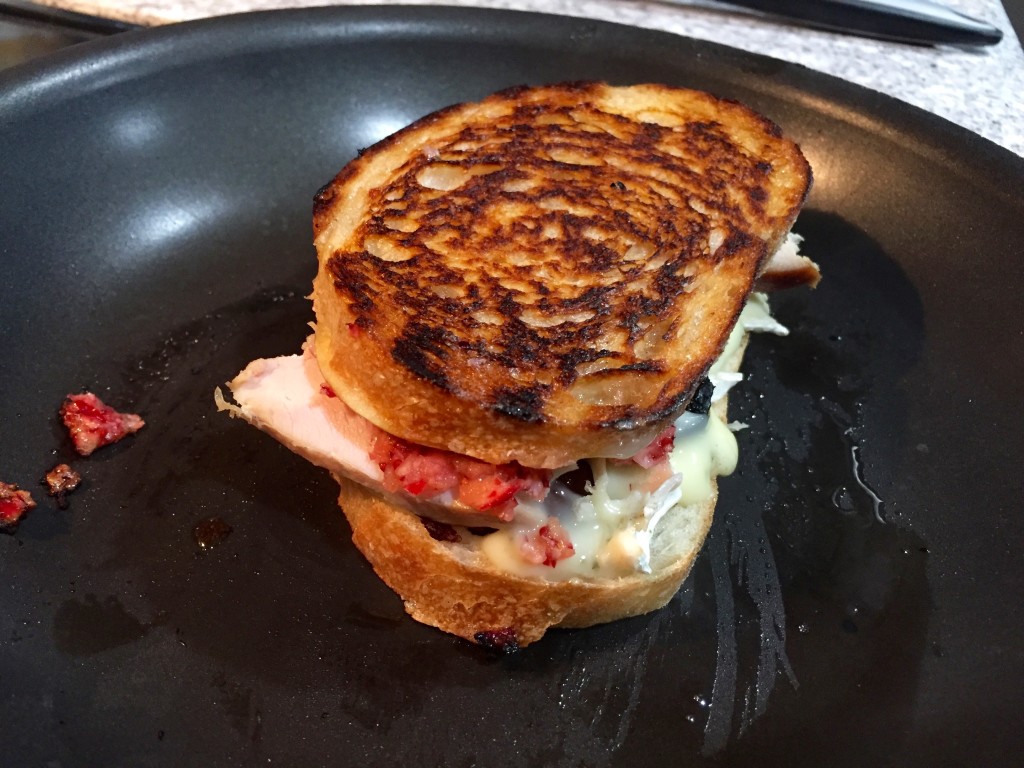 I opened the fridge and looked again. There was half the brie my dad brought. There was a bit of slab bacon left over from the pan fried Brussels sprouts. A lone apple sat in our fruit bowl, right next to half an uncut loaf of sourdough bread. Cha-ching!
Grilled cheese!
I was lucky enough to have turkey two ways this year. I made a classic roasted turkey, using my fellow Founding Foodie Amy's method, and my dad brought a smoked breast he'd made in his Big Green Egg. I sorted out the smoked turkey from the leftovers and piled that on top of the brie.
That all seemed a little heavy, so the addition of something tart in flavor would help brighten things up. Every year we make the same cranberry relish using fresh apples, cranberries and oranges. It's not cooked, but rather chopped up using a food processor. This was the perfect little addition, and just what this grilled masterpiece needed.
The result was the sandwich of my dreams. Gooey on the inside, crisp on the outside … and the flavors?! There's no more classic favor combination than brie, turkey and apple. Plus, the smokey bacon? Yum.
So what are you waiting for? If you still have leftovers sitting around, take stock. How can you arrange this into a sandwich? Grilled or toasted? Any cheese sitting around? Pears or apples? What about adding a fried or poached egg on top? Flex those creative sammy muscles and you'll be kicking those cold turkey and mayo habits to the curb.
Grilled Turkey, Brie and Apple Sandwich
Instructions will make one sandwich, so double or triple as you like! Try a pear instead of apple; use a more traditional cranberry sauce instead of the relish; throw on a dollop of gravy. This recipe should serve as a guide or template to allow your leftovers and pantry to shine!

2 slices sourdough bread
3 slices leftover turkey, roasted or smoked
4 slices brie, thinly sliced (we had an herbed brie on hand)
apple, thinly sliced
3 slices bacon
1-2 tablespoons cranberry relish
butter, softened

Preheat the oven to 315 degrees.

Cook the bacon to your liking, crispy or soft. Check out this great tutorial on making bacon in the oven, especially great if you're making several.

Slice the bread, if not pre-sliced. Slice or chunk out the brie, removing as much or as little of the rind as you like. I removed the tops and bottoms, but kept the sides for easier mushing and melting. If your turkey is thicker than you'd like, slice it in half to your liking.

Build the sandwich! Layer like so: brie on the bottom, then bacon, turkey, cranberry relish and apple. Butter both the top and bottom of the sandwich bread (no need to butter inside).

Warm a pan on the stovetop and add butter. Melt butter and make sure it doesn't burn. Gently place the sandwich into the pan (it may be stacked very high!). Grill each side for about a minute or so, until the bread becomes toasty and crisp and the brie starts to get melty.

To finish it off and warm it all the way through, take off the heat and place the sandwich into a pan onto a baking sheet. Place in oven for 5-10 minutes, or until completely warmed through.