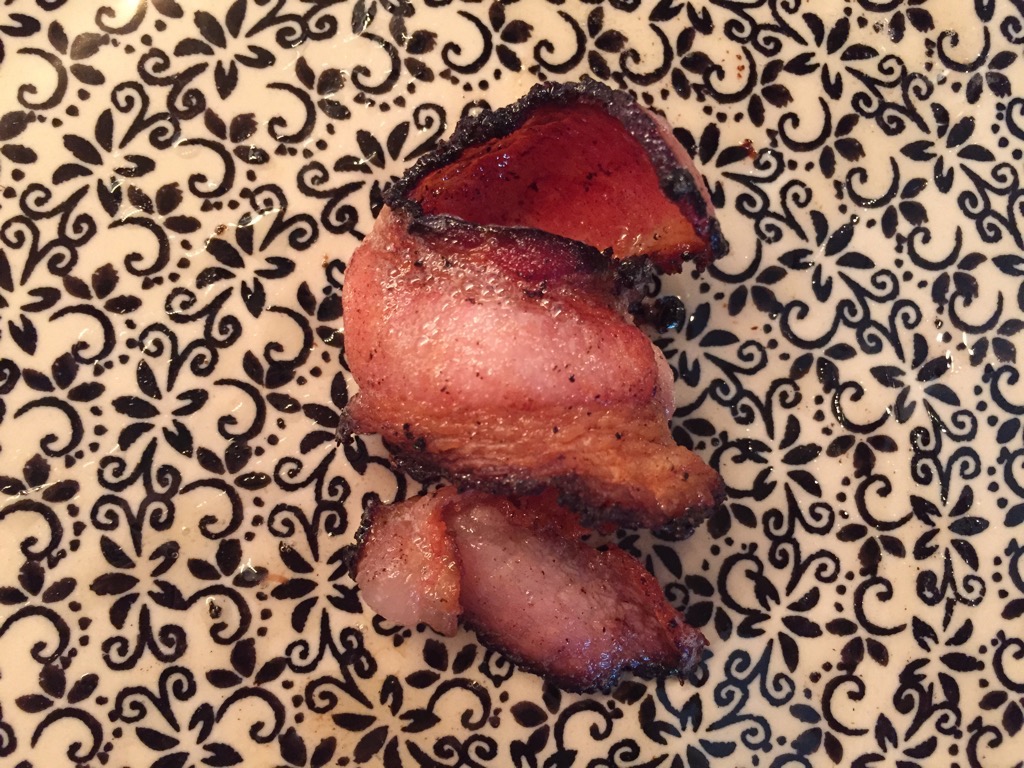 As I've learned over the years, the way to a dad's heart is through his belly … especially my pops. And as they say, like father like daughter: When it comes to food, he and I are two peas in a pod.
From finding the perfectly simple peanut butter sundaes at a local ice cream stand, to trekking four hours to eat the original Primanti Brother's sandwich in Pittsburgh — my dad and I share a love of eating. Food has always been an adventure that we share.
This love of food has also extended into the kitchen. As we munch away on our sundaes, we talk about how to recreate it ourselves back at home … and make it even better. Maybe more peanut butter? (For the record, the answer is always more peanut butter.)
Our latest food adventure? Making bacon from scratch. (Note, after you've made you're own bacon, try your hand at bacon jam.)
My dad first attempted to make his own bacon after visiting Scotland several years ago. He had eaten a really amazing breakfast sandwich with thick, European-style bacon, the kind you just can't buy anywhere here in the States. Unfortunately, his attempt to recreate it had fallen short. Whether it was the curing method, the cut of the meat or how he cooked it in the oven … it just wasn't the same as his memory.
This time we stuck with making something closer to home – a basic American-style bacon. This meant everything was different than his last try, from the cut to the curing. We even decided we would use his smoker rather than using the grill or the oven. For the record, as I've researched, it turns out you can make it in either! This Food/Slash Science Blog gives a run down of smoking bacon on a charcoal grill. And The Chow has step-by-step for smoking in your oven. So, smoker or no smoker … anyone should be able to pull this off.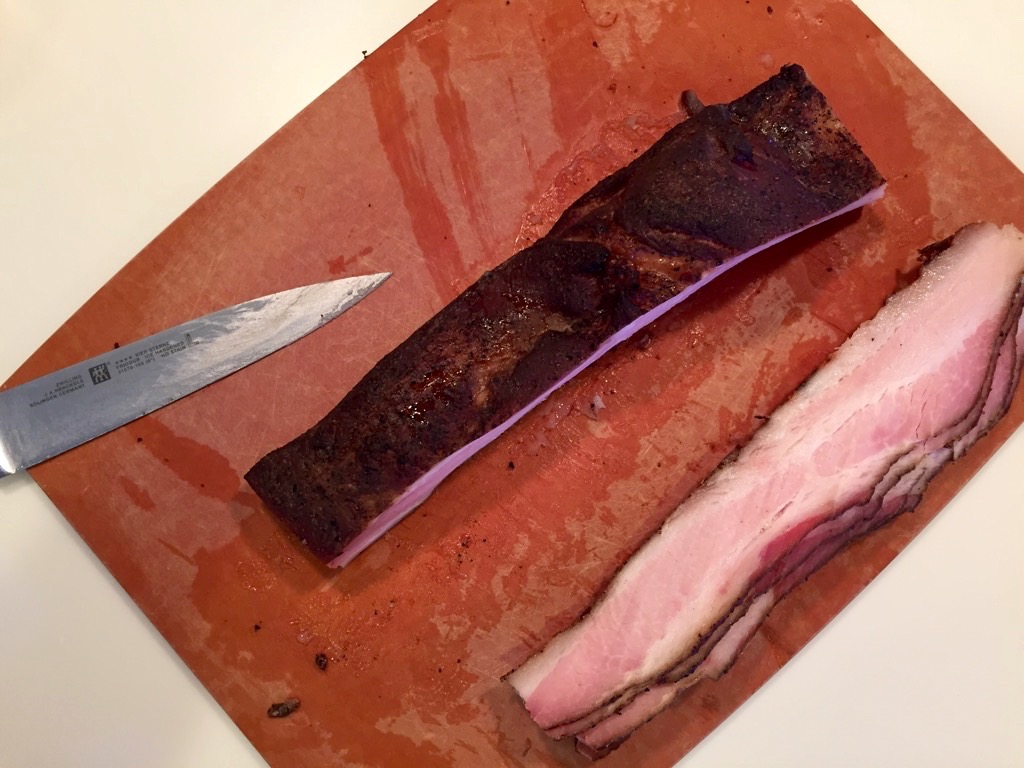 But remember, the whole process takes a little planning. I followed the method on Amazing Ribs, a site dedicated to all things grilling and smoking.  The curing process takes about 7 days, depending on the thickness of the pork belly. After we decided which day I would trek out to my parents' house in the country, I had to make sure I had the pork in hand. I called ahead to a local butcher to order the belly … something the average grocery store's meat counter doesn't carry. Wilson Farms Meat Co, located in Catlett, VA, sells just about any cut of meat. Two pounds seemed like a good amount: not too much that we would be wasting lots of pork should we screw this up, but also enough that we could really sample it. Quick side note: whatever you think is a good amount, double … no, triple it. This bacon was that damn good.
All in all, the process wasn't hard or time consuming. It just took some patience.
Over the days the belly is curing, you should take it out of the fridge and massage it. This ensures that the liquid released from the meat is incorporated back into the meat and it's properly seasoned.
After waiting a week, the day you're ready to smoke that bacon feels special. Almost like a birthday. Let's just say I took the day off of work to smoke bacon with my dad. That's love right there. Love for dad and love for bacon.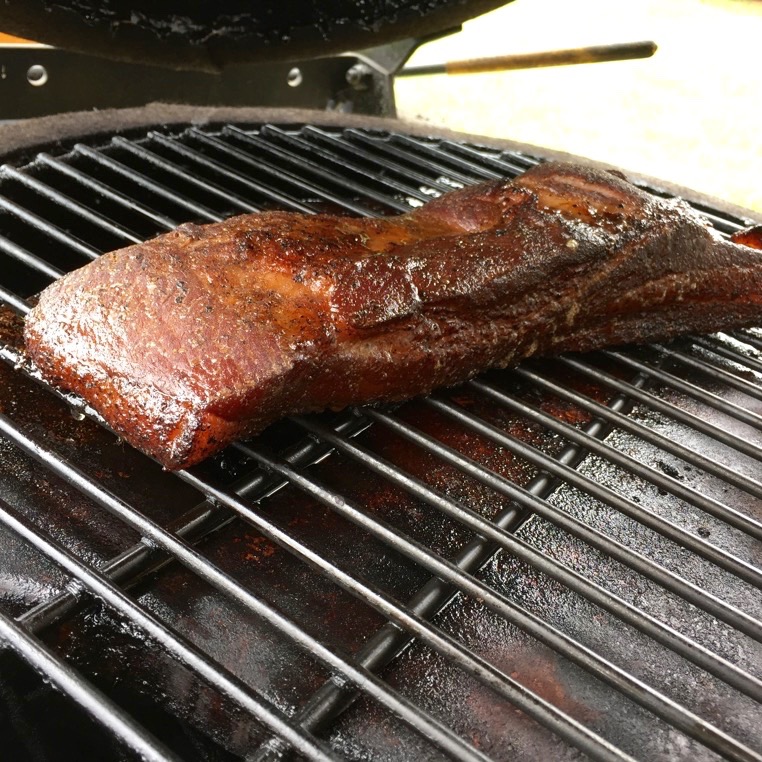 Anytime I get to see my dad use his smoker is a good time. From turkeys on Thanksgiving to pork butts in the summer, he's done a lot on it. He has a Big Green Egg, kind of like the Rolls Royce of home smokers, one that my husband and I are coveting and thinking one day soon we'll have one too. Dad's  had his for 12 years and, other than replacing the gasket on the lid, the thing runs like new. While it always seemed like a mystery to me, this was the first time I really, truly watched my dad fire it up and use it. Turns out, it's no big thing! He soaked some hickory wood chips in water that morning. Then added fresh oak and hickory charcoal briquettes inside the smoker. After firing it up, he heated up the smoker to 200 degrees. Then we were ready to pop in the pork belly!
Whether you use a smoker or a grill, it may take some work as you get to know how fast it heats up and how best to maintain that heat. I was lucky to have my dad's expertise with his smoker, but if you're not as familiar – whether using a new smoker or someone else's – make sure you baby it! Don't let it ride for three hours without checking the temperature of your smoker or the internal temp of the meat.
We checked only once, at about three hours, and it was ready! It was a few degrees over 150, so we pulled it off the heat. We trimmed off some of the dark, peppery outer edge and nibbled. Oh yes, it was good. After we let it cool in the fridge for a couple of hours, I sliced it all up and we fried two slices to share.  OK, it was a few more slices … and some of the little scraps that had fallen off while slicing.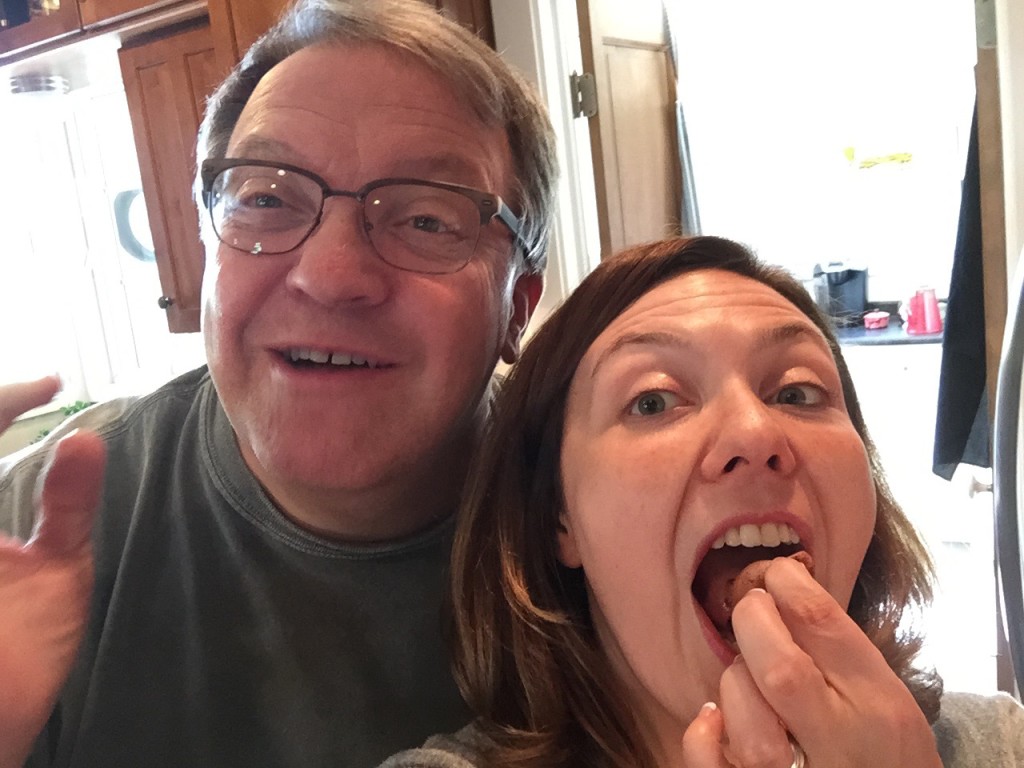 Unfortunately, we had to share some with my step mom and my husband, who had both missed out on our daddy-daughter-venture. Then there was the bacon I promised to take to the beach with me that weekend for Amy to try. Had we not made so many promises of bacon we would have eaten all of it, followed by a chaser of Lipitor for all of the heart attacks we may have induced.
Not to brag too much, but the bacon was amazing. And not to brag even more, but I also have the best dad ever. We share so many fun adventures and I am constantly amazed at how much I still learn from him. One of the biggest things he's taught me is how to laugh and find humor and joy in everything. Also, the answer is always more peanut butter.…and bacon.
Basic Smoked Bacon

I followed the curing method and recipe found on Amazing Ribs. Since I smoked two pounds of pork belly, I adjusted the measurements and the smoke time accordingly. Note, you'll need about 7 or more days of curing time, depending on the thickness of the belly.

2 pounds pork belly
3 teaspoons kosher salt
1 teaspoon Prague powder #1
3 teaspoons ground black pepper
4 tablespoons dark brown sugar
1/2 cup distilled water

Cure the Pork Belly (About Seven Days Out)

Remove the skin from the belly, if it is still attached. Use a medium-to-long, very sharp knife. Start at a corner and slowly cut, staying as close to the skin as possible. You want to make sure you keep all the belly fat. Reserve the skin for cracklins!

In a mixing bowl whisk the salt, Prague powder, pepper and dark brown sugar into the distilled water until all is well mixed and not clumpy. Pour this mixture into a storage bag big enough for the pork belly.

Place the belly into the bag and seal tightly, removing the excess air. Shake, massage and mush the liquid into the belly, ensuring it's coated well. Store the bag with the belly in your fridge for about 7 days, a day or two more if the belly is thicker than 1 1/2 inches. More curing time won't hurt, it will just release more liquid every day. Twice a day take it out to massage the meat and flip the bag.

Day of Smoking

Prep your smoker! This will vary depending on your make and model. Essentially, do what you need to do to fire it up to 200 degrees.

About 30 minutes before you're ready to smoke, remove the belly from the bag and throw the extra liquid away. This will bring it closer to room temp and cut the chill off before putting it in the smoker. If you like, give the meat a quick rinse to remove any large, excess pockets of salt.

Smoke the belly until it reaches an internal temp of 150 degrees. For two pounds at 200 degrees, our bacon was done in about three hours.

Chill the bacon on a plate or cutting board in the fridge for about an hour. This will make it much easier to slice as the fat will harden back up! When ready to slice, use a long thin knife – or a meat slicer if you happen to have one. Cut thinner or thicker slices…even cubes, however you like. Fry it up as you would store bought bacon to render the fat.

Storage

If you don't eat it all in one sitting, wrap it tightly in plastic wrap, then tin foil. Refrigerate up to two weeks or freeze up to three months.