What is it about cranberries and turkey? Why do these two go so well together? We don't even question it anymore — they just do. And this time of year, cranberries are everywhere.
Growing up, no matter where my family celebrated Thanksgiving, there always seemed to be a cranberry "dressing" on the table. If my memory serves me correctly, it always came out of a can … and stayed in a can shape. I suppose we were expected to slather it on our turkey, but there was also that delicious gravy boat.
Not surprisingly, the cranberry dish appeared almost untouched at the end of our feasts, while there was barely a drip of gravy left. It seemed sad … but not sad enough for me to cut into to that can-shaped, gelatinous mush I was told was cranberry dressing.
Given my introduction to cranberries, it took me a while to figure out what all the fuss was about. It turns out, given the proper handling and freshness, these little berries are the best thing to serve with sliced turkey. I have to confess, now that I've discovered the wonder of cranberries, it's now the gravy that gets neglected at our Thanksgiving meal. Sorry little boat.
A few years back, after I was well into adulthood, my dad and stepmom discovered a relish that changed my whole perception of the cranberry-turkey pairing. It was tart, sweet, fresh, a little crunchy … the perfect accompaniment to our roast turkey. It didn't take me many Thanksgivings before it became a must-have at our table. Now I make sure that it's part of my holiday meal, no matter who I am breaking bread with.
Here's the kicker: It is the easiest part of the whole meal. Is it as easy as opening a can and plopping it on a plate? Well, no. But as long as you have a food processor it'll take no time at all. Even without a food processor, you just need to do a little chopping by hand. And, unlike most traditional cranberry dressings, this recipe requires no cooking. Simply prep, chop and combine your ingredients, then let it sit overnight in the fridge to let all those yummy flavors develop.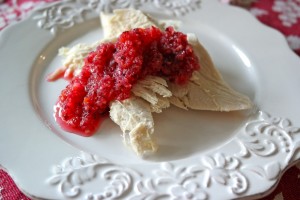 Since this recipe is so simple, you can also play with the flavors and textures. Want a little kick? Add in some jalapeno or horseradish. More crunch? Toss in some pecans. You could even play with adding pears or ginger.
Also, if you're looking for something less sweet, cut back on the sugar. Remember, my family has a sweet tooth that might knock your sweet little socks off. Rather than sugar, you could try agave, honey or a sweeter fruit such as pineapple. The possibilities are endless. But this simple combo will always be on my table — with an extra helping on my plate.
Apple-Cranberry Relish
Feel free to play with the ingredients and amounts to get that sweet/tart balance the way you want. Add a little, process a little and taste until you get it how you want it.

2 medium oranges
2 bags of fresh cranberries
2 medium apples, cored, peeled and cut into chunks
2 celery ribs, cut into chunks
1 cup sugar

Grate the orange peels and set aside. Peel and discard the white inner membrane of the orange (that white inner pith will make the relish taste bitter).

Separate oranges into sections and place half in a food processor. Add half of each of the cranberries, apples and celery. Process until coarsely chopped.

Transfer to a bowl and repeat with remaining oranges, cranberries, apples and celery. Stir in sugar and reserved grated orange peel.

Cover and refrigerate overnight.