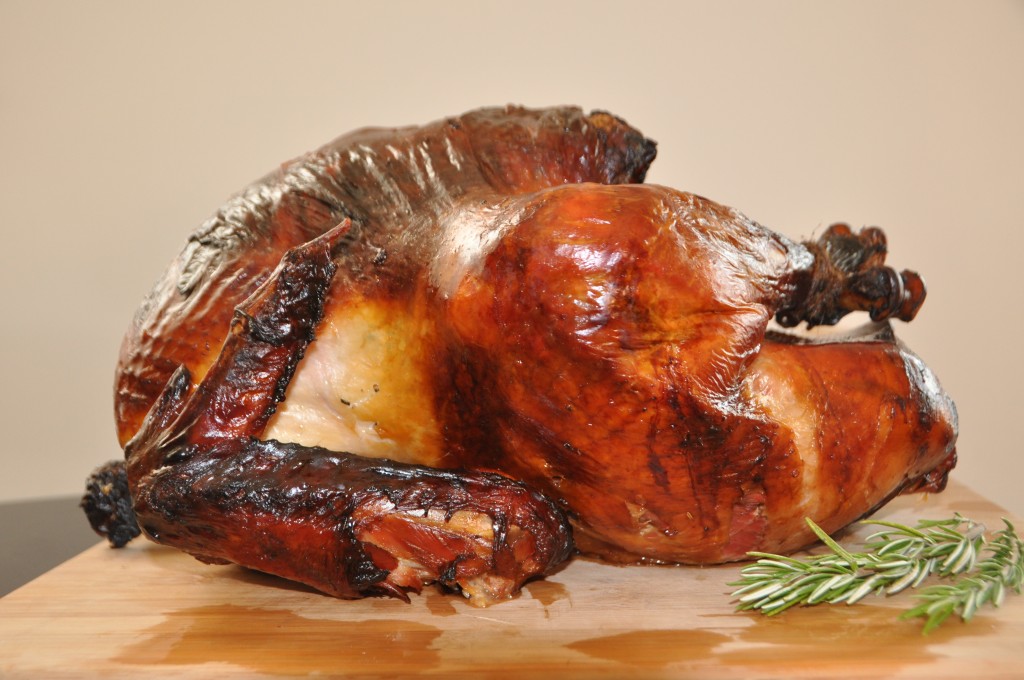 For me, Thanksgiving just isn't Thanksgiving without turkey. Valentine's Day can have chocolate. I won't begrudge Easter its ham. I'll readily admit Christmas and fruitcakes go hand-in-hand (such a double meaning here…). What I will NOT do is forgo that big fat juicy bird on the fourth Thursday of November.
Honestly, I feel the same way about Christmas. So strongly, in fact, that my disappointment is palpable when I learn that we'll be having some sub-par beef dish or even lobster. Those two holidays just seem fowl (I crack myself up!) without the bird. I mean, even Ben Franklin thought turkey better represented American values than the bald eagle.
… And I value turkey. So when I prepared my first Thanksgiving dinner some two decades ago, I hoped to do it justice.
That meal brings back fond memories. It was the first in a long tradition of inviting those with nowhere else to go into my home to celebrate together. I had a small two-bedroom apartment in Lansing, Mich., where I was going to school at the time. My alternate dad – Don – was there. He's since passed, so the memory is even more precious.
Here's the thing … stuff went wrong. REALLY wrong. I'd never prepared such a big meal, and thus my timing was way off. I forgot to start the potatoes or I cooked them to smithereens (I can't remember which). I used cranberry sauce from a can. I prepared the gravy in a Pyrex bowl on top of my gas stove (you can imagine where I'm going with this, sadly.) It exploded, sending shards of glass and splatters of turkey-flavored napalm in every direction. That sent me to the floor, bawling. I was crushed, thinking everything was ruined.
What's turkey without gravy? Oh, the horror of it all.
Don didn't dare laugh at the hysterical scene. He just put his arm around me and told me it would all be fine. He dried my tears, tucking tendrils of gravy-coated hair behind my ear, and then turned to wipe away the gravy dripping from cupboard doors and walls alike. It wasn't until I pulled that perfect, deliciously brown and juicy turkey out of the oven that I realized two things. The first? I make damn good turkey.
The second lesson was more important (you can revel in the former through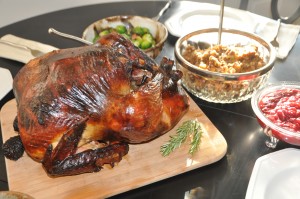 the recipe below!) Don was right: No matter how much gravy goes flying, or how bad the potatoes are or phenomenal the turkey is … it's not about the food. It's about the people sitting next to you. Turkey may be synonymous with Thanksgiving, but it isn't what the day is about. It's about what you're most thankful for. For me, it's about you.
Thanks for pulling a chair up to the We The Eaters table and joining us on this adventure. With Adam's and my wedding, it was easy to let our blog baby's one year anniversary slip right by … but it didn't go unnoticed. We owe everything to our Eaters, those of you who read and those of you who write about your culinary adventures with us. We are so grateful for our community and hope you'll continue to share your time and talent in the future.
Here's hoping you and yours had a wonderful Thanksgiving Day.
Amy's (Not Nearly Famous Enough) Herbed Turkey Roast

Recipe adapted from Hospitality: A Cookbook Celebrating Boston's North Shore, which was one of my first cookbooks and a gift from my daddy, who also inspired my turkey-cooking secrets. This recipe is sufficient for a 20-pound bird.

Before you get started, get the best bird you can afford. Here are some tips. WTE is all about free range, organic when possible and no antibiotics. We wanted a fresh turkey this year, but, alas, our source fell through. I'll try again next year, but in the meantime settled on a local Maryland farm that hits all those marks but organic and sells at Whole Foods.

Now … a turkey unbrined is a turkey pining for it. Consider it an insurance policy. You are going to cook the damn thing all day … and forecasts say chances for a dry bird are high. Making sure you cook to the right internal temperature will help, and so will giving your bird a nice long bath. The Pioneer Woman has some great tips, but this year, I just used a mix from Williams Sonoma, adding apple cider and beer. I started soaking mine Tuesday night.

Remove turkey from brine, wash and pat dry. Season the cavity with salt and pepper. You can simply stuff with chopped apple, onion and celery, or … stuffing. I've always stuffed the bird. But the controversy swirling about whether this is OK suddenly has me rethinking. It's a food safety issue, and our lovely partner Eater, April, is a stickler for erring on the side of caution at WTE. I've thus decided not to stuff my turkey this year. This is the article that changed my mind. That just leaves one question — since I'm not cooking it in the bird, is it "stuffing" … or "dressing"?

What really sets my turkey apart is the herb mixture. Here's the recipe:

Amy's Herbed Turkey Baste

1 stick butter, softened
1 5-ounce package Boursin cheese (I used garlic and herb), softened
1/4 cup cognac
1/2 cup fresh herbs, chopped (I use sage, rosemary and thyme)
1/4 cup shallot, chopped fine
4-6 cloves garlic, chopped fine

Mix thoroughly and put in a plastic Ziploc-style bag. Chill. Roll up your sleeves — this next part can get messy. Starting at the cavity opening, gently separate the skin from the meat. You'll basically be running your fingers under the skin, working around the contours of the turkey toward the neck to loosen the skin from the breast. Be very careful not to tear the skin. If there is a pop-up thermometer, you'll want to remove that and be very careful in that area.

Next, check the herb mix. It should be stiff, but not hard. Think frosting consistency — spreadable, not runny. Cut the tip off one end of the bag and stick it under the skin a few inches. Squeeze out about one-quarter of the mixture. Working on top of the skin, spread the mixture out under the breast by pushing it into place with your fingers. It should slide easily under the skin. Squeeze out more mix until one side is completely coated. Repeat on the other side. You can replace that thermometer if you like, or get a real one. I love the new All Clad one we got for our wedding, but having one you can read outside the oven is awesome. And here is a chart on cooking times.

Now you're ready to roast. Here's my next secret: Start upside down. The dark meat is always ready before the white, which I find incredibly unfair. It's my favorite part, you see. If you cook a turkey long enough for the dark meat to get thoroughly cooked, the white meat will be dry. So … I roast my bird for the first hour on its belly. Here's a great tutorial.

About that skin: If you want it nice and crispy, you might want to check out Alton Brown's tips. I wasn't sure how this would work with inverting. After flipping the bird (man, I crack myself up), I added a healthy coating of butter and hoped for the best. It came out perfect. I also agree with Brown's tips on basting: You don't need to bother. It is a pain in the butt, it lets heat out and you've already abused the crap out of that bird to make it taste so good — so what's the point? Just let it be.

Once you remove your masterpiece from the oven, let it sit for 20 minutes before carving it. That will prevent the juices you've so meticulously worked to keep in the bird from disappearing in a disappointing ball of steam.

And, finally … enjoy.