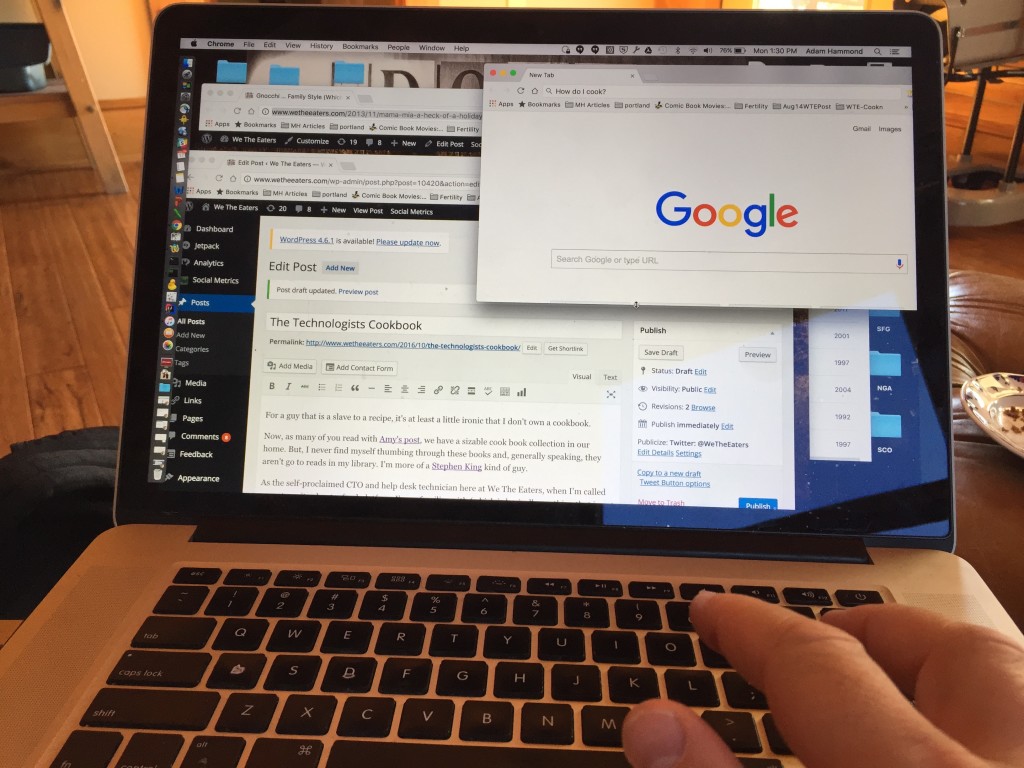 For a guy that is a slave to a recipe, it's a little ironic that I don't own a cookbook.
Now, as many of you read with Amy's post, we have a sizable collection in our home. But it's not like I never find myself thumbing through these books. Generally speaking, they aren't go-to reads in my leisure time. I'm more of a Stephen King kind of guy.
As the self-proclaimed CTO and help desk technician here at We The Eaters, when I'm called upon to write about a food platform I'm unfamiliar with (which is basically anything that is not cooking meat on a grill), I do what any tech savvy, cooking-impaired person would: I turn to the Internet.
I took a stroll down memory lane, re-reading the posts I've written over time. It's very few and far between that what I write about isn't inspired by a recipe I have found online. Here are a few of my greatest hits … and the sites where I discovered them, and in turn, that helped me grow as a cook.

Adam's Greatest Hits

TheGoudaLife
I discovered Brussel Sprout and Bacon Scones thanks to TheGoudaLife. My mission was to write a post about Brussels sprouts and I wanted to do something original. The problem? A strong aversion to vegetables, compounded by a deeply ingrained fear of dietary baked-goods instilled by my Nana. This site helped me turn those challenges around into a pretty amazing scone. As far as food sites go, there is an airy, minimalist appeal here. It's less Pintrest's overwhelming number of images and more blogger feel.

I rocked this birthday Rack of Lamb thanks to AllRecipes. This was the first bug meal I made for my favorite foodie. And when I say big, I mean I got a mariachi band to serenade her from the porch as a side. But more importantly, I wanted to wow her with some hands-on cooking, despite never having tackled a meal like this before. I had no idea how challenging rack of lamb would be, but it was totally worth it. If there were sites that held real nostalgia for me, it would be AllRecipes for this meal alone.

This Live Hot and Sour Soup was another of my foodie's favorites, another swing at impressing her on her Birthday, while said foodie was on a raw diet. So, VegetarianTimes it was. I'm sorry, what? Yes, VegetarianTimes is one of my top sites, though completely void of meat-related recipes. Of all the things I made for that meal, this was the winner, and something we continue to make to this day (including a round delivered to her most-adorable Grandmother, who also loved it). VegetarianTimes has a legit magazine feel (which isn't a surprise, since it is — and my gal has a subscription). And while I can't say I peruse it frequently, any time I'm challenged with a "veggie as a main" recipe, this is the first place I look.

I've also whipped up this No Noodle Lasagna, thanks to EatingWell. You may as well be speaking Klingon when you tell me to make a lasagna without the use of pasta. My Italian half begins to hand gesture in non-complimentary ways! However, when challenged with this, EatingWell had a great solution that turned out delicious (even by Garfield's standards). It may not be the most visually appealing site, but I've found it an invaluable resource that is usually one of the starting points for any cooking research I'm doing. That said …

Still, My Momma Wins


When I am making Gnocchi (and all things Italian), I owe the most thanks to … Mom. When the wifi is down and you don't know what to do, Ghostbusters is not who you call. My mom has taught me a ton about cooking. Or, at least she's tried. She definitely wields the magic of winging it with no recipes or measuring. But one of the funnest posts I got to write one the one I co-wrote with her making gnocchi from scratch.