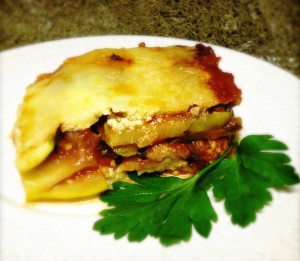 With each new year — particularly after the food filled wonder of the holidays — many of our resolutions center around fitness and eating. The craziness of 2012 has knocked me off of my routine entirely, so I'm already on the hook for getting back on track with my gym regimen. But when it comes to resolutions about eating right, I've tried to be far more realistic; I avoid that topic each year altogether!
So when I was asked to tackle a healthy, no-noodle lasagna as part of January's theme — making comfort foods healthier — I knew I had my work cut out for me for a number of reasons. For starters, I love pasta. Carb me up, please. And, of course, don't forget the cheese. Loads and loads of delicious ricotta and mozzarella. And the meat! Meatballs, meat sauce, meat meat meat. Yum. "Healthy lasagna" was new to my lexicon, for sure!
Let's add in the fact that I'm still a culinary newbie. Sure, I've been trying new kitchen challenges to impress my favorite female foodie. But I haven't come close to developing her amazing cooking instincts — like how she can look at a pile of crazy ingredients and intuitively know how to whip up a deliciously harmonious feast (seriously, this girl would rock on Chopped!). Me? I lean heavily on a recipe the first time through with little alteration. I'm trying to branch out, but baby-step style.
My one hopeful, genetic, ace-in-the hole is my Italian heritage. Well, the half that's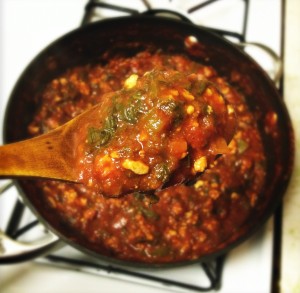 Italian, that is. Straight out of Naples, Italy. So naturally, once I got this assignment, the call went out to my mom for some cooking tips. Sadly, once we started talking sauce, she ominously declared, "You'll need hours to cook a sauce! I usually let mine simmer for six or so hours." Cue crickets.
Seriously, Mom? Well … there goes that lifeline. And, this being WeTheEaters, you'll find no jarred, pre-made sauce here  (despite suggestions from several recipes to do so). I will admit to creating the sauce below using cans of tomato sauce and paste (per the recipe), but even my Italian mom does that.
I started Googling, as I usually do, and came up with several interesting options. I had initially thought I would try eggplant instead of pasta. I was ominously warned, however, that working with eggplant might be a pain. Luckily, I found many recipes that used zucchini — one of my favorites — instead.
I picked a recipe from allrecipes.com, but decided to make some tweaks for health and flavor. To me, it's a no-brainer to swap out ground turkey for ground beef, though I know I'll miss the flavor in the meat sauce. The real hurdle is going to be the cheese. I know I can swap goat or cottage for ricotta cheese … I'm just not sure I want to. But I quickly realized at the store that there are no-fat Ricotta options, and in comparing the nutritional information with the cottage cheese, I discovered that — at least in regard to fat content — the ricotta passes the test.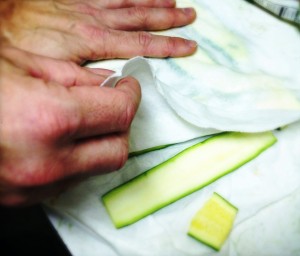 I decided to use the same low-fat-option strategy with the other cheeses in the recipe, and to try adding to the flavor by mixing some goat cheese into the ricotta.
To further spruce things up, I swapped out fennel for oregano (mostly because I got home to find I had no oregano!), fresh spinach for frozen (which I just cooked in with the sauce to speed the process). I also upped the salt and pepper volumes a bit and threw in some garlic (just because!).
The good news is, it tasted great. I'm not entirely convinced my goat cheese added much to that flavor, but all in all, very tasty.
The bad news? The lasagna was a bit soggy. Zucchini is very watery, and, as I learned, needs thorough salting and draining. I should have let it  sit longer after salting to dry out more. I suppose, in addition to the salting process,  I could have let it rest longer after coming out of the oven.
Next time I make this, I'm going to try some variations: adding broccoli as a veggie (suggested in a recipe I didn't use), using eggplant instead or maybe alternating eggplant strips with zucchini.  And, for you vegetarians, making this without the turkey would have tasted just as good.  All-in-all, though, it was a delicious, healthy alternative to the carbo-load that is your typical lasagna.
No-Noodle Lasagna
Modified from allrecipes.com

Original recipe makes 1 – 9×13 inch baking dish (about 9 servings)

3 large zucchini
1 tablespoon salt (or to taste)
1 1/2 pounds ground turkey
2 teaspoons ground black pepper
1 small green bell pepper, diced
3/4 large onion, diced
1 cup tomato paste (2 8-ounce cans)
1 16-ounce can tomato sauce
1/4 cup red wine (and then some!)
2 tablespoons chopped fresh basil
1 tablespoon fennel (chopped fresh would be great) or oregano
water as needed
1 egg
1 16-ounce container no-fat ricotta cheese (or cottage cheese)
2 tablespoons chopped fresh parsley
1 16-ounce package frozen chopped spinach, thawed and drained, or an equivalent amount of fresh spinach
1 pound fresh mushrooms, sliced
8 ounces shredded low/no fat mozzarella cheese
8 ounces grated Parmesan cheese
6 to 8 ounces goat cheese
Garlic powder/minced garlic

Directions

Start by slicing the zucchini lengthwise into thin slices – about a quarter inch thick. Sprinkle lightly with salt and set aside in a colander to dry. If you do this first, they should be dry by the time you need them (10 to 15 minutes is fine). Blot them with a paper towel to make sure they are dry.

For the sauce, use a large sauce pan. Cook the ground turkey with the black pepper over high heat for about 5 minutes. Add in the green pepper and onion and cook, stirring, until the turkey is nearly done. Next, add the tomato paste, tomato sauce, red wine, basil, garlic and fennel. Also – I chopped and added the spinach directly into the sauce. If you prefer, you can layer the spinach in the lasagna. If the sauce gets too thick, add a little water. Bring to a boil, then reduce the heat and let simmer for 20 minutes, stirring often.

While the sauce cooks, stir the egg, ricotta, goat cheese and parsley together and set aside.

Preheat the oven to 325 degrees and grease a deep 9×13 inch baking pan.

To make the lasagna, put a layer of sauce in the pan. Put down a layer of zucchini. Next spread a layer of ricotta, then a layer of mushrooms and a layer of mozzarella. I added another layer of meat sauce, zucchini and ricotta, then a final layer of zucchini and meat sauce. The layering isn't set in stone; feel free to experiment!

Spread more mozzarella and Parmesan cheese evenly over the top, cover with foil and bake for 45 minutes. Remove the foil, raise the oven temperature to 350 and bake another 15 minutes. Remove from the oven, then let it stand for another 5 minutes before you serve it.