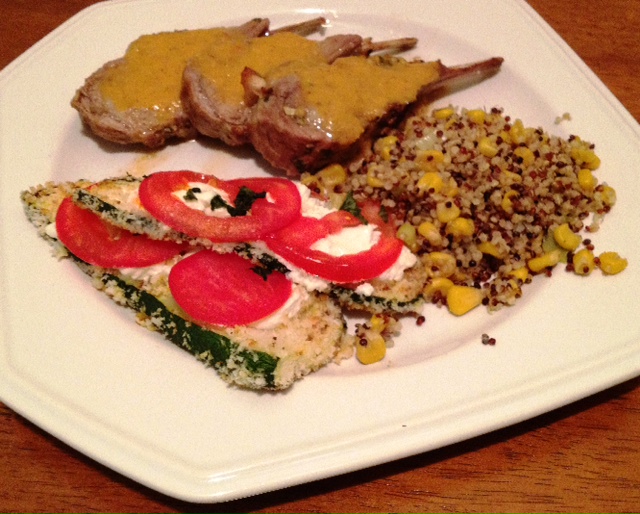 OK.  You're a guy that doesn't really cook, but the love of your life is a big-time foodie and you want to do something amazing (well, hopefully amazing) for her birthday. What do you do?
Historically, I've never been much of a cook.  Programming and working with databases: easy.  Scrambled eggs? Well, maybe I'm not that bad.  And I'm pretty effective on the grill (reportedly winning the girl's heart with basil chicken and grilled leeks!).  But I'm definitely not intuitive in the kitchen. First time out, I normally follow a recipe to the letter.
Despite all this, I decided to cook a romantic dinner as one of many birthday surprises I had planned for my girlfriend.  My first step was literally Googling exactly that: "healthy romantic meals for two."
That yielded about 10 million results.
Since I'd already made her steaks and chicken on the grill, that was old hat — not really something that would impress.  Seafood seemed a bit of a reach for me.  Bones? Scales? Yikes!
But then I saw rack of lamb.  More specifically,  a rack of lamb with a cilantro-mustard seed crust on EatingWell.com. Pictures of the finished meal looked delicious, and the description of the process made it seem pretty attainable.  And –  AND! – the recipe called for a New Mexico chile sauce that would perfectly compliment the Mariachi serenade surprise I had planned (note: go big or go home). That cinched it: the mission was a go.
With my very basic Googling strategy, I started searching for complimentary sides and stumbled upon a great recipe for zucchini: first grilled, then breaded and fried and topped with goat cheese, tomato and basil.  Zucchini is always a welcome addition to a meal, in my opinion. Throw in a co-worker's suggestion of quinoa with corn and scallions,* and my plan was in place.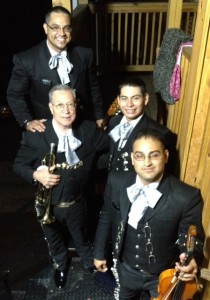 The day of the surprise meal, I went to my local Whole Foods and collected all the necessary ingredients — fresh is always best. I thought I was ready to go.
But it didn't take long to realize that I'd jumped directly into the deep end.   My recommendation to non-cooks like me? Don't try making four new, untested recipes at the same time.  That part turned out to be a bit of  stretch for my abilities.  Coordinating completing all that food — and getting it to my foodie's apartment in time to surprise her — certainly didn't make the task any easier. On top of that, both the rack of lamb and zucchini called for a brief trip on my grill, so I was juggling multiple cooking locations.  By the time I was done, my small kitchen looked like a disaster area.
But overall, the individual recipes were definitely within my range of abilities.  There were some moments — roasting tomatoes, de-seeding dried chile peppers, butchering and cooking a rack of lamb (don't overcook it!) — where I was venturing into new territory and was a little worried.   But I pulled it off, and it was all worth it.  The food came out great and the girl was thrilled!
Well, the Mariachi band might have helped.
*No real magic there: Just brown up some corn and scallions in a pan, prep the quinoa as per the package, then mix 'em together.
Rack of Lamb with Cilantro Mustard Seed Crust

Adapted from  Eating Well.

2 tablespoons chopped fresh cilantro
1 tablespoon Dijon mustard
1 1/2 teaspoons mustard seeds
1 clove garlic, minced
1 1-pound rack of lamb, trimmed of fat
Salt and freshly ground pepper, to taste
1 teaspoon canola oil
New Mexico Chile Sauce, (recipe follows), heated

Preheat the oven to 425°F. Mix the cilantro, mustard, mustard seeds and garlic together in a small bowl. Season your meat with salt and pepper before searing the meat. You can use a small cast-iron or other ovenproof skillet for that, but I went straight to my grill. Cook on the grill, meat-side down, until browned, 2 to 3 minutes. Don't let it spend too much time on the grill  — you're simply searing here, so you don't want to overcook it.  You can break out the meat thermometer, but I was strict about following the time indicated on this recipe and it came out perfect.  Take it off the heat and spread the mustard mixture over the browned side. Transfer lamb to a pan or skillet and then into the oven.  Roast it for 15 to 20 minutes, or until a thermometer registers 140°F (rare) or until the lamb reaches your desired doneness. Transfer lamb to a cutting board and let it rest for 5 minutes (don't skip this step!) before carving the rack between the ribs with a sharp knife. Spoon some New Mexico Chile Sauce onto 2 plates and top with lamb, or spoon the sauce over the ribs (or both!). Serve immediately.

New Mexico Chile Sauce

Adapted from Eating Well.

2 plum tomatoes
2 dried New Mexico chiles, stemmed and seeded (see Tip)
1 teaspoon canola oil
1 small onion, chopped
1 cup shiitake mushrooms, stemmed and coarsely chopped
2 cloves garlic, crushed and peeled
1/4 teaspoon dried oregano
1 14-ounce can reduced-sodium chicken or vegetable broth
1/2 to 1 teaspoon fresh lemon juice
Pinch of sugar
Salt and freshly ground pepper, to taste

Roast the tomatoes in a heavy dry skillet (cast-iron works well) over medium heat, turning them until their skins are blistered and blackened in spots (about 5 minutes). Transfer to a cutting board and steam them by covering with a kitchen towel. Once they cool, peel and coarsely chop them.

While the tomatoes are cooling, toast the chiles in the same pan over medium heat until they're fragrant (about 20 to 30 seconds on each side). Once they're cool, tear them into several pieces.

Heat the oil in a medium saucepan over medium heat and add onion and mushroom.  Stirring frequently, cook until the veggies are tender (2 to 3 minutes). Throw in the garlic and oregano and cook for another 30 seconds. Add broth and the cooled tomatoes and chiles and bring it all to a boil. Cover, reduce to low and let it all simmer, for a half hour.

Pour the sauce into a blender or food processor and puree it. If you want it really smooth, pass the blended sauce through a fine-meshed sieve back into the saucepan. Heat while stirring, and season to taste with lemon juice, sugar, salt and pepper.

Tip: be sure to remove the chilies' seeds or the sauce's flavors will be overwhelmed by their heat.
To make ahead: You can cover and refrigerate the sauce for up to 2 days. It can also be frozen for up to 6 months.

Zucchini with Goat Cheese

Slightly modified from chow.

3 zucchinis
goat cheese (as needed for each zucchini plank – spread to taste!)
1/4 cup fresh basil
panko bread crumbs
salt and pepper
1 egg
1 tablespoon olive oil

Cut the zucchini in 1/4″ planks. Grill them for a few minutes – just enough to get those seared grill marks on each side of them. Let them cool a bit. Put the olive oil in a fry pan and start to heat it up. Beat an egg in a bowl. Add some panko bread crumbs, salt and pepper (just a bit to add some taste) in another bowl. Dip the zucchini in the egg then in the panko and place it in the pan. Cook both sides until the panko is brown and crunchy. Once done, put the breaded zucchini on a cooking sheet. Add the goat cheese on top of each plank and cook it in the oven just long enough to melt the cheese. A low temperature, around 250 or 300, is fine. You just need to melt the cheese a bit. Slice your tomatoes thinly and place them on top of your planks. Then sprinkle a little fresh cut basil on them.