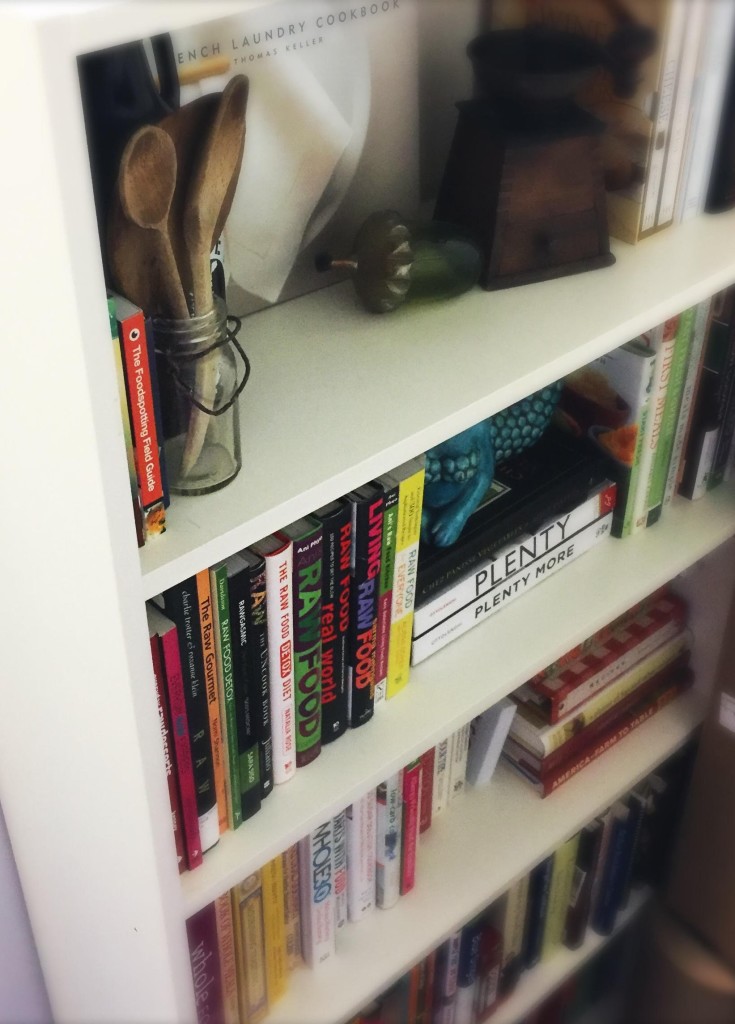 Oh, cookbook collection, how do I love thee?
Let me count the ways.
Or the sheer number of you.
I am actually running out of space … again. You see, cookbooks are my not-so-secret obsession. I've discussed at length my affinity for raw food cookbooks. I'm not sure I've ever admitted that I have just as many Paleo-themed hard and soft covers in my collection. My restaurant section, featuring favorites from Chez Panisse (the vegetable edition), Washington, D.C.'s Founding Farmers and Thomas Keller's The French Laundry, is also jockeying for space.Then there's sections for entertaining, holidays, international cuisine, vegetarian, Whole30 and even reference, where you'll find [amazing] titles like The Flavor Bible.
I'd say it's a problem, but it is a problem truly so delicious for a chef to have that nobody seems to think it weird when I show them my cookbook nook.
All this to say that I am not sure how I can actually pare down this behemoth into a list of my favorites. For brevity's sake, I opted for my top ten, with the disclaimer that these might change on any given day. And please… don't tell the other cookbooks. I don't want any feeling bad. They are all so wonderful.
Would love to hear what cookbooks inspire you. Mostly so I can add more to my collection. The one's I don't have from Sarah's list last week should arrive any day…
Amy's Favorite Cookbooks [Today]

Looking for holiday gifts for that chef in your life? Consider this inspiration. We've provided links here to all our faves, and will continue to do that throughout the month. Shucks, I am even giving my peeps some hints below! Do not wait until Black Friday. There are not enough cocktail recipes in the world to cure the kind of stress induced by that melee…

10. The Spice Bible earns a spot here because, as anyone who knows me will attest, I am completely obsessed with spices. I have so, so (so very) many. People often wonder how I know what to do with them all. Well, it's 1/2 intuition, 1/4 part trial-and-error, and the rest is this handy book.

9. When I need something sweet, there's no better place to turn than Chocolate Covered Katie. My obsession with Katie's body of work began with her fudge babies. A healthy cookie? WHAT!?! When I saw she had a cookbook out… how could I resist?

8.If I ever loved Julia, how could I forget Jacques? Or the moment he autographed my copy of Jacques Pepin New Complete Techniques? That alone is enough to make the list, but this cookbook from my reference section is chocked full of sage advice from a true master chef. From the basics, like how to sharpen and hold you knife, peel and seed tomatoes, and make stock, to the advanced techniques of pasta-making and trimming tenderloin… this book is a great go-to for just about any kitchen question.

7. Although there were Plenty of delicious recipes in the cookbook of the same title, I love Plenty More just as much. If you ever needed an excuse to eat your veggies, these two cookbooks are IT. Yotam Ottolenghi is brilliant, and that's precisely why he's on my list of people I would die to do dinner with. Now, if I only had Jerusalem…

6. As I searched through my collection for a cookbook by one of my blogger, I was horrified to find that I have not yet purchased Nom Nom Paleo. Which is really odd, because I am constantly making recipes from the website. Particularly the mayo. Have you ever had homemade mayonnaise? Stop what you are doing right now and make this.


5. I can't even remember why I put a platter of figs and other recipes on my wedding registry, but I am so glad I did. I suppose it hearkens back to my obsession with Chez Panisse, as author David Tanis works there six months out of the year. The book is truly about gather people you love around a table to create moments (see number one below). #love

4. It was at an event precisely like that hosted by friend's Casey and Cory that landed Dorrie Greenspan's around my french table on my radar. Cory had whipped up "Marie-Helene's Apple Cake, a dessert so extraordinary in its custard-like consistency that I ordered the book before we even got up from the table. In fact, as I type this, I am pondering in my head whether I have the ingredients on hand to make this again tonight…

3. Pinterest. As the keeper of the We The Eaters Pinterest boards, I can assure you that our voracious appetite for recipes is truly represented en masse there. My endless search for new, interesting dishes to make for clients, has made me a prolific pinner, and as I am a compulsive organizer, you'll find everything easy to find on board like "Vegetarian" and "Whole30." There's a board featuring tutorials on how to do everything from "How To Cook Grains" to "How To Cook Eggs In The Oven." We post our own recipes (yes, with the foster baby rotation I am admittedly a bit behind), and ones we love from other sites, including favorites like Nourished Kitchen, The Kitchn and Serious Eats. Our most re-pinned post of all time? Pioneer Woman's Spinach and Artichoke Dip. We're talking it gets re-pinned nearly DAILY… it's that good.

2. As weird as the recipes described inside might be, I have to credit Betty Crocker's Cook Book for Boys and Girls with inspiring a deep-rooted interest of food in me. This little cookbook was my mothers, given to her as a gift by my great-grandmother. With recipes like "Pigs in Blankets" and "Candle Salad" (which consists of a sliced pineapple base, a half banana placed upright in the center, and is topped with a maraschino cherry), I'm not sure there's much in here I'd actually whip up, but the heaping scoop of nostalgia it inspires does earn a place on my list of faves.

1. My own binder full of handwritten favorites is the only book that could ever be number one. It contains so many memories of sharing special meals with friends and family. There's the Polish Pierogi recipe from my Aunt Wanda, who I am sure got it from my great-grandma Angeline, known to most as Nellie". I remember leisurely days as a small girl under the willow tree at their farm in Albion, Michigan, and afternoons collecting eggs from the chicken coops with this larger-than-life woman whose sense of humor and one-armed push ups left a lasting legacy. Eggs, by the way, that she left in a bog bowl on the kitchen counter.

Then there's recipes for my other great-grammy — Evelyn, or Gigi, as she liked to be called — Pumpkin Bread. I most remember her singing this Irish folk song, Miss Fogarty's Christmas Cake. There's my mom's meatloaf, Banana Bread, and (Lord, give me strength to resist it), her amazing Plum Cake. My grandmother's Patrician Potatoes, Molasses Cookies and Rum Balls. And then there's her Strudel recipe, Pecan Tarts, Dinner Rolls and Aunt Torie's Stollen, written in grandma's own hand is SUCH a treasure to me. (My grandmother is an amazing cook… and still very much commandeering the kitchen at 93.)

My adopted mom, Charlotte, has a place of honor with her Breakfast Strata. My Aunt Julie's Braided Bread… a recipe that evokes such strong emotion because it brings me right back to large family gatherings around the holidays. And then there's the recipes from countless friends a colleagues: Jenny's mom's applesauce recipe, Ina's Deutsche Spatzle, Simone's French Vinaigrette (a recipe I make nearly monthly), Snighda's Meethi Gagar, Heidi's Chocolate Chip Zucchini Bread and Jocelyn's Tangy Lentil, Ginger & Tomato Soup.

Anyway, you get it. It's my fave.

What's yours? Favorite cookbook? Favorite family recipe? Leave a comment. We'd love to be inspired by your kitchen traditions.