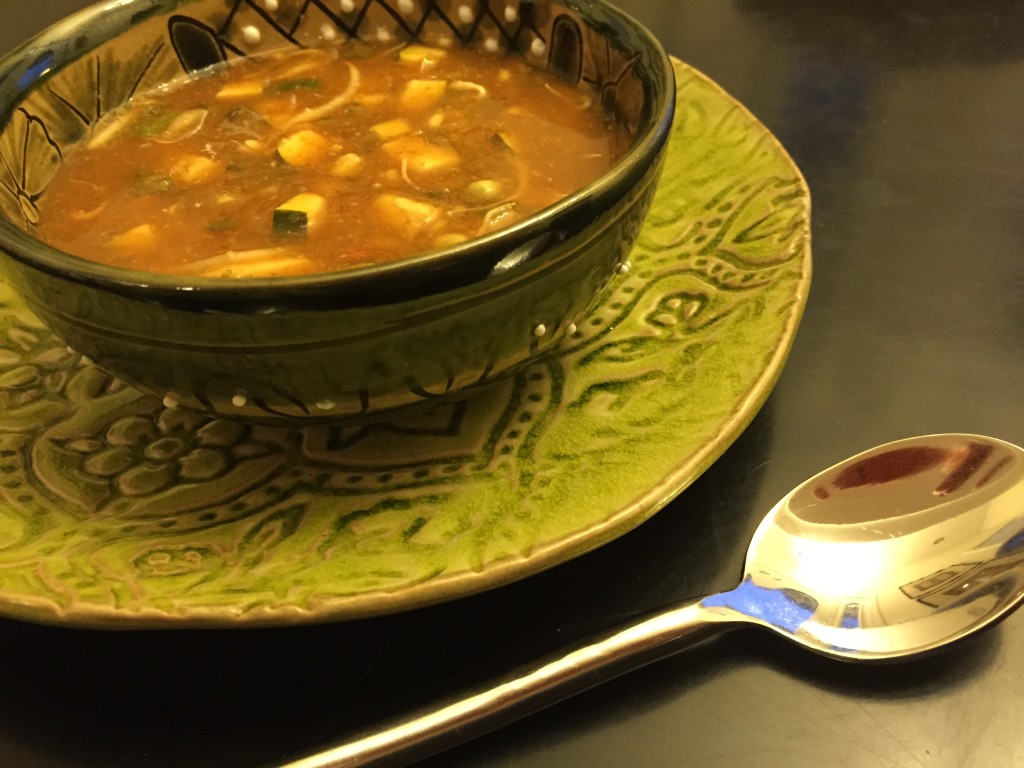 I'm a fan of making family traditions. For example, since I've met my favorite foodie, I've tried to cook her an elaborate birthday meal each year. It's just one aspect of her birthday celebration, of course, but it I feel there is way more effort and care involved if I get my hands dirty and make something from scratch, rather than just taking her to a fancy restaurant or ordering in.
Well, riddle me this, Batman:  What do you do when your loved one is on a particular diet? Wait. Don't use the "D" word. That has negative connotations. What do you do when your loved one is being selective about what kind of food he or she is eating?
This was the hurdle I faced in September of 2013. As part of a plan to eat more healthily, my birthday girl had just finished a week-long juice cleanse and was following that up with a week of eating raw. Just in time for her celebratory dinner.
Now, being the supportive partner that I am, I didn't want to throw off her plan. Problem was, I was unfamiliar with the raw concept.  In fact, prior to meeting my spouse, "eating raw" to me was: crunching raw pasta? Weightlifters grossing out the common folk out by downing pitchers full of raw eggs? Biting into an apple? To say I was uneducated would be an understatement.
So, I started to read up on the subject. My friend Google provided me plenty of information; one of the best tips it offered was a recipe for hot and sour soup.  As a first course, this seemed like a great, achievable idea and, as it turned out, it was. In fact, it was declared the best dish of the night. It had just the right blend of spicy and sour. And per the recipe, referencing vegan chefs Mark Reinfeld and Jennifer Murray, you were allowed to heat the soup up a bit and it was still considered raw.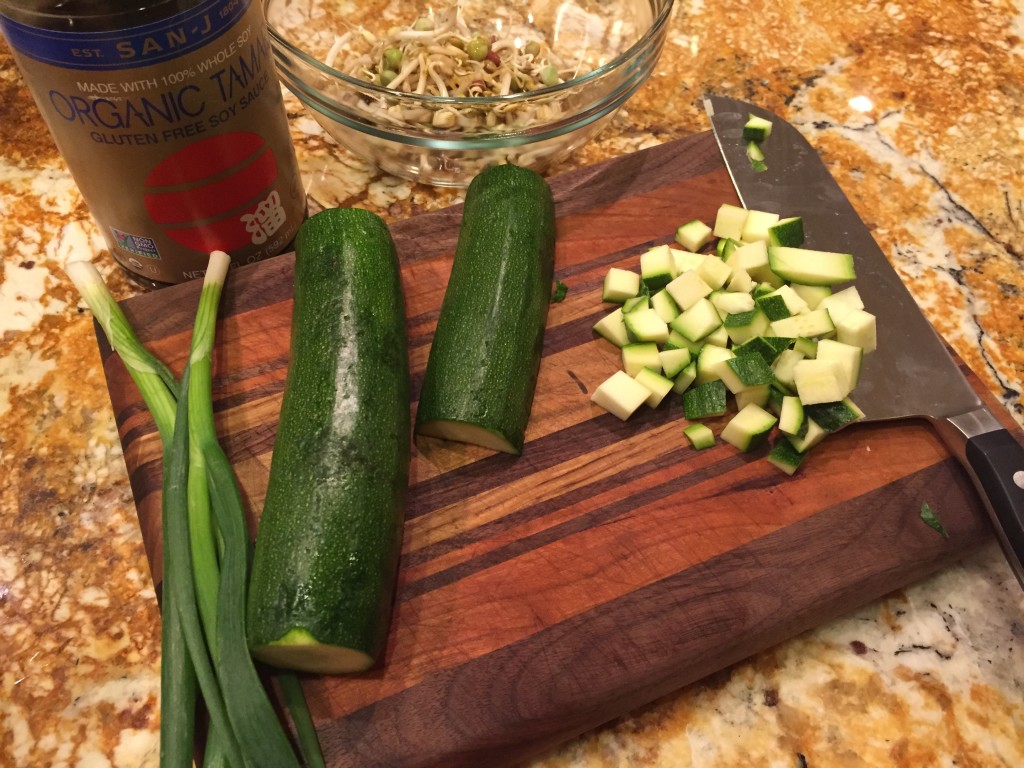 The soup was good enough that I brought it to work to share (read: show off) with coworkers and have kept it in my repertoire of dishes. But here's the great part: It is super-versatile. If you aren't hung up on having a raw dish,  you can heat it up like a regular soup. You can add chicken or turkey to give it a delicious and heartier spin. You can amp up or dial back the spices as needed for your audience. Essentially, it's a great entry drug for people who are interested in experimenting with raw food, making soup or cooking for others in general.
My consistent modification to the recipe is the addition of peppers: 1 serrano and 1 habanero. Why? Because I can and because my audience usually likes spicy. This time around, because it's a We The Eaters special, I went a little crazy with tweaks.
I threw in a couple of dates to accompany the apricots (though I normally add extra apricots to the recipe, too). It is also SOP for me to add crunchy bean sprouts along with the mung bean sprouts (just for an added crunch). I also added garlic for this round, since we already had some peeled. I blended in some celery and used two whole tomatoes and less water (though some complained this made the soup thicker than standard hot and sour soup. Even so, once folks started eating, they were too busy enjoying the delicious dish to seem too concerned about the difference). And finally, I ended up using rice syrup instead of agave (we were out at home, so I had to wing it). We opted to heat the soup up (Grammy wanted hot soup!). Then, to top it off, we added leftover turkey from our Christmas feast. It was the perfect addition to beef this dish up to a burly dinner soup.
Now, back to 2013. The soup was a hit. Not that the birthday meal was a complete success, mind you. The dessert I tried to make is legendary … or maybe infamous is a better descriptor. But, while the challenge of an unfamiliar dietary restriction had me sweating over what I would do for a birthday feast, the experience left me with a great, go-to soup recipe that is easy and delicious. And it taught me this lesson: Just because it's raw doesn't mean it isn't hot!
Live Hot and Sour Soup
Original recipe found at VegetarianTimes.com

1/2 cup mung bean sprouts
1/2 cup mixed crunch bean sprouts
4 Tbs. nama shoyu or soy sauce
8 dried apricots
5 minced buds of garlic
2 chopped tomatoes
1/4 cup thinly sliced green onion
2 tablespoons. organic raw apple cider vinegar
1 tablespoon peeled and minced fresh ginger
3 diced zucchini (you can also spiral cut them and serve them like noodles!)
1 jalapeño chile, seeded and minced (2 tablespoons)
1 serrano pepper
1 habanero pepper
2 juiced limes (or more to taste)
2 tablespoons chopped cilantro
2 tablespoons organic brown rice syrup (to replace raw agave nectar)
1/4 teaspoon cayenne pepper, or to taste
2 chopped dates
1 cup water
1 1/2 cups chopped cooked turkey or chicken

Stir sprouts and soy sauce together and let it sit while you prepare the rest of the ingredients.

Boil some water and soak the dried apricots for 5 minutes and then drain the water.

Place apricots, tomatoes, onions, vinegar, ginger, rice syrup (or agave), lime juice, cayenne, habanero and Serrano in a food processor and blend it until it's smooth. Transfer that to a bowl. Chop up your cilantro, jalapeno and zucchini (spiral cut the zukes if you want to be fancy) and add them to the soup. Mix in your turkey (or chicken). Finally, add in your soy-soaked sprouts.

Now, if you'd like, you can heat up the soup and serve it traditionally, or serve it cold like a gazpacho.

As it turned out, this was a bit spicy for my guests (I did NOT want to put Grammy out of commission!) so I needed to dial it down. With some food prep spotting, we blended up some zucchini, tomato paste, water and more green peppers. The real answer, of course, is to use less heat (i.e. peppers).