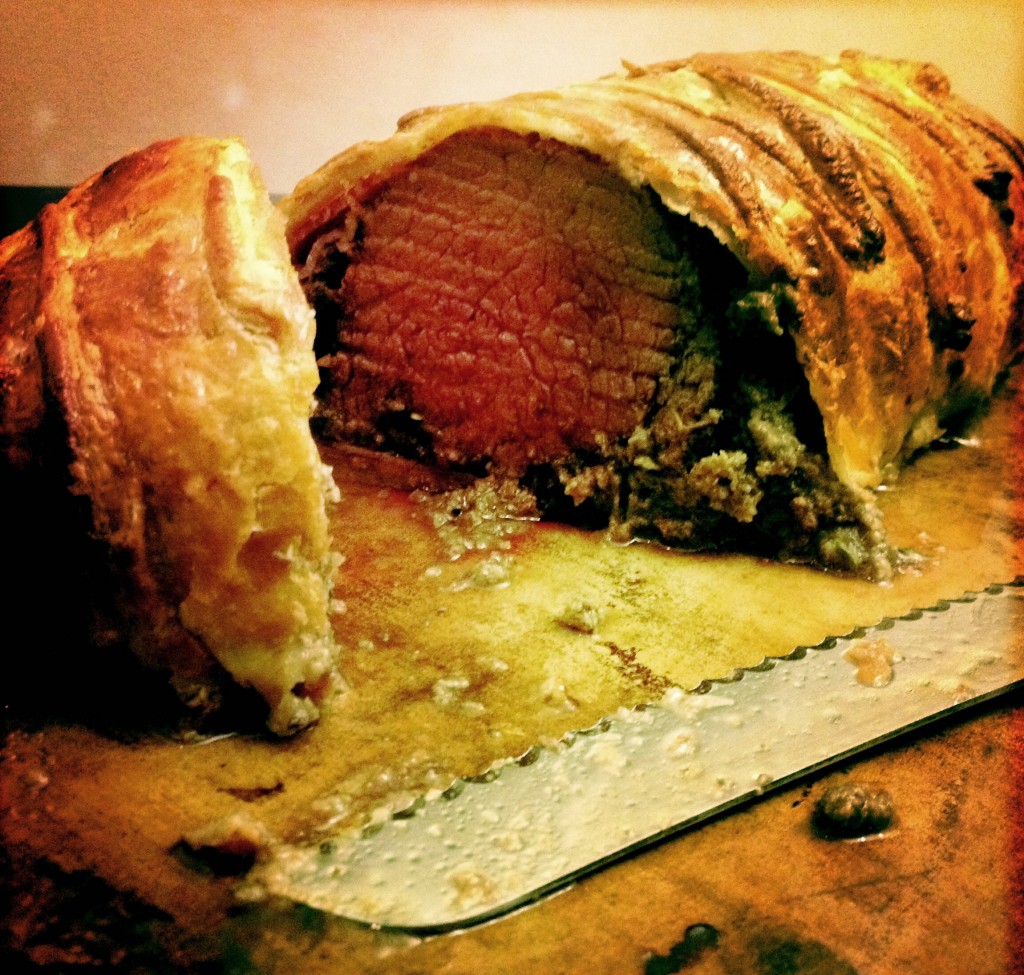 There's just something inherently lovable about Julia Child. Perhaps it was the voice, or her statuesque presence and personality. I like to think that it's because she was never afraid to screw up in the kitchen.
I had an epic "uh-oh" moment myself recently. We had some houseguests from Germany who had booked a stay with us through Airbnb. They had one particular meal request during their stay: macaroni and cheese, something Thomas Jefferson is credited with having introduced to his countrymen.
What could be more American than that?
A pasta and cheese casserole recipe can be found in Liber de Coquina, a medieval Italian cookbook dating to the 13th or 14th century, but there's apparently something unique about the dish state-side.
At least when it comes to that orange powdery stuff that comes from the blue box.
Although I refused to make that variety, I was all for whipping up some from-scratch cheesey goodness concocted with a carefully selected trio of fromage (nom nom nom) from my local Whole Foods.
I'd never made béchamel sauce before, so I was quite perplexed when it just would not thicken. I thought it was the alcohol the recipe called for. So I added more flour.
And more.
Nothing. I mean, it seemed to get thicker, but simply by virtue of how much flour I'd added. Or so I thought. Then there was this point where I thought I was losing my mind: The sauce, heavy with savory shallots and garlic, actually started getting sweet.
That's when I realized my "flour" was, in fact, powdered sugar.
You can stop laughing.
I mean it – not funny.
Okay, it's a little comical, but I was pretty horrified, given the table full of guests and the candied mac 'n cheese I was about to serve. My goose was cooked. I triaged with some whiskey, lemon juice and a bit of apple cider vinegar, which cut the dessert-like flavor to a palatable level.
Remember when I told you not to laugh? There is one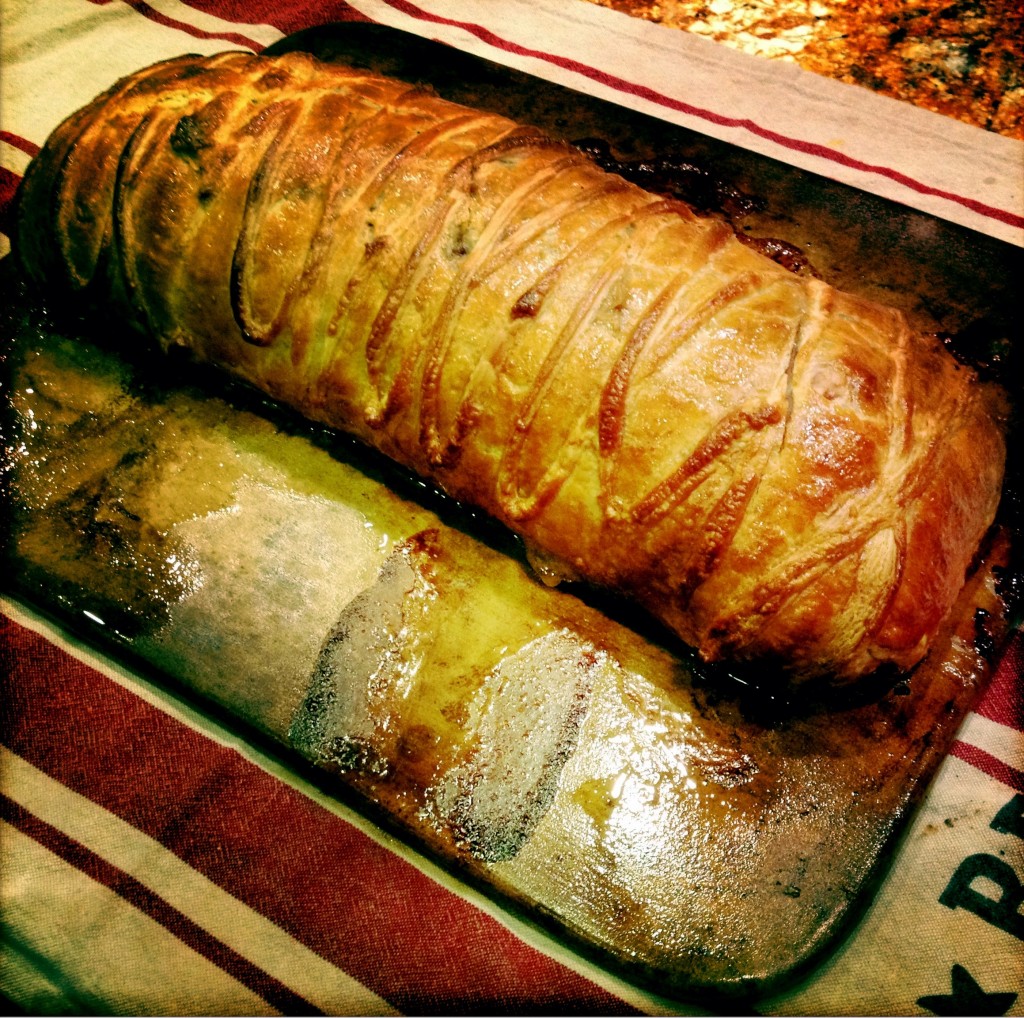 funny thing: Our guests actually loved the meal. Several had seconds. It wasn't until they had finished their first plate that I confessed my error. My husband insists to this day that nobody would have known if I had just lied. In Julia's words, it was a, "Remember, you're alone in the kitchen," moment.
I remember watching her cooking series The French Chef on PBS as a kid and even then thinking how elegant Child was. Sometimes stuff didn't work out quite right, but she took it all in stride with that glorious chuckle.
As I was prepping the Beef Wellington for this post, I was inspired by her triumphs in the kitchen, best imagined in this clip from Julie & Julia. I also thought of that mac 'n cheese, and the tribulations we all face as chefs (sure, her err was purposeful – but I'd wager Madame Child burned a dish or two in the kitchen accidentally!) Cooking is fraught with peril, yet also delight, like the crunch of the pastry crust and the heady aroma of the mushroom duxelles as cut into this perfectly cooked meal.
And no, it wasn't a recipe I had to debone anything for. And it wasn't a soufflé … or her Beef Bourguignon. But Julia's Beef Wellington was a challenge … and truly a labor of love, as homage to one of my favorite chefs.
Thank you, Julia, for making cooking accessible. For the matter-of fact way you made light of our mistakes. But most of all, thanks for always being so fearless in the kitchen.
Bon Appétit.
Adapted from Julia Child's recipe in "Mastering the Art of French Cooking," with a little help from THIS article in The Wall Street Journal and THIS one on Chow.com. I've altered it not to improve on her masterpiece, but to appeal to my own palate and simplify the dish further for our Eaters. Plus – you all know how I feel about liver, and thus foie gras.

Marinade:

1/3 cup olive oil
2 cloves garlic, pressed or minced
1/2 teaspoon fresh thyme
1/4 teaspoon fresh sage, minced
1 teaspoon fresh ground pepper
1 teaspoon sea salt
1 cup dry white vermouth
1/3 cup cognac or brandy
3 pound center-cut filet mignon (beef tenderloin), trimmed

Prepare the marinade by combining all ingredients. Pour into Ziploc bag, add tenderloin, and remove air to ensure meat is fully covered. Refrigerate for 2-3 hours or overnight, flipping once. (You can swap the vermouth and cognac/brandy for a cup and a half or so of red wine if you choose, but use something you'd drink!)

Mushroom Duxelles & Wellington:

2 pounds mixed mushrooms (I used cremini, shitake and white. If you have to reconstitute any mushrooms, like porcinis, reserve the liquid for the Madeira sauce.)
2 medium shallots, chopped fine
3 cloves garlic
3 tablespoons unsalted butter
Fresh ground salt and pepper, to taste

3 to 4 sprigs fresh thyme, de-sprigged
4 to 8 slices prosciutto, thick cut (like lunch meat vs. lace)
4 to 5 tablespoons truffle butter (black is cheaper, white more flavorful)
1 12-ounce package puff pastry (I prefer the Dufour brand, also mentioned in the WSJ article)
½ cup flour, or more (for rolling out pastry)
1 to 2 eggs, well beaten

Remove meat from marinade (reserve if you plan to make Madiera sauce) and pat dry. Over medium-high heat, brown the meat in half the unsalted butter for about 5 to 6 minutes. Be careful not to burn butter. Remove to a plate or cutting board and allow to cool.

Add remaining unsalted butter to pan and cook shallots until translucent, about one minute. As you can see from the pic, I added mine to the mushrooms and I should have done it this way instead — so do as I say, not as I did! While shallots are cooking, rough chop mushrooms and add to food processor in batches with garlic. Pulse until chopped but not pureed. You should be able to see distinguishable pieces. Add to shallots and cook, stirring occasionally, until most of the moisture is evaporated (about 10 minutes.)  Allow to come to room temperature (about 20 minutes.)

While these items are cooling, take your truffle butter out of the fridge and allow it to come to room temperature as well. If you can't find truffle butter, you can always make your own by combining shaved/minced fresh or preserved truffles with softened unsalted butter. Just salt to taste! You can also use truffle oil, but the flavor is not as strong. (That said, I used this in place of pate or foie gras, which you may prefer.) Coat the top of the meat evenly with truffle butter.

Spread plastic wrap over a clean work surface twice as long and wide as your tenderloin. Line the center of this vertically with the prosciutto, overlapping each piece. It should be just a few inches longer than the roast. Spread the cooled duxelles mixture over the top and sprinkle with thyme (or you can incorporate into the duxelles before spreading if that's easier.) Place the meat with the truffle butter side down in the middle. WTE FYI: The prosciutto helps seal in the moisture from the mushrooms, which will protect your pastry from getting mushy. Regardless, prosciutto is just so yummy!

Carefully lift the plastic wrap from the long end away from you, folding over the bottom of the meat toward you. Next, pull the sides in and carefully, but tightly tuck them under the long side (like you are making the bed.) Pull the long side closest to you snugly over to complete. The prosciutto and some of the mushrooms should wrap all the way around. If they don't, add more prosciutto and extend mushroom mixture on sides until it does. My tenderloin was long and skinny, so this wasn't an issue, but if yours is fatter, it might be. Wrap tightly in the plastic wrap and refrigerate at least 30 minutes.

(I didn't do this next step, and my pastry suffered a bit on the bottom as a result, so I suggest including it.) Heat the over to 425 degrees. Cut off about a third of the puff pastry. On a lightly floured surface, roll it out to about 1 inch larger than your roast on all sides and about 1/8 to 1/4 inch thick. Line a baking sheet with parchment paper and transfer rectangle, pricking well with a fork so it stays flat while cooking. Cook about 12 to 15 minutes on the middle rack until brown and crisp. Move to a cutting board and allow to cool.

Trim pastry to the size of the meat and return to the baking sheet. Remove tenderloin from refrigerator and discard plastic. Place on top of pastry. Roll out the remaining puff pastry (I had to press two sheets together) to 1/8 to 1/4 thick on a lightly floured surface. Brush the roast with egg and lay the pastry over the meat. Carefully tuck long ends under the sides of the cooked pastry, folding short ends in last. Brush with eggs at any points the pastry touches to bind. You can decorate the top with any leftover pastry if you choose, brushing with egg, then laying pastry over the top. Make some small slits with a pairing knife on the top of the Beef Wellington and brush entire pastry surface with egg before placing in the oven.

WTE FYI, PART DEUX: You can also prepare these as individual wellingtons by using sliced filets and repeating the same processes described here on a smaller scale. In my opinion, that would just take way too long, but the presentation would be really upscale. And very Julia.

Place the Beef Wellington on the middle rack and roast on 425 for 20 minutes. Reduce temperature to 400 degrees and continue roasting for 25 minutes (rare to medium rare) or 30-35 minutes (medium). Use a meat thermometer in an inconspicuous place to test doneness. If the Wellington begins to brown too much before it is finished cooking, cover with aluminum foil. Remove from oven and let stand for 10 minutes before cutting.

Serve drizzled with Madiera Sauce, if desired.

Julia's Madiera Sauce:

Reserved marinade
2 cups beef broth
1 teaspoon tomato paste
2 tablespoon cornstarch
¼ cup Madeira

Simmer the reserved marinade and any juices from reconstituting mushrooms with beef broth and tomato paste until reduced to two cups – about an hour. Remove any grease and thicken with cornstarch mixed with Madiera. Viola.

LAST-BUT-NOT-LEAST WTE TIP: I like the sound of the Mushroom Gravy from the Wall Street Journal recipe, too. Though I didn't try either, I think I would try the Madiera Sauce first; the Wellington already has a lot of that flavor to it, especially with my truffle butter addition. I think the tartness of the wine would be a nice complement.