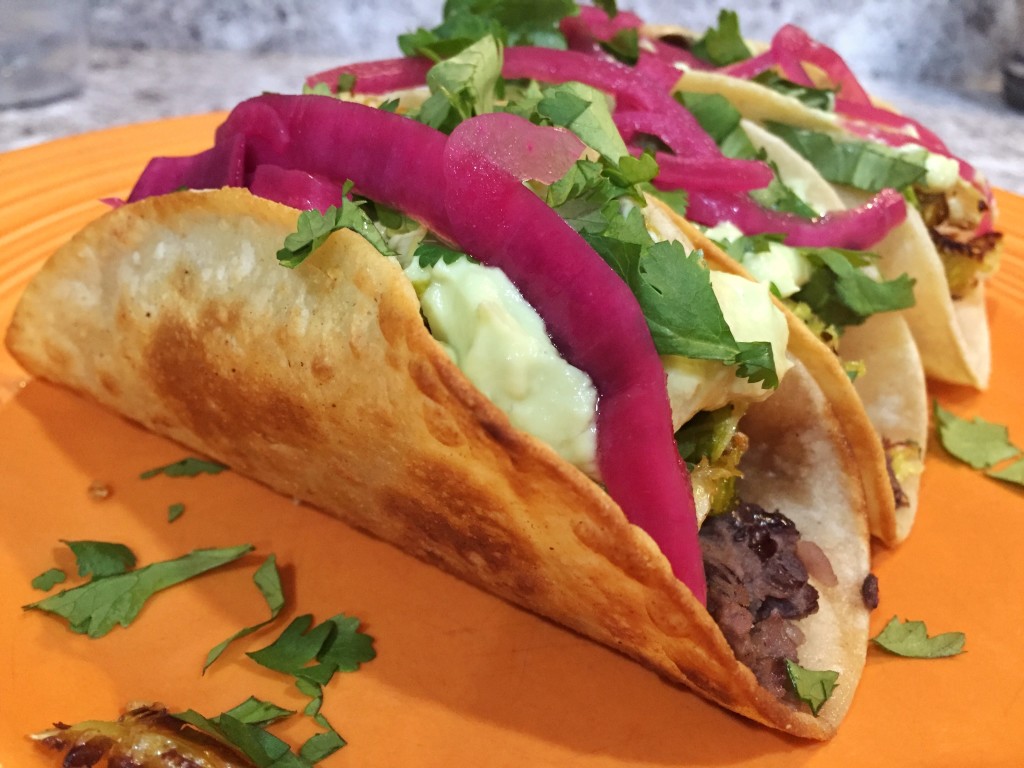 I live with a true carnivore who lives and breathes meat. What do I expect? My husband's from Texas, y'all.
Recently, he's taken over week night dinner duties almost exclusively. Which means, well, that everything seems to revolve around the meat on our plate. Don't get me wrong. I love meat, too, but I really love veggies.
One night after he served me the tiniest serving of roasted Brussels sprouts I'd ever seen next to this Hulk of a chicken breast, we had words. OK, that sounds like I threatened my husband. It was more like me saying, "Please, pretty please with a cherry on top, would you maybe consider making more sprouts for your sweet wife?"
In my head I was Cookie from Empire, but it was more like Ernie from Sesame Street. (Side note, if you haven't seen the SNL sketch where Cookie comes to Sesame Street, please pretty please with a cherry on top watch this sketch right now.) Anyway … he and I now have an understanding.
Thankfully, the hubs loves sprouts as much as I do, which is good given that We The Eaters is celebrating our love of the tiny cabbages this month! So far, we've featured two salads (one served cold and one warm) and an ingenious scone — all of which include bacon and would likely be considered sides. Whether or not they're served along side a Hulk-like piece of meat is up to you. But if that's your modu operandi, what I'm about to tell you may blow your mind.
What if Brussels sprouts were the main item on the plate? And (this may be committing We The Eaters sacrilege) what if there was no bacon? No bacon fat, no bacon bits: Just the humble sprout sans it's bacon crutch.
I present to you the Brussels sprout … taco!
I wish I could take complete credit for this invention. While digging up ideas for this month's topic, my founding foodie partner in crime, Amy, pointed me to the blog See You in the Morning. Just the thought of crispy sprouts paired with black beans, avocado, lime and cilantro in a little hand-held package I can stuff into my face? It made me a bit giddy. Maybe I need to get out more.
This basically flips the script on my husband's meat-packed meals, but he still loved it. Which isn't a huge surprise: we love tacos. They've been a staple on my dinner plate since I was a child. They've taken on every manner of incarnation, from the store-bought kits to D-I-Y spice mixes, and from topping with mild basics to tossing on the Cholula hot sauce. My taco love is ever-evolving, though one of my must-have toppings is pickled red onions.
It's an obsession Amy and I share. She introduced me to them years ago at my first Taco Toss at The Lighthouse in Dewey Beach, DE. (No tacos were harmed … just given warm homes in our bellies, where they co-mingled with an Orange Crush or two.)
You know I love pickles! And these pickled red onions are surprisingly easy and quick. Make them at least an hour or two ahead, although I prefer to make them a day in advance and let the flavors come together in my fridge. They're great on more than just tacos: Try them on sandwiches, hot dogs or salads.
I usually don't fry my tortillas, favoring warming them in the oven (or we just buy hard tacos), but they added something special here. The black beans are also something we don't normally do, though they stepped up our taco game. These tacos were hearty, filling and intensely satisfying … trust me — you need to try them!
And don't worry about your audience. If they won over a Texan carnivore, they can win over anyone.
Brussels Sprout Tacos with Pickled Red Onions

For pickled red onions
1 medium red onion, thinly sliced
1 cup water
1/2 cup apple cider vinegar
2 tablespoons agave nectar
1 1/2 teaspoons kosher salt

For main Brussels sprouts
1 lb Brussels sprouts
1/4 cup grated Parmesan cheese
2 cloves garlic, minced or grated
olive oil
sea salt
fresh ground pepper

For black beans
1 8-ounce can black beans
1 tsp cumin (try roasted cumin for a deeper flavor)
salt and pepper, to taste

For avocado crema
1 1/2 large ripe avocado
1/4 cup sour cream
1 lime juiced

For taco assembly
6-10 tortillas, corn or flour, depending on preference
2-3 tablespoons olive oil
bunch of cilantro, roughly chopped

An hour or so ahead, pickle the red onions. Whisk together the apple cider vinegar, agave and salt into a cup of water till dissolved. Place the onions into a jar and pour the liquid over, covering all of the onions. Let sit at room temperature for an hour, then move to the refrigerator. Note, they can be made up to two weeks in advance!

For the roasted Brussels sprouts, preheat oven to 400 degrees. Clean the sprouts then trim and remove any bad outer leaves. Quarter the sprouts and place into a bowl. Toss with enough olive oil to coat, Parmesan cheese, garlic, salt and pepper. Line a baking sheet with non-stick aluminum foil or parchment paper – the cheese will make them stick! Roast for 20 minutes, or until charred and crispy.

Rinse and drain the black beans. In a bowl, mix the beans with cumin, salt and pepper. Mush or mash them a little bit to get them a bit stickier.

For the crema, add one ripe avocado to a bowl with sour cream and lime juice. Mix all together, mashing the avocado. For me, this is a mix, taste and adjust process. If the avocado is a bit under ripe or the mixture is too limey, you may need to add more avocado or use a different mixing method. To get the texture I wanted – a smooth creaminess – I used my immersion blender and added an additional 1/2 avocado.

To make the tacos, heat a large pan on medium-high heat. Add 2-3 tablespoons olive oil, enough to coat the pan and fry the tortillas. When the oil is heated through, add two tortillas to the pan. Add a spoonful or two of black beans and let fry for a few seconds. Using tongs, fold the tortillas in half and let fry another few seconds. Flip them over to fry the other side. The outer side of the tortillas should get crispy and brown. After another few seconds, remove the tacos and let dry on a paper towel lined plate. Repeat for remaining tortillas or till the black beans are gone.

Fill the tacos with a spoonful or more of the roasted Brussels sprouts. Finish with the crema, a sprinkle of cilantro and pickled red onions to taste. Enjoy!