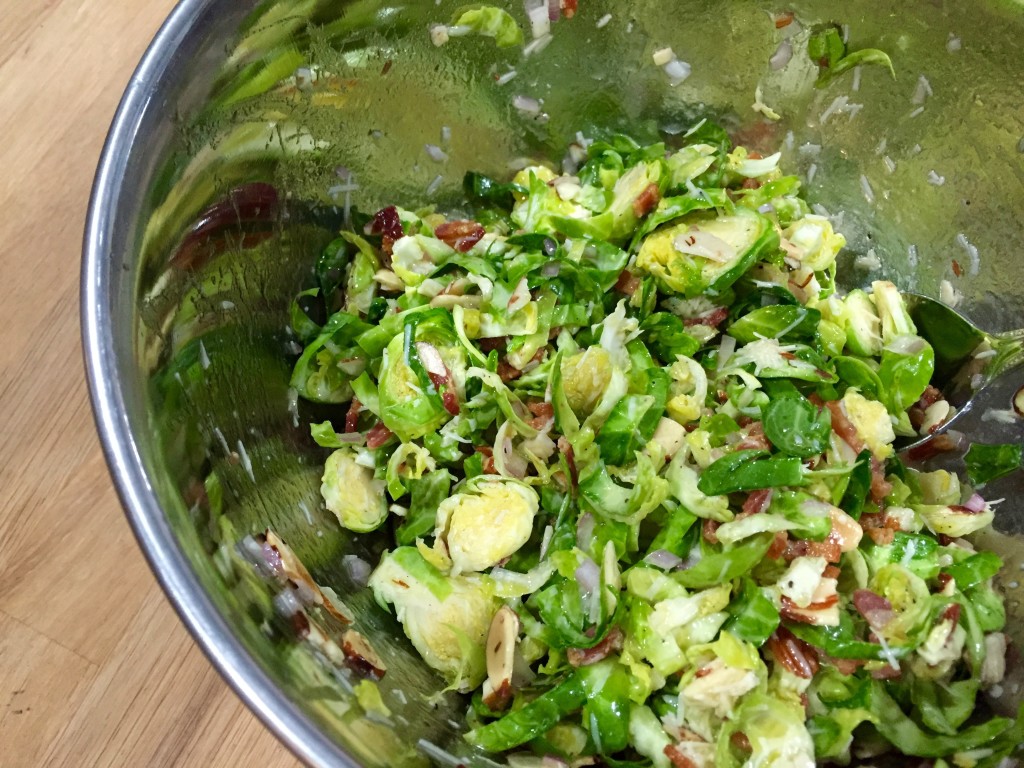 I checked and checked again. No posts, no recipes, nothing on one of our favorite vegetables!
How is it possible that in the three plus years of blogging we have never done a Brussels sprouts recipe?
I was able to dig up one reference in Amy's zombie-bacon-travel log from last summer, regaling us with her hungry drive up the California coast and a side of epic roasted sprouts with bacon.
To make up for this huge oversight, we're dedicating the entire month of February to the green love of our lives. These tiny cabbages may not be everyone's cup of tea, but for those of us who like them … well, we really like them. Personally, I eat them anyway I can get them: roasted, pan fried, stir fried, raw, lightly steamed (please don't over steam them!) and most especially with bacon.
And we're just in time! While you may not think the winter months have much to contribute to the green on your plate, Brussels sprouts are in peak season right now. They start in October and last all the way through March, which explains their popularity in Thanksgiving and other holiday meals this time of year. Of course, my hubs and I don't wait for a special dinner to eat them. A little bag (or two) of sprouts is bought every grocery trip.
Brussels sprouts have amazing powers that will benefit any diet. Part of the Cruciferous family of veggies, they share much the same properties as their siblings: broccoli, cabbage, bok choy and cauliflower. Packed with vitamins and antioxidants, they're a great cancer fighter. They also help to lower cholesterol with 4 grams of fiber in one cup of sprouts. And one other cool thing for vegetarians or anyone trying to incorporate more complete meatless meals: when combined with whole grains, such as quinoa or brown rice, they form a complete protein.
Since we tend to eat Brussels sprouts prepared and cooked pretty simply for dinner, I thought I'd share a recipe that was a little different…still simple and easy, but a recipe that might make a sprout hater into a sprout lover.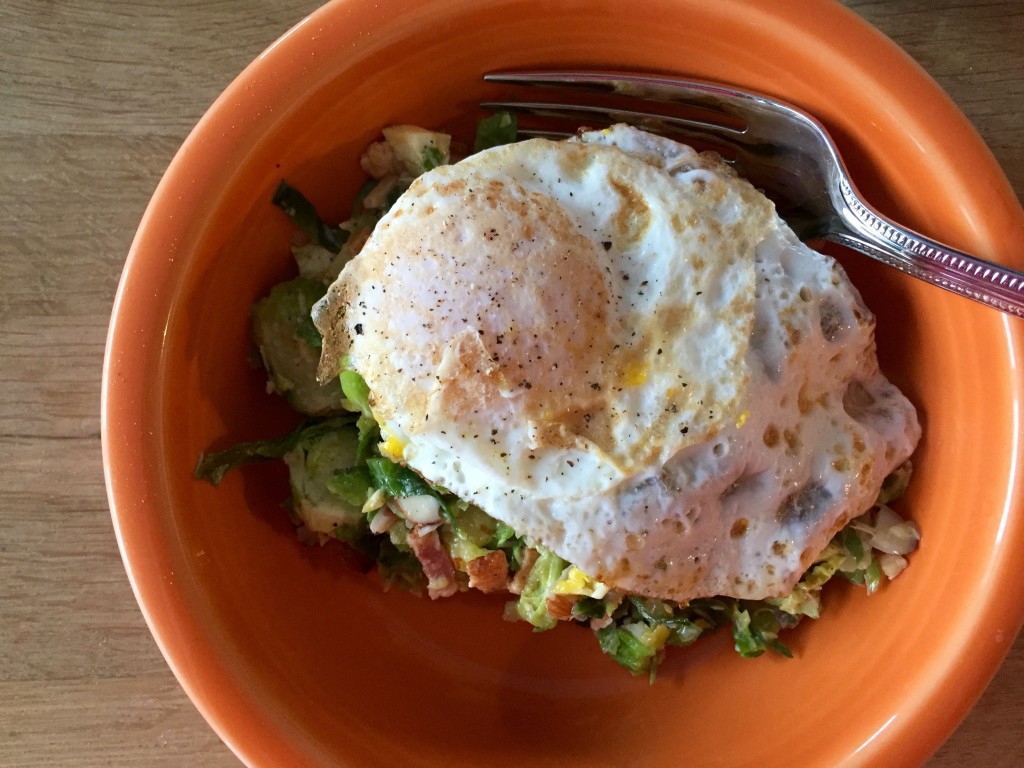 A raw salad with smokey bacon, crunchy almonds and a bright tangy vinaigrette may be just the thing. And, while I've read that lightly steaming is the best preparation to retain the sprouts health benefits, eating them raw is pretty good too. Maximize the absorption of nutrients by chopping up the sprouts and pairing them with an olive oil based dressing.
I've made this salad several times with great results. It's great for lunch, dinner … and dare I suggest, even breakfast. Recently, our friend Stacey used the salad's leftovers from the night before in her breakfast by simply topping it with an over easy fried egg. I've tried this, and yes, yes, YES — you can eat sprouts for breakfast. Especially when there's bacon involved.
The bacon definitely wins people over! Who doesn't heart bacon … and Brussels sprouts?!
So, get ready for more great recipes in the weeks to come. If you're a hater, perhaps you'll give them another try? If you're a lover, head to the comments section or our Facebook page or tweet us and share your favorite ways to eat these little gems.
Brussels Sprouts Salad With Bacon and Citrus Vinaigrette
I've used several methods when preparing this salad to shred the sprouts. From a handheld mandolin to cutting by hand, buying them pre-shredded to using a food processor. Since they're so small, it can be time consuming and annoying. So far, my favorite method was using this awesome little immersion blender by Cuisinart with a chopper attachment.

For Salad
1 1/2 lb Brussels sprouts, finely shredded
6 strips of thick cut bacon, or bacon ends, cut into strips or crumbled
1/2 cup almonds, chopped or slivered almonds
1/2 cup shredded parmesan cheese, or similar…something sharp

For Dressing
1/4 cup olive oil
2-3 tablespoons apple cider vinaigrette
1 lemon, juiced
1 orange, juiced
2 tablespoons bacon fat, reserved from cooking the bacon
1 shallot, minced
salt and pepper to taste

Cook the bacon on medium-high heat till done and crispy. Remove from pan using a slotted spoon and reserve about 2 tablespoons of bacon fat for the dressing.

Rinse the Brussels sprouts and remove any wilted or bad looking outer leaves, then shred finely using your preferred method. Add the shredded sprouts, bacon and almonds to a large bowl.

In a small bowl or mason jar, combine the dressing ingredients. Whisk or shake until well combined and emulsified. Pour dressing into the salad and toss till sprouts are well coated.

Salad can be served immediately or chilled for later. Great side … or main served with an egg on top for breakfast!