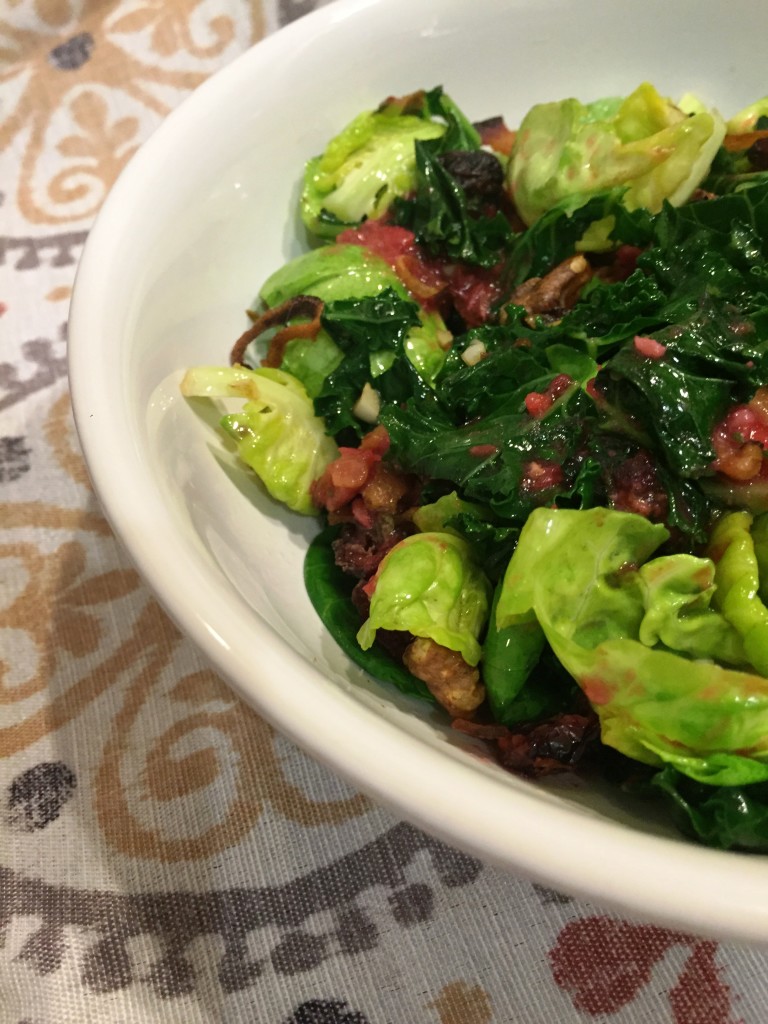 'Cause that's what I was born to do.
Mostly because I love Brussels sprouts and share Sarah's astonishment that we've never done anything on this tiny little brassica oleracea var gemmifera before. I can't think of a more perfect month to profess our adoration than February. Oh, dear Brussels sprout, won't you be my valentine?
Or just a guest for at my dinner party …
I have to say the BBC got it right when they decided the star of their 2015 Christmas campaign would be none other than this tiny—but mighty—cabbage. After all, this winter veg is packed full of goodness.
According to The World's Healthiest Foods website, when steamed, they assist your body with getting rid of bile acids and thus help to lower cholesterol. Research indicates that daily consumption may help protect the stability of DNA inside white blood cells. Plus, they top the list of cruciferous vegetables like mustard and turnip greens, kale, cauliflower or broccoli in glucosinolate content. These important phytonutrients are the building blocks for a variety of substances that prevent and protect our bodies from cancer. So … eat up!
Perhaps that's easier said than done. Most of us get stuck in a rut as we end up preparing this powerhouse the same way every time: roasted, roasted, roasted. Honestly, that doesn't bother me so much—I could literally eat my weight in the tiny little 'fellas, but I get the need for variety! That's exactly what this month is about.
And bacon.
Because bacon and Brussels sprouts were meant to  be together. The coupling of the two is just so … natural. Plus, delicious. As such, I'm taking Sarah's amazing salad from last week and warming it up a bit, with the addition of one of my other favorite winter treats—cranberries—to brighten things up. With the kale, you'll get twice the glucosinolate punch. Don't even get me started on what the walnuts bring to the table!
This is a fabulous light meal in itself for the Paleo set, but easily pairs with chicken or even sweet potato patties like the ones I made for our dinner. And fear not, vegetarian friends … there's plenty of flavor in this salad if you want to make a version for you! Simply swap olive oil for bacon fat in the recipe below.
Warm Brussels Sprout Salad
We did a lot of research this month to find unique recipes for preparing sprouts. I was inspired by the shallots here and
the pairing with kale here in coming up with the original recipe for our Eaters.
INGREDIENTS
Salad:
4 pieces bacon (I used uncured,  applewood-smoked)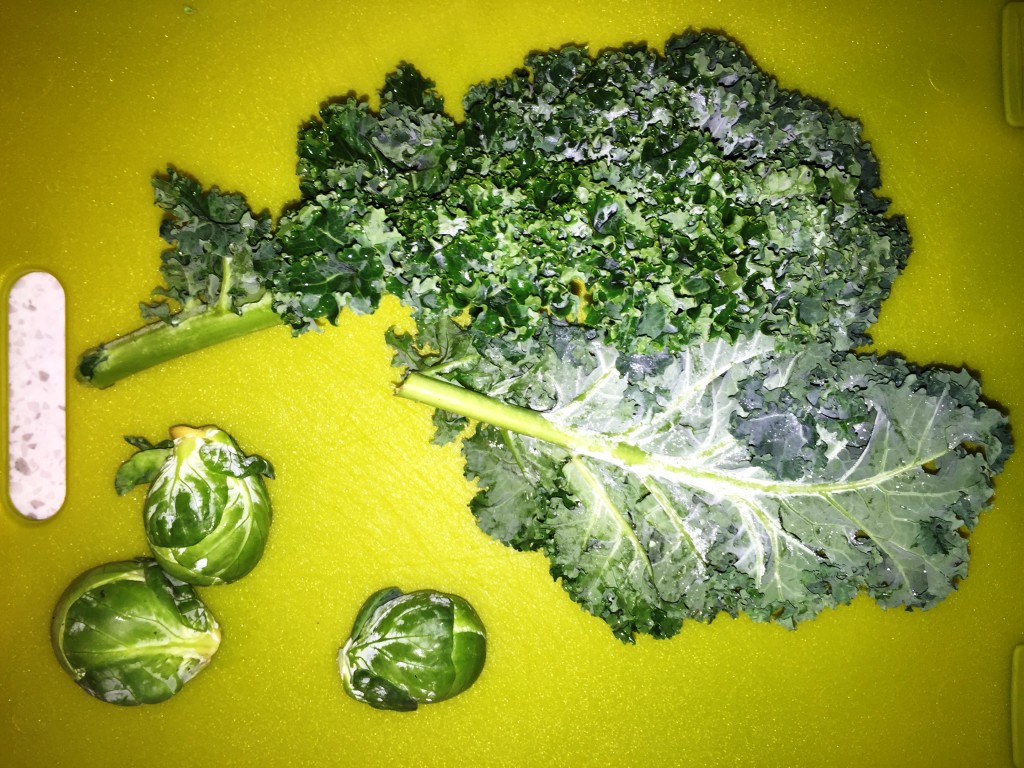 1 pound Brussels sprout (about 2-3 cups leaves)
4 stems kale (about 2-3 cups sliced into thick ribbons)
2 small or 1 large shallot (about 1 cup thinly sliced)
3 cloves garlic, minced
1/2 cup walnuts, toasted
1/4 to 1/2 cup dried cranberries
Dressing:
1/2 cup fresh cranberries
1/3 cup water
2 tablespoons honey
2 tablespoons olive oil
2 tablespoons white wine vinegar
1 tablespoon clementine juice (or substitute orange juice)
zest of one clementine (or substitute orange zest)
1 teaspoon fresh thyme
salt and pepper to taste
Preheat oven to 350 degrees.  Roughly chop walnuts into bite-sized pieces and place in a single layer on a baking sheet. Toast for five to 10 minutes, tossing occasionally to prevent burning. Remove and transfer to plate to cool.
Place cranberries, water and honey in a small saucepan and bring to a boil over medium-high heat. Cranberries will begin to pop and soften. Cook about 5 minutes and remove. Allow to cool slightly before adding to food processor or blender with remaining ingredients for dressing. Pulse until smooth.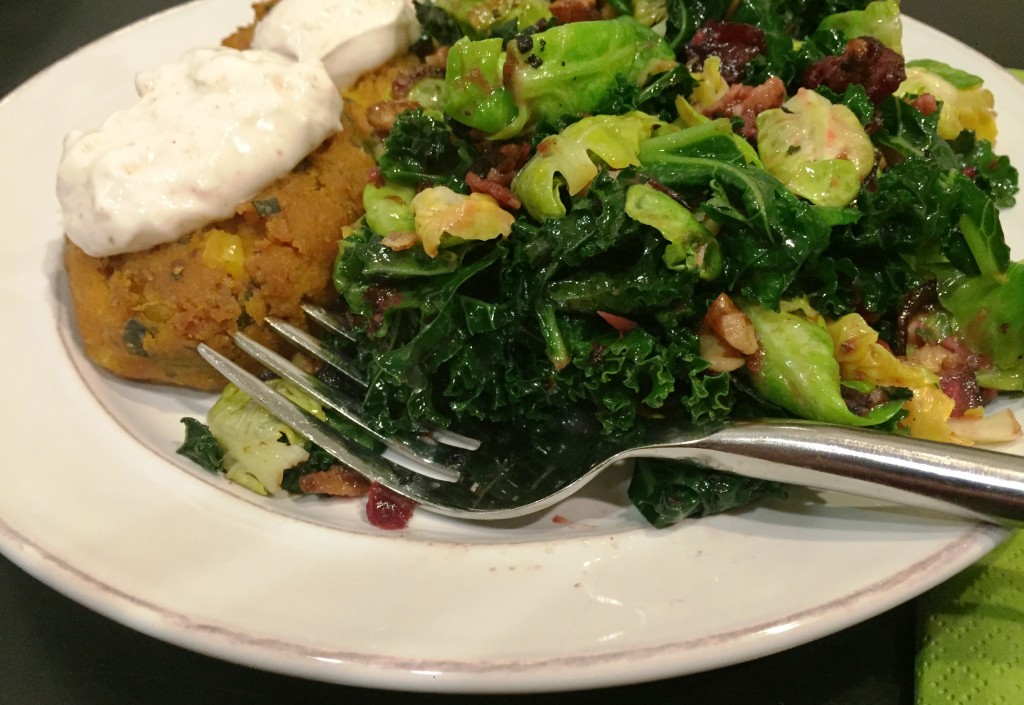 Cut bacon into small strips and saute until fat is rendered and bacon becomes lightly browned. Transfer to paper towel to drain. Set aside all but two tablespoons of bacon fat. (If preparing vegetarian version, pick up here, adding olive oil to pan for cooking shallots.) Thinly slice shallots and separate into circles. Add to pan and cook over medium heat until they become brown (about 15 minutes). Turn down if they start to brown too quickly. Remove from heat and transfer to paper towel to drain. Set pan aside.
Clean kale and Brussels sprouts, removing ribs from kale and the outer leaves and bottom from sprouts. Cut kale into ribbons and massage slightly to begin to break down. (I most often eat my Kale raw and massaged, which helps break down the cellulose structure to make this tough leaf more tender. Here's how.) Peel the rest of the leaves from sprouts and add both to a bowl and set aside. Finely mince garlic and set aside.
Add two tablespoons or more of remaining bacon fat (or olive oil) and heat on medium-high until oil shimmers. Add Brussels sprout leaves and kale and saute until beginning to get tender, but still crispy—it is meant to be a salad! Add garlic and saute 30 seconds more. Remove from heat. Add bacon, shallots, toasted walnuts, dried cranberries and desired amount of dressing to the warm mixture in the pan and toss. Serve immediately.