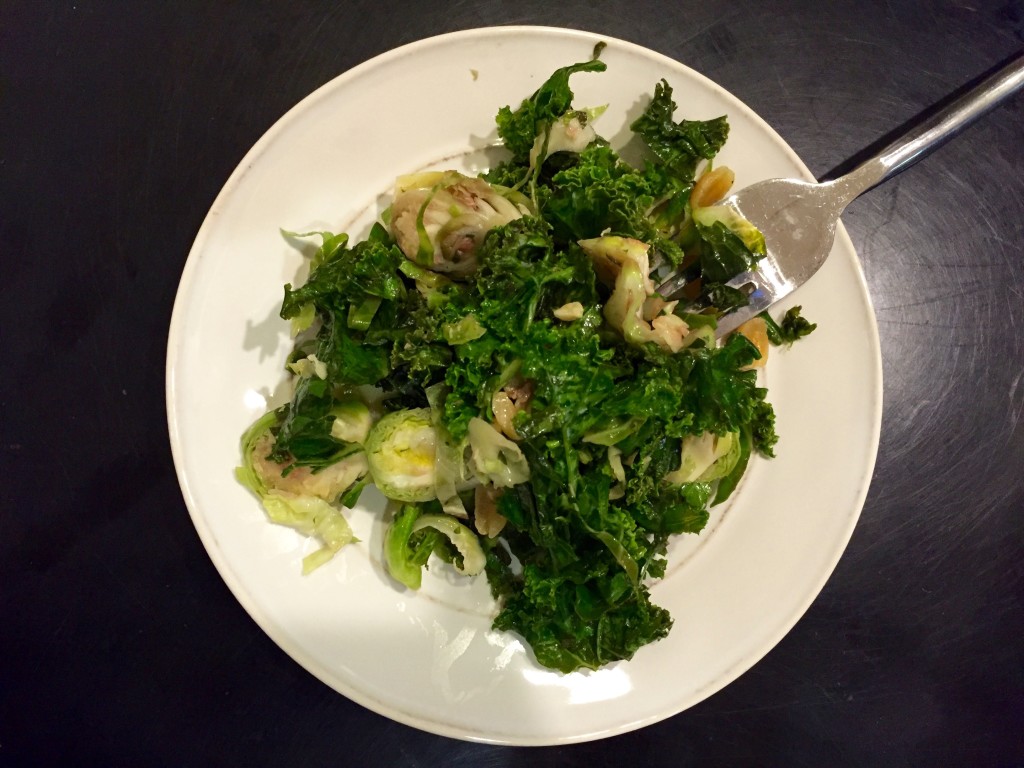 Summer has officially kicked off! If you're headed to a barbecue or picnic and looking for something quick and easy to bring, a fresh summer salad is your answer. That's what I bring when I'm tasked with contributing to a cookout. And what I ask guests to bring to our house.
A few weeks ago I brought one of my favorite Brussels sprout bacon salads to my brother-in-law's birthday party. I love this salad so much that I've made it for lots of dinners with friends and family. You might remember I wrote about it when we featured Brussels sprouts this winter. It was a hit at the birthday dinner. And when you toss in crispy bacon and use the bacon fat in the dressing….delicious.
Those touches – shredded sprouts, bacon, homemade dressing – are not hard to do, but they impress way more than the simple lettuce combos and bottled dressings.
This weekend was pretty busy in We The Eaters land. Founding Foodie Amy and hubby Adam got the teeniest tiniest foster placement, a six week old preemie baby, Saturday morning and still kept their weekend commitments. I was busy … well, not teeny tiny baby busy, but still my dance card was full. The weekend was so busy that we both forgot about this week's post. Who was writing it again? Who doesn't have a teeny tiny baby to take care of? OK, I got this!
So, who saved my day? My amazing sister-in-law Siobhan. We had the family over Sunday evening for an impromptu July 4th dinner. Jim made his awesome burgers on the grill, we whipped up some roasted potatoes, sweet corn on the cob and Siobhan brought a new salad recipe.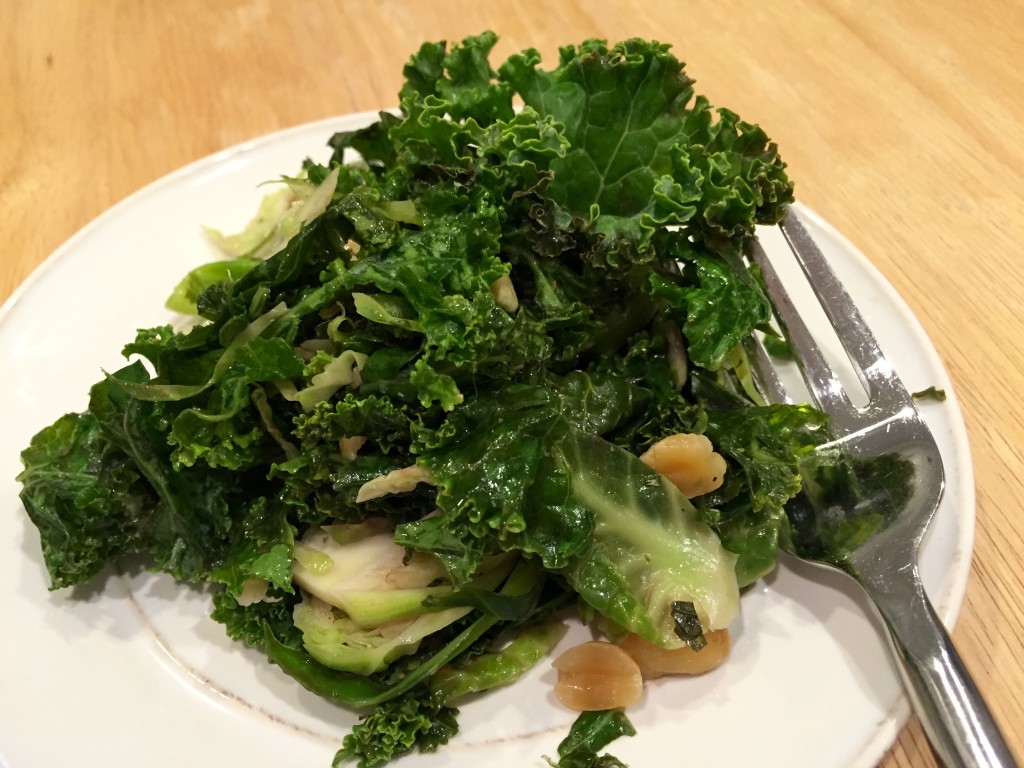 Thank the gods (the old and the new, the seven, the lord of the light … all the Game of Thrones gods were praised)!
It was a new recipe she'd pulled from a vegetarian cookbook from America's Test Kitchen made with shaved Brussels sprouts, shredded kale, fresh cilantro and mint, crunchy peanuts and bright acidic dressing. One whiff of it as she added the fresh squeeze of lime and gave it a final toss … all that bright green … I knew I had my salad for this week's post. Siobhan threw me a Hail Mary recipe pass. And all the We The Eaters bloggers rejoiced!
This salad is bright, zesty and full of texture and flavor. Perfect for the summer. You can make it ahead of time, and by letting the raw sprouts marinate in the dressing for a few hours helps to soften them a little, while still maintaining their crunch.
So, thank you to my amazing sister-in-law for her Hail Mary salad. Not only was it super yummy it saved our weekend!
Brussels Sprouts and Kale Salad with Herb Dressing
The peanuts can be swapped out for almonds, pecans or walnuts – roasted or candied add an extra depth of flavor. You can also change up the fresh herbs. Use what you have on hand or in your garden. Anything to pep it up and keep it bright and fresh.

1 pound Brussels sprouts, trimmed halved and thinly sliced
8 ounces kale (a tender variety like tuscan works best, we used curly leaf), stemmed and thinly sliced
1/3 cup apple cider vinegar
2 tablespoons honey
2 tablespoons extra virgin olive oil
1/2 teaspoons ground coriander
salt and pepper
1/2 cup roasted, salted peanuts, roughly chopped
1 tablespoon fresh cilantro, chopped
1 tablespoon fresh mint, chopped
1 lime, juiced

Whisk together the apple cider vinegar, honey, salt, pepper and coriander. Continue whisking while slowly pouring in the olive oil. Toss in the Brussels sprouts, cover and let sit for at least 30 minutes. (up to 2 hours at room temperature). If doing a day ahead, refrigerate the sprouts in the dressing.

Massage and squeeze the kale until wilted and dark, about 1 minute for tuscan kale and 5 minutes for curly. Add kale, peanuts, mint and cilantro to the Brussels sprouts. Toss all to combine. Season with salt and lime juice before serving.