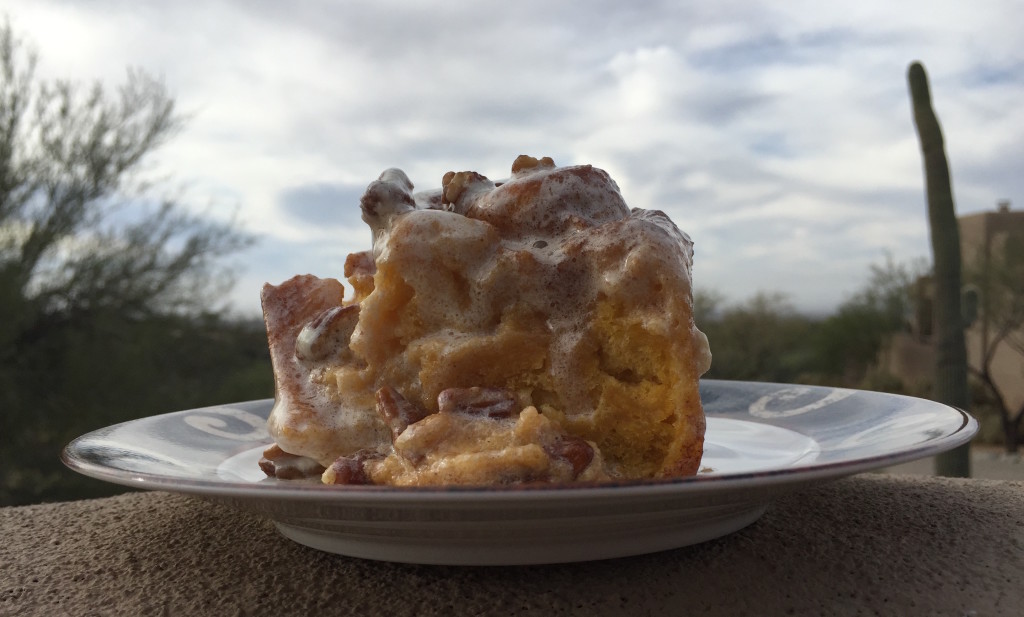 It should not come as a surprise that we love sweet potatoes around here. We dedicated an entire month to the tuber last November,  which culminated in a sweet throw down of epic proportions stacking Sweet Potato Waffles against a pretty heavenly cinnamon roll. I mean, really… feast your eyes at right. (So yummy.)
I admit—neither are fit for the Paleo palate. But there were a few featured meals that do fall in line, including Sweet Potato Chili and a fall-inspired Hash. Both scratch a certain comfort food itch, though I'd wager not quite as well as this week's musing.
You see, given that we've dealt with literally two weeks straight of stormy weather, I am in the mood for comfort. Respite from the rain. Instead of an umbrella, I am seeking shelter in a slider. Sweet Potato Sliders, to be exact.
We discovered this magical swap when the craving for burgers struck during our last Whole 30. We love a good, juicy burger at just about any time of year, but there's something off about that grilled masterpiece masquerading around all bun-less.
My wonderful husband whipped up a couple sweet potato "buns" while I was at a client site and I walked in to—BOOM—burgers that were so good I would swear they were even better than their forefathers. And though they straddle the Whole30 SWYPO line, they are gluten free and Paleo all the way. Plus, you can use the sweet potato scraps to make fries, which are the perfect pairing with a burger, anyway.
Am I right?
Sweet Potato Sliders

Our May series is always some spin on five ingredients, so you'll see five listed below. Olive oil, dry spices, salt and pepper are freebies! Just use what you have on hand.


For burgers:
1  pound hamburger
1 egg

For sliders:
1-2 large, fat sweet potato (you want eight 1/2-inch slices)
1 avocado
1 handful cherry tomatoes

Preheat oven to 400 degrees.

Peel and slice sweet potato into large medallions about 1/2 inch wide. If you can't find any fat potatoes, you can cut them lengthwise and make sliders, as we've done here.

Toss in olive oil. Place on baking sheet and sprinkle with salt and pepper. Bake for 20 to 30 minutes, flipping once during cooking to avoid burning. They are ready when lightly browned on both sides. You can let them cook while you cook the burgers.

While the potatoes are baking, mix the ground beef with the egg, some salt and pepper, and any spices you may desire. I love dehydrated onion and garlic powder. We usually make a big batch of burgers and freeze them in patties so we can just pull a few out when needed. Shape them to be roughly the same size and shape as your "buns" and place a dent in the middle with your thumb to keep the burgers from puffing up. Grill or pan fry to desired doneness.

Thinly slice tomatoes and avocado. Place burger on top of sweet potato bun, top with avocado and tomato and serve.

Now repeat. Often.