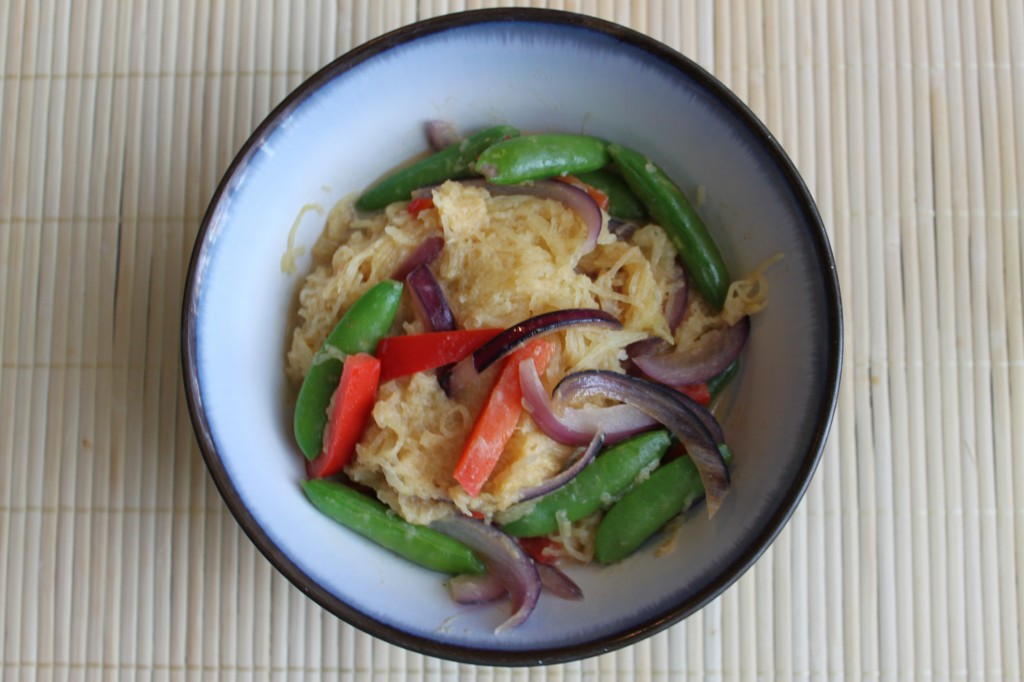 You can have them sweet, you can have them savory, you can have them for breakfast, lunch, dinner, or even as a snack! What food is this versatile? None other than, the winter squash. I happen to be a huge winter squash fan. I've even thrown a party that was entirely squash-themed!
There are many delicious varieties of squash, of course: butternut, kabocha, delicata, pumpkin, hubbard, spaghetti … the list goes on. The spaghetti squash recipe below is my small tribute to this incredible food. This particular squash is very low in calories and high in fiber, vitamin C and B6, not to mention just about every trace mineral you can think of. In my opinion, spaghetti squash is a superfood.
My love for this golden squash began after a long day on the ski slopes. We stopped in at The Dillon Dam Brewery for dinner, where my dish of choice was prime rib with spaghetti squash on the side. The delicate strands were seasoned only with olive oil and some herbs … and I fell in love.
From then on, I've put almost every type of sauce and seasoning on my spaghetti 'noodles,' with my favorite being this tahini and peanut sauce. I originally found it while reading a food blog and changed the ingredients and proportions slightly to suit my own personal tastes.
The beauty of this dish is that it is so versatile. It can be eaten hot, cold, or even at room temperature. I have used all tahini and all peanut butter, for example, and I always change up the added veggies. No matter how I tweak it, it comes out absolutely delicious every time: creamy and nutty with a little kick from the cayenne.
Spaghetti Squash with Tahini-Peanut Sauce

Adapted from Once Upon A Cutting Board

I use red onion, red bell pepper and sugar snap peas here, but you can use any other fresh or frozen vegetables you have on hand. I honestly leave a fork in the bowl in the refrigerator so I can walk by and grab a bite.

For the squash:

1 teaspoon coconut oil (canola or vegetable oil can also be used)
1 medium-sized spaghetti squash (yield 3 cups squash)
1 red bell pepper
1/2 red onion, sliced
1/2 pound sugar snap peas

For the sauce:

2 tablespoons tahini
1 tablespoon smooth peanut butter
1 1/2 tablespoon low sodium soy sauce
1/2 tablespoon rice wine vinegar
1 tablespoon water
1 teaspoon honey
1 clove garlic, minced (you can substitute 1/2 teaspoon garlic powder)
1 teaspoon minced ginger (you can substitute 1/2 teaspoon ground ginger)
Dash of cayenne

Cut spaghetti squash in half lengthwise and remove seeds. Place in a microwave safe dish, face down, with a few tablespoons of water. Cook on high for about 20 minutes or until squash is soft.

While squash is cooking, julienne the red bell pepper, thinly slice the red onion and remove strings from sugar snap peas. Saute vegetables in coconut oil for 2 to 3 minutes until tender-crisp.

In a small bowl, whisk together all ingredients for the sauce until smooth. If it looks too thick, add a teaspoon of water at a time until you get your desired consistency.

Using a fork, scrape out the insides of the spaghetti squash into long strands.

Mix all vegetables and toss in sauce.

Makes two servings.