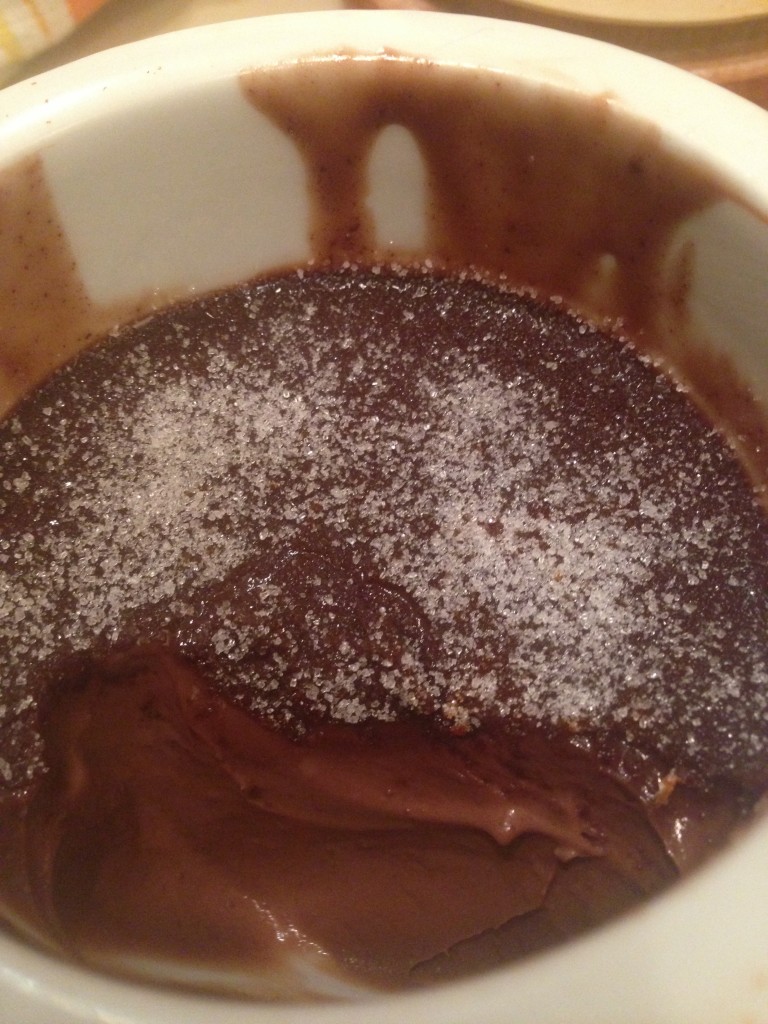 The source of my inspiration and happiness for this post comes from one of my favorite movies, "Amelie," and the decadent dessert featured in the film, crème brûlée. They both have way more happening below the surface then expected and are equally layered in sweetness. Also each has an opportunity to fill your heart with joy!
Recently I was lucky recently to have a week to hangout with a friend's teenage son, J.R, while his parents were away. While that alone was a great opportunity for me, the real estate his parents' kitchen afforded us was a bonus! My kitchen is very tiny, I mean French, so to have the space and additional cooking tools, for us to enjoy this opportunity was awesome… the copper cookware, the stand mixer, the gas range, and all the bowls this crazy tri-fecta plan needed, also did not hurt our situation!!! (SO thank you, P&D!)  Just a point of fact, all of these items are not necessary to make crème brûlée, I purposely enhanced the level of difficultly because the kitchen was available, so I could have an adventure with the spices from Bali, pay homage to my favorite film and challenge myself.
Ultimately my goal was two fold:
One every aspect of this process was to be adventurous and & curious, as an homage to the lovely lead character, Amelie. Two it was to have a few lovely memories of an afternoon with J.R. Bonus if I learned something new!
I begin with what I believe is THE recipe for crème brûlée, from "Bistro Cooking" by Patricia Wells. Additionally I am using a stand mixer, my decade old kitchen torch, the equally old ramekins, a spice grinder, a few beautiful large copper saucepans to later divide the creme mixture and one large saucepan, to make the crème vanilla base. (see Wells' recipe with my modifications below).
The Wells's recipe uses 6 lg egg yolks, a quart of heavy cream and vanilla sugar. My later additions to this recipe include; Turbinado,and Coconut Palm Sugar, for sprinkling on top. As well as the spices for the custard, which were Cayenne Pepper, Chocolate, Lavender, Chinese Five Spice, Coconut Extract ingredients, as well as Vanilla, Cardamom, Chili Pepper, Star Anise and Cinnamon! At this point, with the base complete, I realized I was kind of giddy as the ideas and flavor combinations were dancing like sugarplums, in my head!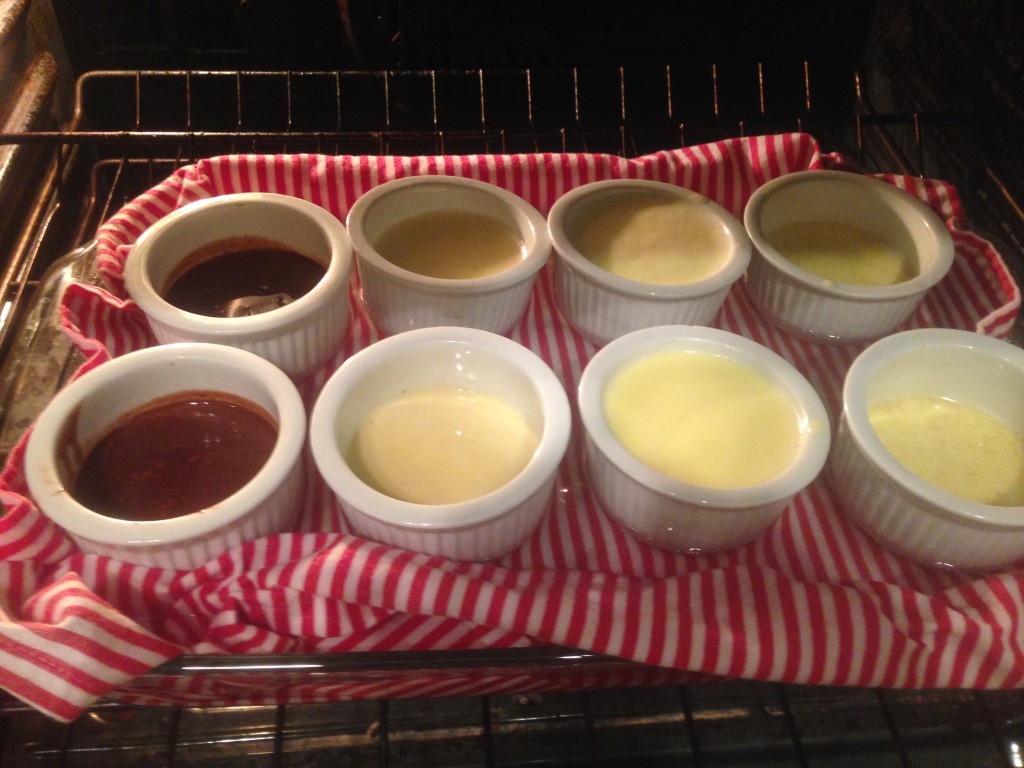 J.R. and I smelled & tasted the ingredients, labeling post-its with our three flavor finalists; Lavender & Cardamom – in keeping with the French theme. Chocolate Chili & Pink Peppercorn to represent, which is the determination Amelie possesses, the physical attractions shared by various characters, as well as the swift kick -in -the -pants, we sometimes need to get past our fears!  Our last flavor choice was Star Anise & Coconut, which evolved into Chinese Five Spice & Coconut, because I either did not use enough Star Anise or it just couldn't hold it own with the coconut.
That conundrum is for another round of testing! I believe this combination, including its evolution, mirrors the relationship that eventually flowers, between Amelie and Nino Quincampoix.
Please note:, I am purposely not focusing the discussion  time on making the base, as recipes tend to be so similar and it is three ingredients. For the purpose of my post and the interest of sharing this creative opportunity with you, I'm am simply detailing the process, after the base was cooked.
For this uncharted adventure and my poor memory, I placed post-its on the counter next to each pot; Lavender & Cardamom, Chocolate Chili & Pink Peppercorn & Chinese Five Spice & Coconut. For my sanity, as I placed spices in the dry pots to toast, I only used a Tablespoon for the measurement. Here is where we get into new territory and my fear began to rise! I tried to guess what amount might be appropriate given the liquid. So as I started to smell the fragrance of the spice, I turned off the heat, tossed it in the spice grinder and added it to the base, which as I said was already cooked. I allowed only 35 minutes for the flavors to marry, which also enabled the cream to cool.
Chocolate + Pink Peppercorn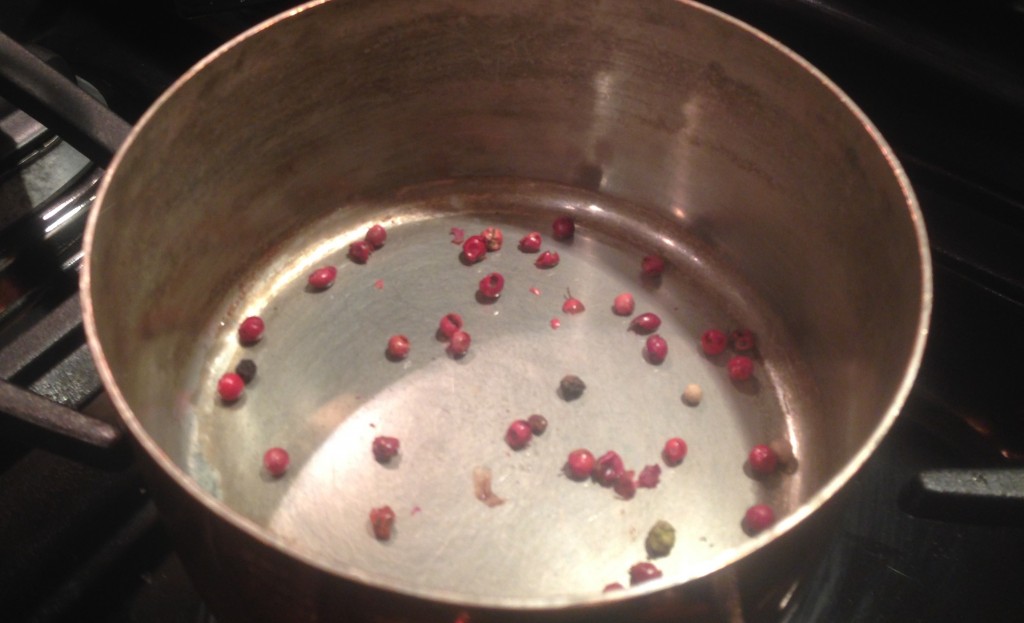 1 tablespoon pink peppercorns
2 tablespoon dark chocolate(1 square=Tbsp)
1 tablespoon rehydrated red chili, diced (was a just little less than a Tbsp)
While we rehydrated the dried chili with warm water, I toasted about a tablespoon of Pink Peppercorns. Once the base was off the heat, I added a few squares from a block of Trader Joe's dark chocolate to the hot cream, adding the finely diced, rehydrated chili, with the ground peppercorns… Surprisingly, after 35 minutes, the mixture produced was just a mild, sweet heat, but a perfect subtle compliment to the gorgeous chocolate cream. The chocolate glistened as if it had a stick of butter in it! Happy and with new found gumption, I left the lid on and moved on to the Star Anise & Coconut.
Star Anise + Coconut(renamed Chinese Five Spice + Coconut)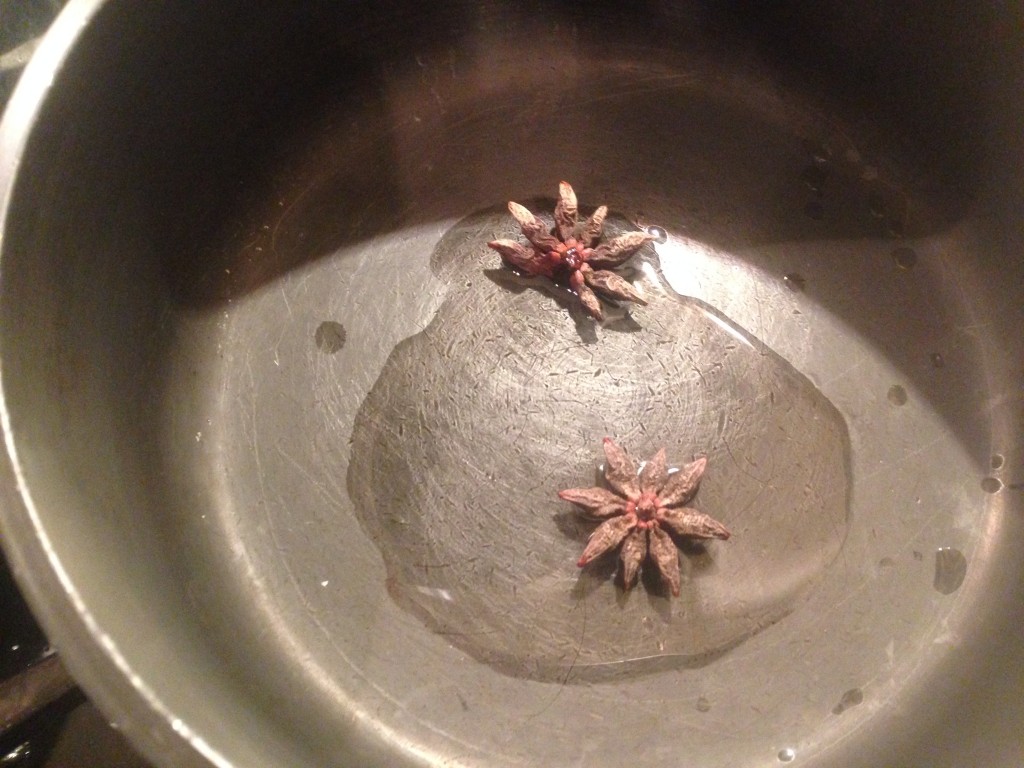 2 whole star anise ( I could only fit 2 in the Tbsp, so that's what I went with!)
2 Tbsp coconut extract
I toasted two whole Star Anise and after warming to incite the aroma, proceeded to pour the Coconut extract over it. I let it sit for a few minutes then ground, in the spice grinder. I then added this to the hot base. I mixed the three together and let sit. After 35 minutes, I tasted the lovely flavor of coconut was present, but barely any Star Anise. I immediately went to my favorite Chinese Five Spice, and the combo of the two was a winner in my book!  You have a lot of latitude here to play, depending on what flavor you wish to take the lead. My approach was the Chinese Five Spice as the leader, yet I still wanted the Coconut to have a bit part. My approach worked because, after my taste test, the Coconut crept in, on the back of my tongue. The perfect supporting actor! I am curious though (like Amelie) I wonder, if adding Coconut Milk or even Coconut Liquor would turn this whole thing upside down? That will have to be fodder for the sequel, so I left the lid on and moved on to the Lavender & Cardamom.
Lavender + Cardamom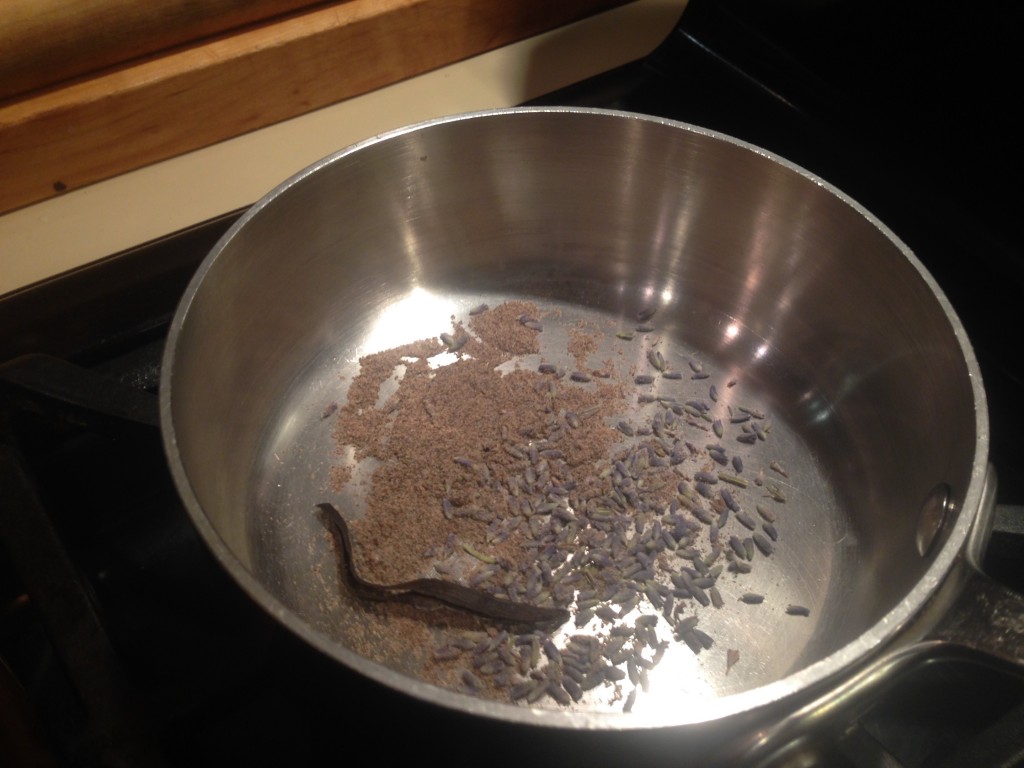 1 tablespoon lavender
1 tablespoon cardamom pods
I toasted about a tablespoon of Lavender and Cardamom pods, then ground the Cardamom pods, in the spice grinder. I added the ingredients to the base and after 35 minutes, I believe that when I tasted the cream with all of its levels of flavor, I was transported. I smelled France in the combination of spices and I tasted France on the spoon, as the silky texture covered my tongue. I heard France in the Amelie soundtrack I had playing and my soul screamed, "Voila! Parfait!" Once I mentally returned to the Chevy Chase, Md. kitchen, I have to admit I was somewhat nervous about cooking these ramekins, filled with my crazy new concoctions. I kept asking, "How much will the flavors change, once the heat solidifies the custard?" There is only one way to find out!
So after straining the cream, through cheese cloth, I placed the filled ramekins into a large roasting pan, with a dishtowel on the bottom to protect them from shifting and spilling. I poured enough hot water into the pan to come halfway up the sides of the ramekins. I baked until the crème brûlée was barely set, still shaking in the center, approximately 35-40 minutes. When they were done, I refrigerated them all afternoon. (Approx 5.5 hrs)
For J.R. and I, the torching and tasting came after dinner. We lined up three ramekins and had 2 spoons in front of each. Torch in hand, I sprinkled vanilla sugar on the Lavender + Cardamom and torched it to a perfect traditional, brittle, glass- like top!
The Chinese Five Spice + Coconut was sprinkled with Coconut Palm Sugar, and it BURNED in a second. I was worried I had ruined it! So I tried brown or turbinado sugar on the second one and despite the ugly site of the burned sugar of the first, I liked the Coconut Palm sugar better… I realize "crème brûlée means "burnt cream," but there is a difference between burnt and burned; flavor and color; a gorgeous brown or black!
Last but not least, the Chocolate + Pink Peppercorn was hands down my favorite. I sprinkled a light dust of Cayenne Pepper on the top, then the sugar and torched. After perfection was established in the forms of crisp tops, we tapped through the sugar lids & tasted. BIG PLOT twist, I'm not a Chocolate lover, but the occasional fan of just a bite BUT hands down the winner was the Chocolate + Pink Peppercorn. The Chocolate Custard had the texture of a p-e-r-f-e-c-t mousse,and then, in the midst of all that goodness, were these little bursts of heat and crunch. Another unforeseen twist here: The torch ran out of butane, (cue evil laugh here) so I could not make any additional brûlée day – but like every great producer, I got what we needed the next day and finished for pictures!
Later that night, I pulled "Amelie" up on my computer, sat back with a cup of tea and one of the unfinished ramekins we'd sampled from earlier. Excitedly I sat back and watched as "Amelie" wove it's its familiar tale and waited for the scene where she breaks the top of her crème brûlée. As the crackle of the sugar danced in my ears, the memory of my joyous afternoon will forever dance in my heart. Go make your own memories with this dessert! Share it! And by all means don't be afraid of trying something new!
Crème Brûlée (Burnt Cream)

6 large egg yolks
1 quart heavy cream
1/2 cup (100 g) Vanilla Sugar
1/2 cup (75 g) firmly packed dark brown sugar

Preheat the oven to 300 degrees F (150 degrees C).

Place cream in a heavy saucepan. Bring to a boil. Remove from the heat, cover. Set aside to steep for 35 minutes with various spice combinations as mentioned above.

In a medium-size bowl, combine the vanilla sugar and egg yolks and whisk until well blended. Add the cooled, infused cream and mix well.

Place 6 shallow 6-inch (15 cm) round baking dishes in a roasting pan. Pour the cream mixture into the dishes. Add enough boiling water to the pan to reach halfway up the sides of the baking dishes.

Bake just until the mixture is just set in the center but still trembling, about 30 minutes.

Refrigerate for at least 1 hour and up to 24 hours. Remove from the refrigerator, sieve the brown sugar evenly over the top of the baked cream and torch. I have tried 8 different variations of "torching under a broiler"… just buy a kitchen torch, you deserve it.

Yield: 6 servings