Photo by Carlin Sundell, courtesy of Lee Vance.
Chef Lee Vance abandoned an education pointed toward a counseling career for one in the culinary world. But with Lee, preparing "comfort" food is more like performing food therapy!
Lee grew up in an Italian home, where helping to prepare family meals instilled a deep love of cooking. She would eventually attend the Oregon Culinary Institute, then spend time traveling and trying out various roles in the industry.
Inspiration Behind Dinner

It was in Oklahoma City where she found her passion working as a server at Ludivine, under chefs Jonathan Stranger and Russ Johnson. The restaurant was one of the first organic farm-to-table restaurants in that area.  Customers were not used to that kind of cooking.
"Selling something like bone marrow to an Oakie was a huge challenge," Lee says, "But once I got them, I had them."
Her experience with these trailblazers piqued Lee's interest. She returned to Oregon and opened a booth in a farmers' market, serving whatever she could source from the local farmers on Friday nights. That translated into her restaurant, Dinner at the Nehalem River Inn, where she continued to take local sourcing and superior service to a new level.
That's where we met.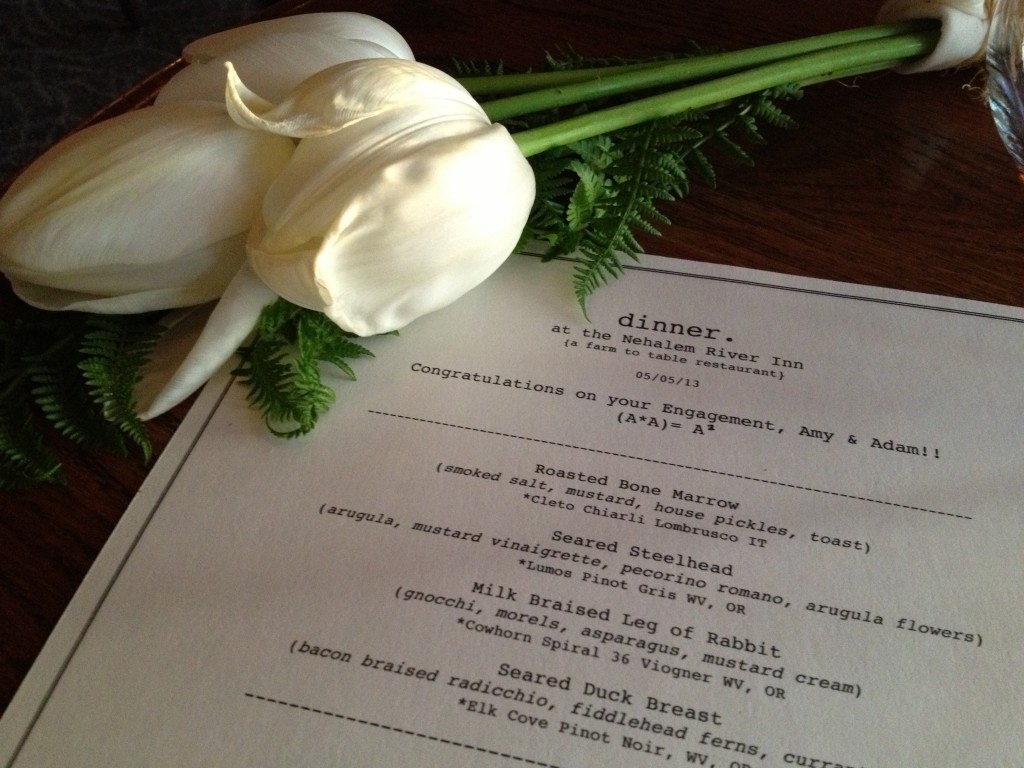 Dining At Dinner
Lee was working at a bit of a disadvantage that night. I'd just proposed to the love of my life, and the two of us had just experienced one of the best days of our lives, filled with helicopter rides, beautiful beaches and awesome margaritas.  Enter Lee, who flawlessly combines stellar cooking with an unblinking focus on guest experience. She was able to put an exclamation point at the end of the perfect day!
Lee surprised us by creating a personalized menu for our private meal at Dinner. Our first course was bone marrow served with mustard and pickled onion. There's a reason they call it meat butter! It was my first experience with the stuff, and nothing short of decadent. The next course was fresh-caught, meaty steelhead trout with arugula salad with pecorino romano and arugula flowers. The texture of that fish is something I won't soon forget. I've never been much of a trout person, but this experience would influence one of the offerings Amy and I would have at our reception several months later.
The third course was perfectly cooked, fork-tender braised rabbit leg and fluffy gnocchi with a rich, mustard cream sauce and earthy morels.Lee raised the bar with the final course, offering seared duck breast with fiddle head ferns and bacon-braised radicchio. Every bite played off the last, with the earthiness of the duck as the antitheses of the tart snap of radicchio and bright snap of the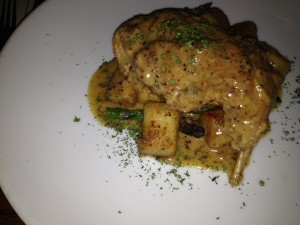 fiddle heads. It kind of felt like being on Iron Chef, as each course played well with the last, but stood alone as unique and delicious dishes in their own right.
And as if that weren't enough, this Olympic fare was finished with one of my new fiancee's favorite desserts: pots de crème. You'll find Lee's recipe for that below.
Of course, Lee herself was just as sweet, playing host and server, sparing nothing to make our engagement "Dinner" the most incredible experience. Amy and I have a return trip to the Oregon coast bookmarked, if only to make it back to visit her new space in Manzanita.
Dinner's new location comes with new challenges. Lee is familiar with breaking new ground from her Ludivine days, but in this coastal location she'll face the opposite problem: The area is saturated with farm-to-table efforts. To overcome this, she has closely partnered with an organic farm. These days, you don't have to sell your customers on the benefits of local and organic — the challenge is sourcing it to secure your own stash among many competitors.
Lee says you can't call "dibs" on your source for great ground lamb. However, since it's such a small community, there's still a very cooperative atmosphere amongst the farm-to-table restaurant owners. "There is a lot of support," Lee says. "You don't need to be a shark."
Part of Lee's mission is sourcing proteins from animals that have been treated ethically. Since she's going directly to farms to get the meat and developing relationships with people that care for the animals, she gets to see first-hand how they're treated. On the farms she works with, animals roam freely.
"Tons of acres with sheep roaming … and cattle. And chickens out in a field — they are totally free to just be chickens. When you know the animal was happy you really get to enjoy it."
Another aspect that helps Lee stand out is her focus on customer service.  She worked as a server for so long, her perspective as a chef is different. To her, it's all about the customer. Lee gets to know her clientele, and they often inspire her menus. That keeps them, like us, coming back for more.
Ultimately, she says, "If you don't have a guest, you don't have a business."
Lee Shares Her Tips
Trust yourself in the kitchen. Trust yourself to know when something is done. And don't be afraid of butchering — everything is made to be taken apart, she says. Look things up, but understand that a lot of cooking is intuitive.
Having a sharp knife is key. You can't get anything done without one. Pair it with an appropriate cutting board: There are no glass or marble cutting boards in the real world. It's not hard to figure out why your knife is dull if you're cutting on a marble countertop.
Let the season inspire your menus.Know what's in season, Lee says. Learn about what grows where you live and how to forage. It's not worth getting tomatoes and berries when they are not in season. If you can learn a couple of local, native plants that you can eat (be careful!) then go for it.
You can follow Dinner on Facebook and Instagram. You'll find your mouth watering by visiting their website. A special thanks to Chef Lee Vance for taking the time to speak with us, and for making the day of our proposal so memorable.
Pot de Creme
Recipe courtesy of Chef Lee Vance and her farm-to-table restaurant, Dinner, coming soon to Manzanita, Ore.


1 pound 68 percent dark chocolate pieces
9 egg yolks
3 cups cream
2 cups half-and-half
1 teaspoon vanilla
1 cup sugar
Pinch salt

In a pan, combine cream, half-and-half, sugar, vanilla and salt and slowly bring to a boil. While the cream mixture is heating, whisk egg yolks in a large mixing bowl until combined.

Add chocolate to hot cream and whisk until glossy and thoroughly melted. Once it has melted completely, pull the pan off the stove and slowly temper the egg yolks with the chocolate mixture. Add very slowly at first, whisking while you pour. Once mixed together, ladle into jars (I use 8-ounce mason jars).

Makes about 12 to 14 6-ounce portions.