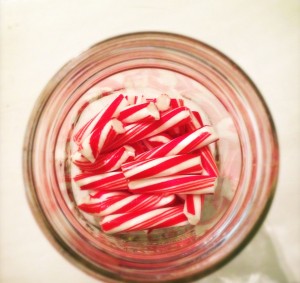 This month, we've served up all sorts of homemade gifts — truffles, nuts and cookies — for friends and family on your holiday list. Now, with New Years just a few days away, let's finish off the season with some homemade alcohol! Don't worry, we're not becoming moonshiners. These gifts are much easier that that.
2012 has been flush with infused alcohols. There seemed to be a new vodka on the bar shelf every time I went out. From cherry to Fruit Loops, marshmallow to caramel, the possibilities for flavored vodka are endless. Turns out it's pretty easy to make your own — so easy that it takes only a little imagination and some patience!
Based on what I read on The Alcohol Enthusiast, the amount of time required to infuse vodka can vary depending on the ingredients. Most infusions seem to take about a week or more. According to some general guidelines I read on The Huffington Post (this was a great source — complete with infusion examples and suggested cocktails), stronger flavors take less time; milder flavors take longer.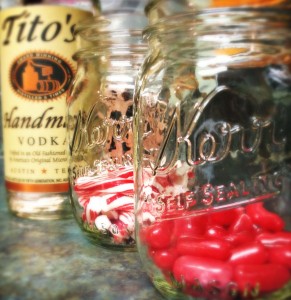 I decided to try out the quicker options. (Chalk it up to the procrastinator in me, but I'm never fully prepared when the holidays roll around.) I settled on two candy infusions that might translate nicely into yummy holiday cocktails: Hot Tamale and candy cane. Both have stronger flavors, meaning they should only take about three to four days.
Another tip I picked up from my research was to select a vodka that is "cleaner." This means the more distilling, the better (The Huffington Post suggests at least four times distilled). I happened to have some Tito's on hand, which is distilled six times.
I added the candies to some canning jars, breaking up the candy canes to create more surface area, poured the booze in all the way to the top and stored them in the cabinet.
I snuck little peeks at them over the next few days. I shook them around, trying to make the infusion process go faster. This is a suggested step in the process and seemed to help things along. The tamales seemed to dissolve after the first day, while the candy canes were still intact by the end.
For these candy-based infusions, the vodka will take on the intense dye color of the ingredients. Both mine turned a shade of red almost immediately. This makes them look even more festive! Poured into a beautiful clear bottle … tied with a red bow … wow, instant homemade gifts that are vibrant and unusual.
After day four I gave them a try. You can taste them any way you want — a shot, a mixed drink. All sources seemed to suggest tasting along the way to get a good idea of when to stop infusing, but since this was a shorter turn around, I skipped that step. I strained the vodka through cheese cloth (while the tamales had completely dissolved, small candy canes remained). I then tried the vodkas using my usual method: some ice and a splash of club soda.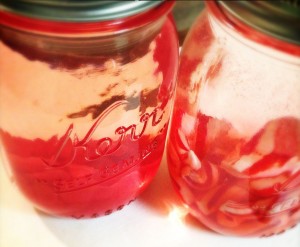 Drumroll …
Wow! These were off the charts! They knocked my socks off with how much they tasted just like the candies. The cinnamon in the Hot Tamale vodka was spicy and left my mouth feeling almost fresh and minty cool. The candy cane had a similar peppermint effect. These were great on their own, but mixed into a chocolate liquor or a white Russian they were even more festive and fun.
It was all so easy, I plan on making this a normal holiday season activity — the only limit is your imagination. Try similar holiday candies or combining flavors to really impress your friends and family. Just make sure to keep some for yourself!
Capping off our season of giving, we have one last gift to give to our fellow Eaters. We've had a fun time the last few months as we have been growing our little eating community here on the web. And next year is only going to be bigger and better. To say thanks, we're giving away a "swag" bag filled with little presents from us.
To be entered to win, simply let us know what YOU would like to see us do in the coming year. This can be anything! Seasonal vegetables, ethnic cuisines, extravagant dishes, new features on the site — no challenge is too big or too small for We The Eaters. The best suggestion left in the comments field of this post by January 4th will win a prize pack of goodies.
Candy Infused Vodkas

I used articles from The Huffington Post and The Alcohol Enthusiast as guidelines for infusing. Remember, you can use almost any ingredient — or more than one. The only limit is the time you have to wait!

4 tablespoons Hot Tamale candies or 6 candy canes, broken up
vodka, at least 4 times distilled, enough to fill a standard pint sized mason jar

Add candies to the bottom of a mason jar. Pour in vodka all the way to the top. Put lid on and store in a dark place like a cabinet.

Shake the contents of the jar daily. The infusion for the candies should take three to four days. Taste along the way to see how you like the flavor. When done, strain the vodka through cheese cloth into another container.

Peppermint Bark Martini

One of my husband's favorite treats this time of year is peppermint bark. We have so much it's coming out of our ears. We sipped on this cocktail version Christmas Eve while watching Bing Crosby's White Christmas.

1 ounce candy cane-infused vodka
2 ounces white chocolate liqueur

Add ice to a cocktail shaker. Pour in vodka and chocolate liqueur and shake to chill. Pour into a martini or other small glass, straining ice. Add a piece of peppermint bark to garnish and munch.