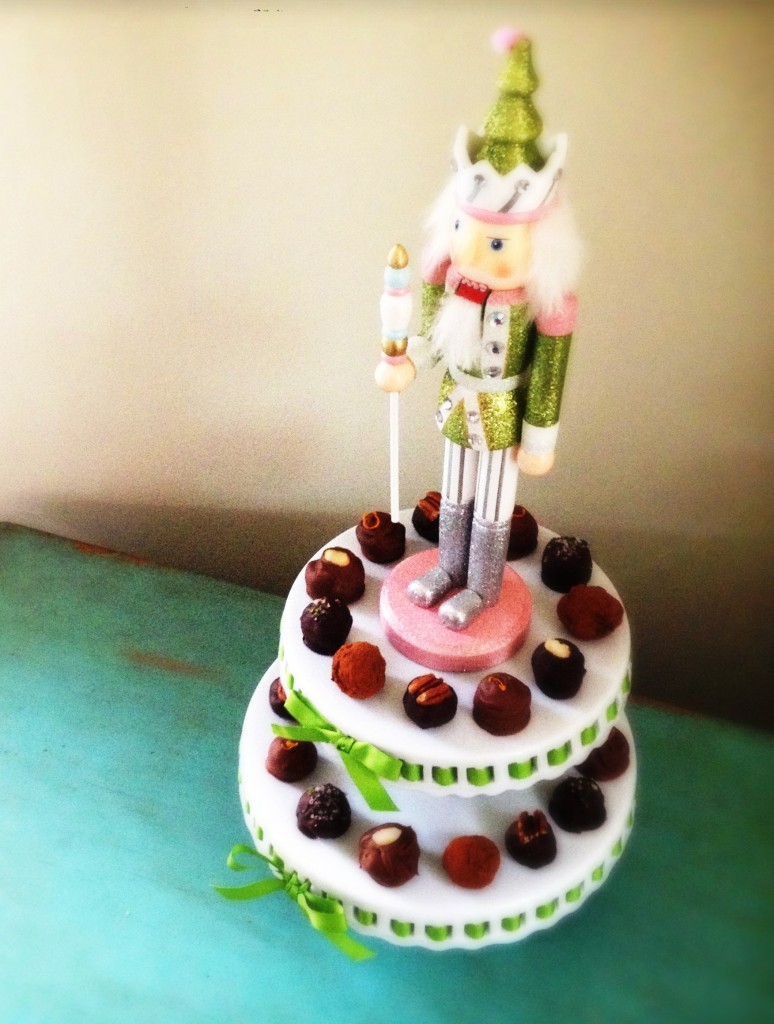 You slowly peel the ribbon away, opening that little box or bag to reveal the spheres of surprise within. You don't always know what you're getting until you take a bite. Oooey gooey caramel … or maybe creamy peanut butter? Your eyes close as the buttery confection melts on your tongue.
Yum.
I'm as particular about my chocolate as I am about my martinis. For the latter, I prefer them straight up, a little dirty, garnished with three olives — and only with Belvedere vodka. We're both of Polish origin, after all. Ketel One (Netherlands) and Grey Goose (France) may be of the same pricey price point, but I'd bet a bottle of each that I can tell the difference in a cocktail.
When it comes to chocolate, Hershey's and Nestle have nothing on Ghirardelli. Not to say it's the best, but it's affordable and relatively easy to work with. If you are up for experimenting, I'd recommend researching some organic and fair trade brands. I decided to try something new this year myself when the folks at Divine Chocolate — full disclosure: they are sponsoring the giveaway this week on WTE — offered to let us try some of their fair trade chocolate baking line.
The company touts itself as being the only fair trade chocolate company co-owned by the farmers that grow the crop: a Ghanaian cooperative of 60,000 smallholder farmers called Kuapa Kokoo. The farmers receive a fair price for their cocoa, a social premium to invest in their communities and a share in the profits of their own chocolate brand.
I started making truffles as presents a few years ago. Emboldened by the very warm welcome my first batch received, it's become a hallowed holiday tradition. I suppose, while we're at it, I should share a few of the other traditions I cherish this time of year.
I adore holiday music, be it for Christmas, Hanukkah or Kwanzaa. I have dozens (and dozens) on my iPod. My favorite? Lou Rawl's version of "Little Drummer Boy."
Every year, my grandmother bakes so many holiday treats, it can only be described as hedonistic. She whips up gingerbread cookies (

which

 must be in the form of Christmas trees for my mom), fudge for my uncle, Dobosh torte or pizelles for my brother, and Russian tea cakes for me. But that's just the start. There's also date-nut bars, chocolate chip cookies, Christmas triangles, peanut butter cookies, chocolate kiss cookies, pecan tarts, stolen and strudel. It's a blessing, and a curse. Especially since this year, much of it was ready by the feeding frenzy that is Thanksgiving … and I got another box just yesterday. I feel like the list alone requires a gym membership.
My parents and grandparents have given me an ornament every year since I was born. The nu

mber in my collection

dates me, so I'm not telling. Since my parents have been divorced for more than two decades and both still do it, I have enough to cover a few trees. I'm pretty partial to the bell I made for my parents in Sunday school when I was about five.
I'm usually done with my holiday shopping by about July, and have the bulk of it done by Valentine's Day. When everyone else is climbing over each other for deals on Black Friday, I'm home stuffing my face full of Grandma's cookies. Come the big day, my favorite gifts to unwrap are always dug from the stocking I've used every year since I was born, hand knit for me by my great-great aunt.
On Christmas day, after dinner is over and the dishes done, my family always goes to a movie. Tensions can run high with a full day (or days) of preparing a meal that gets devoured in 20 minutes, so we've found the best way to find a little peace is in the one place nobody is allowed to talk.
Ok, fine — truffles are not on that list. I suppose as Grandma starts passing some of the baking responsibilities down to me, we could just lump them into lucky #2. Anyway, I digress.
Each time I make these chocolates, I experiment — as I do with every recipe I've made more than once. What began as truffles with rum has become so much more: Margarita truffles, Three Wise Chile truffles and now, a few new flavors. That's the great thing about this recipe: you can use the same base to make multiple varieties just by tweaking the ingredients, as I suggest below.
Have something you'd like to try? Lime and coconut? Chai? Soy and wasabi? We'd love to hear what your dream truffle looks like. The three best suggestions left in the comments field of this post by December 13th — as chosen by our panel of truffle-loving experts — will win a FREE baking kit from Divine Chocolate based in Washington D.C.
I liked using their product. I've never used milk chocolate to make this recipe before, but tried it at their suggestion. The product lives up to its name: It was truly divine. I noticed that it did take significantly longer than Ghirardelli to set up properly, but was actually easier to work with in the long run when it came to forming the ganache balls.
As for the dark chocolate, I typically opt for semi-sweet, so the 70 percent bittersweet bar was different, too. With less cocoa butter, darker chocolate is just a bit harder to work with overall. And the taste was very strong. It overwhelmed the Patron tequila I used in the margarita truffles, so would be better suited to stronger-flavored ingredients. It stood up to the chile particularly well. I'd suggest using more honey for your liquid as a counterbalance and opting for an extract to impart more flavor. Taste the ganache as you are flavoring to make sure you don't use too much.
Divine Chocolate has provided the baking kits for this week's giveaway free of charge. As thanks, WTE has offered the company space to advertise their product. The space is also offered free of charge, and has not influenced the material in this week's post. Divine Chocolate will ship the prizes directly to the winners.
Truffles, Your Way

Adapted from Debra Fioritto Weber's Truffes Au Rhum recipe.

For ganache:

1/2 cup heavy cream
2 tablespoons unsalted butter
1 teaspoon honey
9 ounces high-quality semi-sweet chocolate chips, or chopped bar chocolate (I used Divine Chocolate)
3 tablespoons liquor, or combination of liquids (like extract, juice, tea, etc.)

For dipping and rolling:

6 ounces high-quality semi-sweet chocolate chips, or chopped bar chocolate
Confectioners sugar, cocoa powder, crushed Nuts or candy, or salt for rolling/sprinkling

Options:

Margarita truffle: I used dark chocolate for this. Make ganache with 2 tablespoons strong flavored tequila (0r margarita mix, if you prefer a non-alcoholic option), 1 tablespoon lime juice and fine chopped lime zest. Garnish with lime zest and coarse salt.

Three Wise Chile truffle: Dark chocolate again here. 1 to 2 tablespoons jalapeno infused vodka (depending on how spicy you want these), 1 to 2 tablespoons honey (depending on how much vodka you use — three tablespoons liquid total) and up to a 1/2 teaspoon each of: ancho chili pepper, chipotle pepper and chile pepper. Add some cayenne in if you like it fiery. Again, test as you go, but give the ganache a little time to let the flavors develop. It May taste hotter in a few minutes. After coating ganache, let it set for a while. When chocolate is still shiny, but no longer runny, roll in unsweetened cocoa powder.

Balsamic and Orange truffle: I used milk chocolate, but either would work. 1/2 teaspoon orange extract, 2 1/2 teaspoons balsamic, and finely chopped orange zest for ganache. You can use a tablespoon of orange juice instead, reducing balsamic to 2 tablespoons, but it won't have as strong an orange flavor. Garnish with a strip of orange zest.

Ginger, Almond and Vanilla Vodka truffle: Milk chocolate is probably the best choice here. 1/2 teaspoon almond extract, 1/2 fresh grated ginger (finely chopped — a big piece can be a bit much), 2 tablespoons vanilla vodka. Garnish with a toasted slivered or shaved almond piece.

Method:

Mix the cream, butter and honey in a small saucepan over medium-high heat. Bring to a full boil and remove from heat. Add 9 ounces of chocolate, swirling pan gently and constantly (do not stir). Once fully melted, allow to rest five minutes. Add additional liquid of your choice (3 tablespoons total). Transfer to bowl and refrigerate for about 45 minutes, stirring every 15. The mixture will begin thicken after 45 minutes. Continue to refrigerate, stirring every five minutes for an additional 10 to 15 minutes. Stirring is a critical step — if you skip this, ganache will solidify. Then you will just have to eat it. Poor you.

Between stirrings, line baking sheets with parchment paper (a Silpat works great, too) and place any toppings for rolling truffles in a shallow bowl. The chocolate will be firm, but using a solid spoon, stir until it is workable. Using the spoon as much as possible, form chocolate mixture into one-inch balls. I'm not gonna lie — this isn't easy. It can soften fast. Especially when you start "shoosh-ing" them into shape with your hands. Just roll the balls from the spoon in your palm (they will never form perfect circles, so OCD be damned.) You may need to put the ganache back in the fridge until you get the hang of it. As the balls are ready, move to paper. Chill for 10 to 15 minutes.

Now it's time to  melt the remaining 6 ounces of chocolate. So many ways to do this, and so many to screw up. You can nuke it in short bursts in the microwave or put water in one pan and stack another, slightly smaller pan, inside to make your own double boiler. Or use a real double boiler, if you have it. Don't burn the chocolate, and don't get any — and I mean any — water in it. In either scenario, you will have to start over (you'll know when the chocolate won't go over the ganache smoothly; it's like it seizes up and gets thick.) My favorite method is to boil some water in a small saucepan and then remove it from the heat. Put chocolate in a glass bowl inside the water and just let it sit. You still need to be careful not to get water into it, but it won't burn, and you can just let it sit while you are working on other things.

Allow chocolate to cool as much as possible before dipping the ganache balls into it. You want it to coat easily, but not to melt your hard-won spheres of goodness. Use a spoon (or, if you think you'll make these a lot, something like this) to swirl them around, one at a time. Remove, letting excess drip off, then roll the truffle in the ingredient of your choice. If you are making the Margarita truffles, just sprinkle with salt. Let chill 5 to 8 minutes to set.

These should be kept refrigerated in an air-tight container. They will keep for several weeks (if you hide them really, really well … good luck with that).

Makes about 18 larger truffles.