Whenever December rolls around, I vow this will be the year I'll get the whole holiday thing together. I'll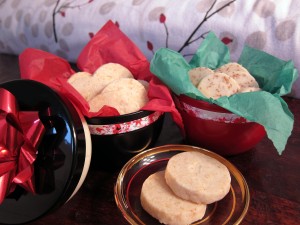 enjoy at least two markets or choral performances. I'll get the gifts together before it's too late to ship them. I'll finally, finally send out holiday cards and damn it, I'll get some cookies made.
You can probably see where this is going. It's now two weeks into December and I can assure you there are no holiday cards happening this year (again). The jury's still out on whether those gifts will be in the mail on time. But one thing I have managed to do — thanks only to my commitment to this blog, mind you — is bake some delicious shortbread cookies.
A large part of what made this possible (besides my WTE deadline), is the time-saving genius of making several different cookies — orange or coconut for sweet, carmelized shallot for savory — from what is essentially one recipe. (OK, the shallot option requires a little tinkering, but not a whole lot).
These cookies are pretty and sophisticated enough to give as gifts and can be whipped up with very little time commitment. They'd also be lovely served up at that holiday party you're hosting. Because let's face it: I certainly don't have my act together enough to throw a holiday party … but perhaps you do!
One last note — WTE has yet another set of riffs on this shortbread recipe for you, delivered by 8-year-old kitchen prodigy Joshua. He ran with this recipe to create a set of kid-friendly variations. You can find them, along with his very clever tips on kitchen safety for kids, in this week's "Meet The Chef" feature.
Speaking of shortbread, our month of giving continues. This week, Fianco a Fianco is giving away a bag of their sweet and savory cookies to three lucky Eaters. We sampled several varieties of their shortbread at the DC Metro Cooking Show last month and thought you might like to try them, too!  These cookies are made with all natural ingredients, which make WTE pretty happy. 
To be entered to win, all you have to do is use a little imagination and help Fianco a Fianco by suggesting some fun new shapes for their cookies! The three best suggestions left in the comments field of this post by December 28th — as chosen by our cookie experts — will win a FREE bag of the company's shortbread cookies.
Fianco a Fianco has provided the gift for this week's giveaway free of charge. As thanks, WTE has offered the company space to advertise their product. The space is also offered free of charge, and has not influenced the material in this or any other WTE post. Fianco a Fianco will ship prizes directly to the winners.

One Base, Three Shortbreads: Coconut, Orange and Carmelized Shallot


Adapted from Ina Garten's The Barefoot Contessa Cookbook, via Simple Bites

Techniques and tips: You can roll out the dough and cut shapes with cookie cutters, but it's much faster to roll it into logs, chill, and slice into rounds. After shaping the logs (see tip below), chill them in the fridge for at least three hours and up to two days (any longer and they may start taking on fridge odors).

Dorie Greenspan has a great tip for making the logs perfectly round by using a paper towel tube. Make a lengthwise slit down the side of the tube. Then roll some rough logs by hand, wrap lightly with plastic wrap, and tuck inside the paper towel roll. Roll the tube a bit on the counter to shape the dough inside. Remove, wrap tightly in plastic wrap, and chill.

To slice, I used a very sharp knife with the blade warmed in hot water. Give the log a slight turn as you finish cutting each slice to keep the edge from crumbling.

Basic Sweet Recipe (orange or coconut)

Makes about 30 small rounds

This is the base for the orange or coconut versions. For the savory carmelized shallot shortbread, see the variation below.

1 1/2 sticks (12 tablespoons) unsalted butter, room temperature
1/2 cup sugar
1 teaspoon coconut extract/flavoring or orange extract
1/2 cup unsweetened grated coconut or zest of one orange
1 3/4 cups all-purpose flour
Pinch salt

Mix butter and sugar in a mixer until combined. For coconut or orange shortbread, mix in extract and zest or coconut (if you're making the carmelized shallot variation, add the prepared shallots now — more details below).

Sift together flour and salt in a separate bowl. Mix into the butter mixture on low speed until you see the dough forming — you don't want to overwork it, or the cookies will be tough.

On a lightly floured surface, use your hands to finish forming the dough. Divide in half and shape into two logs (see techniques and tips above). Chill in the fridge for several hours or overnight.

After chilling, cut logs into 1/4-inch slices. Put on a parchment-lined baking sheet and bake in a 300-degree oven for about 15 minutes. Keep your eye on them — you don't want fully browned cookies. Remove them from the oven when they feel slightly firm to the touch and the edges begin to just lightly brown.

Carmelized Shallot Shortbread

For this savory shortbread, you'll first carmelize the shallots. Very finely chop one large shallot or two small ones. In a small saute pan, cook them slowly in two tablespoons butter, a pinch of salt and a 1/2 teaspoon of your favorite vinegar (optional), stirring occasionally, until sweet and completely cooked (about 15 minutes). Cool completely. This will make your kitchen and clothes smell like shallots — sorry!

Now, follow the recipe for the sweet shortbread above, but reduce sugar to 1 tablespoon, omit the extract and increase the salt to 1/2 teaspoon. Add the cooled, carmelized shallots after mixing the butter and sugar, as described above.