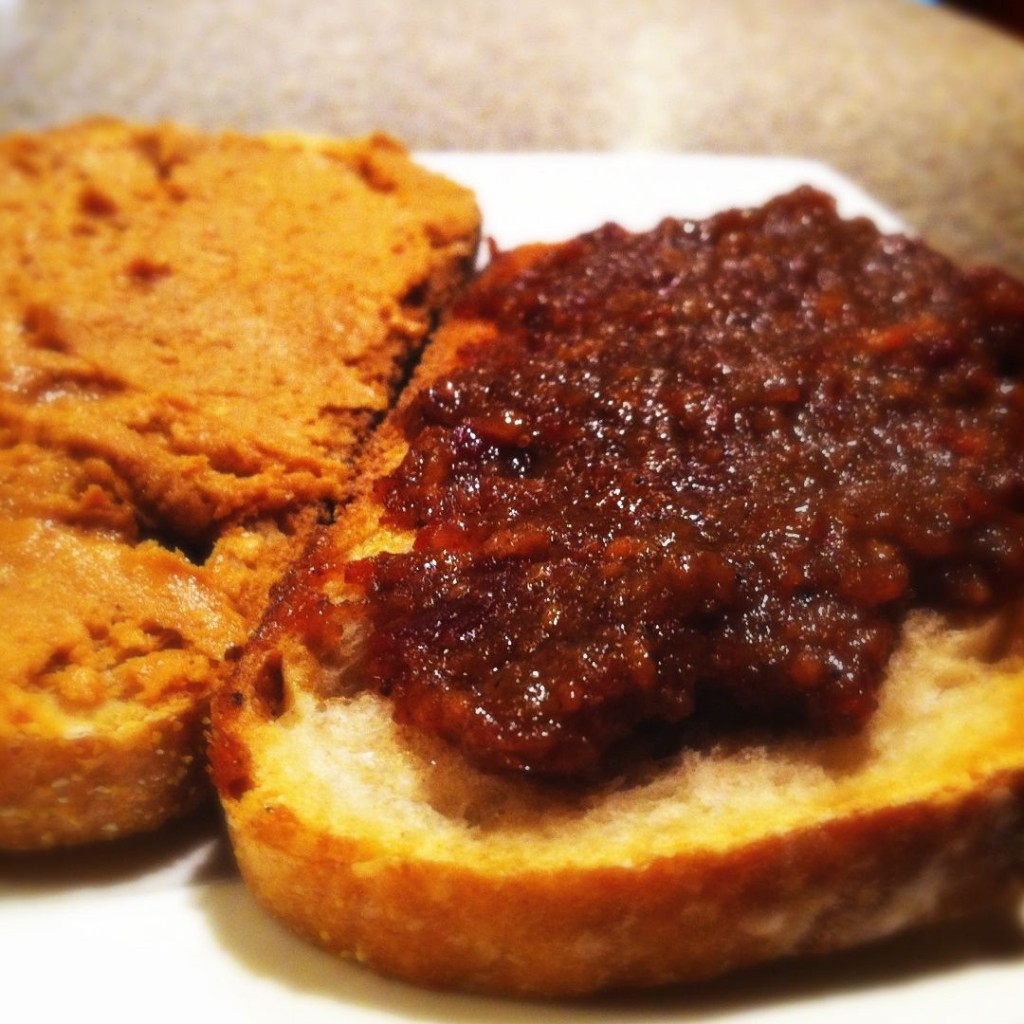 Nothing comes closer to a perfect meal than a simple peanut butter and jelly sandwich. It's cheap, easy and oh-so-delicious. If you know me, you also know I love nothing more than peanut butter. Add in chunky, sweet strawberry jam … pure perfection.
So volunteering for "savory" this week was almost blasphemous. It went against every fiber of my being. All my sweet teeth screamed at me, 'No! What are you thinking? We hate you!' I had to get them back in line.
As you can imagine, it's pretty hard to come up with a savory peanut butter and jelly sandwich. Peanut butter can be savory on its own, of course, if you get an all-natural, unsweetened variety. But jam? Set aside the fruity jams you know and love — strawberry, grape, raspberry, marmalade — and what's left? Spicy jams and jellies. Can there be anything else?
Yes! Bacon jam! I tried it at a local gastro pub recently, served as an accompaniment to … something. It was so good, I don't even recall the main dish.
These days, you find bacon in the most unlikely places: ice cream sundaes and milkshakes,  donuts and beer. Sometimes that's a good thing, and sometimes it's just not right. Luckily, it turns out that bacon jam is on the right side of this seemingly never-ending trend. But how would it work with peanut butter?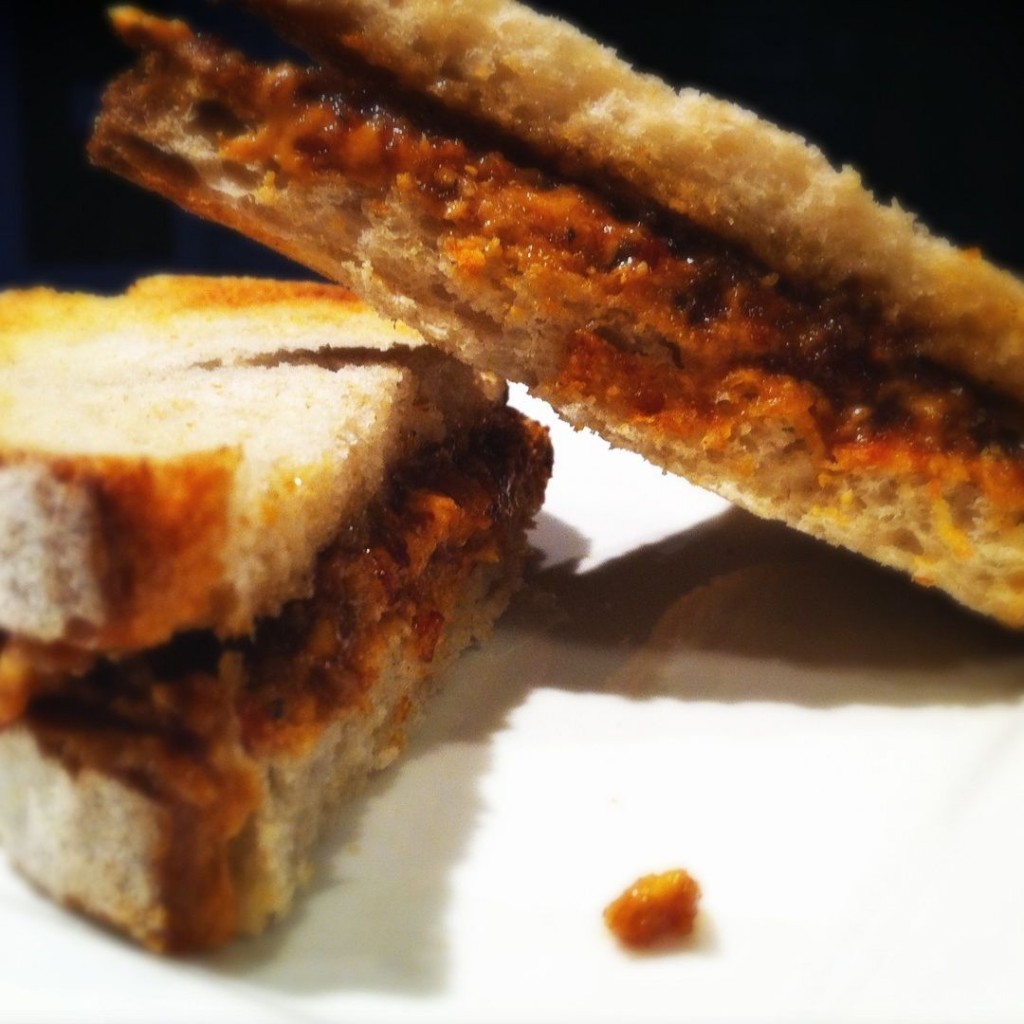 Only one way to find out.
I set out on a jam venture of epic proportions. Three pounds of bacon, pure maple syrup, strong brewed coffee, brown sugar. After several hours of simmering the bubbly concoction, the house smelled of a barbecue-y, bacon-y heaven. I ended up with so much jam that I may regret this decision during my next annual physical. And it's so rich and flavorful that a little goes quite a long way. Even spread onto peanut butter.
I chose an all-natural peanut butter, freshly ground at Whole Foods. Nothing but pure peanuts. It worked quite well against the rich jam. I could have chosen almost any bread, and while white bread is the classic choice, I prefer a heartier bread, full of seeds and fiber.
In this case, I thought something in-between would be best. I went with a crusty, rustic bread. Toasted, it made a great base for the salty and savory peanut butter and bacon jam.
I don't know if the bacon trend is here to stay, but bacon jam is definitely worth trying. And with so much left over, just dreaming up what to do with it is an adventure.
Bacon Jam

Adapted from Tasty Kitchen. I loved the step by step photos provided here. The original recipe called for four whole onions; I cut that down to three for my taste.

3 pounds bacon, cut into 1-inch strips
3 large yellow onions, thinly sliced
8 cloves of garlic, peeled and crushed
1 cup light brown sugar
1 cup cider vinegar
1 1/2 cups strongly brewed black coffee
1/2 cup maple syrup (use the real stuff!)
1 teaspoon ground black pepper

Heat a Dutch oven over medium-high heat. Add bacon and cook until the bacon is browned and crisp, stirring frequently. Transfer the bacon to a plate lined with a paper towel to soak up the grease. Drain almost all of the bacon grease from the Dutch oven, leaving about 2 tablespoons of grease for the rest of the recipe. Tasty Kitchen suggests saving the bacon grease — there's quite a lot left over!

Add the onions and garlic into the Dutch oven, over medium-high heat. Stir well and reduce to medium. Cook for eight minutes. The onions will become mostly translucent.

In the meantime, whisk together the rest of the ingredients in a large bowl to a create the liquid base. Add to the Dutch oven and stir well. Bring it all to a boil, stirring frequently, and boil hard for two minutes. Stir in the bacon.

Leaving uncovered, simmer the jam, stirring occasionally to prevent sticking. If it starts to dry out, add about 1/4 cup of water. Take it off the heat when the onions are super-soft and it's all syrupy-thick (this took about two hours of simmering for my batch). Let it stand for 5 minutes.

Using a food processor, Vitamix, or blender, pulse several times until the jam is your preferred consistency . I used a basic blender, as it was all that I had on hand in the kitchen at the time. To make it easier, I did a little at a time, but with a  food processor, you can process all of it at once.

Scrape the jam into one or more jars with tight fitting lids. I put it into several to share with friends. Store in the fridge up to one month. I think it tastes best warmed up.