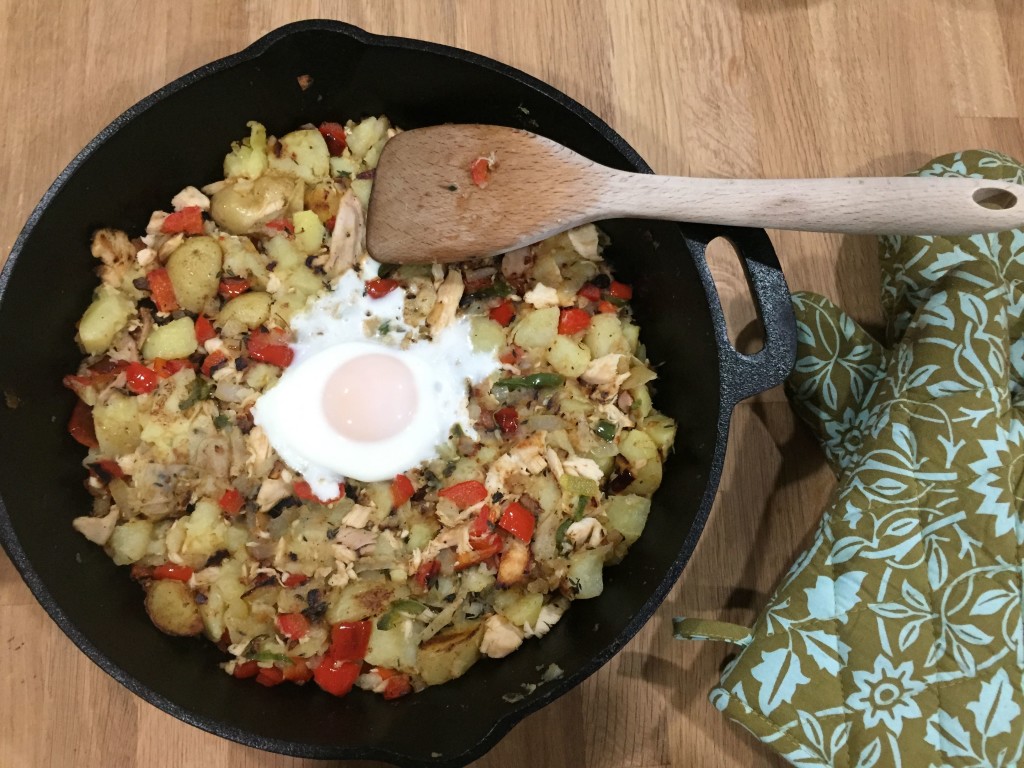 I'm a girl who loves a bang for her buck. I am fascinated that there are so many uses for coconut oil – face wash and seasoning cast iron skillets? I wonder at the many ways to wear one scarf. And we all know vinegar is used in pickling, dressings and cleaning your kitchen, but my husband just started washing his jeans in it. For real. So the challenge of finding five ways to use one ingredient seems right up my alley. My ingredient … roasted chicken.
Sure, on the surface there are about umpteen million billion uses of chicken. But I wanted to explore how to make it interesting and different. How could roasted chicken be boring in the first place? It's pretty easy and, done just right, it's moist and flavorful. I could it eat right out of the oven almost every night of the week. But it takes time; time that I don't have with an hour's commute home from work. And with me not being able to stay home as a housewife nor are we able to fit a personal chef in our budget, it took some clever planning to get this right.
My husband and I love to use our Sundays to prep our food for the week ahead. Chicken is one of those staples we cook ahead for using in lunches or quick dinners. We've cooked it just about every way – seared in cast iron, poached in a large pot or barbecued on the grill. But one method we've yet to employ is roasting a whole bird … until now.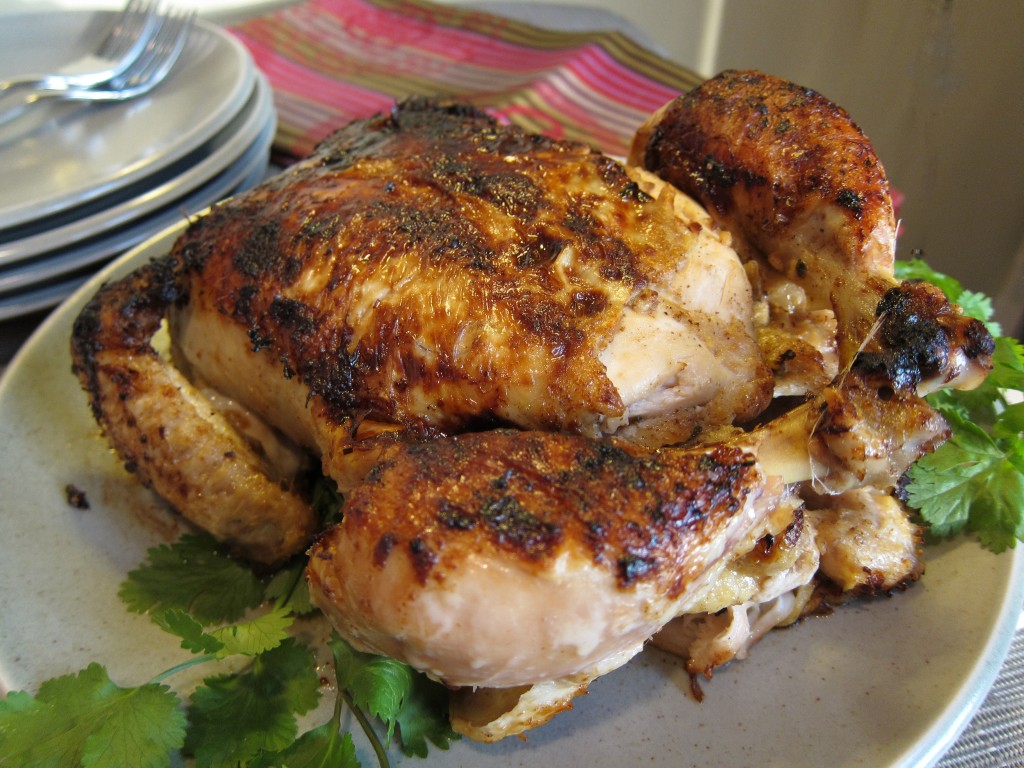 A weekend is the perfect time to do this. There's something comforting about having a whole bird roasting away in your oven while you're doing chores around the house. It will make you feel like a domestic goddess (or god for those gents in the house).
Start with a whole chicken, about 4-6 pounds. In some of the larger stores, like Costco, you can buy whole, organic chickens in pairs for about $2.49 per pound. Use one and freeze the other … or roast them both! You'll get so much use out of the meat throughout the week.
Just as there are fifty ways to use it, there are fifty ways to roast it. A quick Google search or a flip through your cookbooks will yield plenty. A while back we featured a roast chicken heavy on garlic. Or there's Jamie Oliver's version in milk with sage and lemon. The Kitchn has an aromatic version inspired by Oliver's using coconut milk, lemongrass and star of anise. The flavor combinations are virtually endless. As you try different herbs and spices, you'll find your go to combination. Then, who needs a recipe?
For the most part, a classic chicken is roasted using the following steps, adapted from this recipe on Food Network:
Don't rinse the bird. Yes, Julia Child and many other chefs told us to rinse. But in recent years food safety experts have warned against rinsing, as it raises the risk of spreading bacteria from the bird all around your kitchen. As long as you cook to a safe internal temperature, the bacteria will be killed.
Preheat your oven to 425 degrees.
Season the bird inside and out. Salt, pepper, herbs, onion and lemons on the inside to flavor from the inside out and a liberal sprinkling of salt and pepper on the outside.
Tie the legs together with twine, then tuck the wings underneath the body. Place the bird on a roasting rack or pan and place into oven.
Roast for 15 minutes, then drop the temperature to 375 degrees and cook for about one hour. The chicken will be done when it reaches 165 degrees internal temperature.
When done, remove from oven and allow to rest for 15 minutes.
Now that your chicken is done and after it's rested and cooled slightly, remove the meat from the bones. It's easier to pull now, rather than refrigerating the whole bird for later use. Don't forget to save the bones for broth!
So … now what? I promised you five ways to use it!
Soup. Whether you have a batch of homemade broth or you're whipping up a quick pho, adding roasted chicken is the perfect way to complete your meal. As you heat up your broth or make your soup base, add the chicken in earlier to allow the deep roasted flavors to incorporate as much as possible. A hearty vegetable soup with carrots, kale and celery gets a little help from your leftover chicken, like in Jamie Oliver's hearty garden soup.
Enchiladas: Having your chicken done ahead of time makes prepping enchiladas even quicker. Take virtually any enchilada recipe and sub it in. To really elevate it, roast your chicken with smokey spices, cumin and lime. Another plus: enchiladas can be made in big batches and frozen for quick dinners throughout the week.
Pasta: Already one of the easiest meals to prep and cook … guess what? It just got easier. A simple pesto or avocado sauce works perfectly with roasted chicken. Whether warm for a hearty dinner or cold for a summer picnic, it's the perfect one dish meal.
Salad: Speaking of picnics, a chilled chicken salad is the perfect thing to bring. It's packable and easy to eat, either on a sandwich, lettuce wraps, crackers or spooned right out of the bowl. The combinations are almost endless here too. And you're not limited to just using mayonnaise. This salad recipe subs out mayo for ripe avocados to bind it all together. Add in fresh fruit (apples or grapes), dried fruit (raisins or dates), celery, onions, herbs and nuts (pecans, walnuts or pistachios). Seriously good and simple. See my curried chicken salad recipe below.
Breakfast: Normally, I don't think of chicken as a breakfast staple. Well, other than Chick-fil-A's biscuits…a guilty pleasure, but not on Sundays. But if you find yourself with a little too much roast chicken, try your hand at a hash. One of the most versatile meals – it could be breakfast, it could be dinner – you can add in almost any veggie reaching the end of their life. Start with onions, leeks or shallots, add in potatoes and peppers. Crisp it all up. Why not throw in some roasted chicken? Rather than a classic breakfast meat, like bacon or sausage, the chicken will lighten up an already hearty meal. See my breakfast chicken hash recipe below.
Is it Sunday yet? Well, tomorrow is Saturday. I think I'll get my roast on early and eat like a queen all week.
Curried Chicken Salad with Pistachios and Dates

I started with a curried chicken salad recipe from Whole Foods, but I substituted the coconut milk and orange juice with mayo and lemon.  I'm a fan of red onions and ginger, so I threw those in too. You could add celery, grapes or apples! It's easy to adjust for you or your family's tastes.

1/4 cup mayonnaise, to start
2 teaspoons curry powder
1/4 teaspoon fresh grated ginger
1/2 lemon, to start
3 cups roasted chicken, shredded
1/4 cup red onion, diced
1/2 cup dates, pitted and chopped
1/2 cup pistachios, chopped
1/4 cup cilantro, chopped
salt and pepper, to taste

Whisk together the mayonnaise, curry powder and the lemon juice until well combined. Stir in the chicken, onion, dates, pistachios and cilantro until all ingredients are coated with the sauce. Add salt and pepper, to taste. If the salad is a little dry, add more mayonnaise and lemon juice. Taste and adjust the seasoning as you like. Serve on bread, lettuce or crackers. Salad can be stored in an airtight container in the fridge up to a week.

Chicken Skillet Breakfast Hash

This hash makes a hearty breakfast or dinner. I found the base recipe on Food & Wine and adjusted to our tastes. The great thing about hash is you can use almost any of the leftover or slightly questionable veggies in your fridge. Try with virtually any bell pepper or spicy chilies, sweet or red potatoes, scallions or leeks … even an addition of bacon cannot hurt.  I added some leftover bacon to mine to get a little more flavor!

2 tablespoons ghee (or butter)
2 tablespoons olive oil (or any high heat oil, like avocado)
3/4 cup onion, diced
1 cup red pepper, diced
2 cloves garlic, minced
1/2 teaspoon fresh thyme, chopped
2 1/2 cups boiled or baked potatoes, skin on or off and cubed
2 cups roast chicken, shredded
4 large eggs
salt and pepper

Heat a large cast-iron skillet on medium-high. Melt the ghee into the olive oil, swish around to coat the pan. Add the onion, pepper, garlic, thyme, salt and pepper. Saute until soft and browned, stirring occasionally.

Stir the potatoes and chicken into the skillet. Flatten everything down with a spatula or large spoon. Cook over high heat for about five minutes, until the bottom is crispy and brown. Turn the hash over, bit by bit, and cook until the other side is also crispy and browned.

Create four little depressions or concave "holes" in the hash using your spatula or a spoon. Crack each egg into each hole, toss on a little salt and pepper, then cover the hash. Cook until the egg whites are cooked through and no longer runny. Depending on how you like your yolk, cook longer. If you like it runny – and how awesome to have that runny yellow yolk soaked into the hash?! – it should be done when the whites are done.