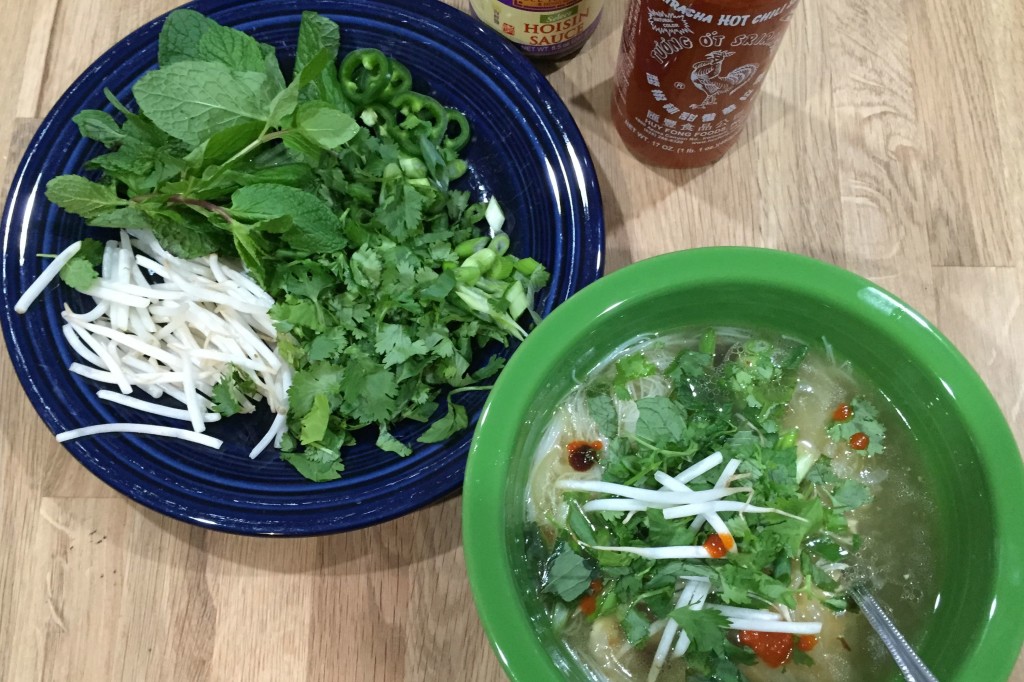 Of all comfort foods, soup is my favorite. In the depths of winter, when sneezes and sniffles lay in wait at our doorsteps, there's nothing better to warm the bones and battle bacterial or viral intruders. But rather than another pot of plain old chicken noodle, why not try a steaming bowl of pho?
I don't remember the first time I tasted the popular Vietnamese noodle soup, but I do remember it being an experience. A bowl of deeply aromatic broth, bits of beef floating on top and long, thin noodles piled at the bottom. There was a heaping plate of herbs, jalapenos, bean sprouts and lime wedges placed in the middle of the table, along with spicy chili and sweet plum sauces served on the side. I wasn't sure where to begin!
Luckily it didn't take long to learn how to assemble: Throw in a bit of this, a bit of that. The piping hot broth wilts the herbs perfectly. The noodles and the crunchy bean sprouts add texture to the soup eating experience. Want it sweeter? Add plum sauce. Spicier? Add chili sauce or more jalapeno. Smell it. Taste it. The flavor changes as more elements are added and the soup cools.
This warming and satisfying soup is one of the meals I crave most – hands down. And lucky for me, there are a ton of pho restaurants in my area. But if I love it so much, why not marry … er, make it myself?
All of the components make it seem like a daunting undertaking, but as I learned, it's not. Just like any other soup, it's dependent on a good stock of either chicken or beef. And once you've mastered a good stock, you can make a variety of soups.
The author of one traditional pho recipe experimented with making beef broth using various parts of the cow to discover which worked best. Bones and connective tissue are extremely important to get a good texture and flavor, and it enriches your broth with a ton of nutrients (We'll talk more about bone broths later this month.) Using the cow's shin as well as oxtail will also give you a good base. The addition of chuck and brisket serves double duty: not only does it help to build the stock, but this meat can also be cut up and served with the soup later.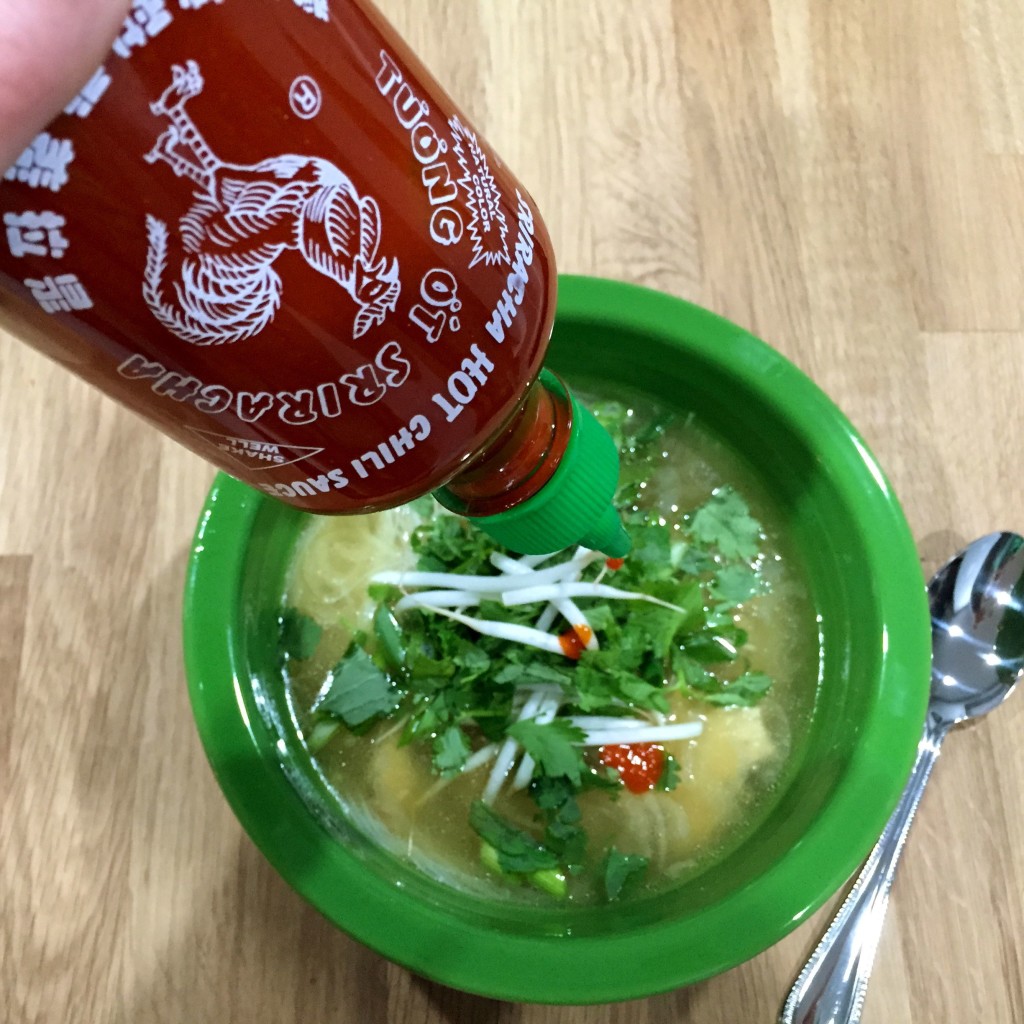 Bone-in chicken works just as well here, and can be less complicated (I had a doozy of a time tracking down the kinds of beef parts I wanted to make my broth!). A co-worker who makes her own pho buys a quarter of a cow from a local farm and freezes it to use throughout the year. She asks the farmer for the bones as well, which she throws into her broth. In the end, I went with a chicken stock as the basis of my recipe below.
Stock – check. Now what? It's time to pho it up.
Roasting the onions, garlic, ginger, cloves and star anise for about five minutes in the oven really brings out the aromatics. They should get brown and caramelized before you add them into the stock. This is what makes that broth so rich, and gives pho great depth of flavor.
And that's just the beginning of this flavor adventure. Once the broth is ladled over the rice noodles and meat, it's time to play. Make sure you add the jalapenos and herbs early so the heat from the broth breaks them down. Then it's time to taste and adjust.
How do you pho? I like to taste other Eater's creations if they let me! My husband's is usually a lot spicier than mine: I notice his face get more and more flushed as he slurps it down. For me, it depends on my mood. When I'm fighting the sniffles I, too, like mine with a bit more kick. Otherwise, it's a tad sweeter … and always with a ton of herbs.
Vietnamese Chicken Pho

I used two recipes as my inspiration, from Smitten Kitchen and Splendid Table.

To cut the time and complexity of making pho at home, whip up stock in large batches and freeze it. It's great to have on hand for all kinds of recipes, and greatly cuts the steps down for this one. If you're in a pinch, you can use a store-bought low sodium chicken stock.

Stock
4 quarts water
3 pounds chicken wings
3 1/2 pound chicken, quartered
2 unpeeled onions, quartered
3 1/2-inch pieces unpeeled ginger, smashed
1 tablespoon kosher salt

Broth
1 medium onion, thinly sliced
4 garlic cloves, thinly sliced
2 to 3 inch fresh ginger, peeled and thinly sliced
6 whole cloves
1 star anise
fresh ground black pepper
2 tablespoons sugar
2 teaspoons Asian fish sauce
6 to 8 ounces pho rice noodles

Serve alongside the soup:
3 scallions, sliced thinly
bunch of cilantro leaves
several sprigs of herbs (mint, basil, etc)
bunch of bean sprouts
2 jalapenos, thinly sliced and de-seeded
limes, quartered
Hoisin sauce
Sriracha

To make stock:
Fill a large stockpot with water. Add the chicken wings and quarters, onions, ginger and salt. Bring to a boil. Lower the heat and let simmer until the chicken is cooked, about 30 minutes.

Remove the chicken quarters from the pot and place on a plate. Remove the meat from the bones and refrigerate for addition to the pho later. Put the scraps and bones back into the pot and simmer for another 2 hours. Strain the stock into a soup pot. If saving for later use, allow to cool then transfer to containers for storing.

To make broth:
Place the onion, garlic, ginger, cloves and anise in a single layer on a foil lined baking sheet. Grind some pepper over top. Broil on high for about 5 minutes, turning once. Scrape these into a large pot.

Add the broth, sugar, fish sauce and shredded reserved chicken. Stir all together and bring to a boil. Cover and simmer for 20 minutes.

To make soup:
Cook rice noodles according to the instructions on the package. Place cooked noodles in bowls. Sprinkle in scallions and cilantro. Ladle in broth to cover. Use tongs to pull out chicken and place in the bowls.

Serve piping hot alongside the herbs, sprouts, jalapenos, limes and sauces.