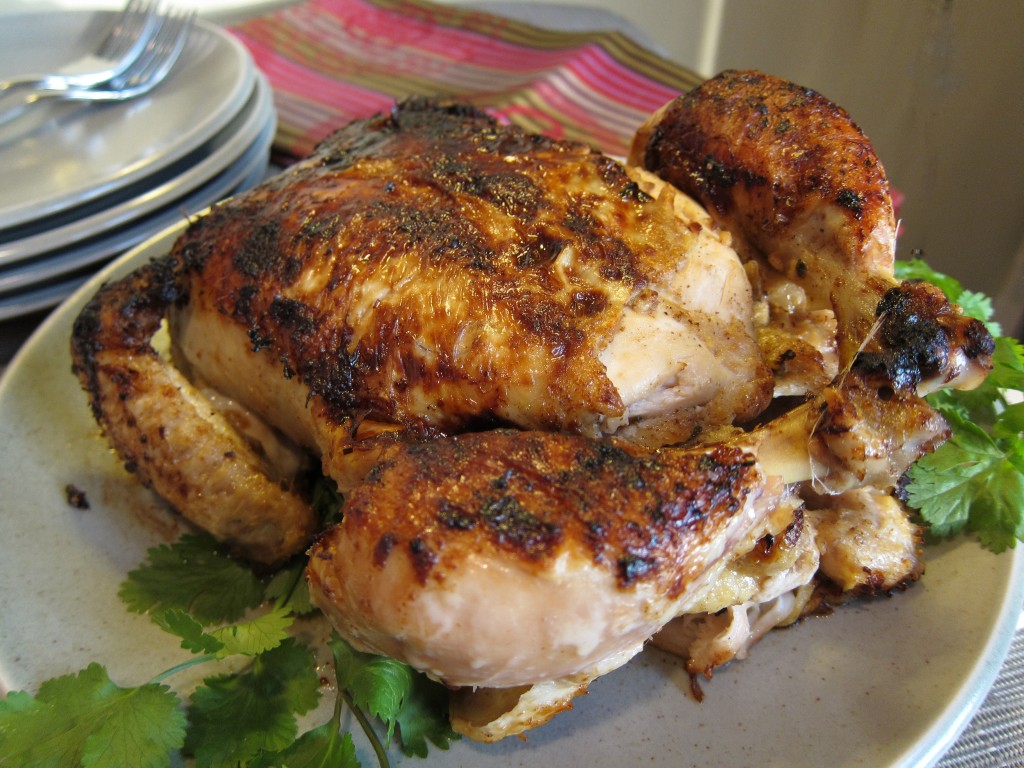 With Valentine's Day fast approaching, I wanted to learn more about aphrodisiacs and what makes them work. So I Googled "garlic" and "aphrodisiacs" and was amazed at the results.
For starters, did you know that garlic is widely believed to be  the third most powerful aphrodisiac in the world? Who needs oysters and honey when you have an aromatic bulb that creates an invigorating warming effect on your body? Greek myth even holds that priestesses who created potent love potions believed garlic made women fall in love and gave men political power.
With all of this in mind, I figured roasting up a chicken draped in itty-bitty garlic bits would be the best way to prep for V-Day.
Please keep in mind that I'm not a poultry expert, nor do I have a great track record when it comes to cooking with meat. Last year, I tried to bake freshly caught trout with lemon juice but failed that operation. As soon as I jammed my fork into my savory dish, a river of blood oozed out, leaving an indelible trail.
Well, it's a new year, and I hope to blossom into a real chef like Paula Deen (minus the diabetes).
During my usual jaunts to T.J. Maxx (I'm a hardcore Maxxinista), I found 50 Shades of Chicken on a sale shelf. After perusing a couple of recipes, I figured the roasted chicken with mustard, fresh basil and garlic concoction would be spot on for me. At first glance, I saw just six major ingredients and figured I couldn't screw up the four simple steps. It all sounded positively Sherryn-proof.
Anyone who's a hardcore 50 Shades of Grey fan should really buy this cook book. The recipes are interspersed with chapters describing a fictional romance between the chef and the fowl. Here's an excerpt from the book titled, "Holy Hell Wings":
"Let me feed you, only you. Just then I notice that he's holding something — a radish, I think. The radish starts to pulse like a heart. The image starts to fade, and I start to panic.
'Wake up baby,' he says, opening the Sub-Zero with a triumphant flourish as I came back from reality. 'Time for the broiler.'
Holy Hell"
(End scene).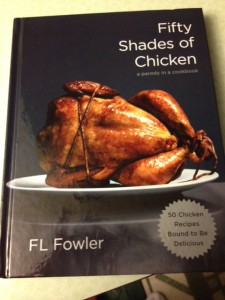 Aside from the food porn, most recipes in the book have delicious pictures, like chickens roasted and held tautly with string, succulent chicken wings bound by bacon and gooey wings dripped with sticky sauce. Given my track record with meat dishes, I was apprehensive about conjuring up a dish worthy of being published in a recipe book, let alone a foodie site like We The Eaters.
Since I'm on a stringent budget, I crossed Whole Foods and Fresh Markets off my list. Shop Rite, just down the street from where I live, had an array of poultry to choose from. I picked the organic, farm raised chicken since I wanted to make a hormone-free dish that had a good life before I came along to debase it.
The Dijon mustard, black pepper and coarse Kosher salt were easy to get. However, I was miffed that I had to buy fresh basil leaves since it was priced exorbitantly versus dried basil; and that I had to buy two garlic cloves. Keep in mind, I didn't know that a garlic clove was a small fragment from an entire garlic bulb.
When I came home, I marshaled all my ingredients together and tried to follow the directions. That was easier said than done. The language was risqué, at best, and I literally rubbed and slapped the chicken with dry and wet ingredients. I felt like a bad person committing an egregious sin, since people really shouldn't grapple and slap a chicken in a foodie-porn-like way.
The directions said to fridge the fowl overnight or for at least an hour, so I did that momentarily.
My confidence in cooking poultry peaked at this point and … quickly plummeted as soon as I examined my two ovens.
Unluckily for me, the top oven was kaput. The bottom oven was used solely for baking while the top oven was primarily used for roasting. The top oven has been broken for well over four years, and knowing how I am, it will continue to collect dust forever.
My poor chicken was naked and cold, dressed only in a sheer Dijon sauce. Little did it know that it would be driving shotgun on a road trip that night.
I called my boyfriend frantically about my chicken debacle and he told me to bring the bird to Catonsville. Since I live in Silver Spring, just north of the Washington, D.C., line, I made the 30-minute hike up to his place. During the voyage, I realized I was screwed. I didn't have a rack for roasting. I'd forgotten to pat my chicken down, so it still retained diluted blood from the packaging.
In between Facebooking my  old college friend Kirby and texting We The Eaters' Amy for advice, I had an eureka moment, thanks to these lovely ladies.
Both women advised me to make a foil pouch and just bake the darn fowl. I skipped over the book's directive of "thrusting a wooden spoon into the chicken cavity to flip the bird." My boyfriend and I just flipped the foil disaster with our bare hands.
After baking for 30 minutes, flipping the bird, drizzling extra virgin olive oil in between baking times and baking it for an extra 90 minutes, we were finally done.  The chicken smelled great, looked sullen and tasted nice.
But … when I jabbed my knife into the bird's stomach for a late-night second round, a watery pool of blood formed. It was 3 a.m., my boyfriend was asleep and I decided to give up.  Not even the magical warmth found in a garlic clove could warm this bird up any further. Maybe I should use a meat thermometer next time?
Roasted Chicken with Mustard, Fresh Basil, and Garlic

I found this recipe in 50 Shades of Chicken and feel I would've been more successful if I had a rack, a roasting pan, a roaster and a meat thermometer. My boyfriend joked that this is why he refuses to cook a whole bird. Parts of a bird are easier to handle versus one, cumbersome, chicken. And … these directions are abridged due to explicit content from the book.

1 3 1/2 to 4 pound chicken, patted dry with paper towels
1 teaspoon coarse kosher salt, plus more to taste
1/2 teaspoon freshly ground black pepper
2 tablespoons Dijon mustard
2 teaspoons minced fresh basil
2 garlic cloves, minced
3 tablespoons extra-virgin olive oil

Rub the chicken all over with salt and pepper.

Stir together the mustard, fresh basil and garlic into a small bowl. Rub the wet ingredients all over the chicken and refrigerate overnight or at least for an hour.

Preheat the oven to 400 degrees. Place a rack in a roasting pan.

Place the chicken on the rack, breast side up. Spread with 1 tablespoon of olive oil. Roast 30 minutes, then flip it over (the recipe suggests doing this with a wooden spoon you put in the bird's cavity). Drizzle it with the rest of the oil and roast about 30 to 40 more minutes — it should be nicely browned. Cook's Illustrated suggests the thickest part of the breast reach 160 to 165 degrees, and the thickest part of the thigh, 175 degrees.