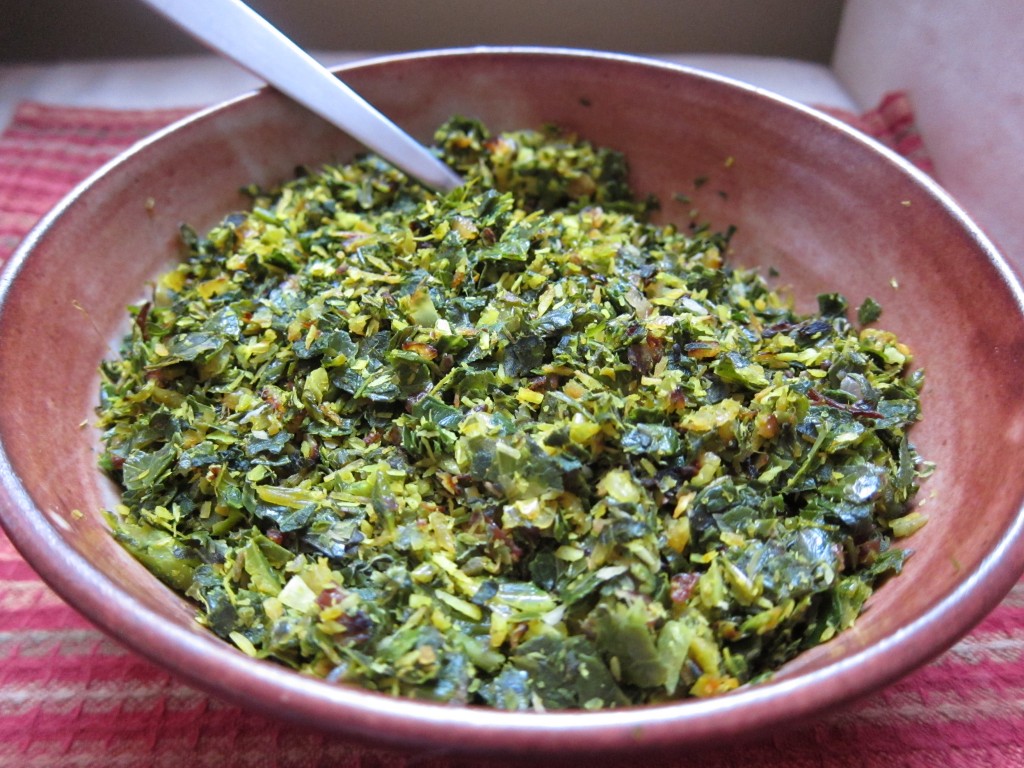 OK, folks, I'm taking you back to Sri Lanka this week. That's because it's five-ingredients month at We The Eaters, and while poking around looking for that delicious beef roast I brought you in March, I remembered a simple, delicious greens recipe that I first tried some time ago.
There are several wonderful things about this dish, known as mallum or mallung:
First, you can make it with kale, collards, spinach, mustard greens (if you'd like some bite) — pretty much any greens you fancy. And lucky for all of us, spring has finally sprung, meaning the farmer's market is once again full of all kinds of tasty options.
Second, the recipe has coconut in it. If you're a regular WTE reader, you know we're big fans of coconut around here.
And third, this one's a hit for its simplicity. If you cook South Asian food frequently, you'll know recipes with just a handful of ingredients are somewhat rare. Not that the dishes are complicated (although some are), but many tend to have fairly lengthy lists of spices — which can make a recipe appear more daunting than it really is.
This recipe, on the other hand, is minimalist on the spice front. That gives you a nice, bright greens dish with just a slight subcontinental kick. Props again to Skiz Fernando (and his aunties) for familiarizing me with this recipe, in his great book, Rice And Curry: Sri Lankan Home Cooking.
Sautéed Sri Lankan Greens

Adapted from Rice & Curry: Sri Lankan Home Cooking

Any additions will take us over our five-ingredient limit, but if you like, you can finely chop a chile and add it when you toss the onions into the pan. Also, this is traditionally finished with a squeeze of fresh lime juice. I didn't have one on hand when I made it last weekend and it was still delicious.

About 1/2 pound collards, kale, spinach or other greens
Splash of oil (I use coconut)
1 sliced onion
1/4 cup of shredded, unsweetened coconut (you can use fresh-grated or desiccated)
1/2 teaspoon ground turmeric

Wash and finely chop the greens, or hurry that step along by chopping the washed leaves in a food processor. Either way, leave some water clinging to the leaves if you can.

Heat oil over medium in a nonstick sauté pan. Add the onion and sauté until they're translucent.

Add the shredded greens and coconut, stir, and put the lid on for a few minutes. Uncover and stir in the turmeric. If it's getting too dry, add a tablespoon or so of water and cook another few minutes, until the greens are to your liking.

You can add some additional flavor by salting to taste and serving with a squeeze of lime.