If ever there was a time for a glimmer of tropical flavors wrapped in a hearty winter warmer, it's NOW.
Why? Because it's freezing. There's snow in the gutters. There's ice on the sidewalks. The wind just keeps blowing. And did I mention it's freezing?
This long, frigid winter just keeps soldiering on. And no matter how you may long for a bright, summery salad, it's just too darned cold for that.
Nope, what you need right now is some comfort food. A dish that will not only warm your belly (the recipe below might even set it on fire, if you're not careful), but will also evoke breezy images of palm fronds waving overhead. A dish that's the perfect meld of a meaty winter classic and … rich, beach-y coconut milk.
What magical food is that, you ask?
Smore! Not the gooey, graham cracker tasty — this couldn't be more different. In Sri Lanka, smore refers to a beef pot roast, stewed in coconut milk spiked with delicious spices.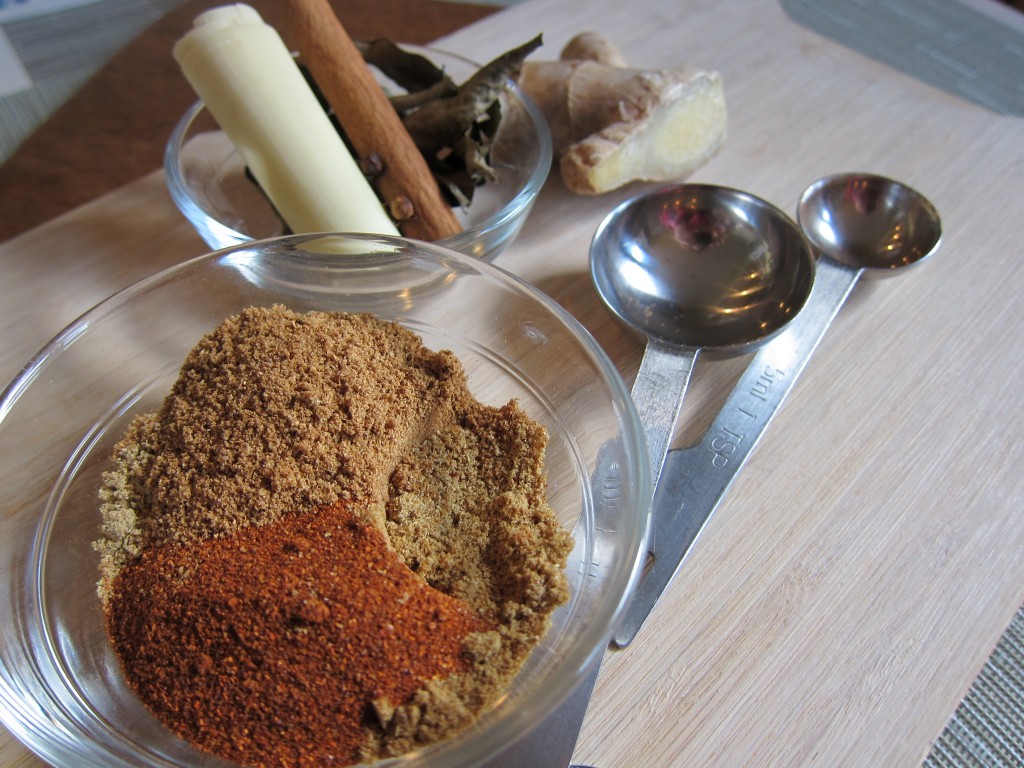 I first learned about smore a few years ago, after we booked journalist, food writer and filmmaker S.H. "Skiz" Fernando on Talk of the Nation. Fernando, the child of Sri Lankan immigrants, grew up eating his mother's Sri Lankan cooking. Decades later, he spent a year with his aunties and other extended family in Sri Lanka, learning their culinary secrets and mastering the cuisine.
Lucky for us, he brought a delicious (and spicy!) feast along to the studio with him, as well as a copy of his cookbook, Rice & Curry: Sri Lankan Home Cooking. I've made several dishes from it, and each one has been delicious. I'd had my eye on his "Aunt Padma's Beef Smore" recipe for quite a while. Last month, with the wind howling outside, I finally gave it a go, with a few tweaks from other versions online.
As Fernando describes it, this is a pot roast dish adapted from the Dutch (hence that perfect meld of hearty and tropical I promised you), and one that's not very popular today. Which is too bad, because, man, is it good.
The ingredient list looks a bit daunting, but it all comes together pretty quickly. Then you just pop it all on the stove and let it be while you go about doing wintery weekend things. Like desperately scanning travel sites for cheap tickets to a beach. Any beach.
As long as it has coconut palms.
Sri Lankan Beef Smore
Adapted from Rice And Curry: Sri Lankan Home Cooking and Food.com

You can sometimes find curry leaves, fresh lemongrass and fenugreek powder in Asian markets or Whole Foods. There's no particularly good substitute, so you can leave them out if you can't find them. And the fresher your spices, the better. To toast the cumin and fennel seeds, swirl them around in a hot skillet just until they are fragrant. Keep your eye on them so they don't burn. Once they've cooled a bit, grind them in a coffee grinder or with a mortar and pestle.

3 to 4 pounds beef brisket or chuck or blade roast
About 10 curry leaves
2 tablespoons coriander powder
3 teaspoons cumin, toasted and ground
2 teaspoons fennel, toasted and ground
1/2 teaspoon fenugreek powder
2 tablespoons oil
1-inch piece of cinnamon
1 onion, chopped
2-inch piece of ginger, minced
2 cloves garlic, chopped
3 tablespoons vinegar
3 cups water or stock
1 tablespoon cayenne (or less!)
1 can coconut milk
2-inch stalk lemongrass

Remove excess gristle and fat from your chunk of meat, then prick it all over with a fork. Mix together your coriander, cayenne, fenugreek powder, cumin powder and fennel powder in a small bowl, then rub it all over the meat. Marinate it in the fridge for at least a few hours or overnight.

Put the meat and all your other ingredients except half your onions, the coconut milk and the oil in a medium pot and bring it to a boil. Turn the heat way down to a simmer and let it all cook uncovered for a couple of hours. You want the meat to be very tender, and to have little liquid left in the pot. Now add your coconut milk to the and simmer for another 10 minutes or so (I let it go for about 15, just to infuse more flavor). Remove the meat from the pot, but hold onto your coconut gravy.

In a separate skillet, heat the oil over medium-high and saute the remaining onions until they're nice and browned. Push them to the side and add the meat to the pan, browning it on all sides. Remove it from the pan and slice to serve, then cover the servings with the gravy and onions. It's lovely served with basmati rice (and if you're really hankering for the tropics, toss a cinnamon stick into your rice while it's cooking).

Makes about six servings.