Okay — I'm a guy. Making things go without reading the manual is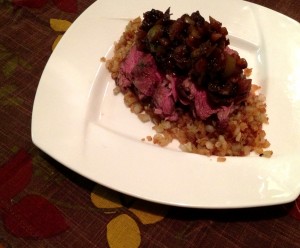 second nature. Occasionally catastrophic, but second nature. That said, flying by the seat of my pants in the kitchen is not my M.O. The first time (or two) that I cook anything new, I follow the recipe. Until now.
Hello, WTE mystery basket.
I love Food Network's Chopped. I'm always cheering for the humble chef (among a group of giant egos!) to whip up something so incredible they'll win the grand prize for some endearing or altruistic cause.
My favorite chef, and the woman who makes me dinner most nights, is amazing when it comes to whipping up a dish from random ingredients. This skill (or maybe instinct) never ceases to amaze me. I love watching her unleash her magic in the kitchen. As a novice cook, I feel more secure with a recipe in front of me. I can wing it a little bit — replacing ingredients here or there, or cranking up flavor with spices — but taking random stuff and putting it together for one cohesive meal? That doesn't compute.
When I got my ingredients list, I immediately thought of stuffed prunes (a la stuffed dates I've had at Roscoe's, a local restaurant,which are uh-mazing!) and some sort of ginger glazed filet. But then … duhn duhn daaaaa …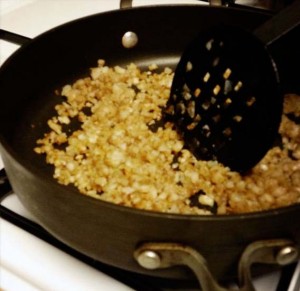 Yes, my friends, I got coconut manna. "What," you ask, "is coconut manna?" My overactive imagination envisioned the sky raining coconut flakes. Probably not. It's actually a processed form of coconut butter. Even the enlightened Eater that suggested it wasn't sure what to do with the stuff.
Then there was the match up of filet mignon and tater tots. That's like pairing flip flops with a tuxedo.  And, while I know exactly what tater tots are, I had no idea what to do with them.
The goal with Chopped is to make a cohesive meal, not just a bunch of parts. So I tried putting all the ingredients into an Internet search, to which the response was a 404. For you non-tech geeks, that means "page not found." In other words, the great Google guru had no specific guidance to offer!
What about a tater tot hash? Those chefs on chopped are always de- and re-constructing things. Why not shred the tater tots and start over? Add coconut manna to flavor this crazy tot-hash?
As the mouse ran frantically on the wheel in my head, I thought, "The Chopped chefs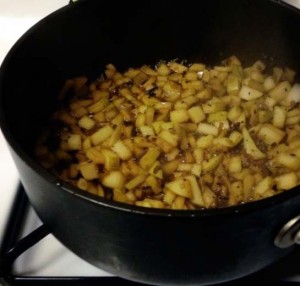 are also always whipping up some kind of sauce or chutney … why not me?" Again I turned to Google to see if I could combine prunes and ginger into some sort of concoction. My search yielded a Martha Stewart recipe for pear chutney that I could modify and wouldn't have to cook for hours.
The biggest hurdle was execution. Juggling all this stuff was — and always is — a challenge for me. The chutney took longer than expected because I'm slllooowwww in prepping my ingredients. But it came out surprisingly delicious, as did the hash. I had a false start there when I jumped the gun,  adding the potatoes to the manna alone, which got soaked up  quickly. I pulled out of the nose dive with the addition of a little coconut oil, and ended up with a really crispy, yummy hash that added great texture to the dish. Fortunately, my grilling abilities remain my strongest cooking skills, so the filet was drool-licious.
All-in-all, this was a really fun cooking experience. Maybe it wasn't exactly Chopped-tastic, since I got to do a little research ahead of time, but I certainly stretched my creative muscles and ended up with tasty recipes I'd use again.
Filet Mignon with a Prune, Pear & Walnut Chutney on Coconut Manna & Ginger-Infused Tater Tot Hash

Prune, Pear and Walnut Chutney:
Inspired by Martha Stewart

1/4 cup walnuts
1 teaspoons extra-virgin olive oil
3/4 of a shallot, minced
2 ripe, but firm pears, cored and cut into 1/4-inch dice
6 tablespoons apple cider vinegar
3 tablespoons honey
4 whole cloves
3/4 cup chopped pitted prunes
1 teaspoon of fresh, minced ginger

Lightly toast walnuts in the oven at 375 degrees, keeping an eye on them so they don't burn. Chop and set aside. Mince the scallion, dice the pears and chop up the prunes.

Put the oil in a pan, heat it up and saute the scallions until tender.  Add the apple cider vinegar, honey, ginger and pears.

Bring to a boil, reduce and simmer for about 10-15 minutes. Add prunes (you can probably just toss in the prunes at the get-go, but I was following Martha's plan … so I held off until I got impatient). You may need to add in some water and/or more apple-vinegar during the process if the mix starts to get dry.

Cook another 30 minutes until mixture begins to incorporate and soften. Stir in walnuts. Total cook time varies, but should take about 1 to 1.5 hours depending on your desired consistency (less time means less incorporated ingredients.)

Coconut Manna and Ginger infused, crispy Tater-tot hash:
I got the idea to combine the tater-tots and manna here.

1/2 bag Frozen Tater-tots
3 tablespoons coconut manna
2 tablespoons coconut oil
1 tablespoon garlic
salt & pepper to taste

Thaw the tater tots, then shred them — by hand or chopping them up with a knife. Once they are warmed up a bit, they come apart pretty easy, so I opted for hand to hand combat for me.

Heat the coconut manna in frying pan with ginger and coconut oil until the manna liquifies and it gets hot. Add a relatively thin layer of deconstructed tots and cook, turning frequently. You don't want to over load the pan or it wont get crispy. You might have to do it in batches. Just add a little more manna, oil and ginger to the pan.

Cook the hash until it's brown and crispy.

Filet Mingon
Find some grilling tips here.

No real magic here: Heat up your grill (Gas or charcoal. I used charcoal this round). Season the meat with some pepper.

Put filets on the grill for about 7 minutes on each side depending on the thickness of meat and how rare you like it.

Let them rest for a few minutes before cutting them up.