Here's what I envisioned when I thought about my honeymoon: rest, relaxing on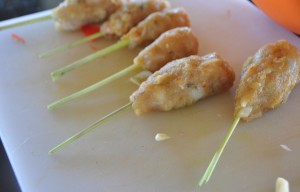 some amazing beaches, maybe some touristy adventures, and, of course, delicious dining. Man, oh man – Bali delivered.
One of the most fun things we did was learn to make some of those dishes. The resort we stayed at, Samabe, offered cooking classes. Being the foodies we are, well … we jumped at the chance. What better way to bring our trip home with us? Food makes a pretty awesome souvenir.
At the first class we attended, one of the chefs from the resort taught us how to make the local fried rice called Nasi Goreng. It starts with bumbu, the base for most dishes in Bali. Ingredients can include galangal, shrimp paste, shallots, soy sauce and bird's eye chilies. It added a delicious kick to the meal. We surprised our instructor by adding plenty of chilies. The dish comes topped  with an egg. Normally, that is deal breaker for Amy, who likes her eggs over hard – no runny middles. But since we were feeling pretty adventurous out there, she decided to try it. It was a huge hit. As the egg breaks over the rice concoction, it adds a delicious, sauce-like component – a warm coating of happiness!
The second class was just as interesting. We made satay with minced fish and shrimp. Fish isn't typically the first thing I turn to on a menu, but this dish was excellent. The most interesting thing for me was the fact that we formed the satay around a lemon grass stalk before pan frying it. It all magically held together and provided for another amazing meal.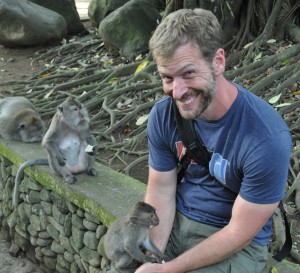 The last class was a real treat. During the time we spent under the chef's instruction, we had talked about We The Eaters and he teased Amy about teaching him an American dish. After we learned how to make soto ayam, a traditional soup, I convinced my wife to bestow upon him her incredible deviled eggs recipe. Amy held court and the chef and his assistant followed along fascinated. They were all particularly amused when, while carefully spooning the filling into the eggs,she explained that she normally used a plastic bag with a corner cut off to pipe the filling in.
The deviled eggs were a success — even Chef Jozef, the resort's head chef, came out to try one. They were so impressed that the dish ended up on the resort's breakfast buffet!
Now, thanks to those classes, whenever I feel like I want to hearken back to a time with baby monkeys, elephant rides, dirty ducks, rice paddy hikes and an overall amazing vacation with my wife, I can whip up a romantic candlelit Balinese dinner for us.
As an added bonus, we can revel in the fact that we not only brought home some great cuisine, we got to leave some behind.
Nasi Goreng (Indonesian Fried Rice) 

2 cups long grained rice, rinsed
1 carrot, peeled and shredded
3 eggs (2 beaten)
1 tablespoon dark soy sauce
2 1/2 tablespoons kecap manis (sweet soy sauce)
1 tablespoon oyster Sauce
1 tablespoon fish sauce
1/4 chinese cabbage (white cabbage) finely shredded
1 bok choi, shredded
4 -5 small red chilies (birds eye chilies)
2 -3 large shallots
12 cloves of garlic
1 tablespoon of ginger
2 tablespoons cooking oil

Boil, drain, then spread your rice to cool.

Create the paste by chopping the tomatoes, garlic, shallots, ginger and birds eye chilies. Cook the mix in oil for 15 minutes. Blend the cooked mix until smooth, adding in some water if necessary (1/4 cup). Once done, simmer for 30 more minutes.

Stir fry the eggs (2 beaten). Add the carrot and cabbage. Cook for 2 or 3 minutes, then add the bok choi. You can, if you'd like, add some protein at this point too. Say, shrimp or chicken. Add 2 tablespoon fulls of your paste, the cooled rice, fish sauce, oyster sauce, the soy and kecap manis. Cook until everything is coated, stirring constantly.

Serve it on a plate with a sunny-side up egg on top for garnish.

Indonesian Satay
1 cup shallots 6 – 8 cloves garlic
2 tablespoons turmeric
1 tablespoon galangal
2 tablespoons small red chilies (birds eye chilies)
1 tablespoon ginger
3 tablespoons candle nuts
1 1/2 cups tuna (minced)
3 large prawn (about 1/2 cup)
1 teaspoon salt
1/4 teaspoon white pepper
1 teaspoon lime juice
lime leaf zest
3 – 4 lemon grass stalks
cooking oil

Make bumbu paste by sauteing shallots, garlic, turmeric, galangal, birds eye chilies, ginger and candle nuts in cooking oil until the shallots are translucent. Lower temperature and let it sit on heat. Once it's cooked down, blend it completely in a blender until smooth.

Mix the tuna, prawn, salt, white pepper, lime juice,lime leaf zest and 2 – 3 tablespoons of the bumbu paste. Form "drumsticks" with the mix on the lemon grass stalks. Fry this in hot oil (just enough to coat the pan). Keep turning the satay until it is cooked thoroughly.