Photo credit for feature image: Andreas Kollegger via Flickr
I'm not going to claim that these deviled eggs are the healthiest morsels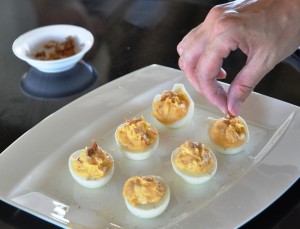 of deliciousness on the planet, but I would wager my money that they are some of the best. And don't take my word for it. Last week, one of my lovely colleagues, Anna, suggested (and when I say suggested, I mean demanded) that I bring them to our department's holiday get-together next week.
Adam and I took several cooking classes while in Bali for our honeymoon. At the last one, Adam suggested (and when I say suggested, I mean encouraged) I make them for the chef who had been hinting that I should teach HIM an American dish. They're actually on the resort's brunch menu now.
 Let's just say … they have a reputation. Or a following. Whichever.
Amy's Deviled Eggs

1 dozen eggs, hard boiled
½ to 1 cup mayonnaise
2 tablespoons strong Dijon mustard
¼ tablespoon garlic paste, or more
½ tablespoon curry powder, or more
Salt and pepper to taste
Chives, finely chopped

Boil eggs. Peel and cut in half lengthwise. Carefully pop out yolks into a bowl. Add ½ cup mayonnaise, mustard and seasonings. Mix thoroughly until there are no lumps. You want the consistency to be thicker than pudding, but not look dry. Add more mayonnaise until you get a smooth, creamy texture. Add more spices to taste (I like mine with a strong curry flavor!).

Using a spatula, put yolk mixture in a Ziploc bag, working it toward one of the bottom corners. Cut the corner off and pipe the yolk in a circular pattern into the egg whites. Sprinkle with chives.