I'm ending this sprouting series with a new beginning.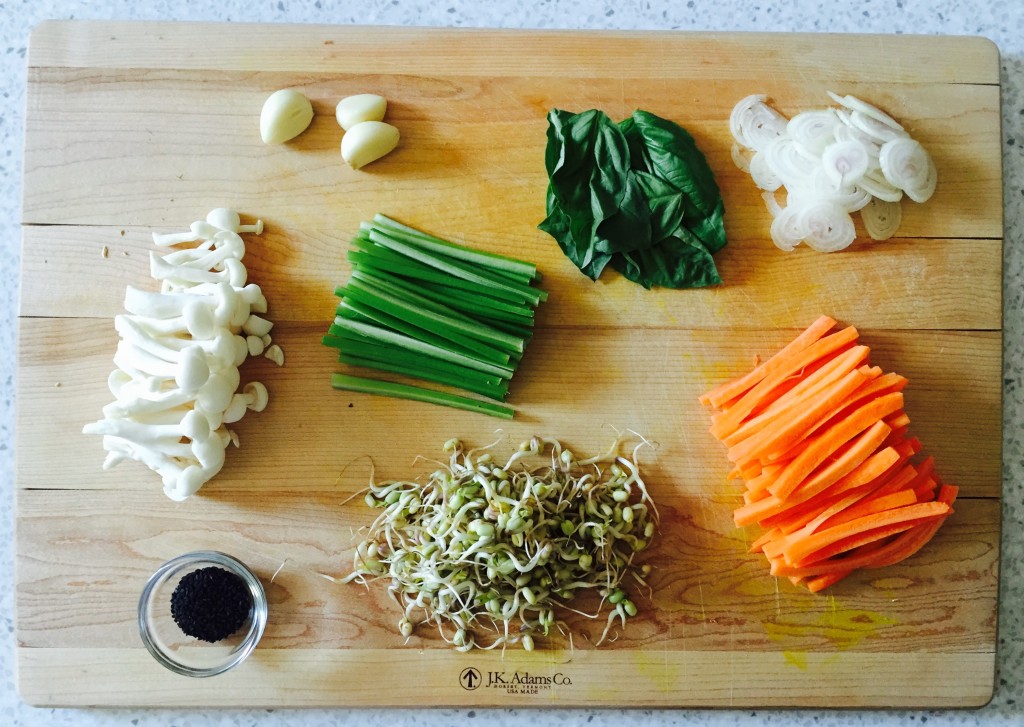 When I left my job at NPR last February, my intent was to focus on the blog full time. I launched an event arm of We The Eaters last August with a sustainable seafood event that incorporated a feast from the sea with an informational segment that educated attendees about sourcing the freshest, most sustainable seafood available. It has been an exciting venture, and we routinely are asked what the next big event will be.
I was at a women's networking event recently when that question was answered … though in a round about sort of way.
I'd donated time to plan the foodie side of the event for the hosts to see if this was something I'd want to do more of. That meant working with the one of my favorite Washington, D.C. restaurants—Compass Rose, recently featured in Food & Wine—to create a memorable menu for the occasion. Guests were impressed, and as I chatted with several of them during the event, the quintessential question of the nation's capitol was (as it always is) posed:
"What do you do?"
"I'm a food blogger," is my usual response, but I didn't stop talking. I added, "… and a personal chef."
I'm not sure what really came over me. I'd done that sort of thing before as an organized lunch club while working at NPR with a colleague. We'd prepare a menu each week and then take "orders." On top of that  I'd cooked for friends on a daily basis and for small, private parties. But although I have trained alongside some pretty impressive chefs, I don't really consider myself a professional chef.
My point is: It certainly wasn't planned. I had been thinking about the next steps and as I spoke with all of these executive-level women about their lives and careers, about how busy and scheduled they really are … it dawned on me. It's really hard to have it all—and still get dinner on the table.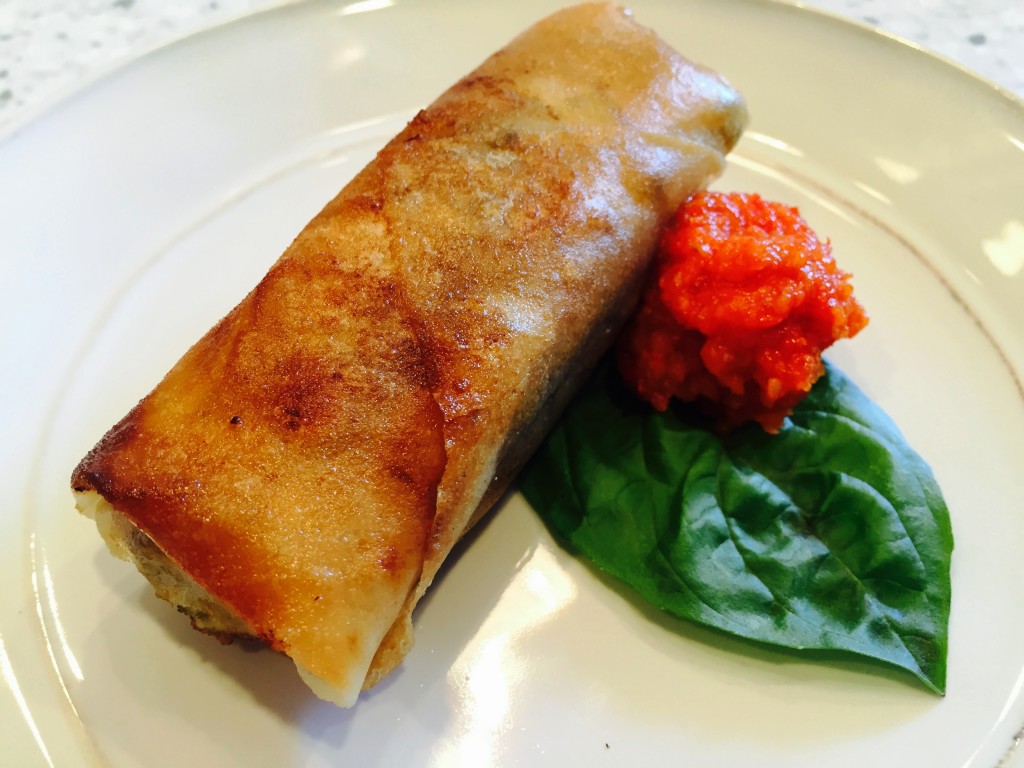 And that's something I can help with. So it just came out. I signed my first client the next day. A second based on her referral a week later, which is where this post really starts.
As I was doing my intake with that client, she asked if I did small dinner parties. I said "yes".
I again scratched my head. Why did I say that? I am just beginning to launch this venture, do I really need to stretch that much? I figured I'd get them two other quotes to make sure mine was competitive and they would surely go with the more experienced company.
They didn't. I ended up cooking a Southeast Asian feast inspired by my trip (and cooking classes) in Bali for more than a dozen people, including the former ambassador to Indonesia. He described the food as extremely authentic.
But the process? It was terrifying—and I mean really, really gut-wrenchingly terrifying. Will I have enough food? Will these flavors work together? Despite my asking half a dozen times, what if someone is actually allergic to shrimp—as a paste made from the wee crustaceans was an ingredient in many of the dishes? What if it is too spicy?
It was perfect, and I think the moral to this story is that sometimes, you just have to step outside your comfort zone to see what you're truly made of.
As it turns out, I'm made of mung beans.
No, not really … but I need to get back to the purpose of this week's sprouting post. One of the dishes I made for the event featured sprouts.
Lumpia are spring rolls that originated in China, but are made across Southeast Asia. I've included my own recipe here, but there are an infinite number of versions and possibilities to choose from, including a Filipino version made with shrimp and pork or this vegetarian version, which is what I made for the party. The recipe below is one I plan to stick with, swapping out ingredients based on what I have in the fridge (no celery … use bell pepper!)
The mung beans are pretty easy to sprout. I loved the guide on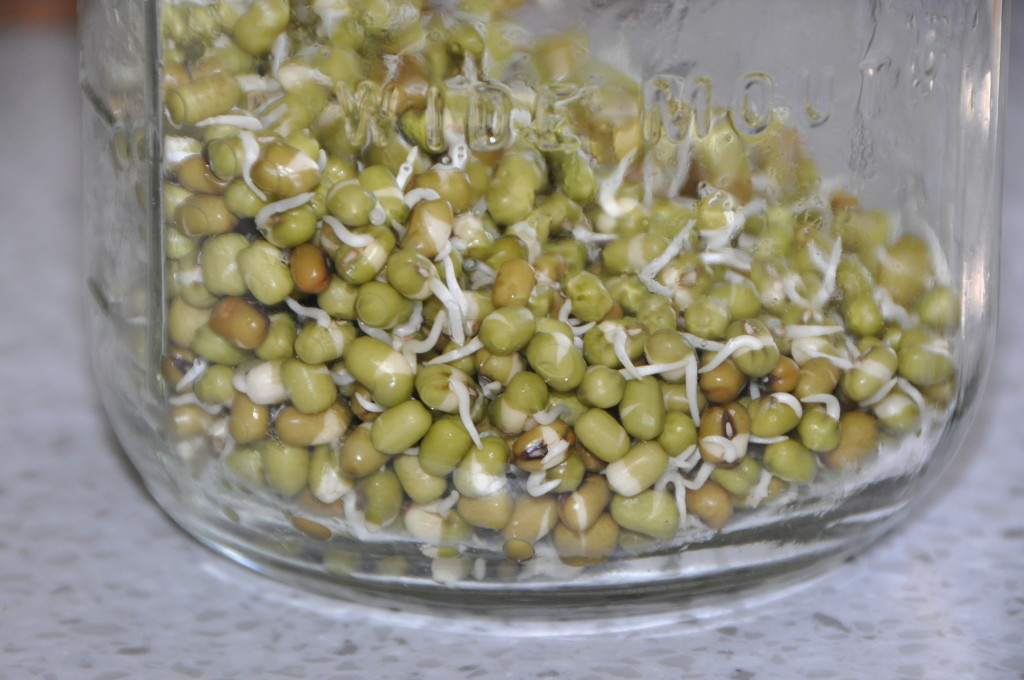 Vegetarian Times website. As Adam mentioned last week, I use the Sprout-Ease lids and a large, sanitized mason jar. Place mung beans in jar, add lukewarm water and replace slotted cap or cheesecloth. Swish to rinse, then drain. Repeat the process, if desired, then fill to cover beans and let sit to soak for 8 to 12 hours, covered with cheese cloth or paper towel secured with a rubber band.
After soaking, repeat the rinsing process twice, then tilt the jar slightly sideways and shake the beans so they cover a wider expanse of the jar. Prop into a glass bowl—I used my Pampered Chef measuring bowl—to allow continued draining and set somewhere in natural, but not direct, light. Rinse thoroughly twice daily, swishing water through thoroughly each time before you repeat the "propping" process. Beans will sprout within four days, though mine were ready in slightly less time. Rinse well, replace solid jar cover and refrigerate.
Mung bean sprouts should be used within two to three days. Special care is needed with this kind of sprout—please review safety guidelines here. We won't be eating them raw with this recipe, but if you do, employ safe food practices … and enjoy!
A small admission here: I've always been obsessed with sprouting. When I was a little kid, we must have done something like this in science class, and afterward, my mother would find my little sprouting experiments hidden under my bed, in the drawers—pretty much all over. She was not amused. What can I say?
I guess I was born a chef.
Lumpia

This recipe was inspired by this recipe at Wil & Wayan's Bali Kitchen.

Ingredients

1 small shallot
2 to 3 cloves garlic
2 cups carrots
1 cup celery
1 cup mushrooms (I used enoki, but you can use any kind — just jut to mimic carrot and celery shape)
2 cups mung bean sprouts
1 cup vermicelli rice noodles
1 tablespoon black sesame seeds
1 tablespoon fresh ginger
2 tablespoons kecap manis (sweet soy sauce)
2 tablespoons dark soy sauce
1 egg
10 fresh basil leaves
1 package spring roll wrappers (not the Vietnamese clear style!)
Sesame oil (for cooking vegetables)
Rice vinegar (just a splash for deglazing pan)
Peanut oil (or avocado oil — for frying lumpia)

Method

Soak vermicelli rice noodles in hot water for ten minutes. Drain and cut into two inch pieces. Set aside.

Peel and thinly slice shallot. Wash and peel carrots. Wash celery. Cut both into matchstick-size pieces. (Honestly, I am not the biggest celery fan and find if you don't cook it enough, it comes out in full, unchewable pieces in the lumpia. I'd use cabbage or bell peppers next time. These are super flexible, though, so swap at will.)

Clean mushrooms (don't rinse! check out this how-to for mushroom prep and storage) and rinse and drain sprouts.

Add sesame oil to pan and heat over medium until it begins to shimmer. Add shallot and reduce temperature slightly, cooking until translucent. Microplane garlic into shallots and stir (this Microplane is one of the most used tools in my kitchen), adding celery. Cook for 2 minutes, then add carrots and cook for 2 to 3 minutes more. Celery should be tender, carrots tender but crisp. Remove to bowl and set aside.

Deglaze pan with a little rice vinegar and add mushrooms. Saute for 1 to 2 minutes, then add sprouts and saute 1 to 2 more, until slightly wilted, but crisp. Add to carrot mix with vermicelli noodles.

Combine remaining ingredients, including Microplaned ginger, excluding basil, and toss with vegetables and noodles to coat.

Beat egg and put in small bowl on clean work surface. Open spring roll wrappers and transfer to a plate. Cover with a damp—not wet—paper towel to keep from drying out. Put one wrapper on surface with a corner facing you. Put a basil leaf in the corner closest to you, about two inches from the edge, topped with a small handful of the mix. Fold the corner over the mix and "scoot" it toward you gently to begin the roll.

Carefully fold over one side, then the other, folding it in more toward the ends to a sharper point so the sides don't bulge out of the roll. It should be uniform as we begin to roll away from you toward the outer point. Coat that point lightly with the egg mixture and roll to seal, dabbing some of the egg on the outside to close the wrapper. These can be cooked immediately, or frozen with the seal up on a tray before transferring to a Ziploc bag.

If cooking now, heat a thin layer of oil over medium-high heat until it begins to shimmer. Carefully put Lumpia in oil with tongs, turning as it browns, which should be pretty quickly. If they are fat enough, you can cook the sides, too, by propping them against each other in the pan. The total cooking time is typically under five minutes per batch. They cook much faster in a pan, leaving the insides crisp and perfect. I served mine with Sambal Tomat, one of Indonesia's spiciest condiments. Try an Americanized version by adding some rice vinegar to make it more palatable if you can't stand as much heat. We like it hot in our house!

One advantage to freezing is that they can be cooked frozen. I suggest using a small fryer in this case. This is the one we have, which is great for smaller batch cooking like this. It takes about seven minutes per batch, but because they are frozen, the inside takes longer to get hot. They really stay crispy on the inside this way, with less mess from open frying.