All images in this post were taken by Amanda McCoy.
I know a few people who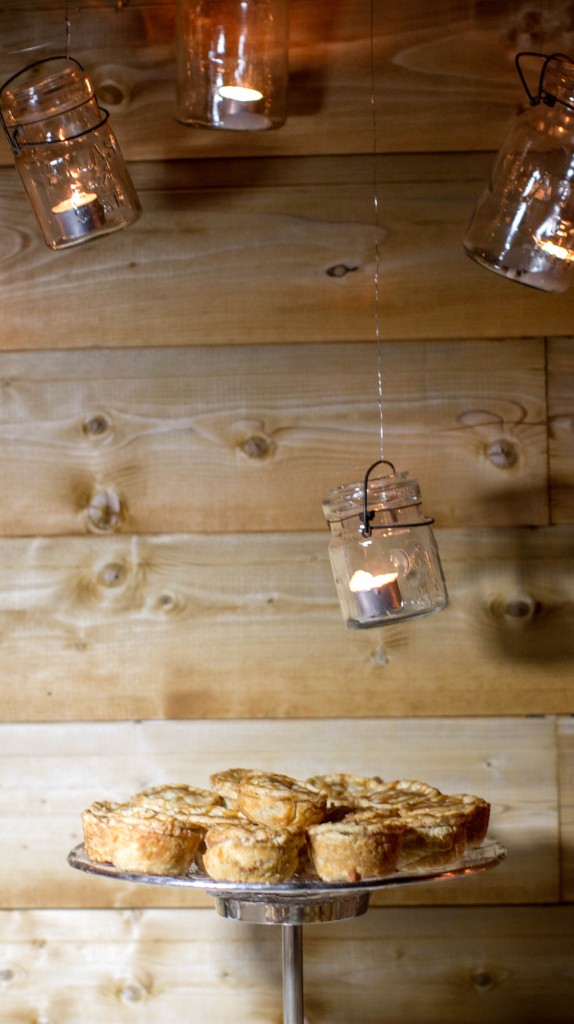 RSVP "yes" to weddings simply to get a piece of wedding cake. Most notably: my mother. "Hope it's buttercream for me," she whispers to herself as she seals the envelope.
But what if it's not? What if it's some crazy flavor? Or … what if there isn't any cake at all? Quick, get your smelling salts to revive all the moms out there.
If you're not sold on having the customary tiered cake at your wedding — have no fear. You are not alone! This is one tradition that is easy to break given the variety of dessert options to treat your guests these days. A quick Google or Pinterest search will yield many, many ideas: cupcakes, cake pops, cookie trees, truffles, even waffles and pizza. Some may not be new or avant-garde (how played out are cupcakes right now?), but they illustrate how easy it is to go against the norm and reflect your personality in your wedding dessert. The guests may actually remember what you served.
Case in point: We The Eater's Amy and Adam. If you haven't been reading this month … newsflash! They wed last October. Their wedding, the reception, the pre and post event activities — all of it oozed their personalities. There was no single element that more clearly represented this than the food they served. Especially the sweet treats.
Amy was not sold on having a cake at the reception from the get-go . I personally remember countless rounds of back-and-forth conversations she had with her mother, who, like all mothers I know, cannot fathom a wedding without a traditional cake. But, thankfully, she stood by her guns!
The wedding and reception all took place in the Shenandoah Valley, located in western Virginia. It was fall: The crisp cool air filled our lungs and the turning leaves made the valley come to life with warm colors painted across the rolling hills. Thus was the inspiration for their non-traditional, non-cake desserts. Yes, plural — as in multiple desserts. To be fair, they were spread throughout the events, each lending themselves perfectly to the festivities at hand.
S'MORES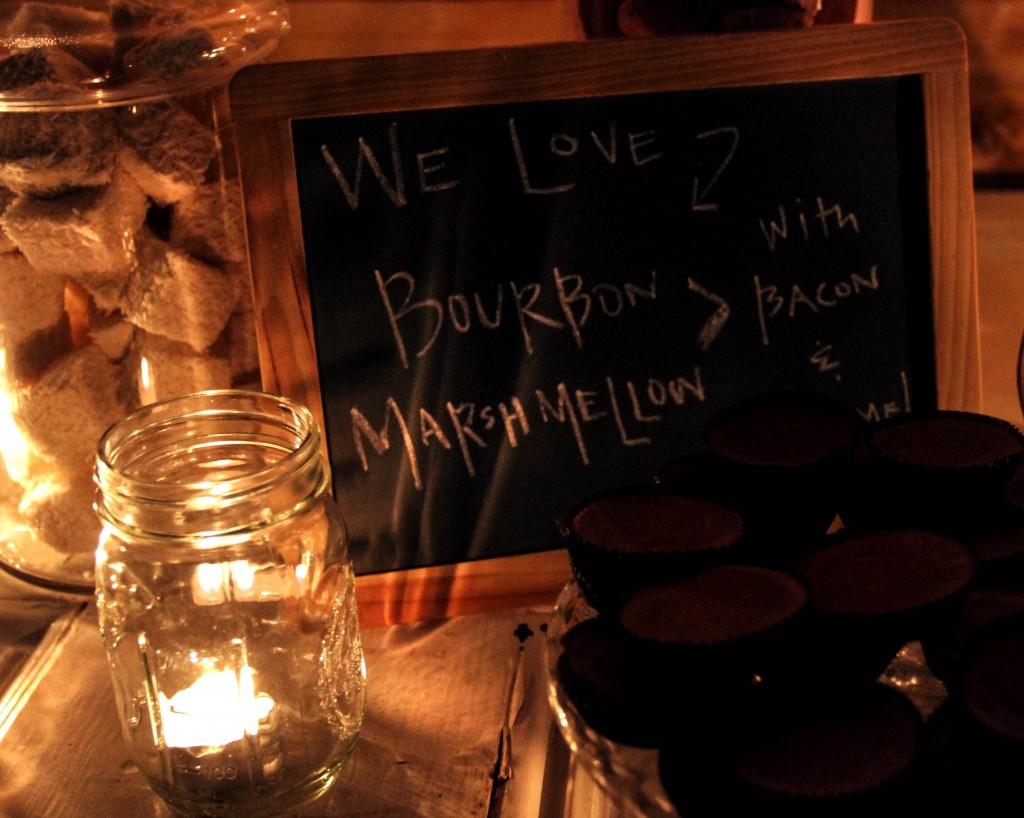 After the rehearsal dinner (which Amy's 90-year-old grandmother made her famous carrot cake for), family and out-of-town guests were all  treated to a welcome bonfire. The stars were out and the fire, roaring. Guests bundled up in scarves and blankets enjoyed drinks … and s'mores. But not just any s'mores! No, no, no. They artfully put together a "build your own" s'mores bar. Guests could enjoy Amy and Adam's signature flavor — the Bourbon, Bacon & Caramel S'more — or create their own using the ingredients listed below.
The spread included the following components:
Five different kinds of marshmallows! Northwest berry, vanilla, coconut and chocolate (obtained from Sweet Coconut Bakery) and, the star of the signature s'more, the bourbon marshmallow (obtained from Wondermade). Just smelling those things made me tipsy!
Regular and gluten free graham crackers (obtained from Burst Foods, who gave them a discount since they didn't need the traditional packaging, just a big box of crackers).
And a bunch of fun bonus toppings, aside from the bacon: milk and dark chocolate, Reese's peanut butter cups, Nutella, peanut butter and caramel sauce (made by Rachel, their pie chef … but more on that in a moment.)
Not only were the s'mores delicious and fun to concoct, but the whole evening made for some special memories. Amy says it made the entire weekend.
"Having a welcome bonfire was one of the BEST things we did at our wedding – it was so much fun! It gave guests a chance to get to know each other (if they hadn't already been to the wine tasting or canoeing), and us a chance to spend more one-on-one time with people. That was so important to us."
Cut to the reception …
PIES … AND A SURPRISE FIT FOR A HERO
"Cake? What cake?" some mothers in attendance were overheard asking as they picked among the four flavors of miniature pies, made by Rachel Willis of Cakes by Rachel. No one even missed the traditional fare once these little beauties were revealed. Perfectly sized, we all dug in … some into more than one flavor. Others passed plates to sample the different varieties, all of which complimented the chilly fall atmosphere: caramel apple, pear frangipane with a lattice top, ginger peach with a crumble top and the perfect, simple pecan.This was way more interesting than a slice of cake. It felt special and decadent.
Amy reflects, "I knew a big frilly cake wasn't my thing, and cupcakes just seemed like smaller versions of that. Pie was just the right fit with our vibe. That rustic, all-American crusty dessert reminded me of my gram's baking and home. It was such a huge hit, and I'm so glad I didn't go traditional."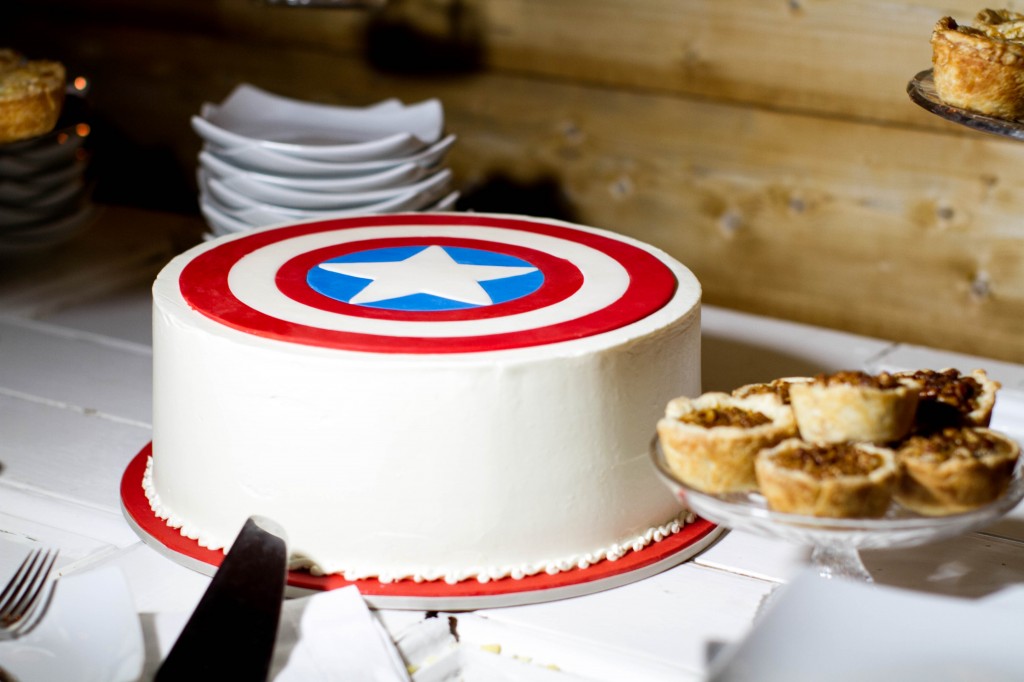 And while there wasn't a wedding cake, per say, there was a surprise in store for the groom. After tasting Rachel's samples, Amy decided to surprise Adam with a groom's cake … adorned with the Captain America shield. It was an Apple Cider Bourbon Cake filled with salted caramel crème and iced with vanilla buttercream.
"My mother thought I was nuts when I told her I didn't want cake. But in my opinion, cake is just a vehicle for frosting. Then I tried Rachel's cake … and oh, man – it was so good. It made my mom happy, and Adam was really touched by the surprise. He's my Captain America, after all!"
Amy and Adam's one pie tip would be to not have too many flavors — or variety if you have multiple desserts. For their 130 guests, Amy ordered a cake to feed 50 and 225 pies. "There was NOTHING left over. NOT. A. CRUMB," she says. "People had several because there were so many different things to try. And that still didn't stop them from lining up for hot cider and doughnuts!"
Fast forward many dances and drinks later …
DONUTS
Amy says the real icing on the cake for the whole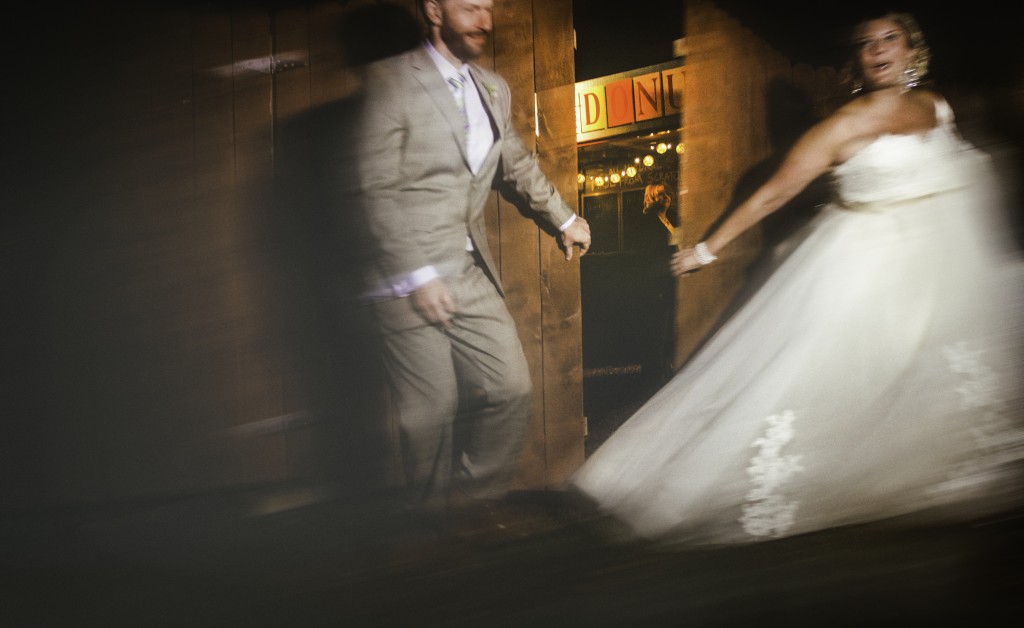 event was the parting gift to guests.
"Food is so important to us, that the only favor we ever considered was an edible one. We both love food trucks, and are committed to locally-produced, organic ingredients. When we heard about Carpe Donut, we knew it was a perfect fit."
They hid the company's big red truck behind some doors at the venue with a "coming soon" sign. At the right time, guests were asked to gather on the lawn. Adam and Amy thanked them for being part of their special day, then threw open the doors. The lights came on and the line was a mile long.
Amy grew up going to cider mills with her mom and brother, so this was also very personal for her. They had arranged for Carpe Donut's red truck to serve their fresh hot apple cider donuts rolled in cinnamon sugar along with hot apple cider and thick Italian hot chocolate. The smell of freshly made donuts quickly hit our noses and we all jammed into line.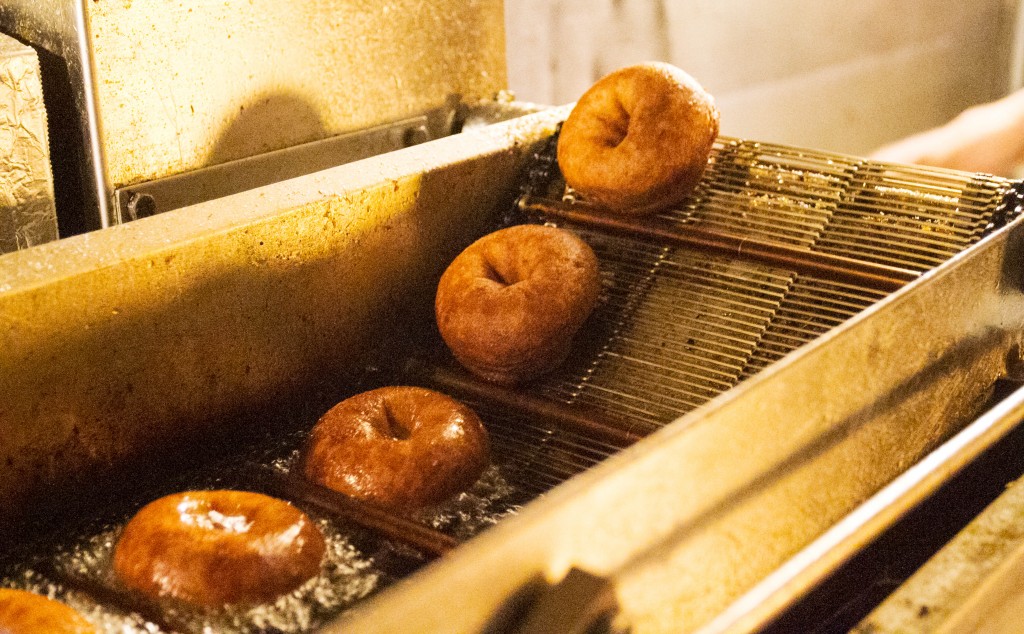 "It was awesome," Amy says. "We incorporated so many elements into our event that were meant to evoke fond childhood memories: a canoe trip, a campfire and s'mores, a hay ride and tiny grilled cheese appetizers. The donuts were just the exclamation point on the end of an absolutely perfect weekend – and a tasty way to thank people for being there for us."
All in all, Amy and Adam's choice to go non-traditional was widely embraced by the guests. From the very start of planning of planning their event, they kept coming back to what to do about this whole cake business. It just wasn't a dessert that spoke to them. And, truth be told, there were more important matters to fret over. Coming up with alternatives was fun … and in the end, extremely rewarding. Especially for us lucky guests! Those sweet touches really made their wedding stand out.
So, if cakes don't float your boat, don't fret. Grab the smelling salts, sit your mother down and break the news. It will be OK. We promise.