I'll be honest — I've never been particularly dialed in to the food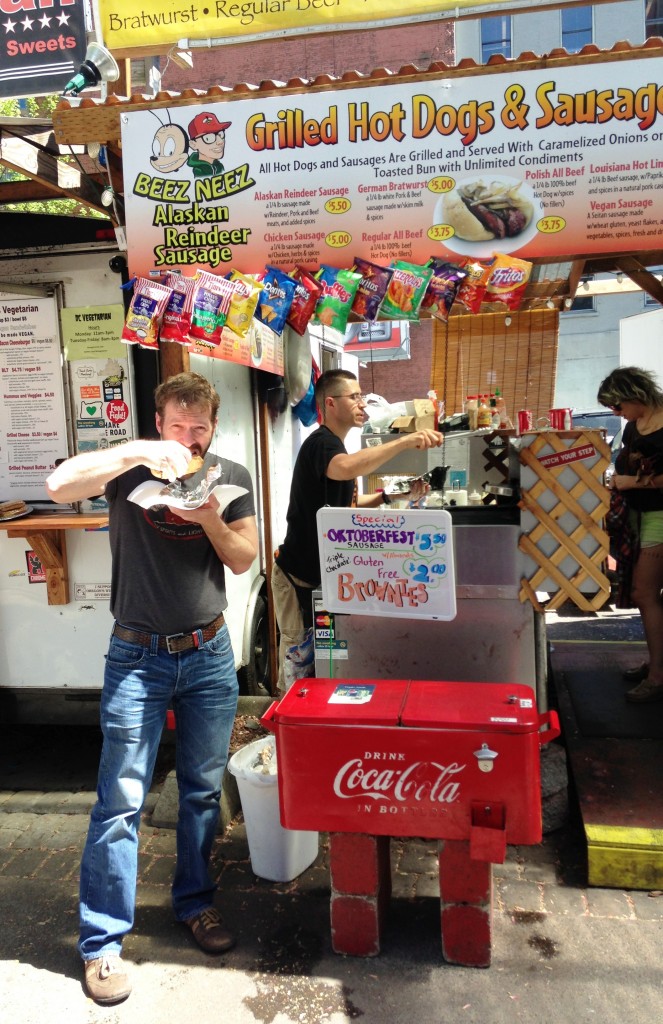 truck scene. My previous experience with them was a visit from "The Roach Coach" back when I worked for the Boston Globe. So when I learned that my vacation trip to Portland, Ore., would include some research for a food trucks post, I had no idea what I was getting into.
As some of you truck-savvy readers already know, it turns out that Portland (PDX for those in the know) is famous for its vast food cart offerings. The vendors gather in pods, which makes me think of groups of whales or moving containers, not culinary delights. But I had no idea of the scope of fare you could find! There's a cart for every ethnic food you can imagine, and a visitor hungry for classics can also find chicken and waffle trucks, grilled cheese carts (though, sadly, closed when we visited) or pretty much anything you could possibly hope to try. And odds are the food is great (although not always, as you'll see).
Picking something to eat can be daunting if you don't have a specific hankering. We were overwhelmed while wandering through the food cartmetropolises. But eventually we found Beez Neez Gourmet Sausages at Southwest Third and Oak streets, and immediately noticed the reindeer sausage. Yes, that's right: reindeer sausage. How could one dine on poor Rudolph and his flying kin? Well, I decided it was time to find out!
Vendor Bryan guided us in decorating our sausages with sauerkraut and spicy mustard. Wow! The flavor combination was awesomeness on a bun. I had expected reindeer to be very gamey, but it was perfectly flavored. Bryan then charred and served us a jalapeno pepper … totally delicious.
Behind every food truck vendor is a story, and Bryan shared his while whipping up our reindeer treat. He had made his way to Portland from Alaska (of course!); it's where he now gets his reindeer meat. Because everything served in Alaska was previously frozen (no pun intended), the food quality in Portland really impressed him. And he had to quickly adapt to the local culture by learning things like the difference between vegan and vegetarian.
Bryan loves his cart and the opportunity it gives him to meet people. Surprisingly, he has no interest in opening a restaurant. "It becomes your life," he warns. He is interested, however, in someday opening a Brownie-focused storefront. He has a great love of baking, he says, and wants to create a bakery and small coffee shop to maintain that personal touch — all while making some incredible brownies.
After finishing off our sausage, we wandered around to give our appetites a moment to recover — until we happened upon Tabor Chzech Food: Home of the Schnitzelwich. The cart boasted an impressive sign, noting that it was one of the top 10 food carts in the U.S. and inviting eaters to Czech out Czech food. With billing like that, how could we pass by?
Sadly, the truck didn't live up to expectation. Maybe it was the not-so-friendly person manning the station that didn't want to be in a photo. Or maybe it was the sandwich. It was pretty good; I wont say it was bad. It was enormous, for starters.  And I really enjoyed the crunch. However, it was oily and completely overwhelmed by a horseradish sauce.  Certainly a big enough sandwich for two … Sadly, we were two people that didn't really want it. Maybe the lack of enthusiasm and personal connection soured our test buds?  Sorry, Tabor.
Despite feeling a bit full, we decided to push on.  We wandered around, looking for something interesting enough to try.  Enter The Dump Truck, known (world wide-ish, even!) for its dumplings. We were happily convinced to try every dumpling on the menu, and we were glad we did. Our favorite was the potato curry, served with a delicious coconut-yogurt sauce. The "Down to Earth" dumpling, with mushrooms, cabbage and ginger, served with a tasty chili sauce, was a close second. I also really enjoyed the bacon cheeseburger dumpling. What can I say? It was a delicious little bacon cheeseburger hiding out in a dumpling! Last, but not least, the "Mr. Ma's Special." The minds behind The Dump Truck, Reid and Julia, named it for the gentleman from Beijing who taught them the art of making these wonderful dumplings. I think our only regret was that we just had NO room for a dessert dumpling. Totally. Stuffed. (Much like a dumpling!)
Reid and Julia were living in China where they met Mr. Ma and learned to love eating and making dumplings.  After fi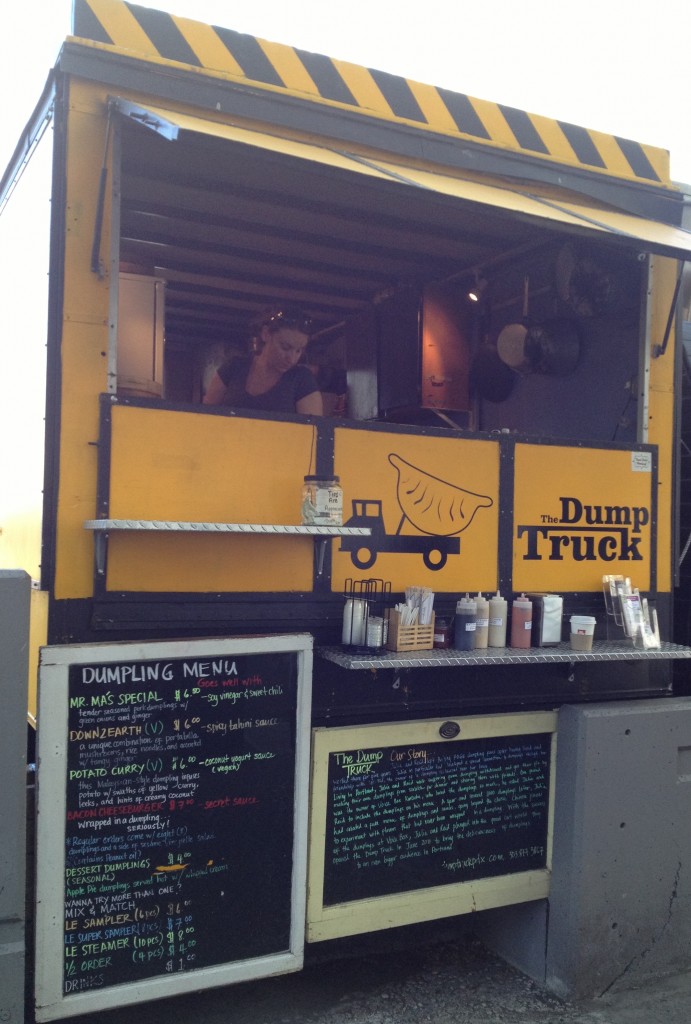 ve years, they were ready to return to the U.S. and, as they were watching the 2008 election, felt like was the right time. They picked Portland based on their love of biking, general atmosphere, connection with nature and opportunities in Julia's industry, the athletic apparel business.
The pair opted for a food cart over a restaurant because they wanted to start small and wanted to be "niche." Getting the truck wasn't tough; with Portland's thriving food cart community, they were able to find one on CraigsList without much trouble. But getting the location was a little tougher. Reid says they wanted to be downtown for its density and foot traffic. "I thought I could convince [the company that owns all the downtown food pod lots] to open up a parking lot without carts to our cart, but no luck — there just isn't enough power on most lots," Reid says. So they took one of the last available spots downtown at the time, "which is why our cart is so tall," Reid explains. "It's an un-level parking spot that was undesirable. Now, I love it, because we're so much taller than everyone else and it gives our cart a certain mystique."
As for their food prep, they make all of their own fillings and sauces with "the best ingredients we can find and hand-roll every dumpling. Rolling dumplings is a labor of love, and [it] takes a lot of practice to roll out the thousand or so we serve everyday," Reid says.
Finally, asked what dumpling they would recommend to a person to get them hooked, Reid said "The Xiaolongbao soup dumplings. We make them for special occasions only because they are so difficult to make. Like a traditional pork and scallion dumpling, but with a soup gelatin inside that melts when cooked and when bitten into, it's a salty burst of soup in your mouth. Goes perfect with tangy ginger and Zhenjiang vinegar."
Now, waittaminute. THAT wasn't on the menu.  We'll have to find our way back to try that one.
All in all, our food truck tour was an amazing adventure. There are so many food trucks, and so many varieties of meals to try, it's impossible to get to all of them on a short trip. The few we did sample barely scratch the surface. And the quality of the food here blows away the old concept of the food truck.
Often, road food is not for the faint of gastro-intestinal fortitude. But in Portland, the road food served by these amazing carts should not be missed! And if Portland is too long a trip, you can probably find a great food truck right around the corner!