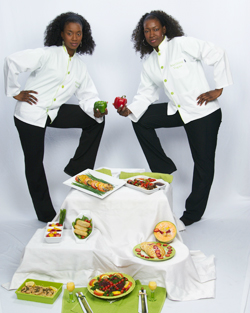 Jasmine Simon, on left in this picture, says she's not one of those vegans – the kind on a crusade to convert the world.
"I want people to be their optimally healthy selves," Jasmine says. "If people feel optimally healthy with high blood pressure and diabetes, the only thing I can offer is to live by example. Genuinely, I want people to feel and live well."
And if her curriculum vitae is any indication, Jasmine lives very, very well. A graduate of Cornell University, she's a certified plant-based nutritionist. She's been a personal trainer, as well as a colonic and massage therapist. Now, Jasmine works with Whole Foods Market as a vegan/vegetarian chef and is currently working on a book with her sister and business partner, Marjorie. She published Juice Power in 2005 and together, the sisters launched their own business, Anything Vegan, in 2010.
The venture was born out of a dinner party the duo hosted for colleagues of then-attorney Marjorie, or Marji. For every dish her sister made, Jasmine made a plant-based version. The food was served side-by-side during the meal, with no distinction made between the version with meat and that without. It wasn't until the meal was over that the pair revealed their secret. The guests were floored, prompting the duo to tell their happy dinning companions, "Anything you can make, I can make vegan." Their business was born.
Jasmine has been vegan for 16 years. Her lifestyle choice came out of observing people and making a connection between their health and their relationship with food. But it has to be a choice, she says. "You can't convince anyone by pushing it on them. You have to show them."
She tells me about a client with whom she worked last year who had cancer, which is now in remission. She was working with him to transition to a raw food diet rich in healthy live enzymes, starting first with some vegetarian options – like no-noodle lasagna (check out WTE's recipe from earlier in this series!).
For her version, Jasmine sliced zucchini and squash very thin and brushed it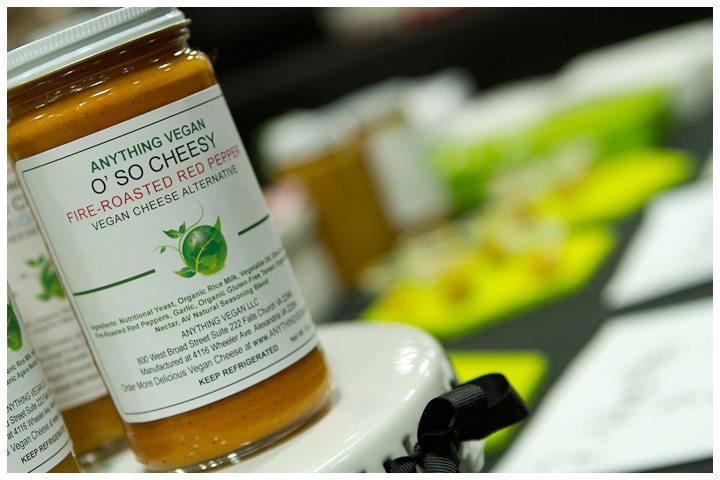 with an herb sauce she created by mixing olive oil and fresh Italian seasonings. She layered these with a fresh tomato sauce, a meatless crumble and some of Anything Vegan's faux cheese (make your own using a little nutritional yeast.) And here's an added veggie bonus: Sans meat, the meal cooks quicker. The results were addictive.
"He loved it," Jasmine says. "Everyday he was like, 'Can you make the lasagna again?' … I said, 'You can't eat lasagna every day!'"
Now, I know what you might be thinking — only because it's what I'm thinking: What about the cheese? "Cheese is the most difficult thing – it's literally addictive," Jasmine says. "When you can't stop eating it like that … you have to look at what is in the cheese." We have a discussion about casein and The China Study by T. Colin Campbell. It's compelling, but not as much as what Jasmine says in conclusion: "Humans are the only species that continue to consume milk after infancy." In her opinion, the milk we get in the grocery store is meant to help babies grow big and strong. Baby cows.
Now, I drink almond milk — which I am sure is bad for me in some other way – but I do love me some cheese. That ooey, gooey goodness. Everything in moderation, right? Well, moderation simply isn't my strong suit. On this point, dear Eater, you must make your own decision.
Before we wrap up our conversation, I ask Jasmine about something that speaks to my heart of hearts (a.k.a. my stomach): Dining out. How do you make healthier choices in a restaurant?
"I never look at a menu like a menu," says Jasmine. "I look at it like an ingredients list. And I'm very nice to my waiter or waitress – that's number uno – because my order is going to be over the top."
The last time Jasmine dined out, she picked what looked good and created her own dish. Her intention wasn't to insult, but the restaurant just lacked good options for a vegan. She asked if the kitchen would sauté onions, peppers and mushrooms with wild rice, and place that on a bed of crushed fresh spinach inside a portabella cap. "The chef came out and said he's going to add it to the menu," she says. Then he thanked her for the chance to cook something different.
The only thing he'd add? Cheese.
Photos courtesy of Jasmine Simon and Anything Vegan.
Chef Jasmine's Tips For Eaters: Successfully Changing the Way You Eat