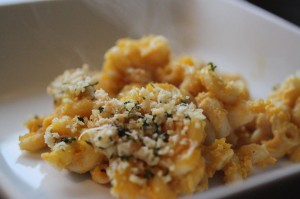 As we enter a new year, we're often asked about our New Year's resolutions. One of the most common, of course, is to lose weight and be healthier. My own resolutions are often lofty goals I hope I'll be able to reach. But usually, I'm able to keep them for a few days, a few weeks or maybe a few months at most.
The reason for my failure? My goals are often unrealistic and too hard to maintain.
It's difficult for people to break habits or stop eating their favorite foods. Because I'm a registered dietitian, many think that making healthy choices is second nature to me. In reality, like many other dietitians, I still like to indulge in my favorite comfort foods. Many popular diets often eliminate certain foods or food groups, but we all know that's difficult to sustain. Why is it that, as soon as we can't have something, we want it even more? So, rather than deprive yourself of your favorite indulgences, why not make a lighter version instead?
When I started researching different recipes for macaroni and cheese, I stumbled upon an interesting piece of history. It turns out that mac and cheese was one of President Thomas Jefferson's favorite foods. He became fond of the macaroni noodle while visiting Italy and actually attempted to make and improve the macaroni extrusion machine! In 1802, Jefferson even served macaroni pie at a state dinner (you can read more on his foodie accomplishments in this WTE post).
There are plenty of ways to make any dish a little bit healthier, of course. Use whole grains; add low-calorie vegetables to 'bulk up' a dish; use zucchini ribbons or spaghetti squash in place of regular noodles (like in this WTE post); reduce the total amount of fat or substitute a healthier high-monounsaturated fat, like olive oil, in place of butter. You can find even more tips for transitioning to healthier food and lifestyle choices in our next Meet The Chef, featuring vegan chef and nutritionist Jasmine Simone!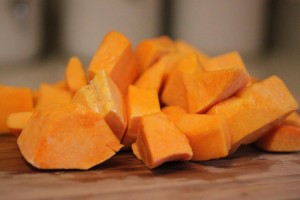 The macaroni and cheese recipe below is my take on "lightening up" an old comfort food that I simply can't go a winter without. Traditionally, this dish contains a béchamel sauce of butter, flour and cream.  Instead, you can substitute in pureed butternut squash that is cooked in fat-free milk and low-sodium broth.
The squash makes the dish more nutrient-dense with far fewer calories and saturated fat — all without compromising the creamy texture and bright orange color of a classic macaroni and cheese.
Eaters should be aware that there will be a lot of cheese and a lot of squash in your kitchen when you make this! I strongly suggest using a long ladle to move the cooked squash from your pot to your blender. The mess is worth the work.
As I had hoped, this is an absolutely delicious dish. The sauce was creamy, the noodles were tender and the topping provided just enough crunch to keep things interesting. For leftovers — if there are any! — make sure to reheat in the oven, not the microwave, to maintain the crunchy top.
Creamy, Light Macaroni and Cheese

Adapted from Cooking Light magazine

1 pound butternut squash, peeled and cubed
1 1/2 cups low-sodium beef broth
1 1/4 cups fat-free milk
2 cloves garlic
1 pound elbow macaroni
1 1/2 cups gruyere cheese, grated
1 cup pecorino romano cheese, grated
1/4 cup + 2 tablespoons Parmesan cheese, grated
1/4 teaspoon nutmeg, freshly grated
Dash ground cayenne pepper
1 teaspoon olive oil
1/4 cup panko bread crumbs
2 tablespoons parsley, chopped
Salt and pepper to taste
Nonstick cooking spray

Preheat oven to 375 degrees.

Peel, seed and cube butternut squash. Bring squash, broth, milk and garlic to a boil for 25minutes until the squash is fork tender.

While the squash is cooking, cook pasta according to package directions.

Blend squash mixture in several batches in a blender. Make sure to cover with a lid, but remove the top center piece in the lid to let the steam escape as the liquid will still be very hot.

Put back into saucepan and slowly add all grated cheese, stirring constantly. Add nutmeg, cayenne pepper, salt and pepper to taste.

Add olive oil to a frying pan on medium heat. Add breadcrumbs and parsley and sautee; bread crumbs will turn a golden brown. Remove from heat and add remaining Parmesan cheese.

Combine butternut cheese sauce and cooked pasta. Pour into a 9×12 casserole dish that has been sprayed lightly with nonstick cooking spray. Sprinkle pasta with toasted breadcrumb mixture and bake for 25 minutes until golden brown.