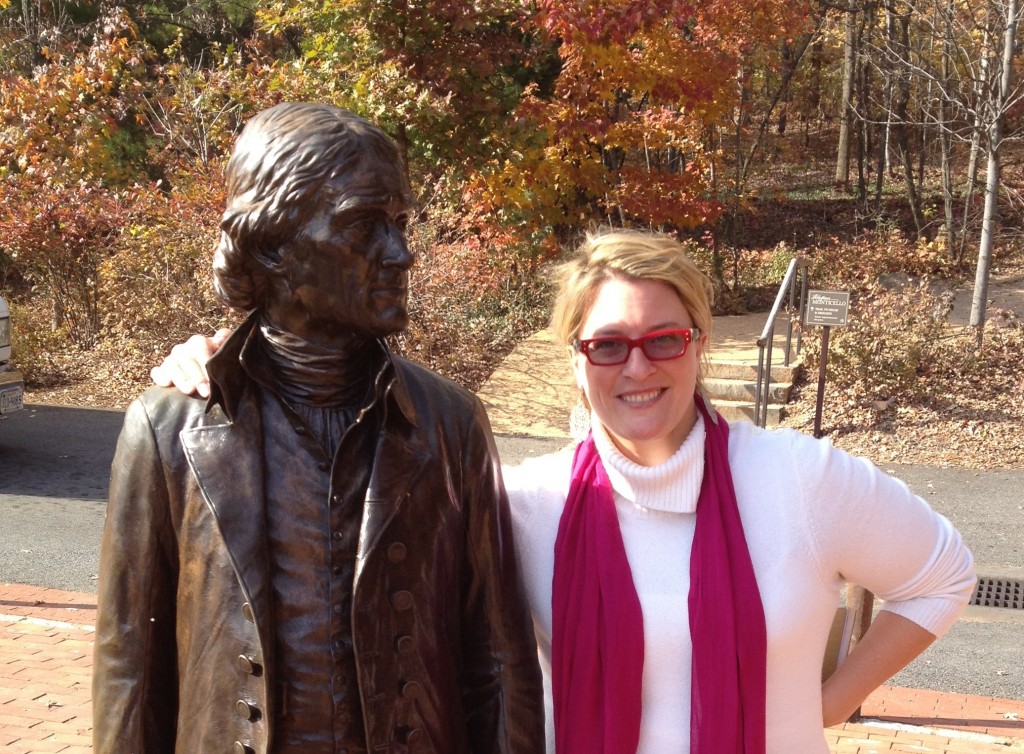 I'm going to have to make a conscious effort not to write too much in this post. The problem is, there's so much to say about the man who was:
an American Founding Father,
the main author of the Declaration of Independence,
the first secretary of state (a post he discovered he held after reading about it in the paper),
third president of the United States,
the man who orchestrated the Louisiana Purchase,
the founder of the University of Virginia.
And that's the short list. A lawyer by his mid-twenties, Jefferson was also a philosopher, an author, a botanist and architect. He was fluent in five languages and read in seven — refusing to read books in anything other than the language in which they were originally penned. Perhaps President John F. Kennedy described it best when, addressing 49 Nobel laureates dining at the White House in 1962, he said "I think this is the most extraordinary collection of talent, of human knowledge, that has ever been gathered at the White House, with the possible exception of when Thomas Jefferson dined alone."
But Jefferson rarely dined alone. Elizabeth Chew, curator of collections at Thomas Jefferson's Monticello, says there were always people coming to dinner, especially at the President's House (which today we'd call the White House). There, Jefferson entertained everyone from legislators and diplomats to explorers and Indian chiefs. Chew says the table was an extension of his office, and the president used it as another venue where he could get political work done.
Jefferson The Gardner
From his personal correspondence, notes and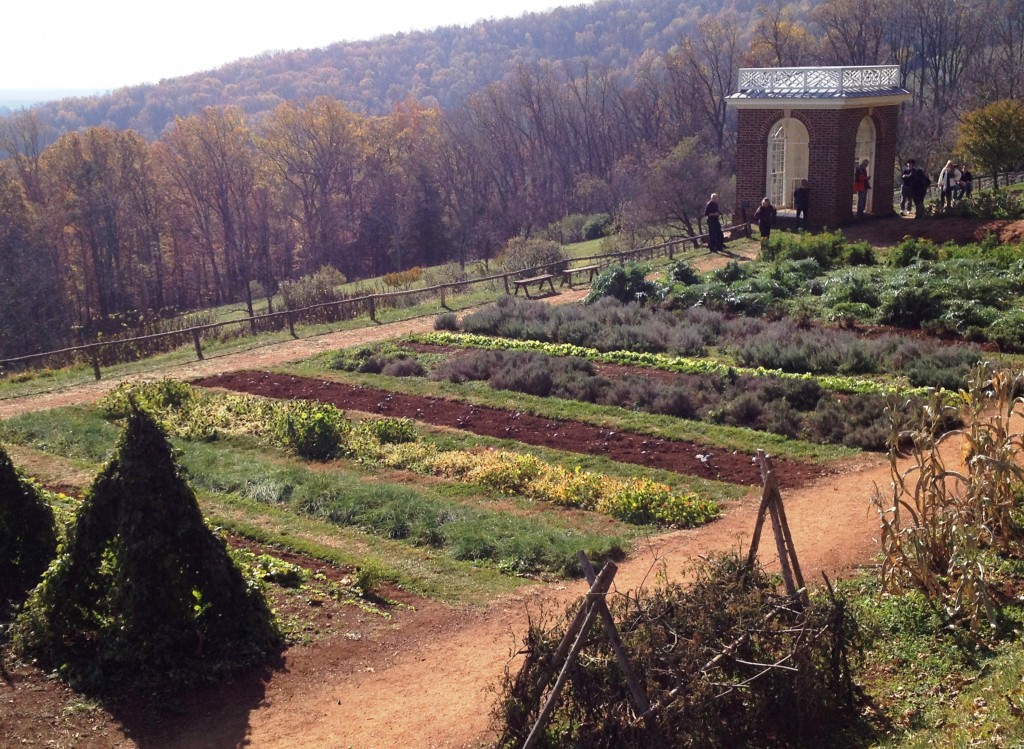 documents, historians paint a picture of a man filled with curiosity about growing, preserving and cooking food. In his day, Jefferson was criticized for eschewing the foods of his homeland for cuisine discovered while serving, at George Washington's behest, as the United States minister to France. A ridiculous critique, considering he had Virginian hams — which he described as "better than any had on this side [of] the Atlantic" — shipped to him while living there. Jefferson also requested seeds for corn, cantaloupe and sweet potatoes while living in Paris.
What is true is that Jefferson's time  abroad opened new culinary doors, as he discovered new favorites like Marseille figs (the food, not the band) and French tarragon.
On the grounds of Monticello, built on the property Jefferson inherited from his father, visitors will find a garden the length of three football fields. Vegetables are clearly the winner here, with neat rows of peas, tomatoes, benne, used to make sesame oil for salads, and multiple lettuce varieties. And that's just the tip of the iceberg (pun intended). Jefferson's records document more than 300 different varieties of vegetables once grown here. From hyacinth beans (mostly ornamental) to sea kale — things not typically found on American soil — the gardens of Monticello are as much a feast for the eyes as for the belly.
Jefferson visited the gardens almost daily, taking a half–hour stroll to see how his plants were progressing. Despite the bounty from his own crops, Jefferson's family also bought vegetables — potatoes, hominy beans and cucumbers — from slaves living on the plantation.
Jefferson The Slave Holder
Jefferson had many slaves — more than 100 at any given time. James Hemings, the half-brother to Jefferson's wife, Martha, is perhaps the most famous among them. At 19, the young slave accompanied Jefferson to Paris, where Jefferson had him trained in the ways of French cooking. After serving his master in the kitchen for about a decade, Hemings asked Jefferson for his freedom. An agreement was executed between the two, allowing that Hemings would go free after he sufficiently trained a replacement. Once the agreement was satisfied and Hemings freed, he made his living working as a cook. A living, perhaps, but not a life. He returned to Jefferson's service for a short time in 1801 for $20 a month in wages. A little more than a month after that period of service ended, Jefferson received word that Hemings had taken his own life.
Jefferson The Foodie
With all that grew around him, it's no surprise Jefferson was a veggie lover. "I have lived temperately," he once said, "eating little animal food, and that … as a condiment for the vegetables, which constitute my principal diet."
While Jefferson introduced or popularized many produce items in the U.S., he also championed several non-horticultural foods, like  macaroni with cheese sauce — the granddaddy of mac n' cheese — and ice cream. In fact, the first known American ice cream recipe is penned in Jefferson's own hand. Good food was as much his signature as the script appearing on the document that claimed our independence.
As much as Jefferson enjoyed eating, it's also something for which he paid dearly. The founding foodie spent a small fortune putting food on the table for himself, his family and the legions of guests he entertained. According to Monticello's Elizabeth Chew, they were literally eating him out of house and home. The resulting mountain of debt explains, in part, why Monticello and Jefferson's belongings — including his enslaved workers — were put on the auction block after his death.
Jefferson: A WTE Tribute
Historians give Thomas Jefferson credit for introducing yet another delicacy to the American palate: French fries. Dining notes from the President's house indicate potatoes were cut into small slices and deep fried.
For this week's post, I've opted for a twist on this modern-day favorite, incorporating some tricks learned at the vinegar–making workshop I took before touring Jefferson's much-loved home (you'll learn more about that on Monday, with our next "Meet The Chef" post). For a beach fanatic like me, there's nothing quite like boardwalk fries with salt and vinegar. But you, dear Eaters, are an upscale audience, and that classic preparation just seemed too simple. So instead, enjoy my take on what I think would quickly become a staple in Thomas Jefferson's home: sweet potato fries with a maple balsamic reduction.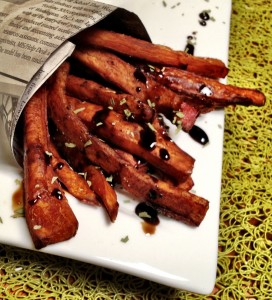 There's no recipe for this iconic dish among Jefferson's documents. That pretty much goes for all vegetables, which is strange, considering his affinity for them. It is widely believed that many of these simple dishes featuring the garden's bounty didn't require one (unlike those with precise measurements, like this recipe for Biscuit de Savoy, also written by Jefferson.)
So I drew inspiration from Damon Lee Fowler's book, Dining at Monticello. When specific recipes were missing, Fowler's book turns to The Virginia Housewife by Mary Randolph, first published in 1824. We're going for authenticity here, which means cooking the potatoes in lard, which I don't have. And bacon drippings. Only, I don't have that, either.
Thankfully, there's a great charcuterie near me: Three Little Pigs. When I stop in to pick up the lard, owner Carolina Gomez suggests using the fat rendered from a bacon end to impart the flavor she imagines is what's behind using the drippings in the first place. As you can see from below, I added this to the lard. As for the rest … I'm making it up as I go along. Let me know what you think — and stay tuned for Monday's "Meet The Chef" post featuring Charlottesville winemaker Gabrielle Rausse.
All of the information in the article was gleaned through three sources: my interview with Elizabeth Chew, in features found in Damon Lee Fowler's book, Dining at Monticello, and on Monticello's website.
As thanks to Chew and the Monticello staff for their time and generous assistance, WTE has offered Monticello space to advertise their tours. The space is offered free of charge, and has not influenced the material in this week's post or the upcoming "Meet The Chef" post. That said, the Monticello tour is a fabulous experience, and I highly recommend it for all foodies.
Sweet Potato Fries with a Maple-Balsamic Reduction

Two large sweet potatoes
Lard (amount varies based on what you are cooking in, see instructions)
Bacon drippings (or bacon end)
Salt and pepper, coarsely ground
1 teaspoon fresh or dried tarragon

Scrub the potatoes, but leave skins intact. Using a mandolin if possible — or even better, a French fry cutter (lucky you), cut the potatoes into quarter-inch wide strips (mine were a bit thicker, and though delicious, they didn't get nice and crispy). Barring those tools, the same can be accomplished using a knife with a healthy dose of patience.

Place potatoes in a large pot and cover with water, letting them soak for at least one hour and up to eight. This helps remove some of the starches. If you don't have bacon drippings, cut up the bacon end, or even thick-cut pieces of bacon, into a heavy-bottomed pot (I used a stock pot to avoid grease splatters) and heat until fat is rendered out. One fat bacon end produced about a 1/2 cup of drippings for me. Remove pieces of meat left from bacon end from the fat and add about two cups of lard. I fried in small batches, which required less of both the bacon end and the lard (if you have a deep fryer, you'll need to adjust how much you buy accordingly.)

Heat the lard to 325 degrees, using a thermometer to check the temperature. To do this, you need to carefully tilt the pan, because letting the thermometer rest on the bottom will skew your results. Once you've reached the right temperature, begin cooking the potatoes in batches for about 3 to 5 minutes until the skin begins to bubble and fries are tender.  Using a skimmer like the one pictured, remove and let fat drain off before putting the fries on a large baking tray. Do not use paper towels as oil-wicking will leave fries soggy.

Let the oil come back up to temperature between batches. Once all potatoes have made it through once, this is a good time to break and make your reduction (see recipe below).

To give the potatoes their second fry, increase the temperature of the oil up to 350 degrees and repeat the process, cooking for up to two minutes, until the fries begin to turn golden brown. Remove, drain and place on a large serving plate. Salt and pepper to taste. Drizzle with reduction and sprinkle fresh or dried tarragon on top and serve. You could also substitute baked sweet potato fries to lighten this up a bit.

This balsamic reduction has so many uses — to dress mashed sweet potatoes, as a salad dressing or even as a topping with fresh strawberries on vanilla ice cream.

For the reduction
1/2 cup balsamic vinegar
2 tablespoons pure maple sugar

In a small sauce pot, begin cooking balsamic and syrup on medium-high heat, stirring almost constantly. Be careful not to inhale over the pot (cough, cough.) The mixture may bubble up — if it does, turn the heat down.

Cook for about 10 minutes until it thickens just slightly (it will continue to thicken as it cools down). You don't want it watery, but you don't want it too thick, either. When you raise some in a spoon, it should fall from the middle underneath the spoon in a steady stream. If it splatters, it isn't ready, and if it falls from the edge of the spoon and is thick like chocolate syrup (as pictured with my first batch), you've gone too far. This takes a little practice — believe me — but is well worth it!

Yields four to six generous servings