I'm not gonna lie. All month long I've had Da Dip in my head (thanks to Amy's first post in our dip series). I sing it to my cats, I sing it to my dog, I sing it in the shower, in the car, while folding clothes, even at work. Who doesn't love dips and super catchy '90's dance songs?
For my dip I wanted to do something easy, cool and a tad sweet. I think I hit all of that with a key lime pie inspired dip. It's one of my favorite summer pies. Creamy and refreshing … and that lime, yo! It's not a pie I make a lot, in fact … I can't remember if I've ever made it. But I've definitely eaten it. Most recently at my brother-in-law's birthday dinner. My hubby's sister made a gluten-free version we fell in love with, from Emeril Lagasse's daughters' cookbook. It wasn't too sweet, it wasn't too lime-y, it was just right.
I used this pie filling as my inspiration for the dip. I wasn't baking it, so I had to do a little clever thinking and swapping. For instance, no eggs. The pie also called for sour cream, but I swapped that for cream cheese to get a little firmness. For a fluffy consistency I threw heavy whipping cream into my ingredient list and decided to use my stand mixer to whip it all together.
Thankfully I was able to find key limes. If you've never used them and are thinking of swapping for regular limes, make sure you adjust the recipe slightly. Key limes are much smaller, almost ping-pong ball size. The peels are thinner and ripen from green to yellow. As they ripen, the fruit turns a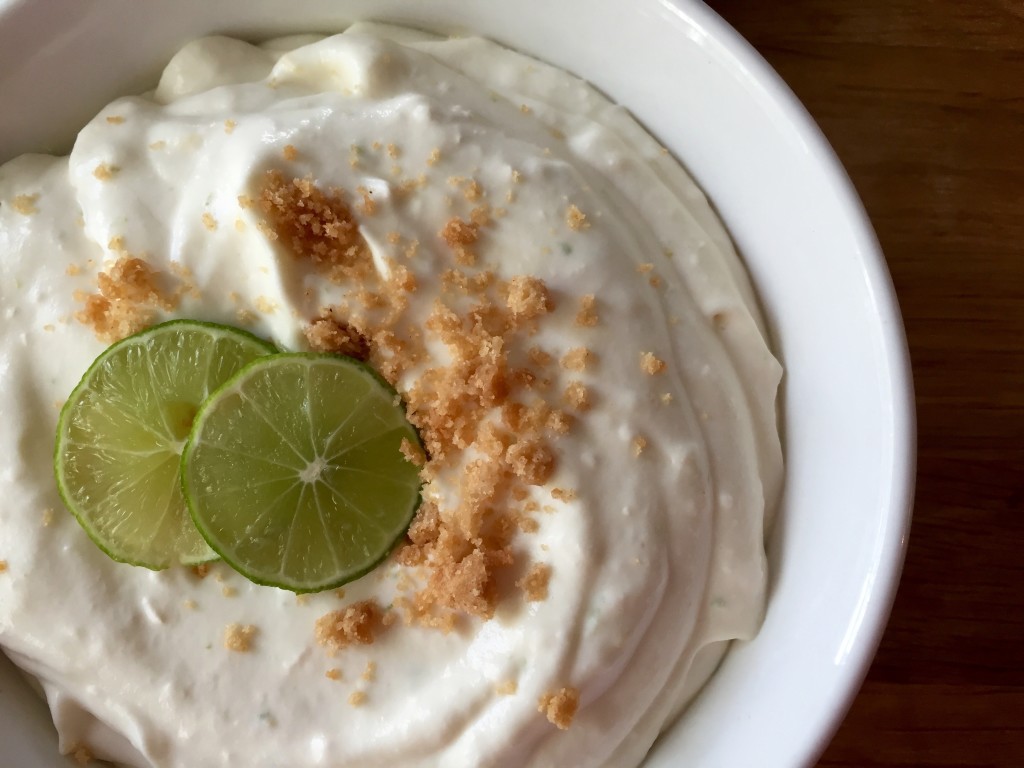 bit sweeter. Because they are smaller and the ones I bought were more yellow, I ended up using more lime than I thought I would – five for juice and two for zest. My husband and I thought the lime wasn't over powering, which we loved.
So, if using regular limes start with two or three for juice, one for zest … then taste. If you love more lime, add more juice. Once the whipping cream has been added in and the whole dip fluffed up, it's no big deal to add more lime juice or zest as you like. True lime lovers may want to garnish with fresh zest when serving. Pretty and tasty!
This dip was so easy I was able to whip it up in no time on a lazy Sunday, between Netflixing Once Upon A Time and a much needed nap. It makes a great snack or dessert. It not too sweet at all and has just the right amount of lime.
Fluffy Key Lime Pie Dip
Use almost anything for dipping! I suggest graham crackers, of course, or basic sugar, butter or shortbread cookies. Even apples, strawberries or a tropical fruit would be a good pairing with the key lime.

Ingredients
4 ounces cream cheese, room temperature
2/3 cup sweetened condensed milk (or make your own with this recipe)
5 key limes, juiced
zest from 2 key limes
1/4 teaspoon kosher salt
1 cup cold heavy whipping cream (can swap regular heavy cream for less whip/fluff)

Add cream cheese, condensed milk, lime juice, zest and salt to a stand mixer. Mix till well combined and creamy. Mix while pouring in the heavy cream; whip for a minute or so, till fluffy and light.

Optionally garnish with crushed graham crackers, sliced lime, sea salt and/or lime zest. Dip your favorite cookie or fruit!