Our feature image was taken by K. Thompson Photography, and is used with permission. Courtesy of Rose Previte.
If not for the building permits taped to the door, I wouldn't have found
the place. The sign in the dust-caked window promises passerby that, soon, this row house just off 14th Street NW will become "Compass Rose," joining the Washington neighborhood's throng of trendy new bars and restaurants that are seemingly springing up overnight.
Rose Previte, the establishment's namesake and mastermind, throws open the door and warmly welcomes me into a frigid construction site. Work lights in their yellow plastic cages illuminate unfinished, exposed brick walls and the sawdust covering the floor (and everything else). A space heater keeps designer Martina Crivella comfortable enough to complete today's task: finishing a gorgeous distressed wood wall reminiscent of a pop-up street market stall.
Rose invites me into her office, otherwise known as Café Saint Ex – the bar next door. I follow the petite dark-haired dynamo around the corner and we settle in at the bar with a few hot toddys. She wastes no time, chatting excitedly about being this close to realizing her dream.
INSPIRATION:  IF YOU BUILD IT, THEY WILL EAT
Rose and her husband, David Greene, co-host of NPR's Morning Edition (and my colleague), had just returned from three winters in Russia. When it's that cold, she laughs, time is measured in seasons.
Rose had left everything, including her job, to join David on his assignment as NPR's Russia correspondent. She admits that learning the language — aside from being able to call a cab or order food — wasn't going to happen. Without that, getting a job was out of the question. To keep busy, she traveled with David for work, seeing some 30 countries in three years.  And she put her bartending experience to use, teaching the fine art of mixology to local American housewives from her living room. Even with that, the most balanced-driven person might go a little stir crazy not being able to work.
"You have to laugh," says Rose, "because it's the only way you survive."
If not working while abroad wasn't easy, the situation didn't necessarily improve when she returned stateside.
"You want to talk about a new beginning," she says. "I'd left a job in New York, came back to [Washington, D.C.], where I hadn't worked in four years. So I started thinking, 'What do I really want?' "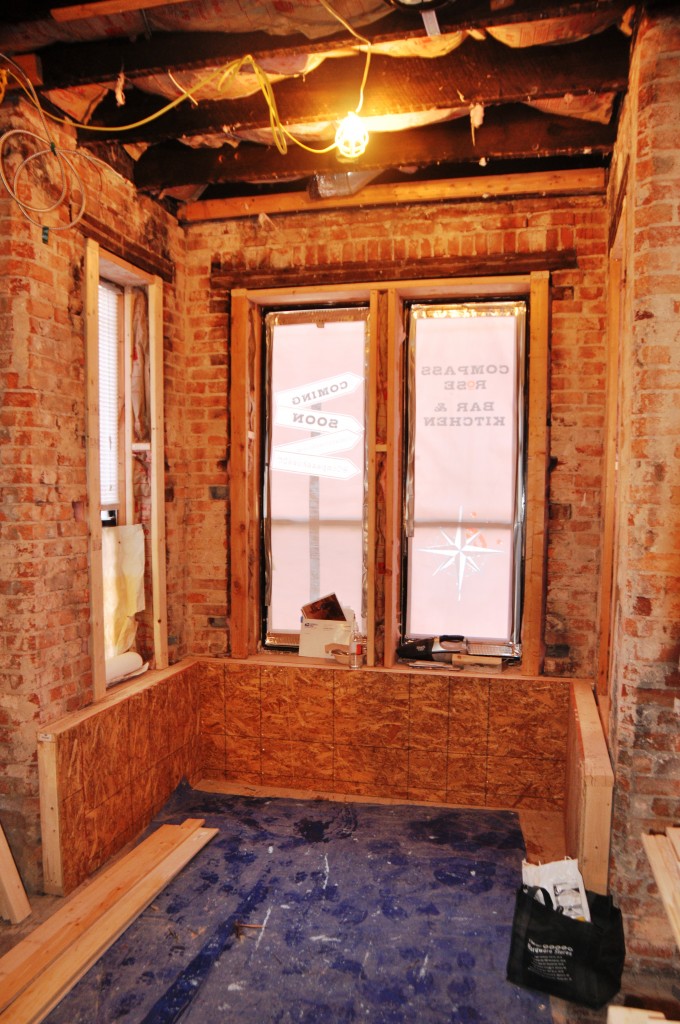 Rose had 14 years of experience in the food industry and had always wanted to open her own place. So she called Mike Schuster — her former employer at Pour House and owner of several other D.C.-area restaurants and bars — to ask him to teach her about the business. He would later came on board as her partner. She got Georgetown business students to write a business plan, which helped her figure out how much money she'd need.
Then came the ask – which wasn't easy. Generating enough capital to launch a business? "You really have to find people who love you and really want to help you," Rose says.
BUILDING A BUSINESS, LITERALLY
With a little money, a year of research, her work experience and Mike's know-how, a lease was signed on the space in January 2013. The concept for the bar was drawn from her travels with David and the street food they ate along the way. That food captivated Rose because it brought people together – rich and poor. And though the menu isn't set yet, she reveals one thing that's sure to be on it: Mokhrakuli Khachapuri, a cheese bread from the Democratic Republic of Georgia. She says Compass Rose will be one of the few places anywhere outside that small country that serves it.
There's an easy explanation for why: You just can't get the cheese used to make that bread here. Rose has actually reached out to Georgia's ambassador here in D.C. to try, and even he laments not being able to get the salty flavor of his homeland easily on American soil. But that didn't stop her: Rose is trying to find a dairy farm in Maryland that will recreate it. Her fingers are crossed.
Inspiration for Rose's menu will be drawn from all over: the Middle East, Beirut, the Caribbean and South America. You could say it is as diverse as she is, with her Lebanese mother and Sicilian father. She and the Compass Rose team plan to leave Asia alone, Rose says, because so many other places do that cuisine well. (For more foodie details, look for our Meet The Chef interview in March! You'll also be able to see updated pictures of the space.)
Ambiance will also play a big role at Compass Rose. The space has been designed to give you the feeling of being in a busy marketplace, with "found" objects to remind people of faraway travel experiences. "It's going to be casual," Rose says. "It's going to be fun – that's what street food is."
And fresh. In fact, the food will be so fresh, she says, "we literally don't have a freezer."
Her number one goal? To be a neighborhood place. She describes it as "Brooklyn-esque."
"I really wanted it to be an extension of my home, and it kind of is … since we live upstairs," she adds, laughing. "We're invested as locally as you can possibly be!"
THE CHALLENGES (ANOTHER HOT TODDY, PLEASE)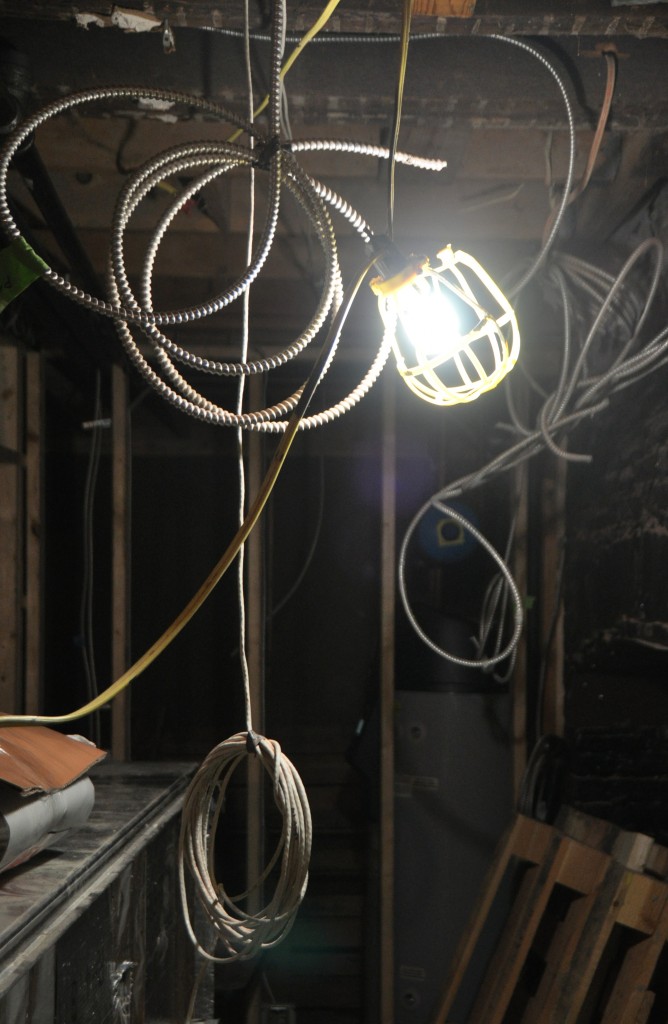 It's good she's still laughing, as launching this new venture hasn't been a cake walk.
It took about seven months to get a liquor license. She says the local neighborhood organization battled them every step of the way. Because of this, Compass Rose went from having a backyard garden that seats 30, to enclosing almost the entire space to address the group's concerns about noise. The addition took an additional three months. Now, they'll have a small patio that seats less than a dozen people and closes at 11:30 p.m.
She's not sure she would have survived the fight without Mike, her business partner. It was a draining process, she says, both physically and financially. They were in a holding pattern waiting for that license, waiting to break ground, but still paying rent. Then their small business loan got railroaded by the government shutdown in October.
And even now, just weeks away from opening, the worries don't ever really go away.
"The things that keep me up at night are: Will I be able to make the money back?" says Rose, "Will [customers] get what I'm trying to say?"
COMPASS ROSE IS DIFFERENT
I tell Rose I think they will, and share some of the things that make me crazy in restaurants. Like when they clear plates before everyone is finished eating. Or when you can't get a drink – at your table or the bar. That's something she understands: According to Rose, customer service is 90 percent of a business. "You're never going to wait 15 minutes to get a drink at the bar," she says.
Having a smaller place is part of that. Rose wants to be able to watch what is happening. You can't do that in a larger establishment. "It's so personal for me. I go to El Centro, to Masa 14 – it's just different model." And she intends to build strong relationships with her staff, just like Mike did with her. As she puts it, you bring up good staff to become good partners in the future.
From the moment you walk in the door, she wants you to feel welcomed.
"It sounds so simplistic," she says, "It's just to be greeted, to be made to feel welcome."
Well, here's something to make you feel welcome: Drinks on the house! OK, not exactly … but here's a recipe from Rose you can make at home and some restaurant recommendations to keep you busy until Compass Rose is open. We know you can't wait to go (neither can we!)
Want to be in-the-know when Compass Rose make's its grand debut? Follow them on Twitter and check them out on Facebook for the latest.

Compass Rose's "Summer Night In Beirut"

8 ounces lemonade
1/2 ounce vodka
3 drops rose water

Combine all in a tall glass over ice and stir. Garnish with lemon slice and mint.

Rose's 14th Street Corridor Dining Recommendations: