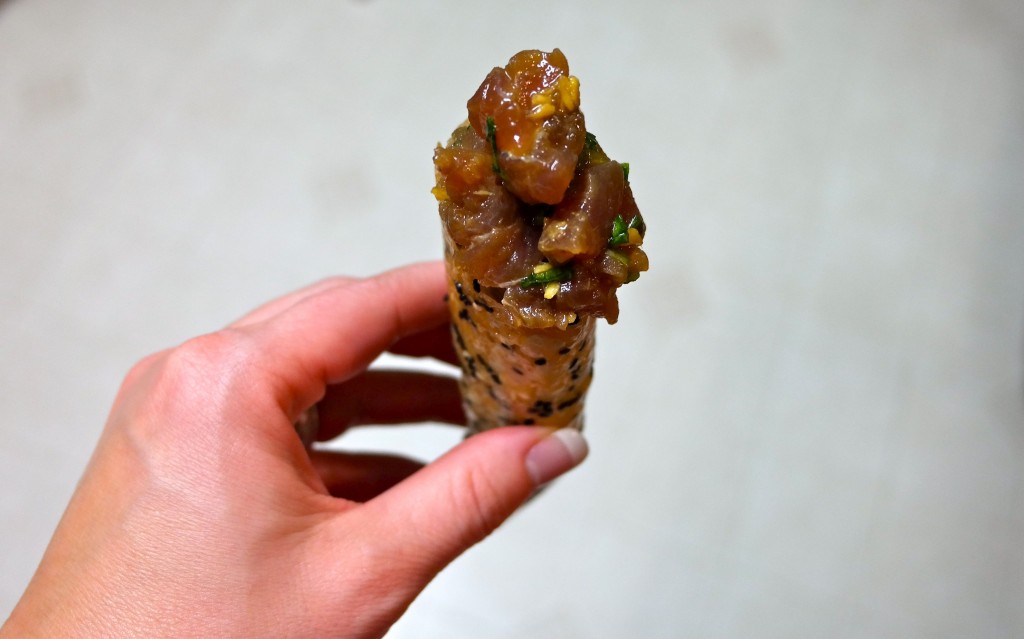 When confronted with making a one-bite dish, such as an amuse-bouche, the first thought that pops into my head is: "Just one bite? Really? Does this mean I can have more than one?" Sure! And then I'm stuffed.
It happens at every party or event when there are little foods passed around. Between the wine or cocktails, the little mushrooms or wieners with toothpicks stuck through them… No matter how tired and boring the finger foods, I still gorge. Maybe it's the stress of the holidays or the comfort of the same old, same old. But this year it's time to mix things up. Time to break the old traditions!
Maybe tuna tartare isn't new to you, but in my family and circle of friends it's revolutionary. Over half of my potential guest list wouldn't even touch it. That's how cutting edge it is! Possibly because it's fish, raw or my peeps are scared of trying something new, this dish is groundbreaking for many. Luckily, my husband is a willing guinea pig and adventurous eater.
I drew inspiration from an event that fellow Eater, Amy, and I attend every year – Taste of the Nation. Little foods are served and we eat our faces off. It's an event held at most major cities where local restaurants serve up bites to benefit a childhood hunger charity, No Kid Hungry. You feel good helping out while you sample new foods, check out new local trends and, if you're lucky, get a glimpse at the likes of Bryan Voltaggio or Mike Isabella.
One of the stand out foods we sampled almost every year we attended was the tuna tartare in a little crispy sesame miso cone from Wolfgang Puck's The Source. Spicy and fresh, a kick of ginger, a hint of sweet in the cone. It's cute and yummy. Meat in a cone? Come on!
This is what I attempted to recreate. I found several sources and even Wolfgang himself publishes a recipe on his website. What I made differed slightly from his original. Since my husband has a gluten allergy, I had to swap the soy sauce for a gluten free version as well as the flour in the cone dough.
The tartare was super easy. The cones? Not so much. The dough was easy to make and they don't have to bake too long to get golden brown. But you do have to make sure you spread the dough out or else they will join together into one solid rectangle. The amount matters too. Err on the side of a smaller ball of dough. I also attempted to roll these suckers free hand! When you do roll them, be patient. Too soon out of the oven and they fall in on themselves, too long in the oven and they get brittle and break apart. Luckily the recipe makes more dough than tartare. And if the cones don't work out, just make little crackers out of them! Still yummy.
These will impress your friends and family. And the best part is, they're more than one bite. Maybe three if you take Sarah-sized bites.
Tuna Tartare In Miso Cones
This recipe is adapted from the Wolfgang Puck recipe I had at the Taste of the Nation for many years. I made it substituting gluten free ingredients for soy sauce and flour.

For the tartare:
1/2 pound ahi tuna, diced small
1/2 cup minced green onions
1 teaspoon minced fresh ginger
1 teaspoon wasabi paste
1/2 teaspoon sesame oil
1/4 cup soy sauce (can substitute gluten free or Bragg's liquid aminos)
2 tablespoons lime juice

For the miso cones:
1/4 cup sesame seeds
1/2 cup granulated sugar
1 stick (4 ounces) unsalted butter
1/3 cup light corn syrup
1/2 cup unbleached flour (I substituted a gluten free all-purpose flour)

Garnish suggestions:
daikon sprouts
roe
pickled ginger

In a medium sized bowl, whisk together the green onions, ginger, wasabi paste, sesame oil, soy sauce and lime juice. Add the tuna either by pouring the mixture over top or stirring the tuna in. Stir together until tuna is well coated. Cover and store in fridge to keep cool.

Preheat the oven to 350 degrees. Using a stand or hand mixer, combine the sesame seeds, sugar, butter, corn syrup and flour until the butter is well incorporated.

Line a baking sheet with parchment paper. Scoop small, teaspoon sized spoonfuls of dough onto the baking sheet. Space them far apart as they will spread during baking.

Bake for 4 to 6 minutes until golden brown. Note: I needed to bake mine a little longer, but make sure you don't go too long!

Remove from oven and roll into cone shapes.

Spoon the chilled tuna tartare into each cone. Add a little garnish if you like too! Serve immediately.