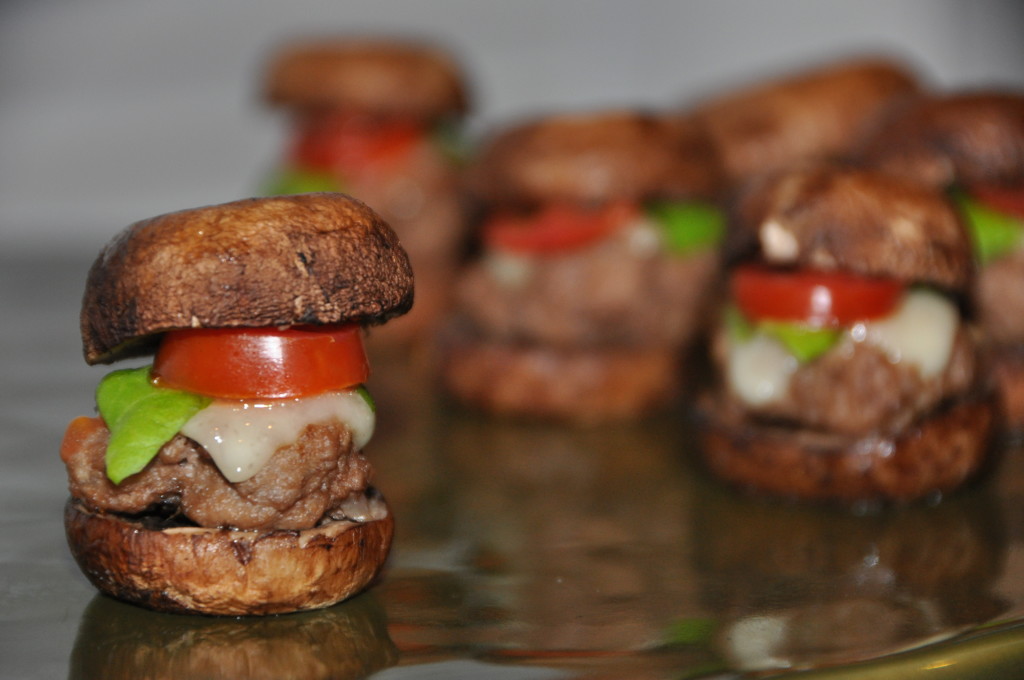 Ah, yes: football season. Even though I am not an avid watcher, I am a big fan of my hometown New England Teams. We've come a loooong way from that painful whoopin' in Super Bowl XX.  Go Patriots. What a joyous day November 2nd, as Tom Brady's nemesis, Peyton Manning, and his team, the Denver Broncos, were crushed on a snowy field at Gillette Stadium.
Plus, with the blissful onset of football season comes tailgating — the delicious madness that precedes (and occasionally follows) the big game. Pull out the grill and the dogs, burgers, chili and sausages. Don't forget the chips and beer. It's outdoor eating magnificence!
How might a respectable, testosterone pumping, male like myself relate THIS to WTE's current theme: Alice in Wonderland, An Homage To "Eat Me, Drink Me" in bite-sized tiny food and drink? Well, dear reader, while I could wax sarcastically comparing Peyton's performance to the disappearing Cheshire cat (MWAHAAHAA!), I'll keep it to food and this thought: What better way to facilitate cheering (or yelling at, as my Dad was inclined to do on that fateful day in 1986) your team than keeping the delicious snacks bite sized.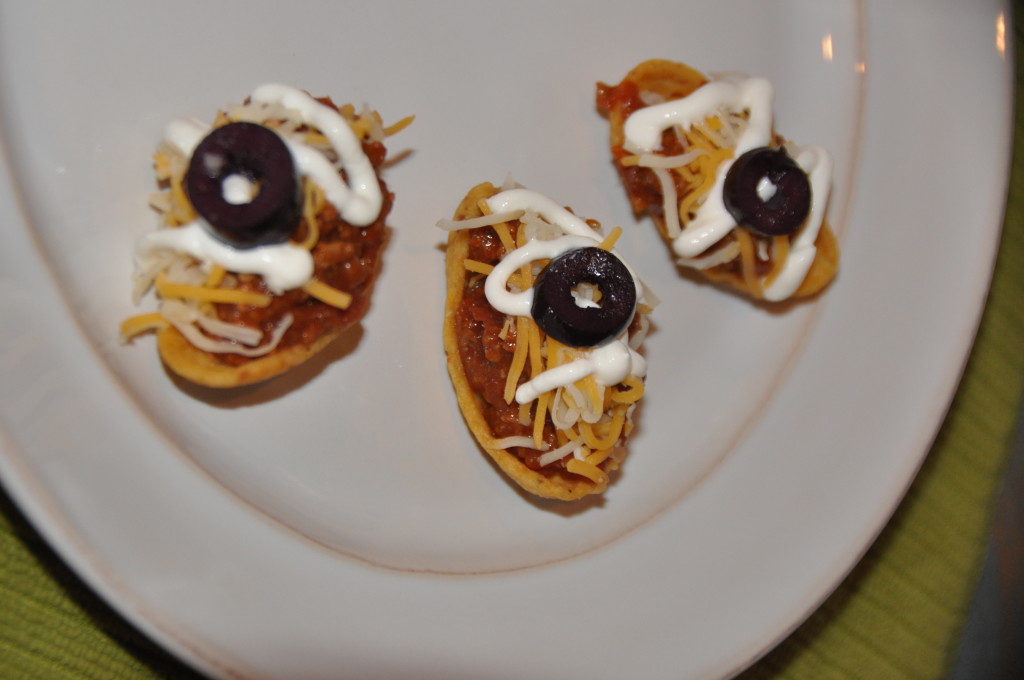 That's right. It's a run and gun dining offense. And we aren't talking girly amuse-bouches in this guy's house — NO WAY! I'm busting out my man card with foods to fill up a lineman, but can be dispatched with the speed of a wide receiver.
At first and ten, I'm serving up a mini-frito pie. You heard me right: Chili deliciousness tackles a fan-favorite corn chip, topped with sour cream, shredded cheese and an olive slice. Congrats — you've just moved the chains for another down! And another. And another … save some room! Pick your favorite chili (here's my inspiration on a texas style) and serve it up on your choice of  corn chip. Frito scoops are my fave, and everyone in our house was shocked to find they only have three ingredients (and even I can pronounce them all!)
Next up, a trick play: Mini loaded baked potatoes! That running back is small but mighty! Take your All-American mini red potatoes and toss them in olive oil, salt, pepper and garlic. Bake, then split 'em like the uprights and top with sour cream, chives and bacon (REAL bacon for the manly man, bacon bits if you're fighting the clock).  There's no stopping that bite-sized bomb from scoring big.
Then, drop back for a long bomb with Buffalo Chicken Cupcakes. I  found a recipe (HERE) and mostly stuck to it. However, I had to call an audible and make my own ranch dressing (with help from THIS recipe), and I amped up the amount of wing sauce to add some fire. And I cheated a little by using pre-formed phyllo dough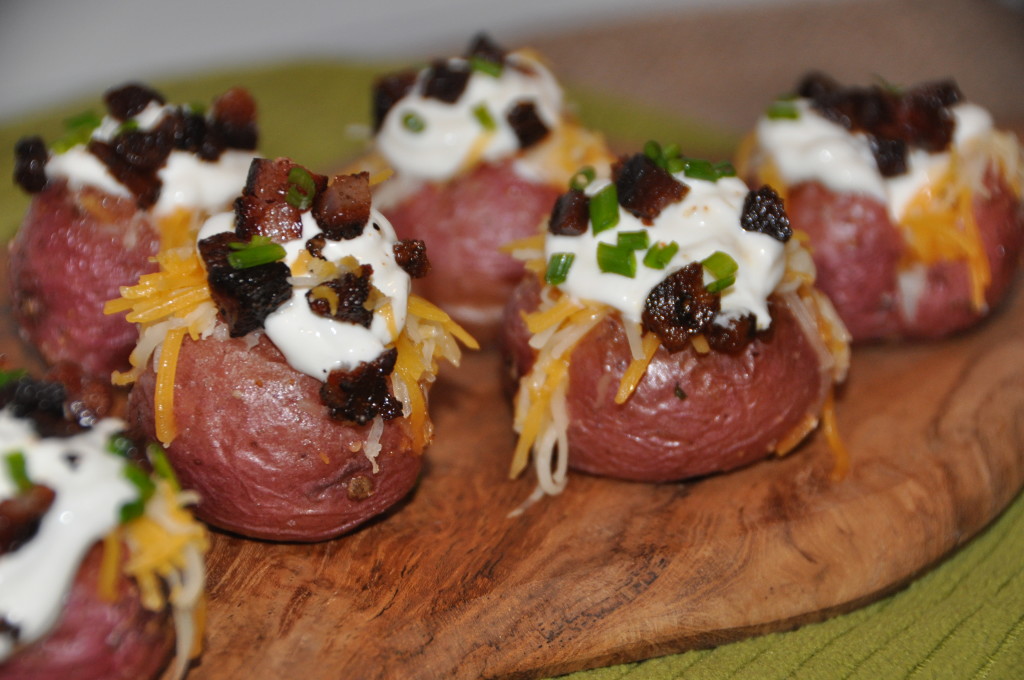 cups. But if Belichick can cheat, why can't I? After they're baked, go with a no-huddle offense and fire them down before they're gone. Don't let the "cupcake" in the name fool you: These morsels are all man … and before you know it, they'll be all gone.
Finally, we dive — or slide — into the end zone with some paleo-tastic sliders. Tiny burgers served on mushroom caps to eat up any remaining hunger yardage left. It's your typical burger in miniature, but I personalized this touchdown dance by adding shallots, cumin, chipotle pepper, garlic and plenty of salt and pepper to the meat mix before firing them quickly on the grill (you made need aluminum foil to prevent any players falling through the grate! Pan-frying is also completely acceptable.) Don't overcook your "buns" or they'll get too moist. Top 'em with your favorite condiments and you'll be tossing burgers past your facemask by the handful!
So, while We The Eaters celebrates Alice in Wonderland with elegant edibles, I'm extending the party to a tiny tailgate to celebrate football season and my teams (so far!) winning record!
Mini Loaded Potatoes
Adapted from the recipe at theCurvyCarrot.com.

20 small red potatoes
1 tablespoon extra-virgin olive oil
1 teaspoon kosher salt
1 teaspoon of garlic

Toppings:  sour cream, chives, bacon

Preheat the oven to 375 degrees.

Toss the potatoes, olive oil, garlic and salt together in a large bowl or large ziploc bag until the spuds are coated thoroughly.

Place the potatoes on a baking sheet and bake for 20 minutes or so, or until soft. You can test them with a fork.

Remove them from the oven and let them cool slightly.

Once they are cool enough to touch, cut a small slit in the top of each potato and gently scoop out a small portion of the spud to make room for your toppings.

Top each with your desired toppings (*We filled a condiment squeeze bottle with the sour cream to pipe it out onto the potato)

Buffalo Chicken Cupcakes
Adapted from recipes at TheGirlWhoAteEverything.com.

1 8-ounce package cream cheese, softened
1/2 cup Ranch dressing
1/2 cup Buffalo wing sauce
1 cup shredded cheddar cheese, divided
1 1/2 cups cooked and shredded chicken (1 large breast)
1 package of phyllo dough pre-formed cups
1/4 cup blue cheese crumbles

First, preheat your oven to 375 degrees. Line a cookie sheet with foil if you like and lay out the phyllo cups.

In a medium bowl, combine the softened cream cheese, Ranch dressing, wing sauce and 3/4 of the cheddar cheese. Next, shred the chicken and stir it in the mix.

Take a tablespoon full of your Buffalo Chicken mix and drop it into the phyllo cup. You can go back around if you have a lot of mix left over. Finally, sprinkle the remaining cheddar cheese and a little blue cheese.

Follow the instructions on the phyllo dough for baking time. For me, they took about 8 minutes. Let cool slightly before removing from pan.

Mini Sliders

Burgers:
1 pound lean ground beef
1 shallot
1 teaspoon garlic
1 teaspoon cumin
1 teaspoon of chipotle pepper

Buns:
cremini mushrooms

First, wipe the mushroom caps with damp paper towel and remove the stems from the mushrooms. Slice the bottom of the cap so that it is flat (like a bun).

Mix your ground beef ingredients in a bowl.

Preheat the oven to 450. Gently rub the mushroom caps with olive or vegetable oil on all sides. Then, season with salt and pepper to taste. Arrange the mushroom caps with the inside up in one layer on a baking sheet.

Roast them in the oven for about 10 minutes until they are lightly browned. Don't let them overcook because they will get watery. After you remove them from the oven, dab the moisture off them with a paper towel.

While the mushrooms are baking, fry up your burgers. When you form your patties, keep in mind the size of your mushroom caps so the burgers will fit on the buns.

Assemble your sliders, topping the burger with whatever kind of toppings (sliced cherry tomato, shred of lettuce, dollop of dijon mustard or mayo) you imagine.