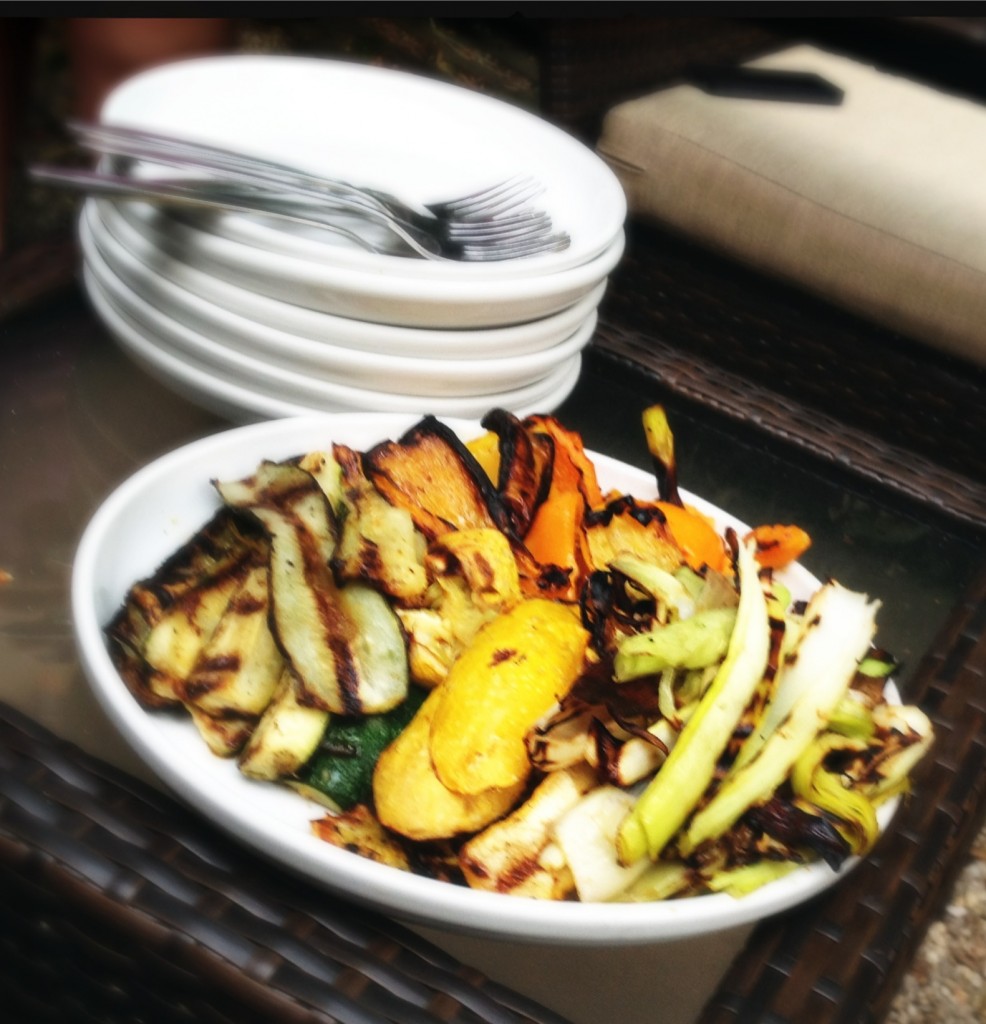 I know what you're thinking. Grilled veggies? Seriously? How can plain old, run-of-the-mill grilled vegetables possibly compete with Amy's grilled cheese?
Sure, I'm short. Maybe a little on the doughy side. But I'm a fighter. Raised on the mean streets of Western Pennsylvania. I'm scrappy. And I am not about to be taken down by some wimpy cheese, grill or no grill!
But, I also have to be honest: I do love cheese. The thought of warm, melty feta done on a grill makes my mouth melt.
So before I lose my fighting spirit, time to enlist reinforcements. This is a friendly competition among good friends, after all. We had to elevate those basic grilled veggies to give them any chance of standing up to their mighty opponent. Forget simple salt and pepper — we had to make these guys intimidating. So we pulled out a marinade recipe. I had never tried it myself, but our web guru Adam sang its praises.
The original marinade was actually for chicken, in a recipe that also included various veggies, but simply omitting the meat allowed the veggies to take all the delicious glory. And why not? These days, more of us are learning meat doesn't have to be front and center in every meal. Surely you've heard of Meatless Mondays? Football pro Arian Foster going vegan???
OK, back to the marinade. Since we left out the chicken, we doubled our veggies.  Red bell peppers, zucchinis, yellow squash and leeks. I had never had grilled leeks before, but will be including them in my grilled veg medleys from now on.  They're like crack cocaine, in leek form!  We left out the shallots the recipe calls for (no real reason — just didn't have them on hand). While the veggies were delicious without the shallots, Adam highly recommends using them.
Tell me, fellow Eaters, how does this recipe stand up to Amy's cheese? What veggies do you like to grill (have you ever tried grilling leeks?)? Any tips for grilling vegetables, or seasonings you love? Give this one a try yourselves, and share your thoughts and variations. With or without the chicken, it's a great marinade.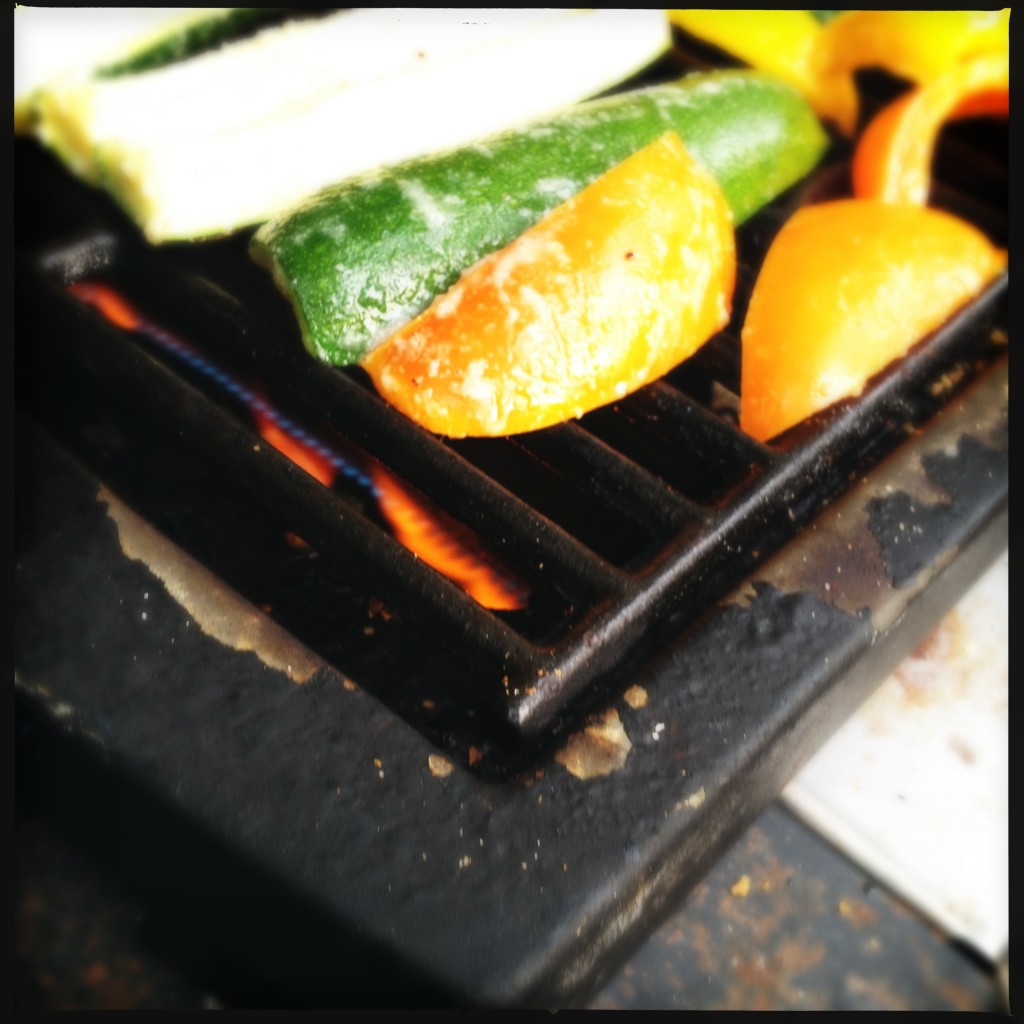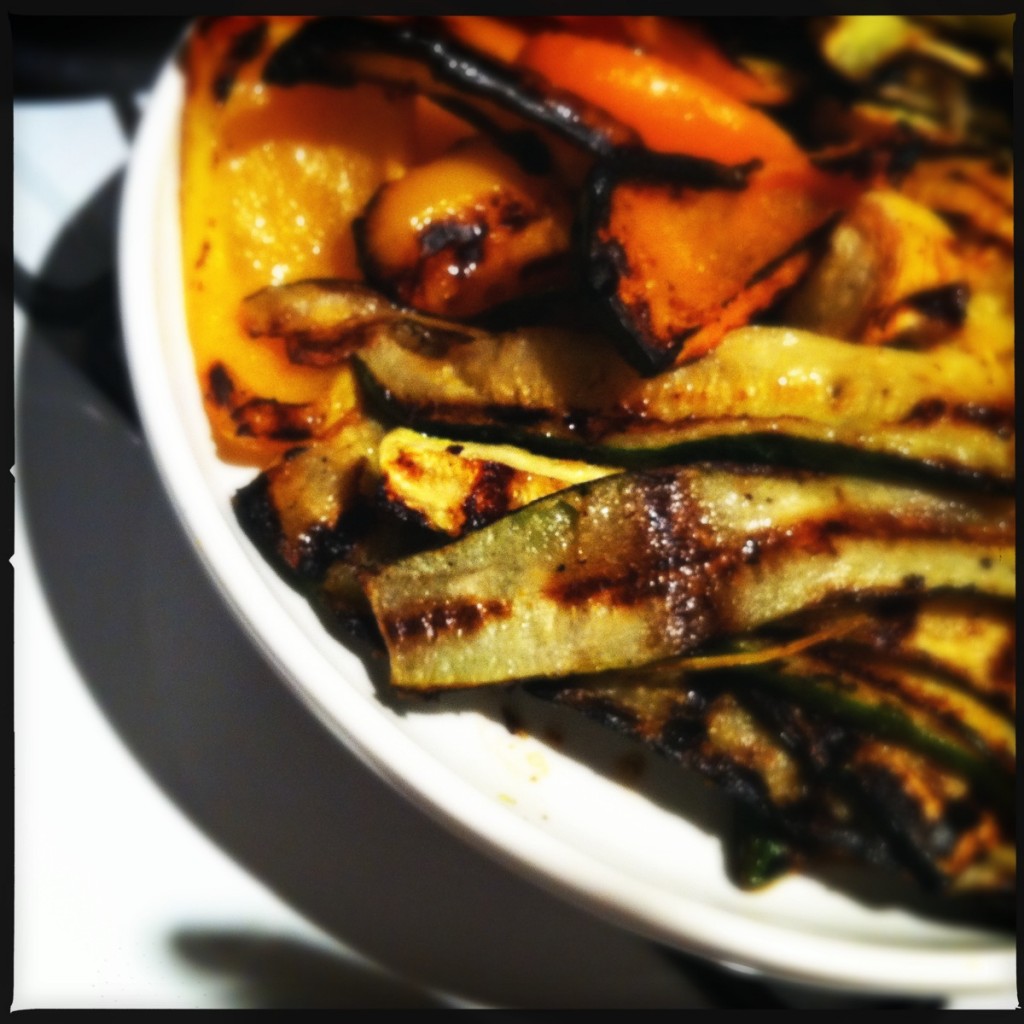 Grilled Marinated Veggies

2 red bell peppers, seeded and quartered
2 medium zucchinis, quartered lengthwise
2 medium yellow squash, quartered lengthwise
2 medium leeks, root trimmed (not removed), halved lengthwise

For the marinade:
1/4 cup shallots, finely chopped
3 tablespoons extra-virgin olive oil
1 tablespoon chopped garlic
1/2 teaspoon black pepper

Mix oil, garlic, salt, and pepper (and shallots) in a large re-sealable plastic bag. Add peppers, zucchini, squash and leeks. Gently shake bag to coat the veggies. Marinate in fridge for one to three hours, turning occasionally.

Prepare a medium-low grill. Add peppers. Cook until tender, turning once, about ten minutes. About two minutes after adding peppers, add zucchini, squash and leeks. Cook until tender and slightly charred, turning once. A slight brown char is best, but not too much. This should take about eight minutes. Note, take care not to burn the leeks! They are quite delicate and will burn before you can say, "them's fightin' words!"