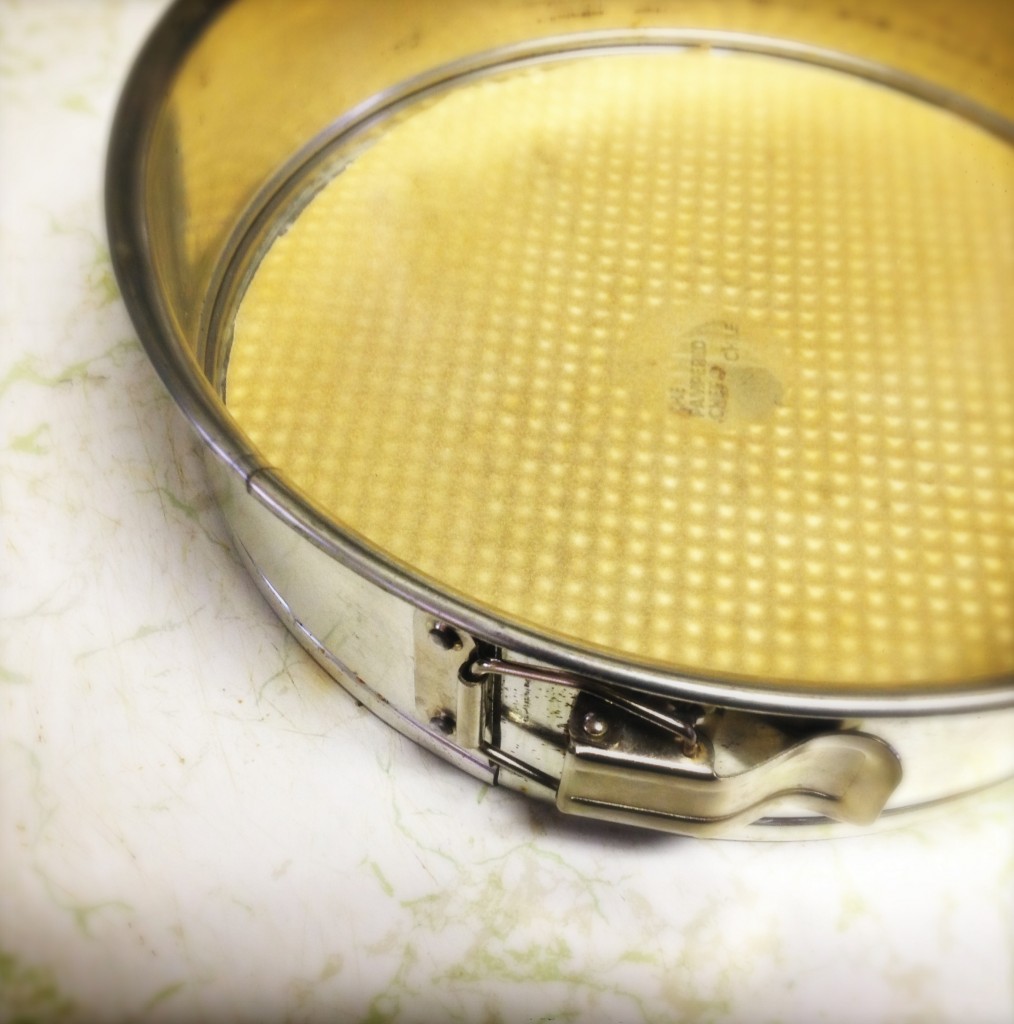 I'm a big fan of kitchen gadgets. As much as I rave about my Vitamix, or will about my Excalibur Food Dehydrator, there are plenty of little – and less expensive – tools that I love. There's the little rubber thingy that peels garlic. My collection of microplanes for zesting, shaving and grating. And the love of my cheesecake life – my springform pan.
I am not a fan of cake, but put "cheese" in there, and I'm done. I pride myself on baking a pretty damn good one. It's similar to other recipes that attempt to recreate the style popularized in New York City's Jewish delicatessens, and Lindy's in particular. Rich and smooth, this dense cake sits more than two inches tall. Thus, it would be a disaster to get the creamy deliciousness from pan to plate looking perfect without a springform.
Tasked with creating a healthier version of cheesecake with a savory twist, I pulled out that pan, grabbed the recipe and headed to Whole Foods Market for inspiration for flavor ideas. Caramelized shallot (mmm … April's savory cookies)? Leeks (which Sarah grills to perfection)? Pesto? I planned to serve this as a meal, so nothing seemed to fit. Until I spotted a bag of sundried tomatoes, that is. OK – now we're on to something.
In addition to lightening this dish up, I decided to make it gluten-free as well. I opted for a nut crust with a bit of organic brown rice flour and a little lemon thyme for brightness. On top of that, a shmear of kalamata olive spread before adding the sundried tomato filling.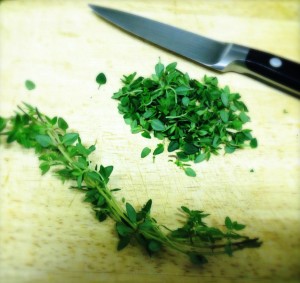 With cheesecake, the filling is where you can be really inventive. Many recipes, including April's this week, use ricotta to lighten things up. I love that idea, but decided to take it a step further … with cottage cheese. Given a whirl in the Vitamix, I thought, it would have the same consistency. My original recipe calls for five 8-ounce packages of cream cheese — a 16-ounce container of organic low fat cottage cheese replaced two of those. For the third, I used an 8-ounce package of Neufchatel — a cream cheese substitute I usually find horrifying – but this brand was pretty good. Then, the surprise substitution: 16 ounces of feta, used to replace the remaining two packages of cream cheese.
Had I used my standard Philadelphia Cream Cheese, we would be talking 4000 calories from cheese alone. Yes, really. With these substitutions, the calorie count drops to 2320, cutting 1680. Yes, really. It removes 232 grams of fat and nearly 1000 milligrams of cholesterol. The bad news? It's got more than twice the amount of sodium. Oh, feta – why must you vex me this way?
The verdict: I paired the finished product with a simple arugula and cherry tomato salad tossed with some olives, a little lemon juice and olive oil. It met with "oohs" and "ahhs," along with comments that it would be delightful for brunch. The flavor was awesome, and I could definitely see it reinvented as a dip or cracker spread. That said, after eating his fourth slice in his lunches this week, my beau was pretty much done with it for good.
Everything in moderation.
Savory Sun-Dried Tomato Cheesecake

Filling

This can – and should – be made a day in advance. Use organic ingredients when possible (particularly important with dairy to avoid antibiotics and growth hormones, as well as to ensure that these products come from happy, healthy animals. Read more.)

1 16-ounce container low-fat cottage cheese
1 8-ounce package Neufchatel cheese, softened
1 16-ounce container feta cheese (solid), drained and roughly chopped
3 tablespoons brown rice flour
7 eggs: 5 whole plus 2 egg yolks
About 2 ounces sundried tomatoes
½ cup heavy cream

Place sundried tomatoes in a steaming basket and steam, covered, until softened. Give tomatoes a dunk in the water for a few minutes if they don't soften enough. You want them pliable but not brittle. Drain and set on paper towels to dry partially before slicing into small strips.

In a food processor, heavy-duty blender, or – lucky you – a Vitamix, blend cottage cheese until smooth. Add Neufchatel and half the eggs, blending again until smooth. Add cream, remaining eggs and feta, blending in short bursts until combined and smooth. This will take patience and a lot of [TURNING THE MACHINE OFF BEFORE] pushing things down until you can get a smooth, creamy consistency without any lumps. Once this is accomplished, transfer to large glass bowl. Add brown rice flour and sundried tomatoes, stir thoroughly, cover and refrigerate overnight or up to two days.

Crust

2 cups raw, unsalted walnuts
2 tablespoons brown rice flour
1 tablespoon almond meal
4 tablespoons butter, melted
1 to 2 tablespoons fresh lemon thyme, chopped (or 1 to 2 teaspoons dry)
Prepared kalamata olive spread

Preheat oven to 350 degrees. Chop nuts, either by hand or by pulsing in a food processor – be careful not to over-process unless you want nut butter! Add rice flour and almond meal, stirring to incorporate. Stir in lemon thyme. Add butter and stir to coat.

Line your 9" springform pan with parchment paper (tip: anchor to pan with a dab of butter), and lightly oil the sides of pan. Gently press the nut mixture into the bottom and slightly up the sides about a half inch. Using plastic wrap will help keep mixture from sticking to your hands. Freeze for 30 minutes. Take filling out of the refrigerator and allow to come to room temperature.

Place pan on cookie sheet to prevent bottom from burning and bake until lightly browned – about 12 to 15 minutes. Nut crusts burn easily, so watch this carefully. It should smell fragrant, not burnt. Remove from oven and cool completely before filling. Turn oven up to 500 degrees.

Carefully spread inner part of crust,up to a ¼ inch from the sides, with a prepared kalamata olive spread (or make your own). Stir filling and pour into springform pan, tapping pan carefully on counter to encourage bubbles to rise to the surface. Pop any bubbles and tap again to regain a uniform, smooth top.

Bake at 500 degrees for 10 minutes. Lower temperature to 250 degrees and bake for an additional hour. Cool for two hours, or place in refrigerator to enjoy later. If refrigerating, allow to come to room temperature before enjoying.