We pulled inspiration for this course from the pages of  "Tiny Food Party!: Bite-Size Recipes for Miniature Meals" by Teri Lyn Fisher. It's a little sweet and a little savory — perfect for a spin recipe. Hello, chicken and waffles! To be true to their foodie roots, we served them alongside tiny bottles of Coca-Cola … as if we were real–no kidding–Southern folk.
This is one of those recipes in which you can take major shortcuts or go all out. With ten courses — some made from scratch — I'll admit to making some pretty crazy short cuts with this dish. Since it was the first party or event I hosted with tiny foods and drink pairings, I'd say it was a wise decision!
So … how do you decide which path to choose: scratch or shortcut?
You just have to think small (literally) and plan ahead. How would one even go about making mini waffles? Turns out, there are special appliances for just this situation. And if you're opting to make this from scratch, all of the elements can be made ahead of time and chilled for use the next day. You can also make them well in advance and freeze them.
Here is a quick overview of the elements with suggested shortcuts. The "from-scratch" recipe follows: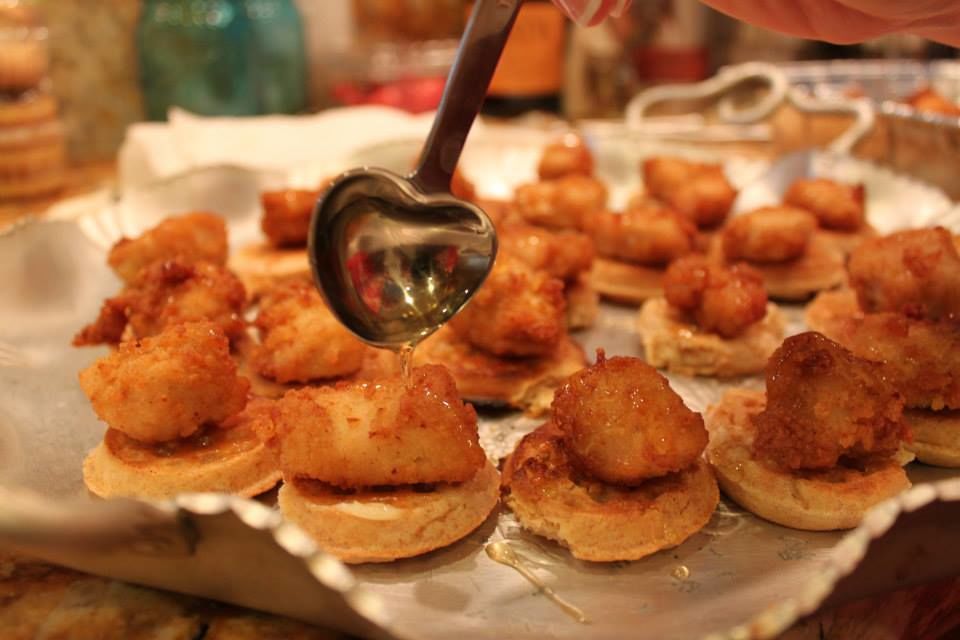 Waffles –- This shortcut is easy. Simply buy those break-apart mini frozen waffles for kids. I was able to find a good organic brand at Whole Foods. Or get a mini waffle iron and make them from scratch. Here are two options from Amazon: a waffle griddle for the stovetop, or an electric waffle iron.   Doing them this way will add a little character to the waffle, as the store bought ones are all perfect (read, "not homemade") circles.
Fried Chicken -– Again, there's an easy-peasy shortcut. You can either buy little frozen nuggets, or do what I did: order a party tray of Chick-fil-A nuggets. The size and shape worked perfectly. The other option is to cut the chicken into smaller bites, batter and fry them up. That gives you leeway to make a gluten-free or baked version. The awesome thing is that these little chicken bites will fry up quicker than regular sized fried chicken, make less mess, and, again, can be made ahead of time.
Honey Butter -– this was the icing on the cake … or the waffles. Simply mix up softened butter with a bit of honey to taste. It gets all melty and gooey. It's the perfect little sweet replacement for drizzling syrup over the waffles.
Then there were the cute little bottles of Coke. You may be able to find these at a grocery store or online. Look for the 8 or 10 ounce bottles: The tinier the better.
Chicken 'n Waffles (With Honey Butter)

This recipe covers the chicken and the honey butter. For the waffles, buy frozen, use a mix or whip up your favorite recipe. Just make sure they are tiny! This will make about 30 individual bites.

10 chicken tenderloins (boneless, skinless), cut into smaller equal pieces
2 cups buttermilk
1/4 cup salted butter, softened
2 1/2 tablespoons honey
30 mini waffles, or regular sized cut down into smaller pieces (WTE tip: Use a miniature cookie cutter!)
1 1/2 cups flour
1 tablespoon garlic powder
2 tablespoons smoked paprika
1 teaspoon salt
1/2 teaspoon onion powder
1/2 teaspoon black pepper
2 cups vegetable oil

For the chicken:

In a bowl, submerge chicken in buttermilk. Cover bowl and refrigerate. Soaking the chicken for a few hours or overnight will help the coating stick better when frying.

Stir together the flour, garlic powder, paprika, salt, onion powder and black pepper in a shallow bowl. Heat the oil in a medium cast iron skillet over medium-high heat. Remove chicken from buttermilk and coat in flour mixture. Shake off excess and carefully drop into the hot oil. Fry for about 3-5 minutes on each side, depending on size and thickness. Drain on paper towels and season with salt.

For the honey butter:

Whisk together the butter and honey until well combined. It's best to add honey slowly and taste as you go along. You may need more or less depending on your taste.

Assembly:

After heating or making the waffles, spread the honey butter onto each one. Top with a piece of the fried chicken. You can drizzle with a little more honey for garnish. Server warm paired with a mini Coke!