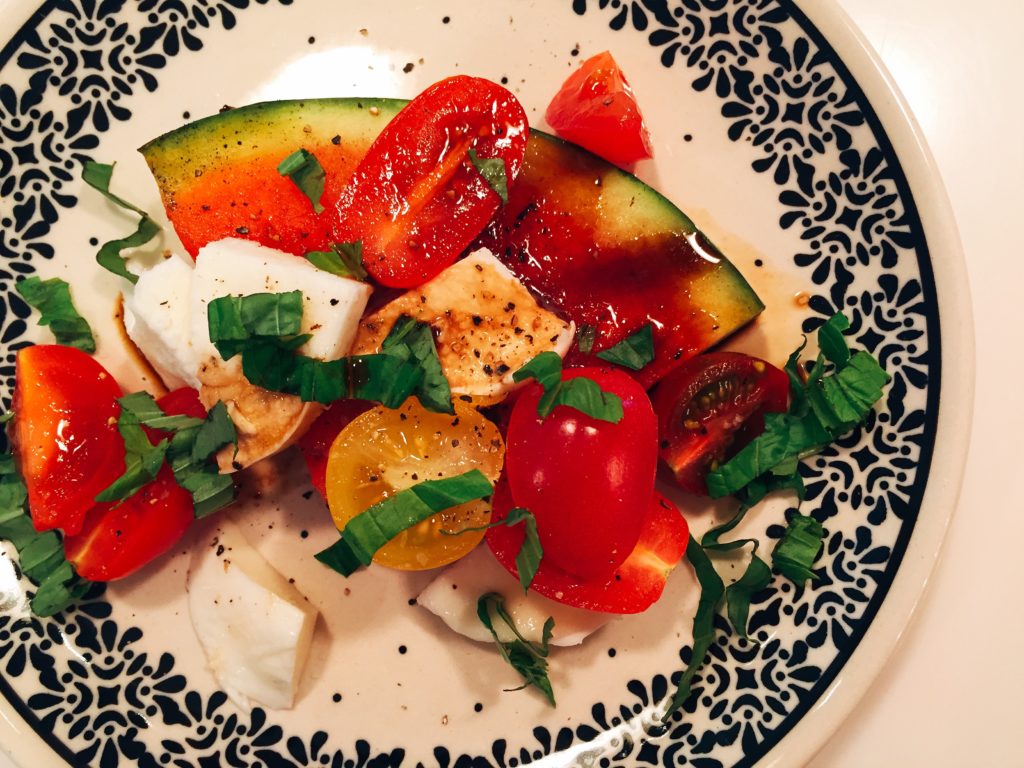 It might sound weird to you, as it did to me, but grilled watermelon is a real actual thing. I've seen it pop up here and there, in magazines and my news feeds, most of which is comprised of food related stuff. But I'd never done it before.
Amy, my founding foodie partner, suggested we do some grilled watermelon during this month celebrating the summer-y melon. I was a little reluctant at first, but I shouldn't have been. It was really really good.
The sweetness of the melon and the smokiness of the grill are a great pairing. It gets a little caramelized, which I loved. And it's not that complicated. Turns out all you really need is a little olive oil, salt and pepper. You can kick it up before with some Sriracha, lime or honey. Sprinkle a little cumin for some more smoke and spice. You can make a dessert out of it or a savory dish.
The idea of the honey drizzled onto the watermelon, adding to that delicious caramelization, got me like woah. I had to try this. Could this be dessert? Maybe … but why stop there?
One of my favorite summertime dishes is the simple caprese salad. Before my meat loving husband came around, I could literally just make that for myself for dinner and be super happy. Apparently mozzarella isn't enough protein these days. So, why not make a twist on it by adding this honey grilled watermelon? I've seen other melons used in caprese salads, paired with balsamic and cheese, but never grilled.
Lucky for me, this weekend I had some other non-husband guinea pigs to try this out on – my dad and stepmom. It was a special weekend for all of us: the last we would get to spend in their house in the country before their big move out to Idaho next month. It was also a picture perfect day – no humidity, sun shining brightly, a beautiful breeze. So why not do a little grilling and try out this salad? I've made things for the blog in the past for them at their house … so it was a sweet way to bid farewell to this chapter of their life.
All in all, it was a success. I don't know that I would ever put watermelon in my caprese again, but I would definitely make this grilled watermelon again. The honey and balsamic gave it another level of yum. So, you could skip all the other stuff … and just eat all the grilled melon for dessert.
Grilled Watermelon Caprese Salad
If you're just in the mood for dessert, stop at grilling the watermelon. Otherwise, continue on to create a twisted take on a caprese salad. Try swapping in heirloom or other seasonal tomatoes. Also, if you are lucky to have some in your pantry, balsamic glaze would really rock.

8 slices watermelon, cut into triangles
2 tablespoons olive oil
2 tablespoons honey
1 pint grape tomatoes, halved
4 ounces mozzarella, sliced
fresh basil, sliced into strips
balsamic vinegar
kosher salt, to taste
freshly ground pepper, to taste

Turn grill onto high heat. While heating up, prepare the watermelon: salt and pepper, then brush with olive oil; repeat on the other side. Grill for two minutes on both sides.

To assemble the salads, place two slices of the grilled watermelon onto a plate. Evenly distribute the tomatoes and mozzarella. Add salt and pepper to taste. Finish the salad with a sprinkle of the basil and a drizzle of the balsamic vinegar.