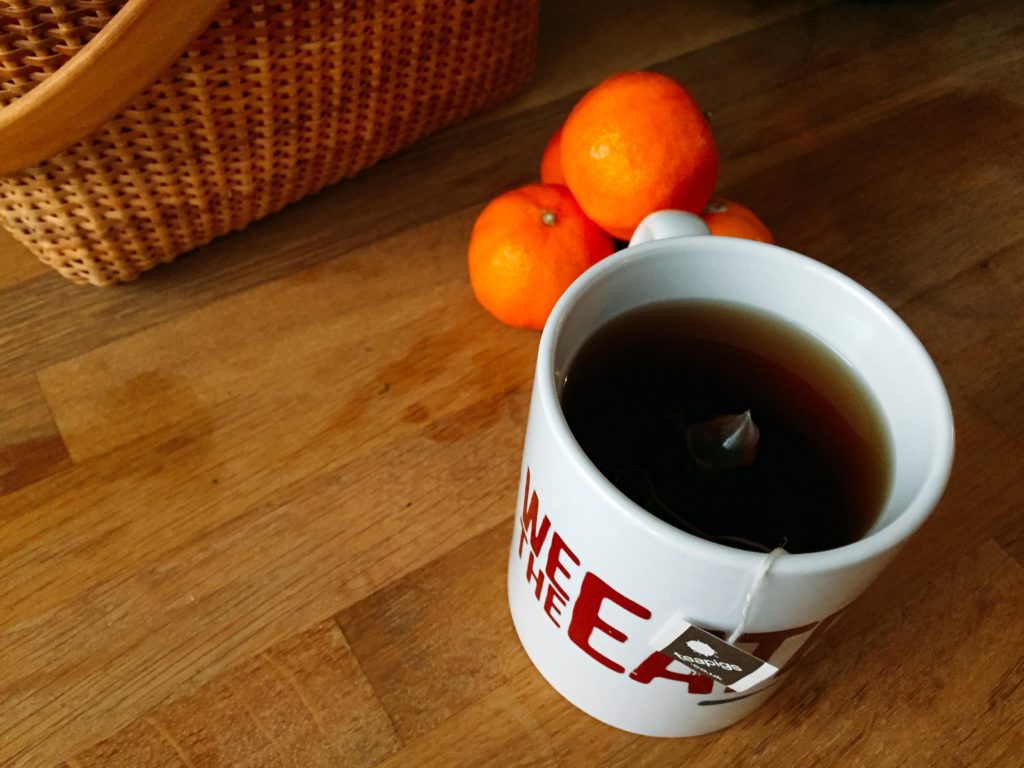 Rather than starting the new year off with cutting something out of our diets we're adding something into it: tea. But we're not simply steeping and sipping it, although that is lovely. Especially with a bite of Scottish shortbread. We're cooking with it!
I am especially excited about this topic. I've never ever cooked with tea, but I love it. My cupboard is chockablock full of it from black tea to peppermint, chamomile and green. Even tea that will detox one's body or lubricate joints. Tea can calm you or it can energize you. There are so many health benefits that make it a great addition to lots of recipes. And so many varieties with different flavor profiles that the possibilities seem endless.
The first thing that comes to mind is baking. When I started looking up recipes using tea that's the first thing that popped out at me – cookies, cakes, doughnuts. But we just got out of baking season. And not unscathed. My waist line, already beat up from having a baby just two months ago, can't take anymore baked goods. I have been trying to reason with my sweet tooth. She had better start listening. And fast since I start back to work in one week … and maternity leggings don't translate to a professional environment. (Drat!)
But when you dig deeper, a whole world starts to open up. Marinades, salad dressings, rubs and soups. Even just using a lightly steeped tea as a "broth" when making rice, beans or pasta can be a simple way to incorporate it into a meal. This Serious Eats article suggests adding tea to smoothies, ice cream and oatmeal, even smoking meat with it. Of course there are also cocktail recipes beyond just adding a nip of whiskey to your cuppa.
A good quality, fresh, loose leaf tea is best to use, especially if you're not steeping it before adding to your recipe, such as a dry rub or smoking. Of course, you can use the bags if that's all you have on hand, but it's best not to empty the contents, just use the bags for steeping. You can also grind down the loose leaf a bit to a finer consistency if that works better for your recipe.
While I didn't bake with my tea, I did find something a bit on the sweet side to use it with: a marmalade pork glaze. During the winter months I tend to crave pork – ham for Christmas and pork loin with sauerkraut for New Years. This glaze could be used on a ham, chops, ribs or, as I used it, on a big slab of pork loin. This could also work on salmon or chicken. It makes a warm and comfy meal. The English black tea I used helped to tone down the sweetness and brought a deeper, earthiness to the meal. The orange marmalade could be swapped out for fig or apricot preserves.
Have you ever used tea to cook with? Let us know! And join us the rest of the month to see how we're using it.
Black Tea Orange Marmalade Glazed Pork Loin

1 cup orange marmalade
1 tablespoon loose leaf black tea
1/2 cup cup wine vinegar
1/2 teaspoon black pepper
1/2 teaspoon red pepper flakes
5lb pork loin
freshly ground salt and pepper

Preheat the oven to 375 degrees.

Season the pork loin generously with salt and pepper. Add olive oil to an oven safe pan, such as a dutch oven, over medium-high heat. When pan and oil are heated, add the pork loin and sear until well browned, about four minutes. Remove from heat and place into oven.

For the glaze, add marmalade, tea, vinegar and pepper to a saucepan over high heat. Bring to a boil and reduce glaze until it's thicker and can cling to a brush.

When the pork registers a 140 degree temperature on a meat thermometer, after about an hour, brush the glaze on top. Baste the top and sides of the pork with the glaze every five minutes. Cook until the pork is done, when the thermometer registers 145 degrees.